Top Best 360 Degree Cameras in 2020

Virtual reality has been growing in popularity at a steady pace in the last few years. But, this popularity has also had a ripple effect on other technologies with one of the most obvious ones being the 360-degree cameras. VR and 360-degree cameras go hand in hand and so if you are into the virtual reality stuff these cameras are a must-have for you. But as more and more 360 degrees cameras come into the market, it is becoming harder to pick one, and this is more so if you are buying them for the first time. Every one of these cameras that you come across seems to be the best but this could not be further from reality.
These cameras will differ in everything from the resolution to the built quality. But with our reviews of some of the best in the market below and the buyer's guide finding a reliable 360-degree camera should be a less tedious process.
List the Best 360 Degree Cameras in Reviews
#1. Ricoh Theta S Black Digital Camera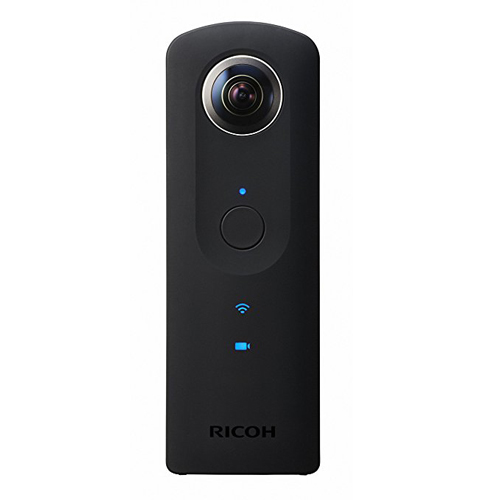 Ricoh Theta S is a true 360-degree digital camera that produces full 360 degrees spherical panorama videos and images. The full HD videos are fully supported by YouTube and they can be as long as 25 minutes. Also, the camera allows for live view on your mobile device and it is possible to transfer the video and images to the smartphone directly without using a computer. Charging the battery is also simple as you will only need to connect the camera to the PC using the provided USB cable.
#2. Samsung Gear 360 VR Camera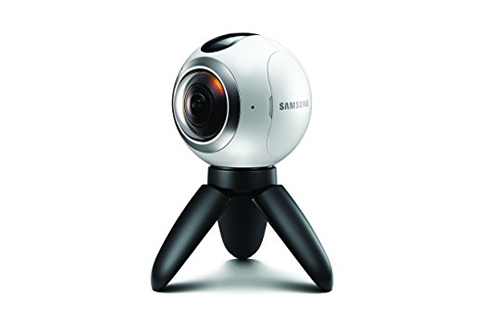 This lightweight and compact 360-degree will be a great buy when you want somethi8ng that is both convenient to carry and store when not in use. And it is also a highly affordable 360 degrees camera. It is also quite versatile as it allows you to take either 360-degree videos or 180-degree shots using the wide-angle lens. The camera should also serve you for long enough as it is both water and dust resistant and it comes with a tough shell.
#3. 360fly 360 Degrees HD Camera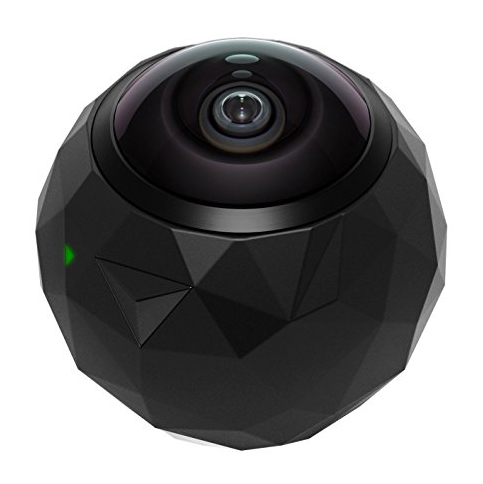 Here is another relatively affordable 360-degree camera with one of the smartest and most user-friendly video ecosystems. This fantastic video camera allows you to share the still images and videos to social media sites directly from the phone and the footage that you take transforms into VR at the push of a button. It comes with a 32 GB internal memory and a relatively long-lasting battery that will last for more than two hours of continuous use. And it is also a dustproof, water-resistant and shockproof to make it more durable.
#4. Insta360 Nano 360 Degrees VR Camera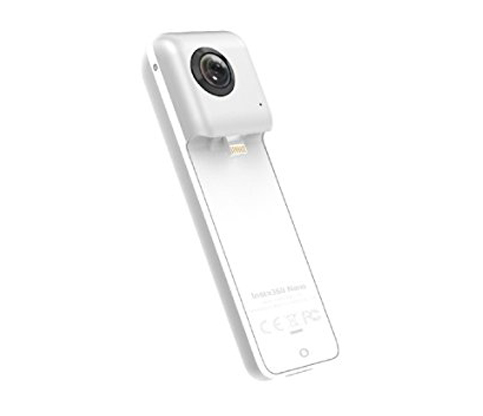 For those with the different versions of the iPhone 6 and 7 and are looking for a top-notch 360-degree camera the Insta360 Nano is as good as they can get. It is a high-resolution camera with a couple of fisheye lenses and its size and weight make it highly portable. The camera allows for real-time 360-degree video sharing on social media sites like WeChat and Facebook. You can preview the video on your smartphone and the camera has a memory storage capacity of 64 GB.
#5. Polaroid Cube+ 1440P Mini Action Camera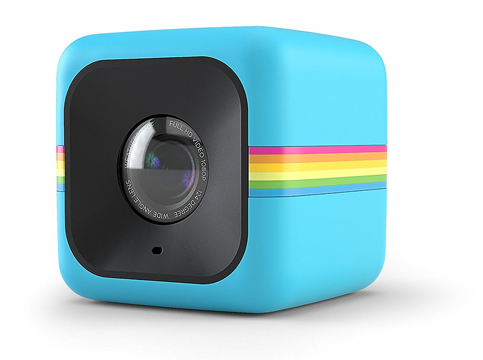 For those that prefer something fun and cute here is the camera for you. And besides the look, it is also a high performing model that allows for wifi connectivity so that you can shoot and share your images with ease. It produces 8MP still and you also get to choose from three different resolution options. This camera has a 124-degree wide-angle lens and a built-in battery that will last for 107 minutes.
#6. Rico Theta SC 360 Degrees Video/Still Camera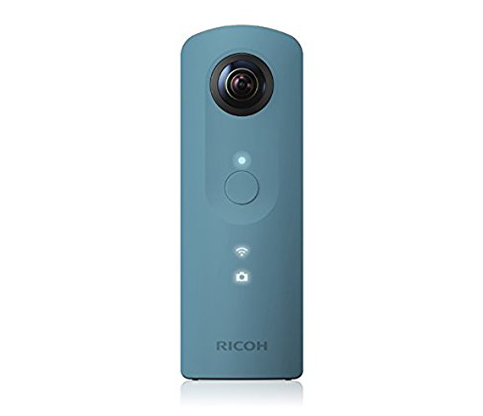 Here is another version of the compact Rico Theta camera but this one will allow you to take both fully spherical 360-degree videos and still images. The bright F2.0 lens provides intuitive operation and sharing what you capture should be a breeze thanks to the new and improved user interface. This fantastic camera is compatible with both Android and Apple devices.
#7. Giroptic iO 360 Degree HD Camera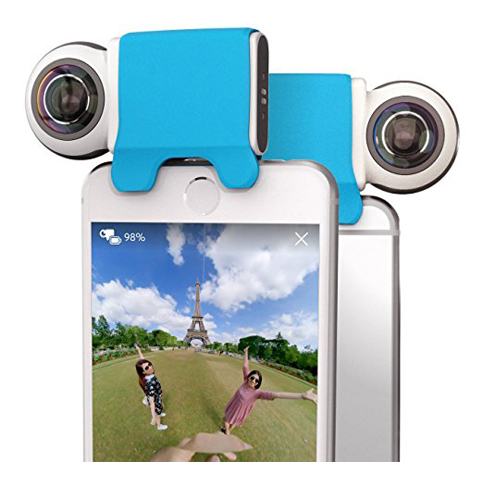 With the Gioptic iO, it is possible and easy to transform your Apple handheld device into a smart 360 degrees camera. It is compatible with most versions of iPad and iPhone and it will allow you to stream videos to the popular social media sites like Facebook. And it comes with a convenient clip for hooking it to your phone, a protective case, a cleaning cloth and of course a micro USB cable for charging.
#8. Insta360 Air 3K VR 360 Degrees Camera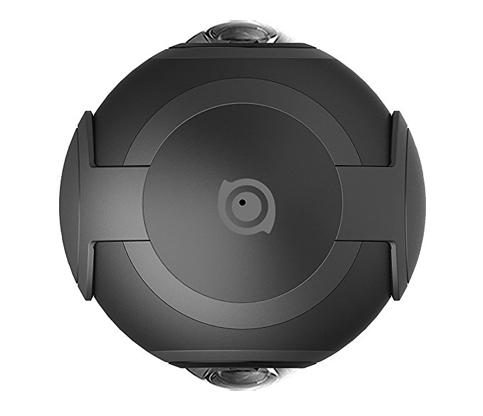 Insta360 makes this 360 degrees camera for those that use Android devices. And it has a video resolution of 2560 x 1280 and an image resolution of 3008 x 1504. With this camera, you get a real-time photo and video sharing on social media sites and it also allows for live streaming through the Insta360 server. You can also use the camera for 360 degrees video chat on Skype and other platforms.
#9. Rivio R360 VR 3D Camera
Whether it is your first time to use 360 degrees cameras or not you will have a very easy time with this one because using it is quite straightforward. And besides producing crisp clear and top-notch quality video and images it has built-in wifi that allows for quick connectivity. Also, the camera uses dual 360-degree fisheye lenses and it has an extended memory as it can support a memory card of up to 128GB.
#10. Mi Sphere 360 Degree Panoramic Camera Kit
The 360-degree field of view might be the highlight of this camera but there is still way much to it than this. It will provide up to 75 minutes of nonstop video recording and it has an impressive 23.88MP camera resolution that will let you capture still in the best quality. The 3.5K video recording is also a great feature and the camera is IP67 water and dustproof to make it perfect for outdoor adventures.
How to Choose The Best 360 Degree Cameras
The 360 degrees cameras are a relatively new innovation but when you start shopping for one you will be amazed at the wide variety and many options in the market. And although our top 10 reviews above will give you some idea of what you should go for it is still vital to consider
the following points.
Resolution
When buying any type of camera the resolution is always one of the key elements to consider as it determines the quality of the videos or still. It is also a vial facto for 360-degree cameras and here you should go for at least 4K or more as this is the best for virtual reality. However, 2K can also be acceptable if you want a more affordable camera option.
Full 360 Degrees
Many companies will label their cameras as 360 degrees while in reality, they will not shoot videos or stills in 360 degrees. Hence before you settle on any camera you should always check whether it is a full 360 degree or the brand is just using this as a marketing gimmick. Watch out for terms like '360-degree viewing angle' and 'full spherical' as they are a good indication that the camera is full 360.
Overall Construction
360 degrees cameras are not cheap and this is regardless of the model or brand that you choose. And so it is always important to make sure that it has a sturdy and durable overall construction. Check the quality of the plastic housing and make sure that it is sturdy enough to withstand accidental falls and is also weather resistant. Other things like the lens and internal components of the camera should also be well constructed.
Price
Price is a major factor that will always influence any purchase that you make. And like many other gadgets in the market 360 degrees cameras will come in a wide price range. You can get some for just over $50 while many others will retail for hundreds of dollars and some high-end models go for thousands of dollars. Always choose something that is within your budget that produces good enough images and videos.
Conclusion
Virtual reality makes it possible to experience videos and images in a whole new way. And when it comes to capturing these videos or images the 360-degree camera is by far the best option. If you are planning to buy one for the first time, or even want to upgrade your old model, our guide above will give you some helpful information on how to choose the right one. But as you shop for a 360 camera try to compare different brands and models and read other customer's reviews to see their experiences with the camera before buying it.