Top Best Baby Highchairs in 2020

High chairs for babies are essential for new parents as it gives them the convenience they need when feeding their toddlers. Having a high chair for your baby will help you to feed your toddler easily without carrying him/her on your lap. The high chairs are well designed and will assist the parent to avoid bending while feeding the baby. The high chairs also offer your baby with other several features including maximum comfort, safety as well as support To help you in picking the right choice for your kid we have prepared a detailed guide on how to choose the right high chair for your little one.
Check out the Best Baby Highchairs
1. Ingenuity Trio 3-in-1 Ridgedale High Chair
If your house is crowded and you are wondering whether to purchase a high chair for your baby because you have limited space, you can cast your doubts away by purchasing this model. This chair as a space-saving design offers you the versatility you need. This seat has three recline positions to keep your baby comfortable and five-point harness for enhanced safety. Additionally, the tray is dishwasher safe making it easy to clean.
2. Ciao! Baby Portable Travel Highchair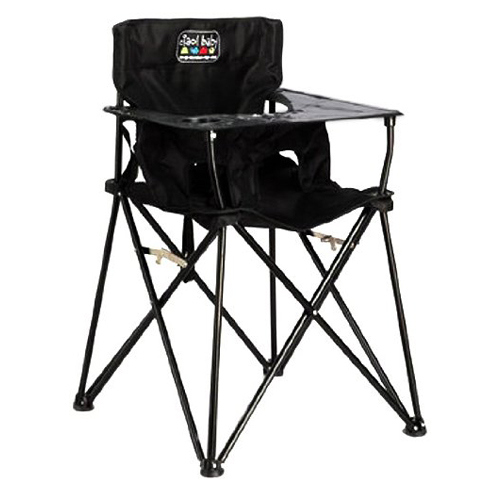 This is one of the best portable high chairs for your baby. The chair is foldable and lightweight making it easy to transport and store. You are also provided with a carry bag to make it easier for you to carry it from one place to the other. This makes a great choice for any travel including road trips, picnics or any other outdoor adventure. The seat is comfortable and has a tray where you can put the baby's toys or food. The chair is also well sized, so there is no discomfort that makes kids wary when the seat is not suitable for them.
3. Graco Blossom 4-in-1 High Chair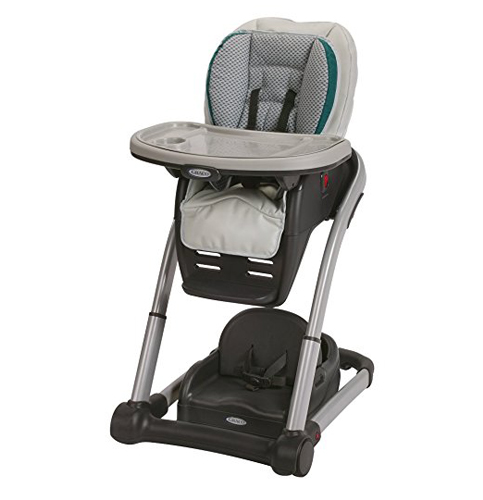 This chair is constructed using high-quality materials enhancing both its performance as well as durability. The set is well cushioned to give the baby the comfort he needs when resting. Another great feature that comes with this chair is that you can switch it into a booster in simple steps. Besides the seat can be adjusted in three different positions to give the baby maximum comfort especially during feeding. We also love the head support that makes the baby relaxed as well as the adjustable seat back insert that assist in positioning your child at the table.
4. Evenflo customizable High Chair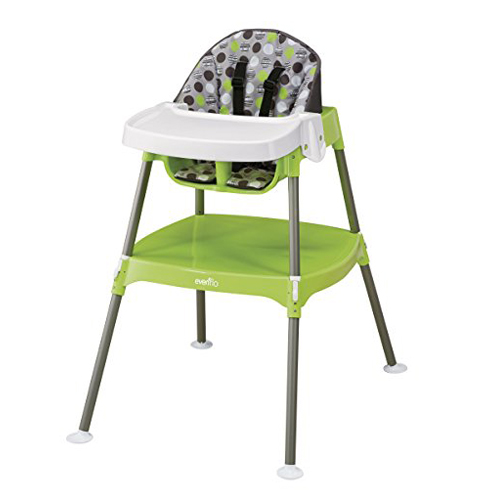 This chair will last from infant stages all the way to big child stage. You can easily remove the tabletop to allow the child to place the feet on the ground. The seat is stacked to come up with a full-sized high chair that offers the ideal height for safe and interactive feeding between the child and the mother. The chair also has the right chair and table size that allows the baby to grow to feed them more independently. The chair is also durable and has an appealing look.
5. Graco Rittenhouse Table Fit Baby High Chair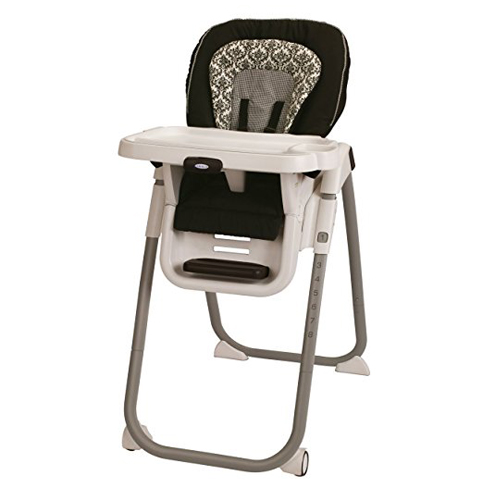 This is another high quality and efficient high chair from Graco. This chair offers you eight height positions that enable you to set the most appropriate height for various activities including resting, feeding, as well as playing. The chair has multiple adjustments and harness that you can easily adjust using one hand to boost the comfort of your adorable baby. You do not have to worry about storing the seat as it folds easily to a compact position. Cleaning the seat is also hassle-free. You simply need to wipe it clean with a damp cloth.
6. Cosco Simple Fold High Chair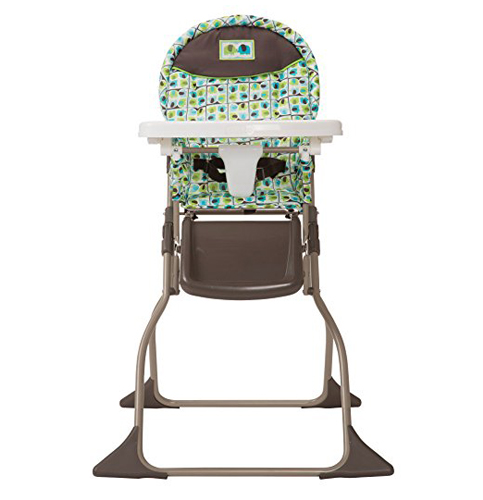 Having a stylish design and bright colors, this classic high chair will make an excellent addition to any home. The chair has three recline seat positions making it easy to feed the baby. When it comes to storage, the seat folds flat and stands on it's own allowing you to hide it away when not in use. The seat is also very easy to clean with a damp cloth and offers your child with all the comfort they need when resting and feeding. Additionally, the non-skid chair stand makes sure that it remains in a stable position.
7. Graco Duo Diner LX High Chair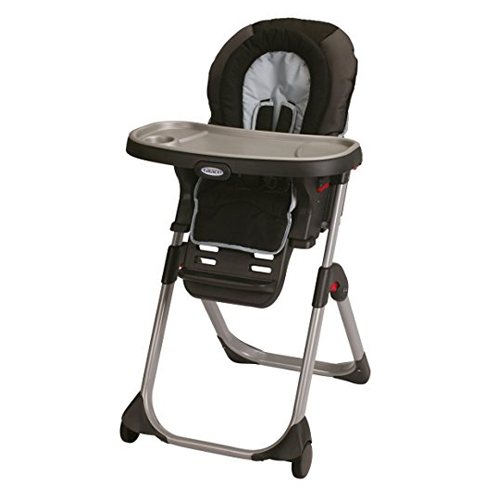 This chair is constructed using high-quality metal and durable plastic. It has three recline position that is ideal for giving the baby the needed support until they are strong enough to support themselves. We also love the fact that the seat offers your kid with both back and head support. To get the best value for your money, this chair is designed to last for long as you can simply convert it into a booster seat when the child outgrows the high chair.
8. Fisher-Price Geo Meadow SpaceSaver High Chair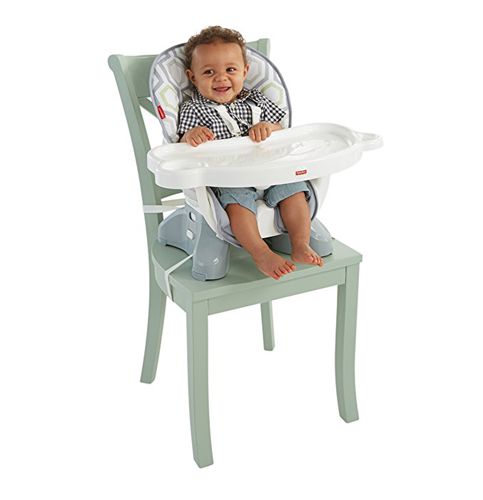 Although this chair is designed for small-sized homes, it has every feature you can enjoy from a full-sized high chair. Featuring a space-saving design, you can simply attach it to an existing chair and have all the benefits you get from the full-size model. Another admirable feature about this seat is that it is easy to transform it into a booster seat to meet the needs of your growing child. This chair also features a fast finder link that you can attach bibs, toys and other accessories.
9. Summer Infant Pop N' Sit Portable Highchair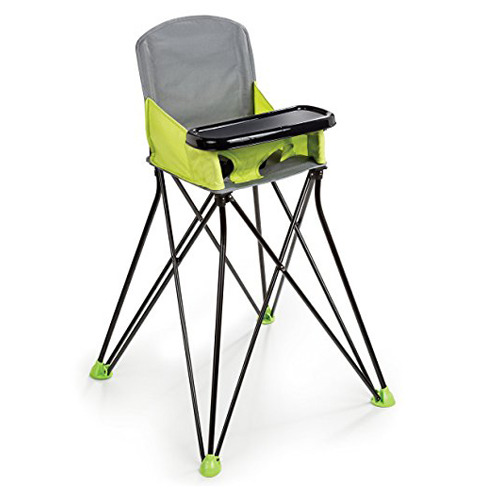 One of the advantages of going for a portable high chair for your kid is that you can carry it along when going to visit your parents, a friend or during a road trip. These chairs are easy to fold and do not require any tools for assembly. They are also lightweight making it easy to carry. This model has a heavy-duty plastic tray that offers a clean place for eating. The seat is also constructed with machine-washable fabric. For additional support and safety the seat, also features a three-point safety harness.
10. Skip Hop Tuo Convertible High Chair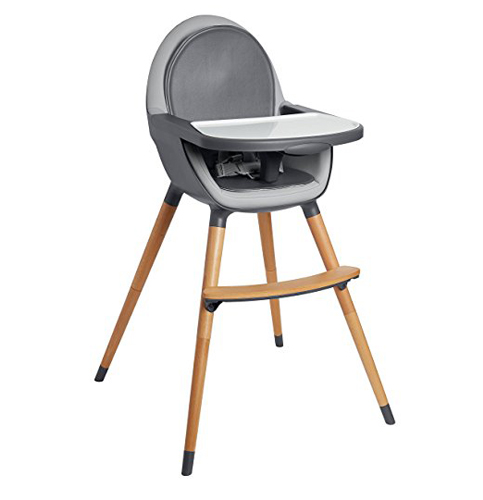 With five pointy safety harnesses, this high chair from Skip Hop will make sure that your baby stays put. The chair also has three reclining positions that offers your kid with maximum comfort when feeding. Another feature we liked is the easy to adjust tray that allows you to put the tray as close as your baby needs it. The tray is also easy to remove for quick cleanups, and the fabric is easy to wipe clean. Some of the other features we liked include non-skid feet, reversible seat pad, as well as the five-point harness.
Choosing the best high chair for your child
Remember, high chairs are not cheap and will stay with your child for quite some time. For this reason, you need to make sure that you purchase a chair that will offer him the comfort he needs. Here are some of the things to consider while buying the best high chair for your little one.
Durability
As mentioned earlier your baby will need

the high chair for a long duration

, until they reach 2-3 years. For this reason, you need to make sure that

you have selected a seat that is durable

. Look at the construction materials and determine whether they will be able to withstand heavy usage. Additionally, if you are

planning to have another child

there, you do not need to

purchase another chair

if

you had purchased a durable model

.
Removable tray


High chairs with a removable tray

are excellent choices as they are

easy to clean

. Additionally, when

your kids grow

, you can

remove the tray completely

to allow their

feet to stand on the ground

.
Comfort


The comfort that the chair offers the baby

is also important. Ensure that the chair offers the required support until the baby back can support their body.

The seat should also have reclined adjustments

to enhance

baby comfort while feeding

. Choosing a chair that is well padded will ensure that

the baby remains relaxed and comfortable

.
Multi-purpose
If you would want to get the best value for your money, ensure that you have selected a

convertible high chair

. This will allow you to use it as a

booster seat when your child outgrows the high chair

.
What about cleaning it
You should also think about the

cleaning process

. Luckily, most seats come with easy to wipe materials that dry quickly. In addition,

picking a chair

that has

removable and machine washable fabric

will also minimize the time spent in cleaning it.
Conclusion
Choosing any of the above-recommended high chairs for your kid will give you the convenience you need when feeding your kid. The chairs are affordable and have all the safety features that give the child he or she needs before he can join you at the dining table. We hope that our guide will assist you in picking the most appropriate choice that meets your specific demands.