Top Best Backpack for Motorcycle in 2020

There is always something to carry whether you are riding your bike to the office or taking that long road trip you have been planning. And even if you have the large onboard storage that many bikers will buy for their motorcycles, a backpack can still come in handy. Motorcycle backpacks are easy and convenient to carry, and because they will not be on the bike they can help keep your valuables safer.
However, there are many types of motorcycle backpacks out there and all are not the same. They will also differ in a lot more than the brand. But, you do not have to waste a lot of time shopping for the right one as our reviews of 10 of the best-rated ones below will help narrow down your choices.
Check out the Best Backpack for Motorcycle in Reviews
#1. OGIO Mach 5 Backpack for Motorcycle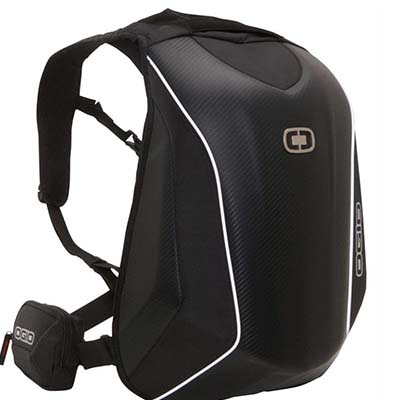 The simple look of this backpack should not be mistaken for low-quality as it is one of the best backpacks for motorcycles out there. It is made with some highly durable premium materials and with excellent stitching for maximum durability. Also, the stealth color is subtle and appealing enough which is just what many riders are looking for in a backpack. The interior has one larger compartment and several small ones to make organization easier. And the straps are adjustable and well-padded for maximum comfort. Although it is not large enough for a helmet, it still takes care of this as it has a helmet leash with clips.
Pros
Roomy backpack interior
Lovely stealth color
Strong stitching for maximum durability
Adjustable and well-padded straps
Multiple interior compartments for easy organization
Helmet leash included
Cons
The belt strap is fairly small and quite tight
#2. OGIO No Drag Mach 3 Motorcycle Backpack
You can always trust Ogio to have a great motorcycle backpack for you, and this one is for those that are looking for something aerodynamic. It features a streamlined single shot molded exterior, and with a shoulder gasket that will conform to the body for increased aerodynamics. Also, the fabric is water-resistant to protect your valuables. With the bright red lining inside, you will also not have to struggle to locate things as it ensures high visibility. Carrying the backpack is also quite comfortable thanks to the ergonomic, well-padded and adjustable motorcycle-specific straps.
Pros
Streamlined single shot molded exterior
Water-resistant fabric
High visibility red interior lining
Ergonomic, well-padded and adjustable straps
Reflective piping and logo enhance visibility
Removable off center hip belt included
Cons
Outer covering scratches easily
#3. Vikings Bags Moto Backpack
For those that prefer a larger and stiffer motorcycle backpack, this will be an excellent choice. It is made from heavy-duty Cordura material, and so you can be sure it will serve you well for a long time. And it has several compartments including a couple of side ones to provide additional storage space and for easy access to your stuff. The padded laptop compartment will easily fit most 15-inch laptops. There is also reflective piping that increases nighttime visibility for safety, and the backpack will come with a nice rain cover.
Pros
Heavy-duty material
Detailed organizer for small items
Easily adjustable sternum strap
Padded compartment will fit most laptops
Reflective piping for enhanced visibility at night
Comes with a rain cover
Cons
Helmet compartment is not adjustable
#4. Ogio No Drag Mach 1 Motorcycle Backpack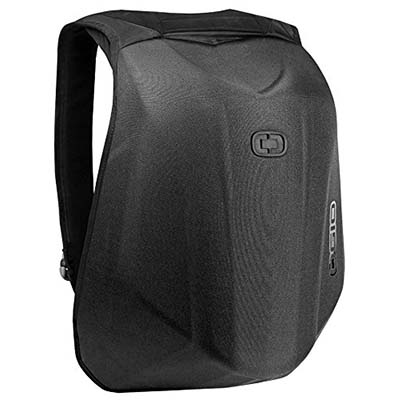 With the water-resistant and streamlined exterior and the body-conforming shoulder gaskets, you can be sure of increased aerodynamics from this bag, It consists of a large interior compartment and several small ones to make organizing your stuff easy. And carrying it is also super comfortable as it comes with ergonomic, fully-padded and easily adjustable straps and there is also an adjustable and removable sternum strap. This backpack also has a padded interior compartment that can accommodate up to 15-inch laptops.
Pros
Streamlined exterior
Body conforming shoulder gasket
Large main compartment and multiple interior storage compartments
Ergonomic and fully padded straps
Padded laptop interior compartment
Adjustable and removable sternum strap
Cons
Relatively smaller when compared to others
#5. OGIO No Drag Mach 5 Motorcycle Backpack
Like most other Ogio backpacks, the Drag Mach 5 is a top-notch quality product that is designed to increase aerodynamics to ensure zero drag. It is a water-resistant bag that is designed to ensure it does not deform under wind shear. Like most other high-quality motorcycle backpacks it has a large main compartment with an adjustable load divider that will make it easy to organize your luggage. Also, there are numerous interior storage compartments and a removable off-center hip belt that will not scratch your fuel tank. And you get to choose from two lovely colors.
Pros
The water-resistant exterior will not deform under intense winds
Soft neck shoulder straps
Larger compartment with adjustable load divider
Removable off the center hip belt
Choice of two fantastic colors
#6. Vikings Bags Dagr Motorcycle Backpack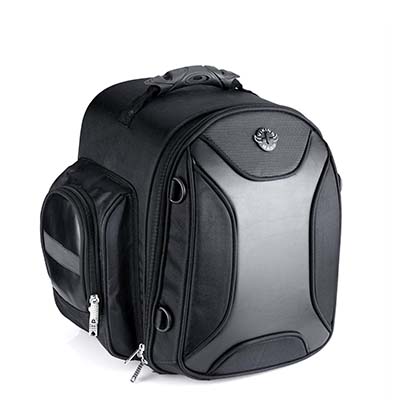 Although this Vikings Bags motorcycle backpack is relatively smaller when compared to others from top brands, it still provides more than enough space for most riders. And it also makes up for the smaller size with heavy-duty leather and Cordura materials that will last for a long time. There are also several zippered compartments and pockets that will make it easy to organize your stuff, and it is also waterproof. This backpack comes with adjustable shoulder straps and a comfortable top carry handle to make it easy to carry, and you also get a free rain cover on your purchase.
Pros
Heavy-duty materials
Weatherproof construction
Highly adjustable mounting sleeve
Comfortable shoulder strap and top carry handle
Comes with a free rain cover
Cons
Smaller when compared to others
#7. Advocator Motorcycle Backpack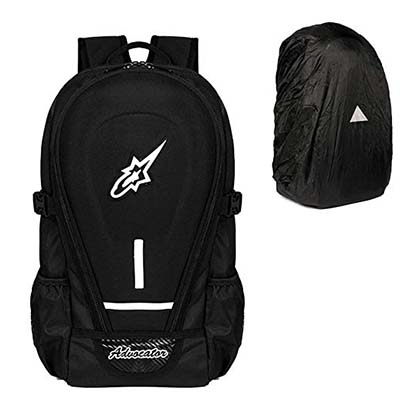 Sometimes it is not always about how a motorcycle backpack looks but the service it can provide. This particular one from Advocator does not have the most appealing or stylish look but it still does what it is meant to do perfectly. And it is also highly durable thanks to the water-resistant and hard outer shell. Also, the backpack includes a large main compartment and with several small interior ones to make it easy to organize. There are also a couple of side pockets that you can use for your umbrella or water bottle, and the free rain cover will provide maximum protection from the elements.
Pros
Durable hardshell backpack
Large main compartment and several smaller ones
Weather-resistant shell
·Fluorescent labeling for increased nighttime visibility
·Includes two handy side pockets
Free rain cover included
Cons
Not the most stylish or attractive
#8. OGIO No Drag Mach 3 Motorcycle Backpack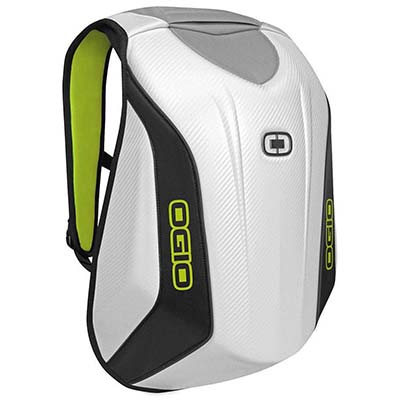 With the streamlined water-resistant exterior, you can be confident that this back will not deform as many others would from wind shear. Ogio makes it with a relatively large main compartment, and with several smaller ones to ensure you can use it to carry a lot of things. And they use bolstered back foam to enhance ventilation so that you do not end up with a sweaty back. With the ergonomic, well-padded and adjustable shoulder straps and the concealed aerodynamic carry handle, this backpack is also easy and comfortable to carry. And nighttime visibility is also enhanced with the reflective logo and safety piping.
Pros
Increased ventilation
Does not deform from wind shear
Zippered and fleece-lined pocket for your electronics
·Padded and fully adjustable straps
Concealed carry handle
·Reflective logo and safety piping
Cons
The main storage compartment is still not as large as some riders would want
#9. CUCYMA Stealth No Drag Motorcycle Backpack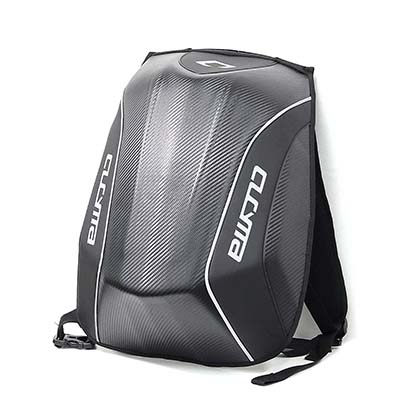 You do not always have to buy your motorcycle backpack from famous and expensive brands. Something like this from a less known company can still work well. It has a 30-liter capacity which is high enough for most riders and it also includes a handy mesh pocket that you can use to carry your valuables. The water-resistant nylon construction ensures that your luggage will be safe from the elements, and the backpack is designed to remain rigid even when empty. Bolstered back foam profile helps to increase the air ventilation while the soft neck shoulder straps make it comfortable to carry without scratching your helmet and reflective piping enhances nighttime visibility.
Pros
High cargo capacity
Handy internal mesh pocket for small items
Water-resistant nylon construction
Reflective piping provides extra nighttime visibility
Increased air ventilation
Comfortable soft neck shoulder straps
Cons
Nylon is not a very durable backpack material
#10. Alpinestars 6107115-12 Tech Aero Backpack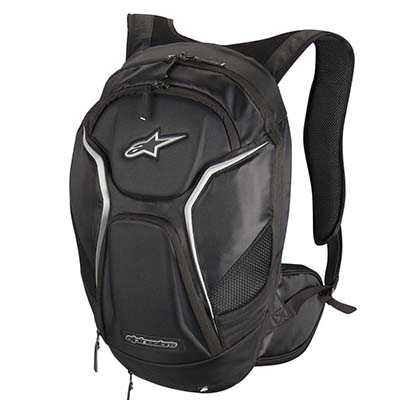 There are many things that make this a great backpack for a motorcycle but the aerodynamic profile is the key one as it reduces drag to ensure that you get the best riding condition. Also, the backpack comes with some anatomical and quick-release straps to make it more comfortable to carry. And there are two large compartments that are zippered to ensure that you can carry several things. The back padding is also a great addition to the design as it plays a crucial role in ensuring even distribution of the weight.
Pros
Aerodynamically profiled for reduced drag
Anatomical safety straps
Quick-release strap system
Back padding provides even weight distribution
Dual zippered large compartments
Cons
A little overpriced given that it is not genuine leather
Conclusion
With one of the 10 top-rated motorcycle backpacks above, you can be confident that you will have a safe, convenient and secure way of ferrying your stuff. And because all of them are top-notch quality, you will be okay regardless of what you choose among them. Also, we would love to hear what you think about these bags, and so feel free to drop us your views below.