Top Best Quality Bath Towel Sets in 2020
The best bath towel will keep you dry after a shower, swimming in the pool and after gym workouts. Today there are many bath towels in the market all claiming to be better than others. For you to pick the best set, there are some factors that you need to consider. These factors include the quality of the towel and how it feels on your skin. For instance, you should go for a towel set that remains intact after repeated use and a model that shrink less. A rough and faded towel will not improve your bathing experience. Additionally, you should pick a towel that feels comfortable on your skin.
If you are searching for the best towel for your bathroom but you are confused about the right one to pick, well, worry no more. The following top ten best bath towel set reviews will help you in making an informed decision.
#10. Pinzon Blended Egyptian Cotton Six-Piece Towel Set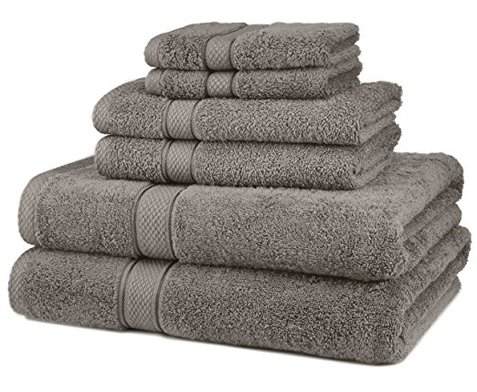 If you are looking for an absorbent and smooth bath towel, this is a great set for you. They are made with blended Egyptian cotton to come up with soft, highly absorbent and durable towels. The set comes with six towels that have different measurements making them suitable for a bathroom, dorm room, as well as Spas. The set is economically priced, shrink resistant and machine washable.
Pros
Soft and comfortable
Affordable
Cotton material is durable and easy to wash
Cons
Give off a considerable amount of lint when washed for the first time
#9. Utopia Towels Premium 8 Piece Towel Set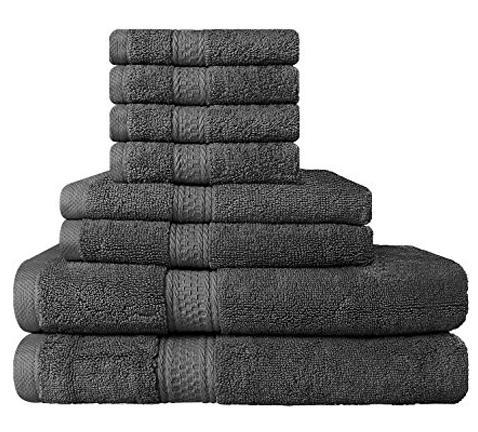 Utopia is one of the well-known brands that produce high-quality towels for quite some time now. The towels are constructed from high-quality ring-spun cotton. To enhance your safety these towels are constructed using 100 percent natural materials so you do not have to worry about harmful chemicals and synthetic materials affecting your health. The towels are also machined washable.
Pros
Made from 100% cotton
Luxuriously soft
High quality for the price
Cons
Little fraying after washing
#8. Chakir Turkish Linens Luxury Hotel & Spa Bath Towel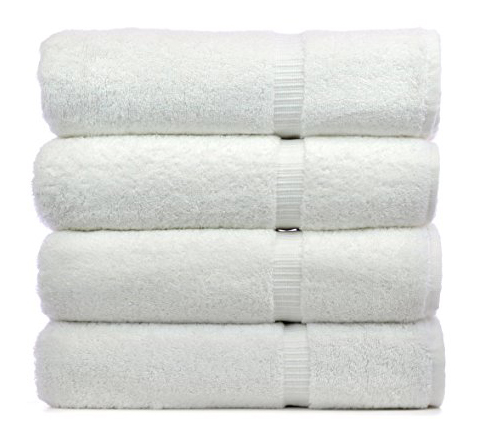 Chakir Turkish Linens towels are soft, absorbent, and long-lasting. To minimize fraying and towel edging these towels come with a double stitch edge. We love the stylish design that has a dobby weave towards the bottom edge of the towel featuring a geometric repeated pattern, giving them a classy look. The 100 percent genuine Turkish cotton construction makes them easy to wash and dry using a washing machine.
Pros
Highly absorbent
Machine washable and dry-able
larger than average
#7. Superior 900 GSM Luxury Bathroom 6-Piece Towel Set
The set is constructed using safe materials that have no synthetic materials or chemicals. This makes them ideal for people with sensitive skin. The towels have a classic style making them the best choice if you would want to refresh your bathroom décor and have a spa-like experience in the comfort of your home.
Pros
Highly absorbent
100 percent of safe materials
Available in a variety of colors
#6. Utopia Towels 30×56 Inches Luxury Cotton Bath Towels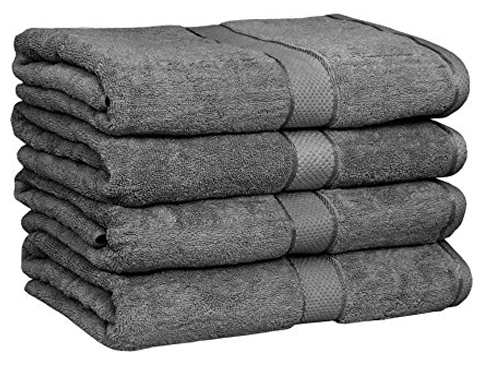 These are great for individuals who are looking for high-quality towels at an affordable price. This towel has many positive customer reviews with most clients stating that they were impressed with their performance. Having been constructed using ring-spun cotton, these towels are soft, durable, and easy to wash using a washing machine.
Pros
Very easy to wash and maintain
High quality
Inexpensive
Cons
Produces lint especially during the first time of use
#5. Utopia Towels Luxury Cotton Bath Towels, four Pack, Beige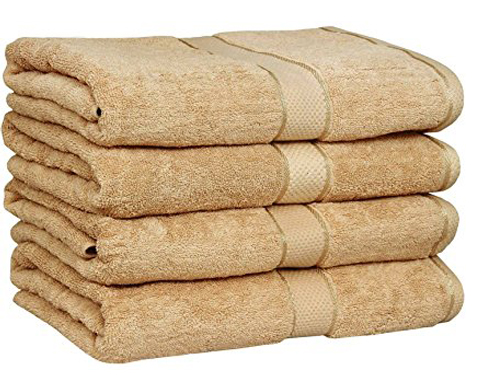 This is yet another great set that is worth every coin. The towel is super soft and absorbent, improving your bathing experience. They are made using 100 percent cotton so you can expect superior performance. Most people also prefer them because they are machine washable and easy to dry. We also love their impressive design that coordinates with modern bathroom designs, enhancing the look of your bathroom.
Pros
Softer with each washing
Multipurpose
quick drying
Cons
Does lose some lint when you wash them the first time
#4. Pinzon Pima Cotton 6-Piece Towel Set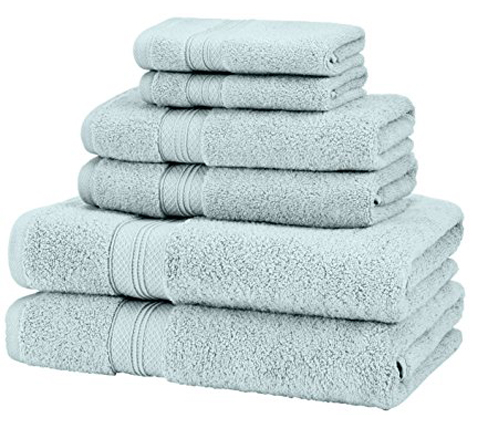 If you love deep and heavy towels, this set will not disappoint you. These towels are incredibly soft, and you do not have to worry about being affected by harmful chemicals that shed off when you start washing them. We also love the nice smell that comes with the towel allowing you to use them comfortably when new. Additionally, these towels are lightweight and very durable
Pros
Wash well
Decent size
Eco-friendly
#3. Cotton Craft – 7 Star Luxury Hotel Super Zero Twist 6 Piece Towel Set
Get a seven-star feeling at the comfort of your home by getting this set from Cotton Craft? These towels are luxuriously woven from 100 percent gram zero cotton that has been enhanced with rich ribbed hem detail. You will have an amazing bathing experience with this incredibly soft and absorbent towel. We also love its luxurious style yet a versatile design making it ideal for everyday use.
Pros
Easy care machine washable
They have extra strength and durability
Gets better after washing them for a couple of times
#2. Utopia Towels Cotton Bleach Proof Salon Towels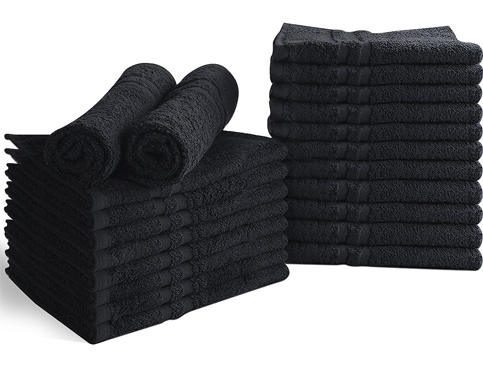 If you have a salon and would like to have, a high-quality towel that gives you a service you can depend on, this is a great choice. The set has 24 pieces that are designed to hold up against bleach and stain-resistant. They are made using 100 percent cotton allowing them to absorb more moisture while remaining vibrant. To get rid of dirt buildup in this towel use warm water and mild wash to machine-wash the towels.
Pros
Ideal size for a salon
Fade-resistant
Shrinkage-resistant, minimal lint
Cons
Small size, not ideal for home use
#1. Turkuoise Turkish Towel 8 piece set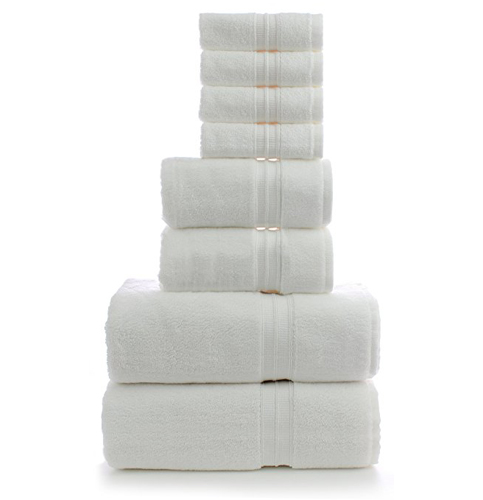 Luxury describes this set in every aspect. These towels are made using 100% Premium Turkish Cotton, for enhanced absorbency, durability, as well as longevity. These towels are not only oversized but also come with a stylish design, making them perfect for any bathroom or spa. When you want to clean the towel, you can use your washing machine with mild detergent. Having been made using safe materials, you do not have to worry about allergic reactions.
Pros
Big, thick and soft
Fluffy and soft even after you have washed them
Does not shed when used on wet skin
Cons
White colors meaning they need to be washed regularly
Conclusion
Whether you are looking for a towel for your hotel, spa, salon, or one for your home bathroom, we hope that our best bath towels set reviews will help you to find the right one that fits your needs. All the towel sets mentioned in our guide have received a lot of positive feedback from clients who have already purchased them. They are also constructed using 100 percent safe materials, so you do not have to worry about being affected by synthetic materials or harmful dyes. Go through the reviews, compare the features, and pick the set that meets your needs.