Top Best Bathtub Mats in 2020
Ever slipped after getting out of your shower or bathtub? Bathtub mats are ideal for making your bathroom safer and adding some decorative touches. Bathtub mats are specifically intended to be used in the bathroom and come in a multiple of colors, sizes, and styles. When shopping for a new bathtub mat, you will face challenges choosing the very best. There are several things to look at when buying the best bathtub mat. You have to look at the softness, the absorbency, the thickness, the color variety, the size and many more.
This article is aimed at making your shopping easier by providing you with the top ten best bathtub mats in the market currently. The reviews here have taken into account things like user reviews, ratings and our personal experiences with the mats. Go right ahead and check our top ten picks as you look to choose the best bathtub mat for your bathroom.
#10. Epica Anti-slip machine washable Bath Mat
The Epica Anti-slip Bath Mat starts our top ten lists and rightfully so with tons of features that make it stand out. It is quite durable and one to outlast other mats. The bath mat is made of a strong rubber material that offers superior protection. It has a non-slip grip in the floor ensuring your safety whenever you get out of the bathtub. Rubber never gets slippery when wet. It is also comfortable and easy to maintain making it a good pick.
Pros
Quite durable
Non-slip even when wet
Comfortable
Easy to maintain and clean
Cons
The suction power does fade over time
#9. Gorilla grip Rectangle bath mat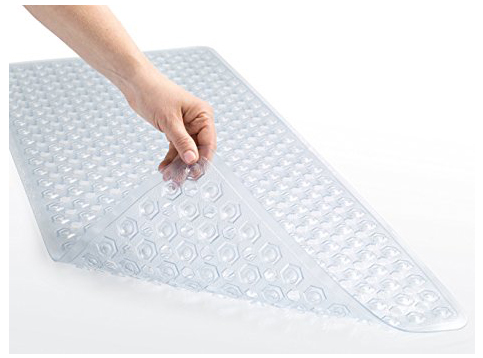 The Gorilla grip rectangle bath mat is a unique option with 24 gorilla suction cups that ensures it will stick to the surface at all times. This is the best bathtub mat for smooth floors and not tiled or textured floor. It is quite big in size 35" by 16" covering a wide area on the floor. The mat was designed with holes that allow circulation of water preventing mold growth beneath. It is mildew and anti-bacterial resistance and a safe option in any home. It is quite easy to maintain been machine washable.
Pros
It is machine washable
Prevents buildup of molds
Holds tightly to the floor and doesn't slip
Quite big in size
Cons
Can collect hair around the suction cups and require regular cleaning
#8. Munchkin Dandy Dots bath mat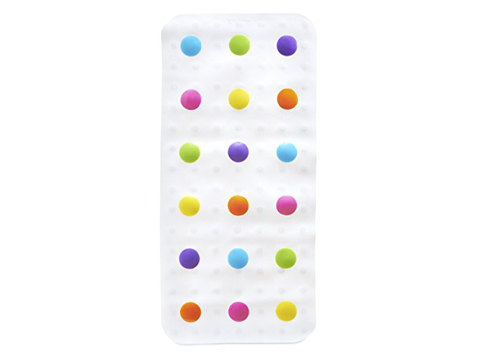 The Munchkin Dandy is another colorful bath mat that will add some color to your bathroom making it appealing. The mat will surely add some fun and color to your bathroom and remind you of the dot candy. The cute and colorful design makes it unique, but that is not everything about it. It is non-slip and holds up well on smooth floors. The mat has skid-resistant suction cups that hold it in place well. It remains highly recommended and a good pick to be on the list.
Pros
The design is cute and colorful
Holds on the surface well
Does not slip easily even when the floor is wet
Durable
Cons
Slightly raised dots might bother smaller kids
#7. Oceanstar FM1163 Bamboo floor and shower mat
If you love nature and want your bathroom to have the feeling of nature the Oceanstar is a great choice for a bath mat. The mat is made of 100% bamboo making it safe in your bathroom. The design is elevated to allow for water to evaporate and prevent the growth of mold. The design and style is modern and requires no assembly. The mat is a versatile pick that can be used to serve several other functions.
Pros
Rubber stops ensure it is slip resistant
Create elegance and sophistication in your bathroom
Quite versatile and can serve both indoor and outdoor purposes
Dry fast due to the slated design
100% natural and safe
Cons
Requires great care and maintenance
Can get damaged after prolonged periods of exposure to moisture
#6. NTTR non-slip bath mat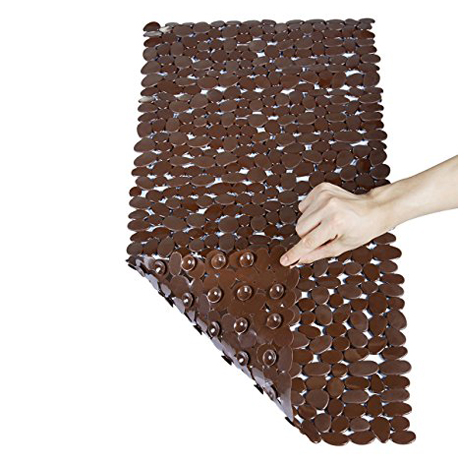 With over 200 suction cups, the NTTR bath mat is one of the best bath mats in the market in preventing accidentals falls in the bathroom. The mat is made of high-quality environmentally safe materials that are non-toxic. It is extra-long, durable and ideal for daily use. It is machine washable and safe from mold, bacterial and mildew.
Pros
Quite durable
Sticks to the floor firmly due to the 200 suction cups
Machine washable
Does not grow any bacteria, mold or mildew
Cons
The product has some plastic smell
#5. 15" by 35" Mildew resistant Bubble bath mat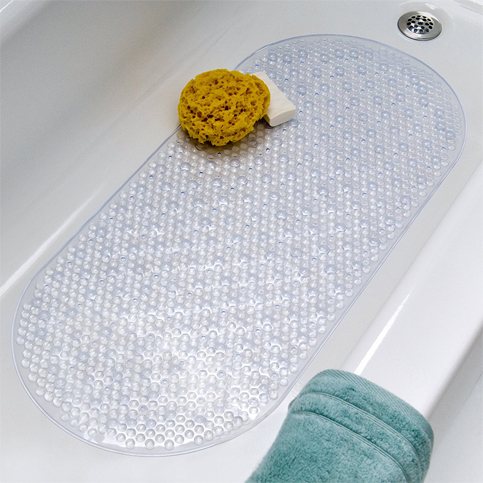 This is one of the best bathtub mats out there that combines most of the features one would want in a bath mat. It offers reliable slip-resistance, optimal drainage, and style. The mat perfectly adheres to the tub using the suction cups. It comes with built-in microban that ensures bacterial protection. It is machine washable and ideal for only smooth floors.
Pros
Combines most of the bath mat desirable features well
Non-slip
Antimicrobial protection
It is clear, and one can see through
Cons
Pulls up easily after each shower
#4. The Non-slip Clear PVC bathtub mat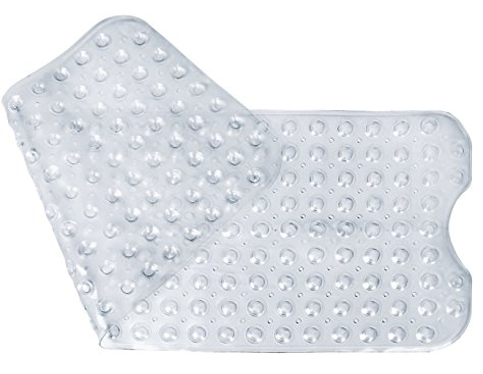 The first thing you will notice about it is the generous size 16 by 38-inch size. The material used is eco-friendly and durable. The PVC mat offers a sturdy grip on the floor with suction cups that adheres to the floor firmly once pressed. The upper surface of the mat is texture giving you extra comfort. The mat is a great choice for heavy use in places like saunas, spas, and hospitals. The design is long and beautiful making it a great pick. It is non-toxic and latex free and resists the growth of molds and mildew.
Pros
Quite big in size
The design is great and beautiful
Offers a sturdy grip
Ideal for heavy use
Cons
It has some plastic smell
#3. InterDesign Pebblz Bath mat
Do you want your bathroom to appear polished and stylish? The InterDesign Pebblz Bath mat is everything you need to a beautiful bathroom. Made from polished and textured pebbles, the mat looks a stunning beauty in your bathroom adding the much-needed glamor. The mat has suction cups on the bottom that keep it firmly grounded. You can cut and trim the pebbles if you want to change the appearance. It is a perfect choice that adheres to the floor well and drains water well.
Pros
Adheres to the floor firmly
Great drainage
Great design
Cons
Not very comfortable
Small
#2. Salinka Natural Rubber bath mat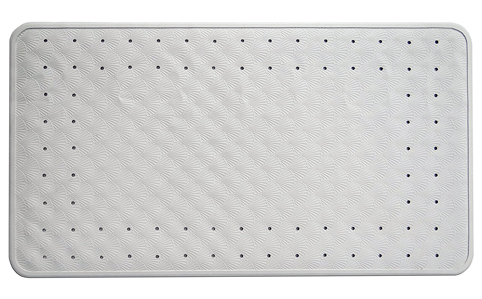 Salinka bath mat was designed with safety in mind and comes with great features that ensure your safety in the bathroom. It is a textured anti-slip mat made from a heavy duty rubber that further adds to the grip. The base of the mat has strong suction cups that allow the mat to stick to smooth surfaces with easy. The rubber material is highly durable and top quality. It is PVC free and non-toxic. The drainage holes ensure it dries faster. It is machine washable and quite easy to maintain.
Pros
Made from a heavy duty high-quality rubber material
Comes with drainage holes to ensure it dries quickly
The contemporary design complements your bathroom
Designed with safety in mind
#1. Yimobra bathtub and shower mat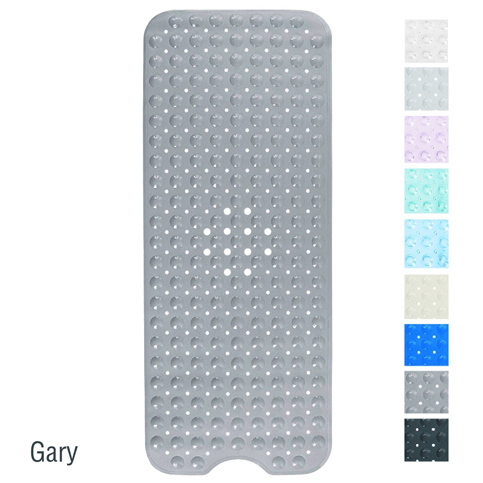 The Yimobra is one number one bath mat in the market currently with tons of features that make it an absolute value for money. It is long enough and covers a larger portion of the bathroom floor. It has over 100 suction cups that ensure it sticks to the floor firmly. It is made of high-quality materials that are BPA free, and allergen free. It is a durable and high-quality mat that can be used in various places like hospitals gyms, saunas, and spas. It is a great pick that you must try right away.
Pros
Comes with great features
Highly durable
Versatile
Safe for use
Conclusion
The top ten bath mats above are the best in the market currently and offer a great value for your money. Choose one today and order right away to improve the safety in your bathroom while enhancing the bathroom decorations. They are well rated and offer a good value for money. The ten bath mats above are the best in the market currently for individuals looking to improve safety in their bathrooms while ensuring the bathroom is appealing and attractive.
The ten have been carefully selected from hundreds of available bathtub mats. They stand as the best with amazing features that benefit the user in several ways. A pick of any of the mats above will be a great decision. By choosing from the list above, you eliminate the challenges of choosing a poor quality mat that will not serve you for long. Go right ahead and order one today with confidence knowing you will get a good value for your money.