Boat shoes or at least this style of footwear have
been around for more than a century now and although they started out as the
footwear of choice for sailors they are now a fashion trend across the globe.
Unlike in the past, these shoes serve a more prominent role than just helping
sailors maintain excellent traction on the slippery deck.
But like any other kind of footwear their design and
style has been evolving over the years. And so if you are shopping for a pair of
boat shoes for walking around the office you will have plenty of shoes to pick
from, and you only need to choose what suits your tastes.
The many boat shoe options out there can make it
hard to pick the right pair for walking or something that will not wear out
after wearing a few times. But, below we review some top-notch boat shoes for
walking to help make the decision easy for you.
1. Sperry Top-Sider Boat Shoe


Leather boat shoes are always the best as they are not only durable but also have that appealing classic look. And besides, from the genuine leather upper section, these boat shoes also have a non-marking rubber outsole that will ensure you get excellent traction
on both wet and dry surfaces. Other things that make this a fantastic pair of
boat shoes include the moccasin-stitched toe, slotted collar, and
rust-resistant eyelets.
Features
Leather upper section for extended
durability.
Non-marking rubber outsole for both wet
and dry traction.
EVA heel cup for shock absorption.
The moccasin-stitched toe makes it more
appealing.
Available in dozens of color options.
2. Sebago Dockside Boat Shoe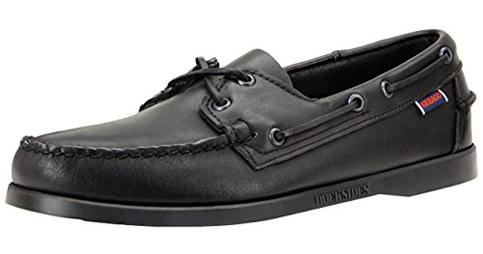 Sebago makes these boat shoes for the gentleman that
wants to achieve a classy but still simple enough look to ensure that he does
not draw too much attention. These hand-sewn leather boat shoes maintain the
traditional look that attracts most men to this footwear type, and they also
have a non-slip rubber outsole. The EVA foam insole also provides a lot of
padding and cushioning for the feet, and the shoes feature moc-toe stitching
and rawhide collar lacing to enhance the look.
Features
Durable full grain leather upper
section.
Flexible and non-slip rubber outsole.
Traditional hand-sewn boat shoes.
Molded EVA foam insoles provide adequate
cushioning for the feet.
Moc-toe stitching and collar rawhide
lacing.
3. Dockers Castaway Boat Shoes
Trendy and classy boat shoes do not always have to
be pricey. The Dockers Castaway is a relatively affordable pair of boat shoes
given its fantastic quality. And like most other boat shoes it features a
leather upper section and rubber outsole. It is available in tan and raisin
shades, and it has the moc-toe loafer stitching to enhance its appearance, dual
eyelet lacing, and a slotted collar.
Features
Moc-toe loafers stitching helps to spice
up the appearance.
Leather upper and rubber outsole for durable
overall construction.
Slotted collar design for a traditional
boat shoe look.
4. Sperry Top-Sider (Gold Cup) Authentic Boat Shoes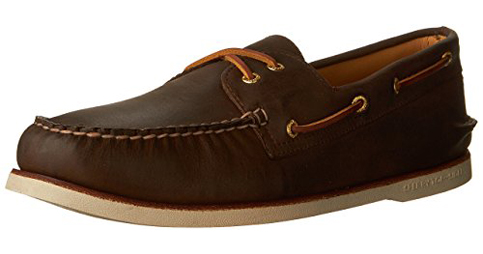 The diversity of colors is one of the elements that
make this a unique pair of boat shoes. With a little extra cash burn, you can
have boat shoes to go with almost any outfit that you have. And besides, from
this, it is also a high-quality pair that has a premium leather construction for
the upper section and rubber outsole. Also, the detailed stitching helps to add
some elegance, and it also has 360 lacing system for a secure fit.
Features
360 lacing system for a custom and
secure fit.
Detailed stitching for an appealing
look.
Premium leather upper section and rubber
outsole.
5. Dockers Vargas Traditional Boat Shoes


Nothing beats the traditional boat shoe look as you
can always be sure of getting some attention-grabbing shoes. And besides, from
the classic look of these Dockers boat shoes, they also have durable full grain
leather and rubber sole construction. And you can get them in three different
colors which are raisin, gray and rust.
Features
Classic hand-sewn boat shoes.
Soft and genuine leather upper section.
Sturdy and durable rubber outsole.
Ethylene vinyl acetate footbed and ethylene
vinyl heel cup for maximum comfort.
6. Sperry Top-Sider 3-Eye Boat Shoe


Here is a modern version of the traditional boat
shoes that will be a perfect choice for a man that want something with a
contemporary touch. And it is also one of the most breathable boat shoes that
you can get out there thanks to the leather and mesh combination for the upper
section. The thick and flexible rubber outsole also adds to the comfort of the
footwear and also protects the feet from impact when walking. These shoes also
have molded EVA midsole to provide sufficient cushioning and padding.
Features
Leather and mesh upper section for
comfort and breathability.
Molded EVA midsole for cushioning and
padding.
Flexible rubber outsole.
Five different color options to suit all
your outfits.
7. Sperry Top-Sider Bahama Two-Eyelet Boat Shoes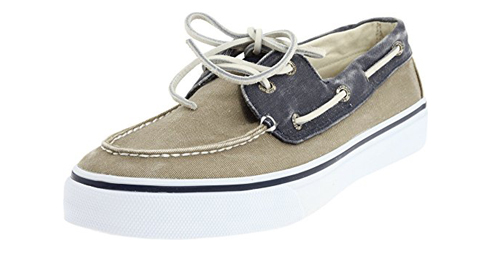 Full grain leather is always the best option when it
comes to boat shoes, but this pair proves that textile can also work great as a
material for the upper section. The boat shoes are also quite an affordable
pair, and they come with a thick rubber sole for maximum shock absorption and
to make them more comfortable. And their vulcanized construction provides a
secure bond between the top and bottom parts of the footwear.
Features
Vulcanized construction gives the boat
shoes a secure bond between the upper section and sole.
Breathable and durable texture upper
section.
Genuine hand-sewn moc-toe stitching.
360-degree lacing system for a
comfortable and custom fit.
Non-marking rubber outsole provides
excellent wet and dry traction.
8. Sperry Top-Sider Ultralite Boat Shoes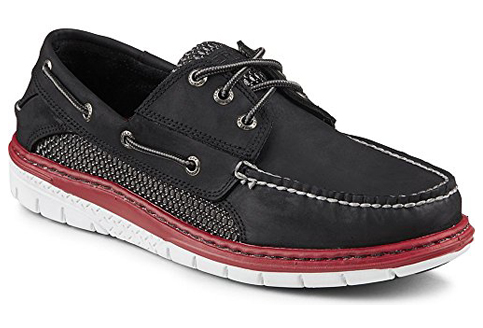 Lightweight boat shoes are always more comfortable
and ideal for walking around all day. Whether you are at the office or running
some errands, these ultralight boat shoes will be an excellent choice, and you
will hardly notice them on your feet. Although they are 100% leather shoes,
they also have a mesh on the upper section to enhance breathability. And they
come in a classic style with moccasin stitching and slotted collar.
Features
Moccasin stitching and slotted collar
for a classic look.
Lightweight construction for all-day
comfort.
100% leather and mesh upper section.
Non-marking rubber sole with a
contrasting color to enhance the look.
9. Sperry Top-Sider Leeward 2-Eye Boat Shoe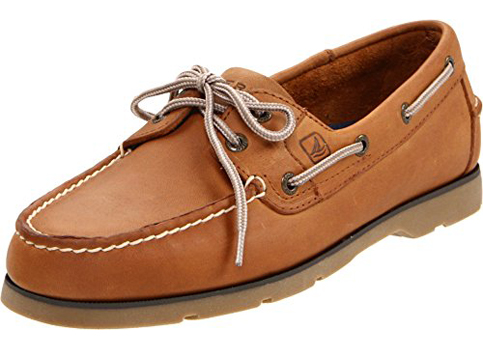 This fantastic hand-sewn leather boat shoe is both a
comfortable pair of footwear and also a stylish one that offers an appealing
traditional look. They also have a cushioned footbed that provides comfort
throughout the day and a flexible rubber outsole that also helps in shock
absorption. You can get these fantastic boat shoes in dozens of colors.
Features
EVA heel cup for enhanced shock
absorption.
Flexible and durable rubber outsole.
Hand-sewn genuine leather boat shoes.
10. Sperry Top-Sider Defender 2-Eye Boat Shoes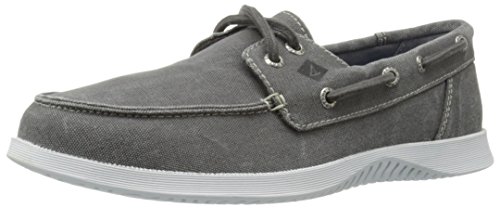 If you prefer to wear
boat shoes that do not have a leather upper section or want something with a
casual look here is an excellent choice for you. The beautiful pair of shoes
features textile top section that is very breathable and comfortable. And it
also uses a synthetic outer sole that will provide excellent traction on both
dry and wet surfaces. Most men that have these shoes admit that it will fit
perfectly.
Features
Breathable and comfortable textile upper
section.
Synthetic outsole provides fantastic
traction on all surfaces.
Available in some lovely colors and sole
in a contrasting color.
Conclusion
A pair of some classy and traditional looking boat
shoes will always be a statement maker for men. And they are also comfortable
enough for walking around all day. With the many styles and types of boat shoes
out there it is not always easy to pick something that suits you. But with our
reviews above of some fantastic pairs, you should now have an idea of what to
select from the various options.