Top Best Car Bumper Protector Pads in 2020

The best car bumper protector pads are designed to help car owners increase the lifespan of their car bumpers. They protect against dings, dents, and scratches, thereby, helping car owners save the money they could have spent on repairing the bumpers of their cars. A top quality car bumper protector pad is always made of a flexible material that is thick enough to absorb shock. Ideally, the flexibility of the materials used to make these bumpers always come handy during installation. That is they make the rear bumper protector pads very easy to install and take off. If you are here looking for a rear bumper guard, keep on reading because we have reviewed terrific products just for you.
Checkout the Best Car Bumper Protector Pads in Reviews
#1. EuroBumperGuard.com Outdoor Bumper Protector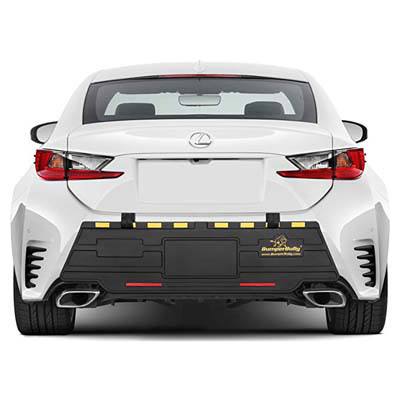 With an area measuring 46" x 12", this car bumper protector pad is no doubt one of the largest bumper protector pads for cars in the market. It comes with lots of accessories, including integrated Hi-Intensity Red Safety Reflectors to allow you to park safely at night; Steel Reinforced trunk straps that are waterproof for solid performance, and Patented Stabilizer Bars with gold color. The protector's large area enables it to cover more of your car bumper in order to provide maximum coverage. Instead of PVC plastic, the manufacturer of this product has used a top quality and soft elastic rubber material, which lasts much longer than most materials. Ideally, this bumper protector is designed in such a way that it will not block the exhaust pipes of your car.
Pros
Ideal for drivers who park on the street
Protects the bumper from dents
Well made and easy to install
Cons
A little pricey for what it is designed to do
#2. Luv-Tap BG001 Universal Fit Bumper Guard for Trunk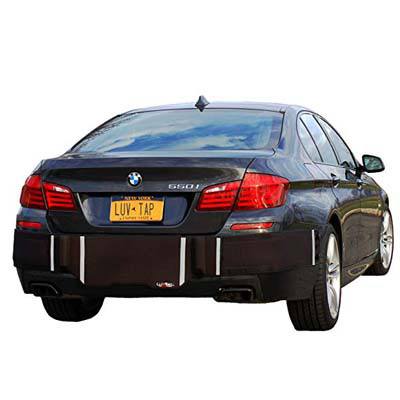 It is hard to go wrong with a car bumper protector pad that is new and improved. Well, that's exactly what this universal fit bumper guard for the trunk is all about. It is large enough to protect the entire bumper. In other words, it will cover the corners and sides of your car to help provide protection against low-speed impacts from parallel parking. Ideally, this car bumper protector pad comes with suction cups to securely attach it to your car. Also, you can use a bungee cord to attach the protector pad securely to your vehicle. The pad is machine washable, meaning keeping it clean and fresh looking will not be a hassle.
Pros
Fits around the bumper to provide maximum protection
Looks good and not difficult to install
Protects from bumps and scrapes
Luv-Tap has excellent customer service
Fits a variety of cars
Cons
The Velcro could be better
#3. FH Group F16408 Universal Fit Rear Bumper – Black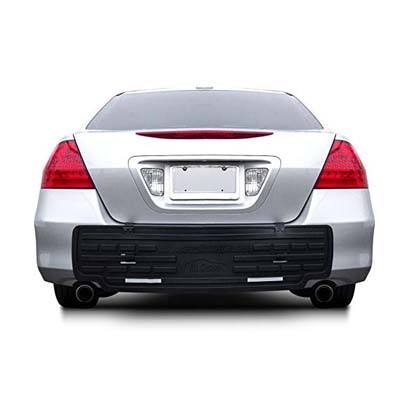 This is another relatively large car bumper protect pad. It measures 43" x 11", meaning it is large enough to provide maximum coverage and protection. In addition, this rear bumper protector comes with adjustable straps to make installation a breeze. And when it is not in use, the bumper protector can be effortlessly folded and stored in the trunk cargo area. The protector pad is durable because it is made of rubber. It is designed to fit most sedan vehicles and protect their bumpers from dents and scrapes. What's more, the pad comes equipped with high-intensity safety reflectors that make it stand out, so the drivers parking their vehicles behind you can easily notice your car.
Pros
Available in several color options
The price is competitive
Very easy to customize
Works well with many different vehicles
The quality appears to be great
Cons
Has a pretty strong smell when new
#4. BumpShox 3.0 Front Car Bumper Protection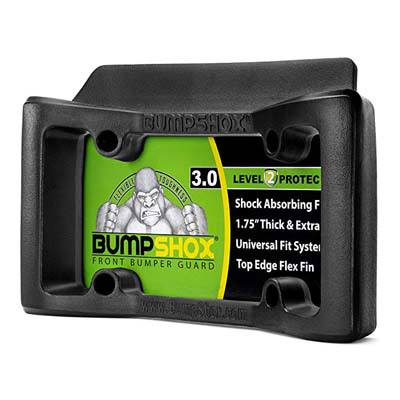 BumpShox is an expert when it comes to producing top-class car bumper protector pads. In fact, most customers argue that their 3.0 front car bumper protection pad is tougher than steel. This is because the pad is made of V-Tech foam that is weatherproof; hence, will not rust or crack. Besides, this car bumper protection pad boasts a pyramid design that looks sleek enough to improve the appearance of your vehicle. The design also maximizes shock absorption as well as increasing flexibility. Another feature of the pad is the recessed screw design, which ensures that there are no protruding metal parts to cause damage to the bumper of another vehicle. This pad measures 14 inches wide by 8.25 inches high by 1.75 inches thick.
Pros
Offers good protection to expensive car bumpers
Holds up well to the outdoor elements
Great for those who park in the street
Cons
The screws leave a lot to be desired
#5. T-Rex Rear Bumper Guard for Cars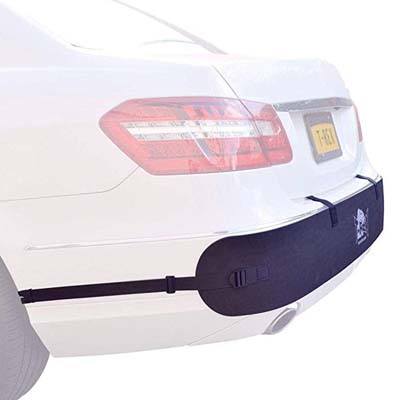 Since this car bumper protector pad is universal, it will fit cars of all sizes. It is made of high density and long-lasting material, which is a ¼ of an inch thick. Given the quality of the material, expect the car bumper protector pad to protect your bumper against scratches, dings, and dents. It is a lightweight bumper guard that weighs just 1.5 pounds, so you can have a great time handling it. Moreover, the guard is super wide (measuring 72 inches wide) and can be curved around the corners to provide 360-degree protection. It comes with two Velcro straps that enable it to securely attach right on the carpet of your trunk.
Pros
Protects the corners of cars nicely
Easy to install and take off
Fits perfectly on a number of vehicles
Very sturdy and well secured
The pricing is great
Looks very nice on the car
Cons
The straps need improvement
#6. PARKING ARMOR Indoor/Outdoor Rear Bumper Protector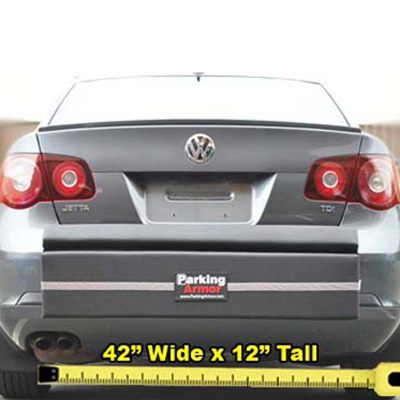 This car bumper protector pad provides a bumper protection area of 42" x 12". As such, expect it to provide optimum coverage and protection. In addition, the rear bumper protector is weather-resistant, so it can hold up well even when the weather is far from being friendly. It is made of a rubber material; hence, it will not crack or rust like plastic or metal protector pads for bumpers. Its durability has also been extended to its straps, which are waterproof and are made of steel. The protector pad is 2 inches thick, and it boasts a "Flex-Body" structure that enables it to flex around the contours of your bumper in order to offer ultimate coverage.
Pros
Protects the bumper as advertised
Thick enough to absorb impacts from parking
The padding on the Velcro straps is a bonus
Does not hold the water in it
Lightweight yet very durable
#7. BumperBadger Retro Edition Rear Bumper Guard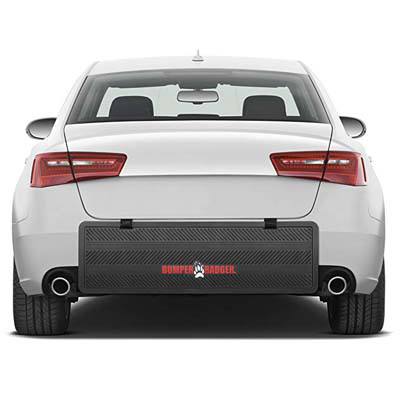 A top quality car bumper protector pad should be made of premium material. And that's exactly what BumperBadger has done. They have made this rear bumper guard with an all-weather material to make sure that even the most hostile weather stands no chance against it. The manufacturer has also included raised ribs to help cushion parking bumps. Plus they have made sure that the bumper guard has a wide protection area measuring 40 inches wide by 12 inches tall. The wide protection area provides greater coverage, thereby, improving protection. Furthermore, the guard comes with durable straps that are triple stitched for maximum strength and optimum reliability. Every driver should consider it if they want to save money on repairing the bumpers of their cars every now and then.
Pros
Protects bumpers from scratches and bumps
Covers a large area of bumpers
The price is unbelievably cheap
Easy to install and fits as expected
Cons
Should be stiffer than it actually is
#8. ROCCS Rear Bumper Guard Protector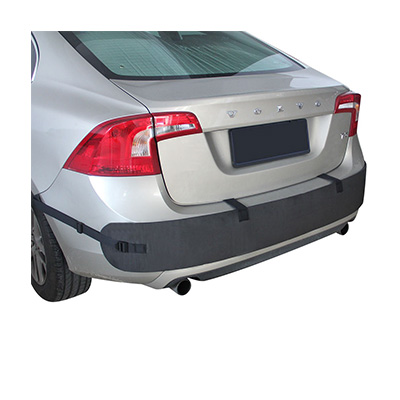 Nearly every customer who has used this car bumper protector pad has been impressed. And we hope that you will be as well. The rear bumper guard protector is around 72 inches long by 8.07 inches wide by 0.4 inches thick. Well, this is a good size that works perfectly for most cars. What's more, the bumper guard protector is made of a high-density and high-quality long-lasting material that is effective enough to protect your car bumper from dents, dings, and friction scratches. The manufacturer of this bumper guard offers two extension hooks and two Velcro straps to help you install and secure the bumper in place with much ease. Also, they provide installation instructions.
Pros
Heavy, strong and fits perfectly
The quality of the bumper is good
The price is excellent
Ideal for those who always do parallel parking
Covers the entire bumper
Cons
The straps could be longer and stronger
#9. Luv-Tap BG002 Universal Fit Rear Bumper Guard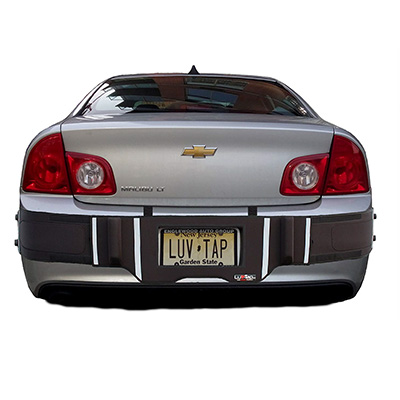 There is no car bumper protector pad that is designed with convenience in mind like the Luv-Tap BG002. It is new and improved, so it can do an excellent job of protecting the bumper of your car to the fullest. And by "fullest" we mean the bumper guard will protect even the corners and sides of your car. It is made of a flexible material that allows it to conform to the unique contours of any vehicle. The material also allows it to blend with the shape of the vehicle without tainting its stylish appearance. As if that's not enough, this rear bumper guard is easy to customize to perfectly fit your car.
Pros
Machine washable for quick, easy cleaning
The protection and coverage are good
Works perfectly with most vehicles
Installation is easy and takes just a few minutes
Appears to hold up well to hostile weather
Cons
The quality of the included bungee cords is questionable
#10. CityBumper Extra Wide Rear Bumper Guard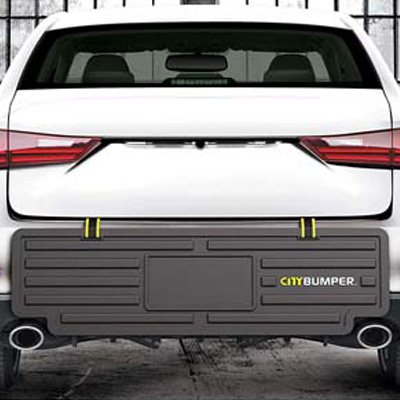 One feature of this bumper protector pad that cannot go unnoticed is the super-wide surface, which measures 42" x 12". Also, we are impressed by the fact that the bumper guard boasts shock-absorbing ribs, which act as cushions to bumps, thereby, contributing immensely to improving the lifespan of your car bumper. Ideally, the rear bumper guard is made of weatherproof premium materials, so you can use it with confidence whether it is raining or shining. Besides, the bumper protector pads come with two-tone trunk straps that help make installation a breeze. The straps are yellow and black to help make your car stand out, so other drivers cannot bump into it even in low-light conditions.
Pros
Easy to install and covers car bumpers well
Well made and holds up nicely
Ships fast to avoid any inconveniences
The price is reasonable
Cons
Likely to sag because of the weight and material
How to Choose the Best Car Bumper Protector Pad
For a car bumper protector pad to be regarded as top quality, it must meet the following demands.
Material
A high-performance car bumper protector pad should be made of a flexible material that is ready to conform to the unique contours and shape of your vehicle. The material should also be weatherproof, so it can provide protection even in a rainy or snowy environment. Plus it should not crack, dehisce, delaminate or rust. That being said, an example of such a material is a rubber.
Protection Area
Your car bumper protector pad should have a wide protection area. This is because a wide area provides wide coverage, which, in turn, offers improved protection. With this in mind, go for a car bumper protector pad, which is as large as possible.
Thickness
The thickness of a car bumper protector pad plays an important role; hence, should not be overlooked when you are buying the best quality car bumper protector pad. Well, a thick car bumper protector pad will definitely absorb shock from low-speed impacts. By so doing, it will help keep your vehicle dent-free.
Conclusion
A car bumper protector pad is actually more important than most people think. It helps keep cars in perfect condition. And this means it will play a huge role in maintaining the resale value of your car as well as increasing its lifespan. So, waste no more time and get one from the reviews we have written above.