Top Best Closet Quilt Stands in 2020

Closet quilt stands are both beautiful and practical household furniture, which continue to be useful in our lives. If you are considering purchasing a quilt stand, then you are on the right page.
Whether you will be using it to hang quilts, blankets or even towels, this review will provide you with all the necessary information that you need to make the right purchase decision.
List the Best Closet Quilt Stands
1. The LadderRack 2-In-1 7-Bar A-Frame Stand
Made in the USA from pine, our first quilt stand in this list is this 7.5-ft tall display rack. It offers 7 bars for hanging your quilts, with each bar being able to hold up to 10 lbs. of weight. This rack is also flexible.
You can either use it as an A-frame or you can stand it straight like a ladder. This gives you the opportunity to make the best use of the space you have. It also comes with non-slip pads to keep things steady.
2. Harper Blvd Antique Bronze Quilt Rack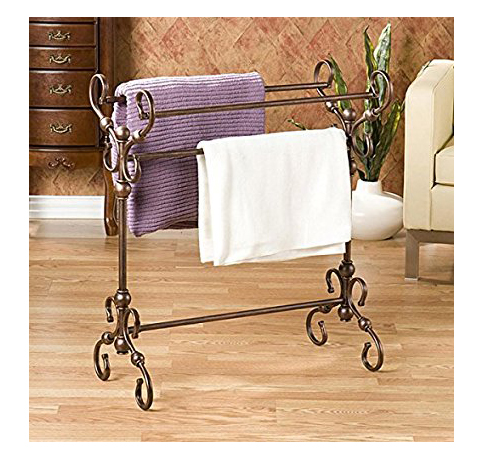 Featuring scrolled metal and in a bronze finish, this quilt stand delivers both functionality and a prestigious look. There are 3 bars for organizing your blankets, quilts or towels. This stand will fit into both traditional and modern homes.
It measures 32 inches in height, 28 inches in width, and 14 inches in depth. Each of the hanging bars is 25 inches long and its sturdy construction guarantees a long service. If you love classic-styled furniture, then this may be for you.
3. Wayborn Saffron Mission Style Quilt Rack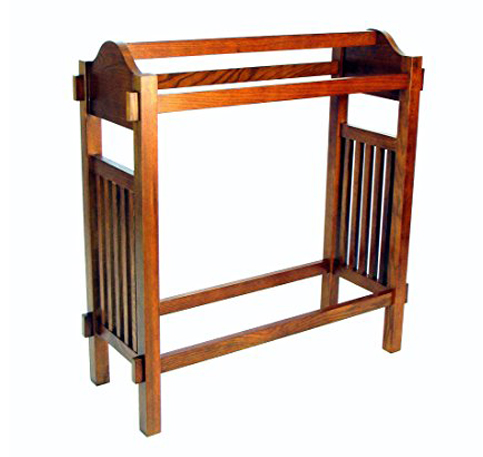 If you are a lover of mission style furniture, then this one might melt your heart. It offers 3 display racks for your lovely quilts and a classic mission oak finish to give you that classic touch in any environment.
Mission style furniture might not be for everyone, but there are those who know and cherish this art style. This stand will hint at your taste in furniture. It is also very sturdily built for long life and its warm finish colors are a great addition to any room.
4. The LadderRack 2-In-1 5-Bar Display Stand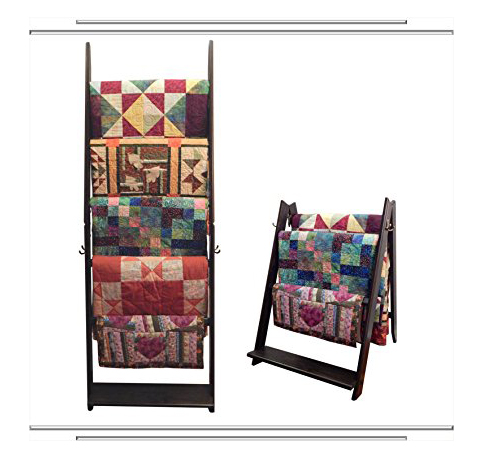 Also offering you the ability to either display your quilts in an A-frame or on a ladder, this LadderRack stand offers just 5 display bars but at a cheaper price.
It is 67 inches high and 30 inches wide, but when turned into an A-frame display, its height reduces to 33 inches. The hanging bars are reinforced for long life and the satin finish makes it a lovely piece of furniture.
5. Imax Slender Wrought Iron Quilt Stand
Imax creates amazing furniture for interior decorations and this one is no different. It comes in a southern antique style, from Imax's Savannah collection and it is totally lovely from top to bottom.
Its ornate wrought iron design gives any room a top-class vibe. This stand is slender. It measures 36 inches in height, 16 inches in width, and 13 in-depth. You can change it to hold quilts, towels or any other item that you may fancy.
6. Frenchi Home Furnishing Classic Espresso Quilt Rack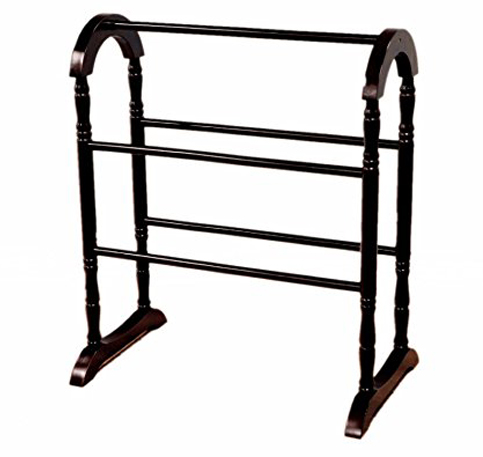 This quilt stand is for those who love classy furniture but in a discreet and non-obstructive manner. With 5 hanging bars, it offers you enough space for displaying your quilts or hanging other valuables.
Its dark espresso color sets it apart and blends well with its detailed woodwork, which gives this stand a classic vibe. This closet quilt stand weighs 7 lbs and is 30 inches high and 26 inches wide.
7. Scrolled & Aged Bronze Quilt Rack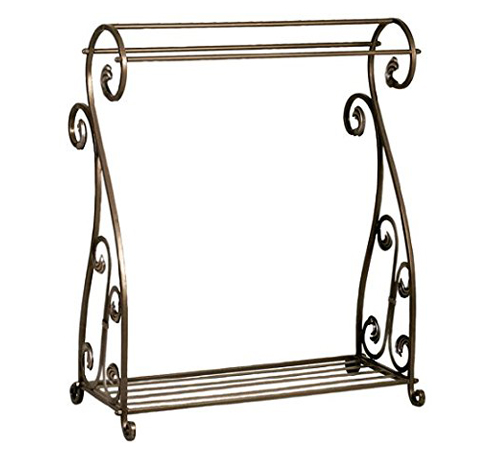 Featuring a lovely scrolled and aged bronze design, this quilt stand offers you an elegant way to organize your towels and comforters, or to display your precious quilts. It is 36 inches high and 31 inches wide.
3 hanging bars provide you with enough space for hanging or displaying your quilt. There is a bottom shelf, which provides extra storage space, and the entire stand weighs just 12 lbs. This closet quilt stand will fit into any kind of home design, including contemporary settings.
8. Winsome Wood Walnut Quilt Rack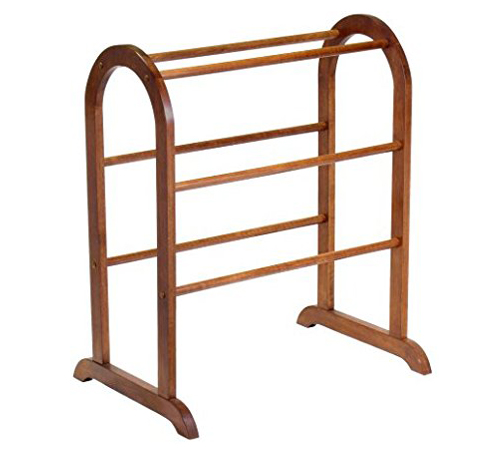 Six bars provide enough hanging space with this closet quilt stand. It is 26 inches and 18 wide. The design is simple, yet this stand is quite stylish and modern. It will also fit into traditional and modern home designs.
The construction is made from beechwood and then finished with a walnut finish. This stand ships in a wooden box and a little assembly is required before use. There is also currently a 46% price discount on this stand, making it a great offer.
9. Winsome Wood Antique Walnut Quilt Stand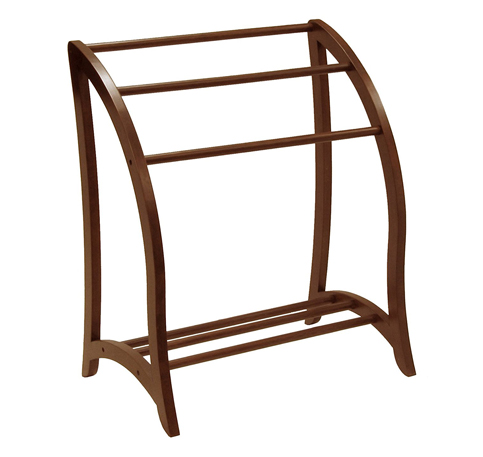 Designed to hold 3 quilts, this beautiful and uniquely designed wooden quilt stand is a great addition to any living space. Its curves combine with its walnut finish to create a piece of furniture with a modern, yet classy vibe.
There is a bottom rack for additional space and style. This stand also ships in a box. It is 36 inches high, 30 inches wide, and 20 inches deep. It is also quite lightweight, at just 11 lbs.
10. Elegant Scrolled Metal 3-Bar Quilt Stand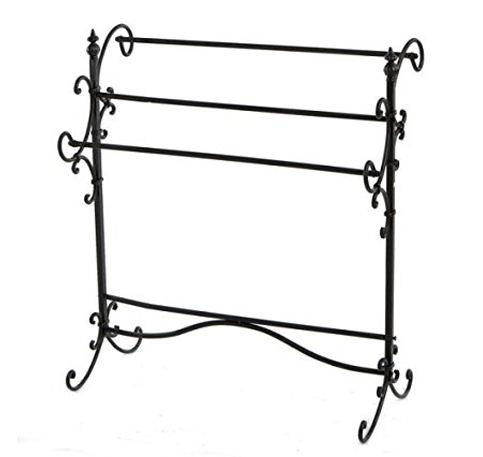 Made from tubular steel and finished in black with a bronze rub, this charming piece of furniture looks like classic quilt stands which were traditionally made from wrought iron. It is 35 inches high, 31 inches wide, and 16 inches deep.
The stand weighs 12.5 pounds and features 3 bars for hanging your blankets, comforters, quilts or towels. In addition to its elegant looks, this stand is also very reasonably priced. Hardly anyone will guess how affordable it actually is, and this makes it a favorite choice for many.
Buying Guide: Best Closet Quilt Stands
In order to be able to make a well-informed purchase decision, you have to understand the important aspects of a closet quilt stand, which you need to look out for when reaching a decision.
Intended Use
The reason you are buying a closet quilt stand matters a lot. The right size, style, and material of the stand will depend on what you intend to use it for. Some people may use their stands to display antique or special quilts in the living room. Others may just want something to hang blankets in the bedroom and so on. Your intended use will give you an idea of the type that you need.
Number of Bars
There are different sizes of quilt stands with different numbers of hanging bars for your stuff. It's left for you to know what you want to hang and how much space you will need for it.
Material
Quilt stands can be made from different materials including wood, glass, wrought iron, and chrome. Wood is a very popular material here, while the wrought iron is for more traditional styles, with glass and chrome being used for more contemporary styles.
Conclusion
We have come to the end of this list and the turn is now yours to make a choice. You have seen the different designs and styles of closet quilt stands that are available, and you have also seen our recommendations. Feel free to choose from any of these top 10 quilt stands.