Top Best Compressed Air Blower Gun in 2020

The best-compressed air blower gun is one that releases a huge amount of air. What's more, a top-quality compressed air blower is super versatile. This means it can be used to clean a floor, workplace, electronics, cars, and machinery, among others. Unfortunately, it is quite difficult to know whether a compressed air blower gun is top quality or not. And this is where our detailed reviews come into play. The reviews talk of the best-selling models of compressed air blower gun to give you more information about these units. They not only highlight the features but also discuss the pros and cons of each product, so you can get a genuine item for your money. Keep on reading to choose the brand to take home.
Check out the Best Compressed Air Blower Gun in Reviews
#1. Capri Tools 2-Way Air Blow Gun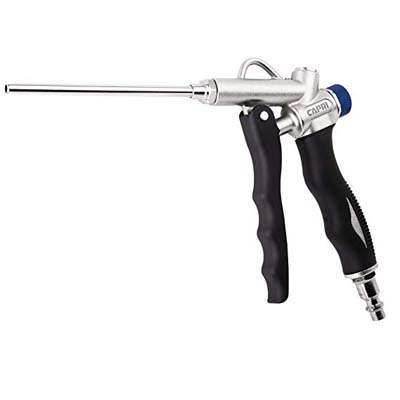 This compressed-air blow gun is first on the list because we find its versatility unmatchable. It is great for endless applications such as dusting off machinery and engine compartments as well as blowing water off of different parts, among others. The 2-way air blow gun will feel so right in your hand, and this is because of the ergonomic grip. In addition, it delivers a maximum pressure of 150 PSI, and this is what really contributes to its versatility. Another feature that makes it incredibly versatile is the extra-long 4.5" nozzle that easily gets into hard-to-reach areas. Also, this air blow gun boasts solid construction as well as a solid, attractive aluminum frame.
Pros
The adjustable flow knob is a cool addition
The trigger mechanism is metal
Feels good in the hand
Will not break the bank
Works exactly as advertised
Cons
The nozzle seems to break easily
#2. Neiko 5 Piece Set Air Blow Gun Set – 31112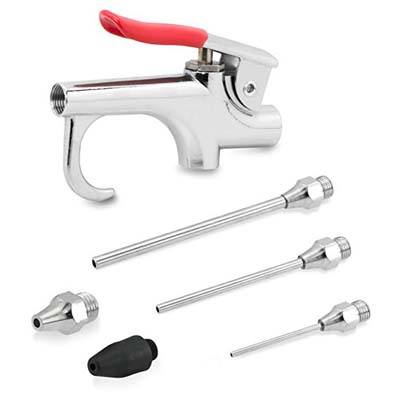 The second compressed air blower gun is worth considering as well. And that's because it is compact and powerful. That being said, the blower is very easy to handle and use. It blasts air inside hard-to-reach crevices and cracks. It is also great for blasting away stubborn dirt and debris from tools, equipment, truck beds, and other surfaces. It is a 5-inch air blower that fits standard compressors with ¼ in. tempered thread. The 5-piece set includes 4-inch large and 3-inch narrow interchangeable tubes, metal tip, inflating needle, and non-marring soft rubber tip. This means you will virtually have all the accessories to get the most out of this package.
Pros
Great for blowing dust and sand out of electronics
The attachments screw into the gun securely
The sensitivity in the handle ensures easy control of the pressure
The price is competitive
Cons
The overall quality could be better
#3. Capri Tools 5-in Blue Air Blow Gun – 21072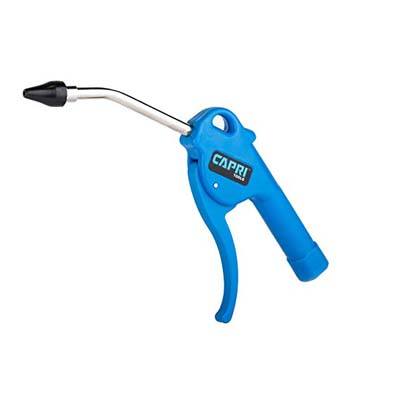 Capri Tools has another effective tool, which is useful for clearing debris, drying off the water, and more. It is the Capri Tools 21072 model. It has an innovative lever design that makes it really easy to use. Ideally, its handle is equipped with a wonderful grip to provide you with great ergonomics while using it to blow water, dirt, and dust out of electronics. There is also a rubber tip to help increase precision. The compressed air blower gun is made with US NPT ¼" eighteenth inner thread. It works great because it is a product of a serious manufacturer that has equipped it with the necessary features.
Pros
Very comfortable to hold and works really well
The rubber tip helps prevent scratching
Great deal for the price
The plastic body is super robust
Well made and nicely finished
The triggering mechanism works nicely
Cons
Not the best at controlling the rate of airflow
#4. Flexzilla AG1502FZ X1 Blow Gun with Xtreme-Flo Nozzle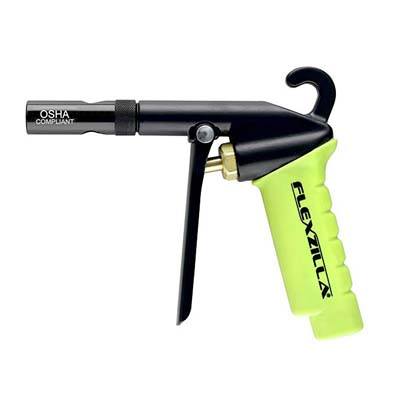 The Xtreme-Flo nozzle that comes with this blowgun meets/exceeds the safety standards set by OSHA. It is, therefore, quality and safe to use. Besides, this air blower gun comes with a variable flow trigger that will help you regulate air volume with amazing precision. The compressed air blower gun also boasts an ergonomically-designed body to provide you with maximum comfort and control. Because of the ergonomic design, you will not be fatigued as a result of using the blowgun. The modular accessory system means you will be able to customize the gun extension length and tip for every application. The maximum flow of this blowgun is equal to or greater than compressed air blower guns in the same class.
Pros
Puts out a huge amount of air
Great for cleaning off garage floor and driveway
Great quality and it arrives fast
Cons
Pricier than other similar options
#5. Garage Ready Air Blow Gun with Variable Air Flow Trigger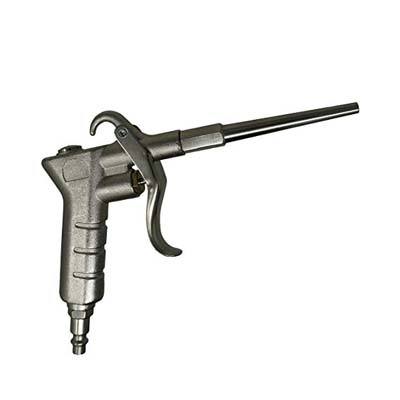 One main drawback of most compressed air blower guns is durability. Fortunately, the Garage Ready Compressed Air Blower Gun seems not to have such a problem. This is because it is constructed with a long-lasting zinc alloy, which offers high strength as well as extreme durability. To explain further, the materials used to make this air sprayer are premium and will prevent it from corrosion. Ideally, this blowgun comes with a heavy-duty 4" extended nozzle to help you reach confined places in order to remove stubborn debris. The nozzle is sturdy; thus, it will not bend or crush. You will be able to use this air sprayer for long hours, considering that it is constructed with ergonomics in mind.
Pros
Super solidly built for long-lasting performance
The customer service is excellent
Works great and has outstanding ergonomics
The air blower gun has lots of uses
Cons
Threads could be milled better in the nozzle tip
#6. Milton ¼" NPT Lever Blow Gun, S-148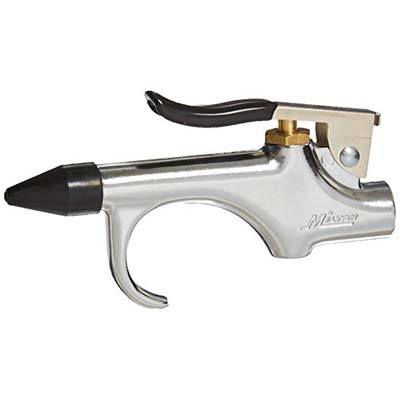 A compressed air blower gun that will not scratch off paint during use should be a frontier for you. Well, the Milton S-148 model comes with a mar-resistant rubber tip as well as a safety tip to help prevent scratches on paints. We, therefore, believe that it is a good tool. What's more, it is multipurpose in that you can use it to remove debris, blow out airlines, or dry off fluid. It produces maximum working pressure of 150 PSI, and this is exactly what makes it super versatile. The rubber tip has a 12.9 standard cubic per min. at 100 lbs per square inch, while the safety tip has an 11.7 standard cubic per min. at 100 lbs per square inch.
Pros
Assembled in the USA
The price is low
Easy to install on the air compressor and remove
Cons
Cheaply made, but gets the job done
#7. Astro 1716 Deluxe Air Blow Gun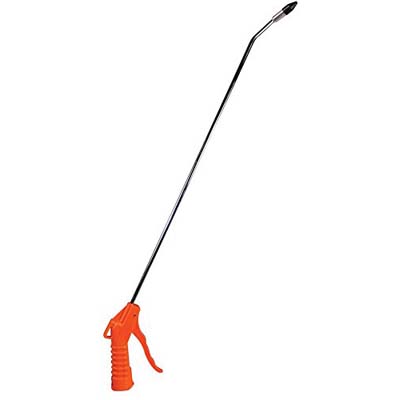 We'll tell you why this deluxe compressed air blower gun is convenient, faster and much easier to use regardless of the applications. Well, first, the air blow gun comes with highly functional accessories such as a ½ in. removable rubber tip and a 20 in. long angled nozzle. And second, the air blow gun has a new and improved valve design. The 20" long nozzle is intentionally angled, so it can get into tight spaces with much ease. Moreover, this air blower gun has a high-impact plastic body, which comes equipped with an integrated hanger slot. Its insulated handle has an ergonomic grip and works with a comfortable lever control to allow you to use it (the air sprayer) with much ease.
Pros
Greatly priced and works pretty well
Ideal for blowing out spark plug holes in an engine
The volume of air it produces is outstanding
Cons
The build quality is not the sturdiest
#8. JASTOOL Air Blow Gun with 14 – 21 Inch Air Flow Nozzle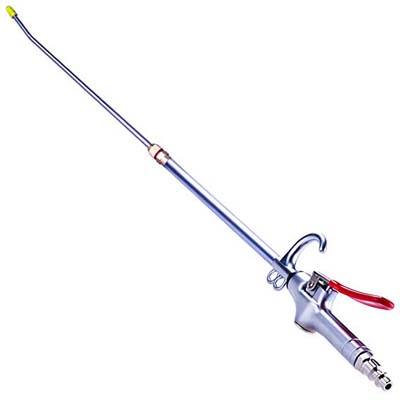 It is not easy to find a compressed air blower gun that is backed by a warranty. That's why we are happy to let you know that the JASTOOL Air Blow Gun not only comes with a 14" to 21" airflow nozzle but also it comes with a 1-year warranty that protects against defects. Furthermore, this model has a 360-degree swivel hook, which makes it easy and convenient to use. Plus it boasts all-metal construction for superior durability. The all-metal construction includes a high pressure-resistant copper alloy, anti-break chrome zinc alloy body, and a high-impact stainless steel airflow nozzle. The extra-long airflow nozzle will let you access hard-to-reach slot areas with ease.
Pros
Seals very well with the air hose
The hanger hooks are great
Great for cleaning fridge coils
Seems very well built
The on/off valve does not leak
Cons
May arrive with a few issues, but the warranty will come in handy should that happen
#9. NanHong Air Blow Gun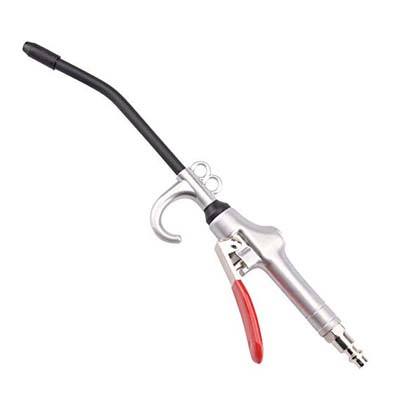 NanHong is another company, which ensures that your hard-earned cash does not go to waste. Well, they achieve that by providing a 100-percent guarantee that enables them to sort out any issues. All you need to do is to call them within 24 hours and they will be responsive enough. Besides, this air spraying tool comes with a 360-degree rotating hook for easy use and convenient storage. It also has a new design tapered airflow nozzle that works with inner supercharging construction to deliver high volume powerful blow off. Having said that, expect this unit to blast away stubborn debris, water, dirt, powder, and more. It is great for cleaning machinery, cars, and even workplaces.
Pros
Durable and easy to use
Feels nice in the hands
Grips well for easy control
The knob to control air is super handy
The tip is long enough to effortlessly get into tight areas
Cons
May arrive defective, but the manufacturer seems very friendly and helpful
#10. WYNNsky Hi Flo 10 Pieces Air Blow Gun Kit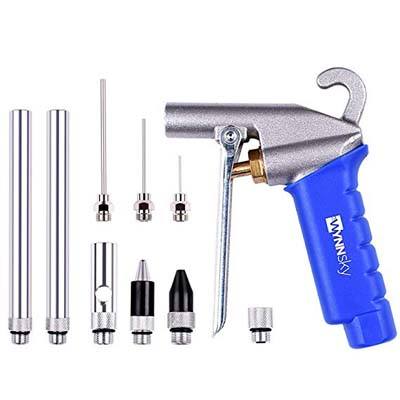 When you buy this kit, you will get a Hi Flo blowgun, two 6-inch extensions, 1", 2" and 3" needle tips, tip adapter, rubber tip, Xtreme Flo Nozzle, and Quiet Flo Nozzle. In other words, the kit will provide you with all the accessories you need for 100-percent customer satisfaction. The kit's Hi Flo blow gun is engineered for use with a maximum pressure of 120 PSI. The air blow gun boasts a durable body that makes it well-suited for extreme use. Plus it is lightweight and ergonomically constructed, so it can fit comfortably in your hands for fatigue-free use. The kit's nozzle, on the other hand, is OSHA compliant to prove that it is very safe to use.
Pros
Comes with lots of accessories
Great build quality and appears to hold up well
The price is right
Comfortable to hold and releases a lot of air
How to Choose the Best Compressed Air Blower Gun
Check out the following factors as well.
The Build Quality
It is imperative that you choose a compressed air blower gun with the great build quality. This is because a sturdily built air sprayer can withstand extreme uses. Besides, a well-constructed air blower gun tends to be highly versatile let alone being super reliable. With that said, consider tools made of all-metal construction.
Ergonomics
Your compressed air blower gun should be designed with ergonomics in mind. This means its handle should have an ergonomic grip as well as be well-contoured. Moreover, it should not be overly heavy. An ergonomically-designed compressed air blower gun will let you use it for several hours without fatigue.
Maximum Pressure
Go for a compressed air blower gun with the highest maximum pressure. Such units are highly versatile, as they blast away even the most stubborn dirt, dust, and powder, among others. As such, they are ideal for almost any application be it cleaning the car, electronics, machinery, etc.
Conclusion
Compressed air blower guns are designed to blast away debris, dust, and dirt. They are easy to use, given that a good number of them are ergonomically designed. In addition, most compressed air blower guns are affordable. So, go ahead and choose yours from the reviews we have written above.