Top Best Cordless Hair Clippers in 2020

You need the best cordless hair clipper to give you those close perfect haircuts. This is because everyone likes good grooming, which, unfortunately, cannot be offered by flimsily made cordless hair clippers. This means when choosing a hair clipper, you must make sure that it has a powerful motor and precision blades that are sharp enough and, at the same time, very safe to use. Your cordless hair clipper should also operate quietly to avoid interfering with people nearby or scaring kids if at all you plan to use it on them. Our reviews talk comprehensively about these high-quality hair clippers to help you find the best brand at a fair price.
Lists of the Best Cordless Hair Clippers Reviews
#1. Wahl Cordless Rechargeable Hair Clippers and Trimmers (#79600-2101)
Many consider Wahl as the number one brand of hair clippers and beard trimmers. This is because it makes its products in the U.S.A with optimum quality. That said; expect these hair clippers and trimmers to provide you with exactly what you are looking for. The haircutting kit comes with all the essential accessories to ensure that you get the best out of it. These accessories include multiple sizes of guide combs for worry-free and easy at-home haircuts and self-sharpening precision blades for snag-free cutting. The blades of this haircutting kit are 40-percent faster compared to the standard blades.
Pros
Makes a great gift for men, boys, and boyfriends
Easy to use and charges really fast
Accessories are great for beginners
Holds charge for a pretty long time
Lightweight and holds up well
Has an amazing clipper head
Cons
Noisier than most cordless hair clippers
#2. Philips Norelco 7100 Hair Clipper (HC7452/41)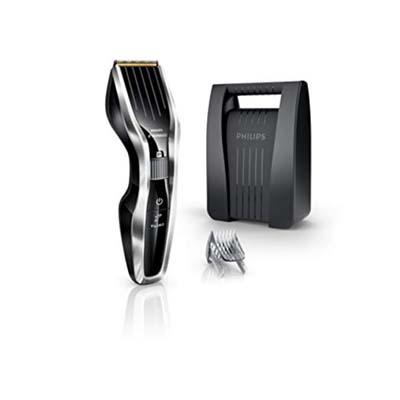 This hair clipper is designed for people who are after superior convenience. It brings the ultimate cordless power, considering that it has a powerful lithium-ion battery. Well, the battery only requires an hour of charging, and when it is fully charged, it powers the hair clipper for up to 120 minutes. Apart from the powerful battery, the hair clipper is well designed and comes with an adjustable comb that offers precise length control as well as titanium blades, which give great cuts. In addition, it is equipped with a turbo boost button, which allows users to increase the cutting speed to achieve a perfect cut even on the thickest hair.
Pros
Very easy to use and clean
Very light for easy maneuverability
Eliminates the need to make several trips to a barber
Great for beginners
Much more precise than standard hair clippers
Cons
The guard could be much better
#3. Sminiker Professional Cordless Haircut Kit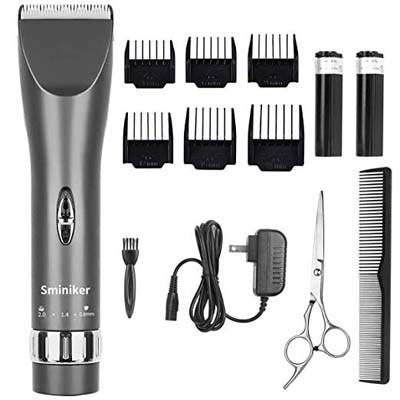 This rechargeable hair clipper set comes with two batteries, six combs, a pair of scissors, and guides. It also comes with a cleaning brush and an American standard AC power adapter. It offers the best hair cutting experience, thereby, helping you save the money that you could have spent on your visit to a barber. The cordless hair clipper promises to offer a proper powerful cut because it is equipped with heavy-duty gear that improves stability as well as ensuring steady control. The clipper also features a titanium blade that works with the ceramic movable blade to provide long-term and efficient cutting.
Pros
Powerful, versatile, and whisper-quiet
Guards slide on and click into place
Lightweight; hence, easy to maneuver
Great quality and works nicely
The price is unbeatable
Comes with lots of blade options and accessories
Cons
Does not give a very close cut as compared to top quality brands
#4. Wahl Professional Cordless Designer Clipper (#8591)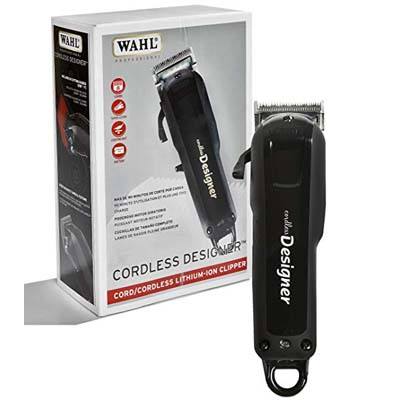 Professional barbers who want to give their customers the best should consider the Wahl Professional Cordless Designer Clipper (8591). It is intended for professional use, and, therefore, it delivers the peerless performance experts demand. The clipper features a 1005 universal blade, a charging cord, and a Lithium-ion battery. Besides, it comes with all the accessories needed to get the best out of it. These accessories include 8 attachment cords, red blade guard, cleaning brush, instructions, and oil. The clipper weighs 10.2 ounces and measures 6.25 inches long. It is ergonomically designed, so you can use it for long hours without fatigue.
Pros
Fits well in the hand
Battery life is relatively long; over an hour
Has a pretty quiet sound
Great for full-time barbers
The package arrives as described
The motor works harder and stronger
Cons
It misses lots of hair, but this can be solved by cutting repeatedly
#5. Remington HC5855 Haircut & Beard Trimmer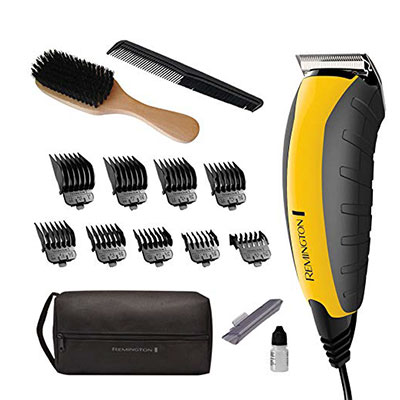 It is obvious that you would like a product, which is powerful and designed to last. And, in our opinion, this product is none other than the Remington HC5855 Haircut & Beard Trimmer. It has a high impact polycarbonate casing that protects its interior, thereby, allowing it to remain reliable and relevant for years to come. Additionally, it is equipped with a super magnet motor, which channels optimum power to the precision blades in order to allow them to cut two times faster than the previous Remington brands. The hair clipper also comes with a beard brush, length-adjusting combs, styling comb, blade oil, guards, and a storage pouch.
Pros
Durable and works great
Easy to use and clean
Small; thus, fits easily in the hand
Comes with lots of attachments
Quiet and seems to be of a great quality
Cons
The teeth on the guards are too far apart; hence, may not give a close cut
#6. Andis 64850 Professional Ceramic Hair Clipper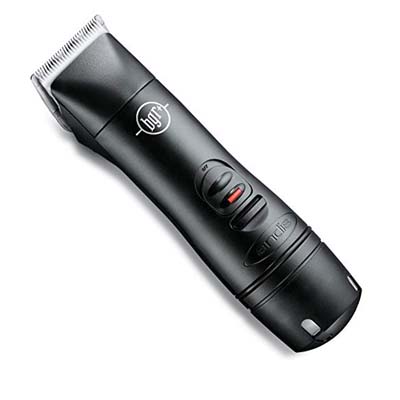 When it comes to rating cordless hair clippers based on the weight, the Andis 64850 Ceramic Hair Clipper would be the best. It has an incredible weight of 1.10 pounds only. As such, expect to have zero problems maneuvering it to get the results you want. It is 20-percent lighter, 10-percent smaller, and 15-percent faster than conventional cordless hair clippers. When fully charged, this ceramic hair clipper works for more than one hour, which is just enough to deliver the results you demand. The battery can be charged separately from the clipper, and this further promotes convenience.
Pros
Perfect for trimming the head and beards
Cleans easily with the included brush
Holds up well to everyday use
The cordless design makes it (the hair clipper) easy to use
Gives smooth, reliable, and precise cuts
Lightweight and can be traveled with easily
#7. Hatteker Cordless Clippers Hair Clippers (RFC-6618)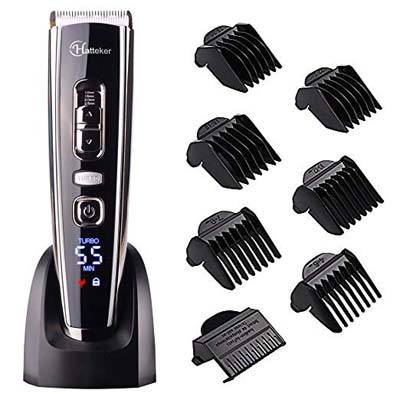 A top quality hair clipper will help you get exceptional results. That's why we recommend the Hatteker Cordless Clippers Hair Clippers (RFC-6618) for you. It has a powerful lithium battery, which can be fully charged in one and a half hours. And when it is fully charged, it works up to 60 minutes. The hair clipper comes with a large high definition LED display, which shows the battery capacity to make sure that you know how many minutes are left before it (the hair clipper) runs out of power. The hair clipper also comes with 7 combs with different cutting lengths that include 28 – 30mm, 4 – 6mm, 22 – 24mm, 7 – 9mm, 10 – 12mm, and 16 – 18mm.
Pros
The battery life is long
Effective and looks attractive
The customer service is fantastic
The blade is very easy to remove
Good for the hair and beard
Makes a great gift for a loved one
Cons
Instructions could be better
#8. PECHAM Professional Cordless Hair Clippers Set
We know you are looking for an effective cordless hair clipper that will give you precise cuts. And we say you have come to the right place since this is where you will come across the best cordless hair clippers like this one from PECHAM. Considering how it is designed, this cordless hair clipper is very useful both for home and professional use. It features a small and delicate body that makes it great even for kids. Additionally, it is very easy to use because it is wireless. Its lithium battery charges for around 2 – 3 hours and lasts up to 8 hours once fully charged. This means you will not be inconvenienced with low battery power.
Pros
Clippers are sharp and cut the hair without any problems
Holds a charge for a really long time
Boasts an amazing quality and works quietly
Cons
The settings are very short
#9. Wahl Professional Sterling Li Pro Clipper
Wahl has done a great job since it was formed. And one of these jobs is to produce the Wahl Professional Sterling Li Pro Clipper. The machine is designed for professional use; thus, it promises to provide you with the amazing results you have been yearning for. It features an ergonomic design, and this makes it extremely easy to use. It also features a chip-controlled motor that offers endless cutting power regardless of the hair type or battery charge. Its battery type is lithium-ion, and it has a run time of 75 minutes to allow you to make those great cuts with minimal to zero inconveniences.
Pros
Cutting blades are of very high quality
It is lithium powered and runs smoothly
Very lightweight and looks sleek
Has a nice finish and feels great in hands
Quiet and runs barely warm
The battery life is great
#10. WOWAX Hair Clipper for Men, Professional Cordless Hair Clipper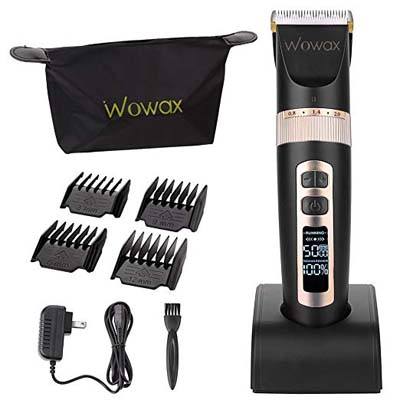 The WOWAX Hair Clipper for Men is another product that we think is worth a place in these reviews. It has sharp and safe ceramic blades that have an R-shaped rounded edge design to prevent your skin from getting irritated or hurt. With that said, the ceramic blades are perfect for every hair type. It also features a large LCD display that shows battery percentage, charging indicator, oil indicator, and rotating speed to make sure that you have all the information you need. Its motor is reasonably quiet yet powerful enough to cut very clean without pulling the hair. WOWAX believes that this cordless hair clipper is quality. That's why they promise 3-month money-back guarantee and a 1-year replacement warranty should you have a problem with it.
Pros
Cuts through the thick and fine hair
Easy to use and has great adjustments
The battery lasts a very long time
Cons
The spacing between the blades is a little too close
How to Choose the Best Cordless Hair Clipper
Our buyer's guide provides you with the following factors to consider.
The Power of the Motor
It is good to choose a cordless hair clipper with a powerful motor. This is because powerful motors drive maximum power to the blades, thereby, allowing these blades to give a close cut regardless of the hair type. They also make blades work much faster than the blades powered by weak, flimsy motors.
Ease of Use
If you want to get the best out of your cordless hair clipper, it is important that you choose a unit, which is easy to use. That said; make sure the cordless hair clipper you are going for features an ergonomic design. It should also have a perfect size that fits the hand nicely to allow for easy maneuverability.
The Battery Life
The fact that your hair clipper is cordless does not mean you have to charge it every time you are done with cutting your hair. Therefore, consider those brands with long battery life. Such cordless hair clippers will allow you to cut your hair for a pretty long time before you can charge them again.
The Number of Attachments
A cordless hair clipper with several attachments will allow you to make all kinds of haircuts. With that said, be sure to buy a cordless hair clipper with as many attachments as possible. The hair clipper should also come with other accessories such as blade guards, blade oil, different types of the comb, and even a bag/pouch.
Conclusion
Cordless hair clippers are more convenient than corded hair clippers. This is because they spare the users the hassle of having to deal with lengthy cords when making haircuts. Cordless hair clippers are also easy to maneuver to get those haircuts you have ever wanted. This platform gives you a stunning opportunity to get a premium quality brand for your needs.