Top Best Digital Picture Frames in 2020
Pictures are in most cases the only link that we have with the past, and sometimes they are the only reminder of the things or people that we no longer have around. But, one of the most significant shortcomings with the digital pictures is that you do not get to see them as often as you want. And this is because you cannot print and hang all of them on walls. However, with a digital picture frame, it is possible to see your digital photos as often as you might want.
Digital picture frames are not a new technology as they have been around for more than a decade and the designs and features keep improving. More and more models and types of digital picture frames are always coming out every year. And so you will have more than enough options when shopping for one for your digital photos. But, picking between the various brands and models can be hard if you do not have the right information. Below are 10 best digital picture frames reviews and a buyer's guide to help make the process of buying one less tedious for you.
List the Best Digital Picture Frames
1. NIX Advance 8-Inch and High-Resolution Photo Frame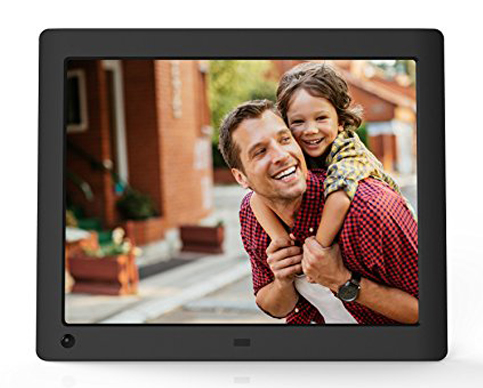 This NIX Advance digital photo frame features a high-resolution 8-inch screen that allows for both photo mix and video playback. The digital frame can playback 720p HD videos and mix JPEG photos and does it in an impressive 1024×768 resolution. It also has a sensor that turns it on when someone enters the room, USB and SD ports, an intuitive remote control and other functions like clock, calendar and stereo speakers.
2. Nixplay 15-Inch Original Digital Picture Frame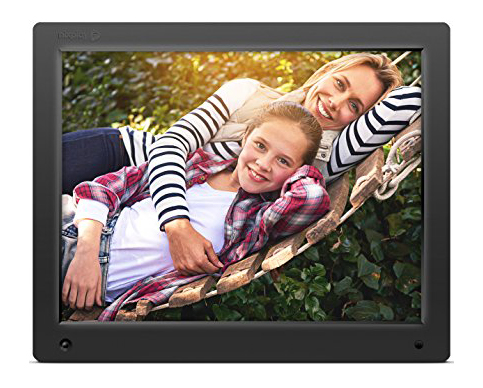 If you are ready to spend some extra bucks to get a large digital photo frame, this one by Nixplay is one of the best options. It features a 15-inch screen, and it will let you send photos to the frame directly from email or an app on your Android or IOS device. This photo frame also allows HD video playback, and it will enable you to manage up to 5 frames and 10GB storage, which makes it perfect for the whole family. And to make it even more amazing, it has both USB and SD ports, Wi-Fi connectivity and it is wall mountable.
3. PIXAL Pix-Star 10.4-Inch Digital Picture Frame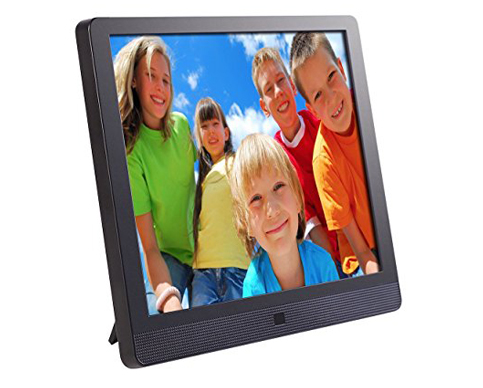 The high-quality display and backlit LED that consumes little power are the highlights of this photo frame. However, it also features a multi-frame capability that lets you control up to 25 frames, Wi-Fi connectivity and you can send pictures from the internet directly. It also has all the basics such as SD and USB ports and a web album view that lets you access more than 20 online providers including Facebook.
4. Micca 8-Inch High-Resolution LCD Digital Photo Frame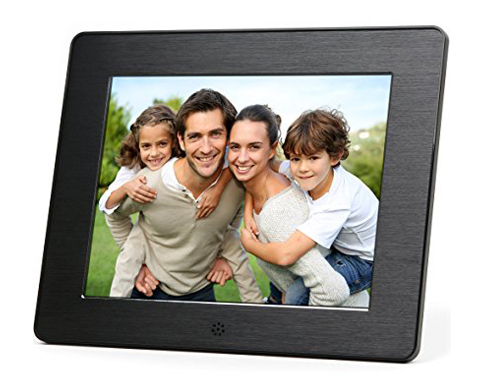 With over three times the screen detail that you get from regular photo frames, the Micca 8-inch picture frame offers more clarity than you can ever want. Also, it offers some rich and vibrant colors to ensure that you always get top-notch image quality. And it also features an auto on/off function, timer and it is easy to use without the need for setup or software installation.
5. PIXAL Pix-Star 15-Inch Digital Photo Frame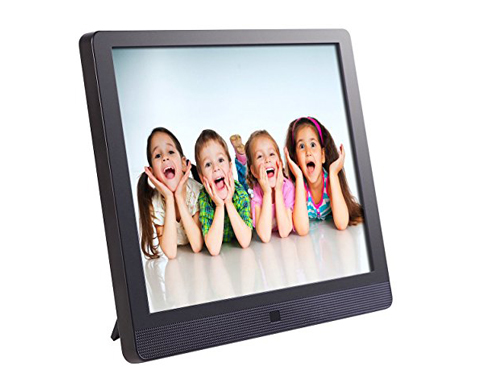 If connectivity and compatibility are your key priorities, this is one of the best picture frames that you can get on the market. It is a Wi-Fi enabled frame that you can link to almost any device, and it has a dedicated email that lets you receive pictures at no extra cost. Also, it has both USB and memory card ports, motion sensor and a 4GB internal memory that will hold more than 15,000 pictures.
6. Aluratek ADPF08SF 8-Inch Picture Frame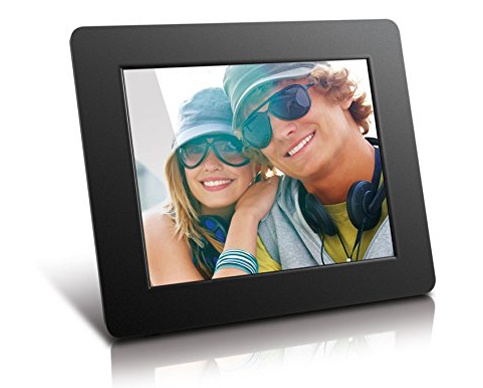 The 800×600 resolution of this digital picture frame ensures that you always get to see your pictures in the best quality. This frame will also support various photo formats, and it supports both SD memory cards and USB so that you can access your photos quickly. Other features include photo slideshow mode, adjustable frame for vertical orientation, and a high-quality wood frame that has some easy to use controls.
7. Nixplay Seed 10-Inch IPS Display Digital Photo Frame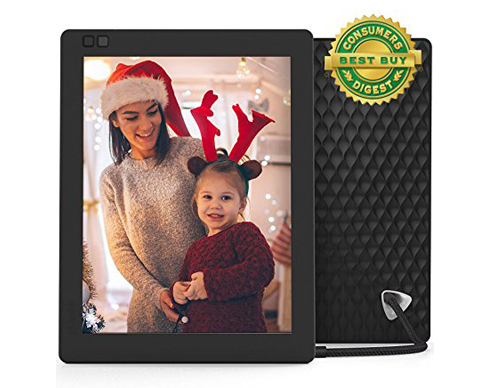 The display is the key to a good digital photos frame, and the 9.7-inch IPS display one on this Nixplay is as good as it can get. But, the digital picture frame also has a sleek design to ensure that it fits anywhere in your home or office. And with this frame, you will not even need memory stick as it has a large 8GB internal memory and you get up to 10GB online cloud storage. Also, you can use it to access photos on most social networks.
8. Aluratek ADMPF108F High-Resolution 8-Inch Photo Frame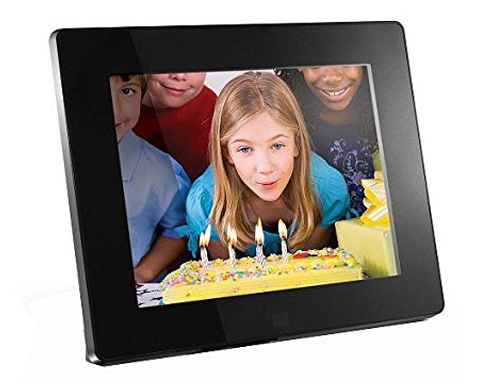 For those that are shopping for digital photo frames on a tight budget, this model by Aluratek will be a good choice. Despite its affordable price the frame still features a high resolution (800×600) 8-inch screen, 4GB internal memory, it will support both music and videos, and it has an impressive random slideshow feature.
9. TENKER 7-Inch IPS LCD Screen Digital Photo Frame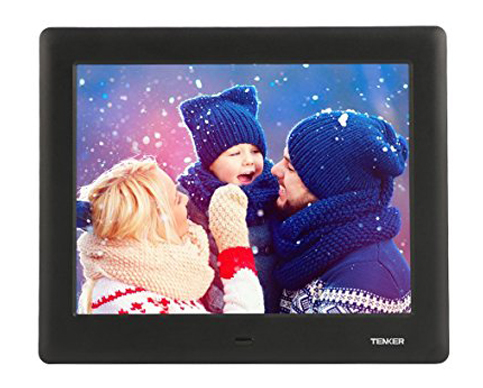 Here is another affordable digital photo frame that still provides HD resolution and will also support both 720p and 1080p video playback. This frame also has an auto-rotate function to adjust the photos automatically. And it is a plug-n-play device that will not require any setup or software installation, and it supports both USB and SDHC.
10. Nixplay Edge 8-Inch High-Resolution Display Photo Frame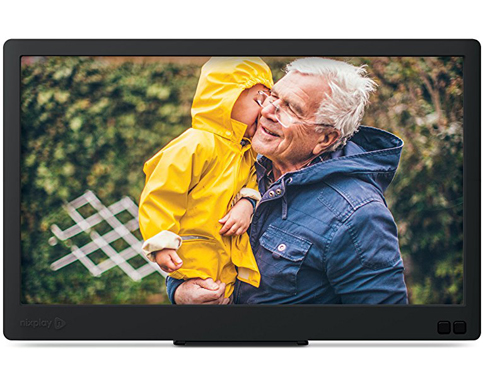 The IPS display on this photo frame provides a wide view angle to ensure that you always enjoy crisp pictures. Also, it is a lovely digital photo frame that comes in a slim and elegant back frame, and it features HD video playback, Wi-Fi connectivity, and it is a wall-mountable frame. And you can also create a custom picture playlist and manage multiple frames from the same account.
Digital Picture Frame Buying Guide
Digital picture frames might be a trendy and an excellent way to display your pictures, but this does not mean that any will do just fine. And although with the brief overviews of some of the best on the market above will enlighten you on the brands to go for you still need to know how to pick between them. But, this should be easy because you only need to consider a few important factors when shopping which include.
Screen Size
The size of the display screen is one of the first factors that you need to take into account when shopping for a digital picture frame. And this is because it determines how your photos will display. Most will come with screens that are between 5 and 12 inches when you measure them diagonally. Although it is ever an excellent idea to go for large screen size, it is also important to know that they require a high resolution for bright and crisp images and so they will also be pricier than the smaller ones.
Resolution
When it comes to the picture resolution, the simple rule is always to go for the highest that you can afford. The higher the resolution, the better the frame will be for you because it means that you will get better image quality. Always make sure that you go for a digital picture frame with a resolution of at least 640×480.
Connectivity
Connectivity determines the convenience and ease of use of your digital picture frame. A-frame with Wi-Fi is very convenient because you can connect it with your other devices with ease when you want to add photos. Also, make sure that you check compatibility with the memory card on your digital camera and the other gadgets that you use to take pictures.
Power
Some digital photo frames will include rechargeable batteries that make it possible to use them when unplugged for a few hours. When it comes to the power source, both the battery-powered devices and those that require plugging in will have merits and demerits. And so the right choice will depend on how you want to use the frame and what you find most convenient.
Other Features
Also check out features like LED or LCD screen types, compatibility with various file formats, video playback, controls and ease of use and slideshow capability.
Conclusion
There is never enough space in the mantle and the walls for all the pictures that you take, but this does not mean that you should leave them in the cloud for ages. Photos are the best way to preserve memories, and so you need to keep seeing them now and then. With a digital picture frame, you can display many of them. But you still need to pick the best from the many options out thereby considering the factors above. And by doing this, you should not have any difficulties getting an easy to use, convenient and affordable digital picture frame for your photos or as a gift for a loved one.