Top Best Drywall Lifts in 2020 Reviews

Drywall installation is not always an easy task when
you do not have a few extra helping hands. But, it is still possible to do it
on your own without getting any extra help. However, you need to have the right tools for the job with one of the most useful ones being drywall lifts.
Drywall lifts help you with the hardest part of the
job, which is lifting the material that you are installing. Remember that one standard drywall will weigh up to 52 pounds and about 8-foot and so it can be a tedious task to try and haul it without a lift. With a drywall lift or hoist,
you will not only make the task less strenuous but also eliminate the need to pay for extra manpower.
And since there is plenty of drywall lifts out
there, in this guide we provide a list of 10 of the best in the market and
highlight some important things to keep in mind when shopping to make sure you get the best.
List the Best Drywall Lifts in Reviews
#1. 
Best Choice Products Drywall 11-foot Dry Wall Jack Lifter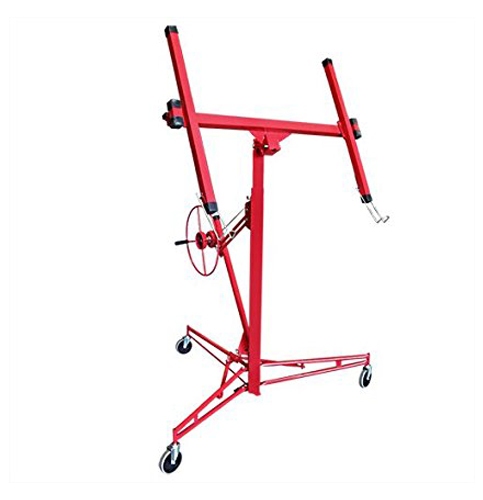 Best Choice Products always has a handy tool to help
you with your construction projects. This 11-foot drywall lift is one such tool and it will be very useful when doing drywall installation. And with a maximum capacity of 150 pounds, it will be more than enough to handle most drywall sheets. Also, the lifter comes with a heavy-duty frame and with some high-quality wheels that make it easy to move around.
#2
. Troy DPH11 11-Foot Professional Series Drywall & Panel Lift Hoist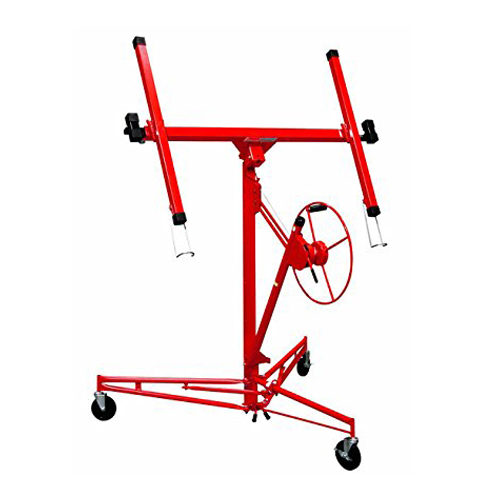 With this 11-foot drywall and panel hoist, you can
eliminate the risk of injuries and need to hire extra help as it makes the job quick and easy for you. The drywall lift also comes with a tough welded steel construction for maximum durability and it uses a single-stage winch for
lifting that has a brake system. This lift has a maximum capacity of 150 pounds and will hold sheets that are up to 16-foot long. And it is also easy to assemble without any tool and it comes with rubberized wheels to protect your floors and for easy mobility.
#3. 
Goplus 11- foot Drywall Lift Panel Hoist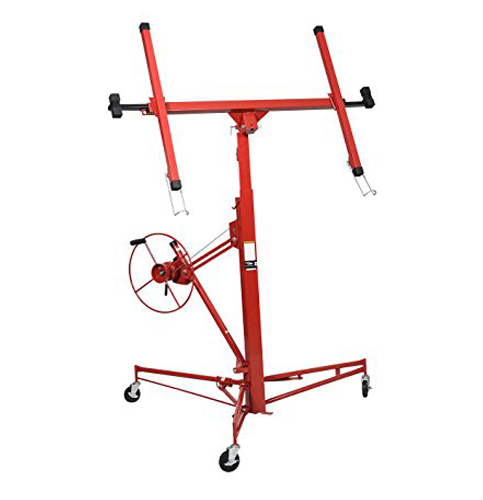 Here is another 11-foot drywall lift that will be
very helpful when installing drywall or ceiling panels. It also has a 150-pound capacity and it will lift panels that are up to 16 feet long and 4 feet wide. The drywall lifter has a welded steel construction and with some handy foot stops
to prevent the casters from moving when you do not want them to. And it is also possible to lower it up to 34 inches to make loading easy.
#4. 
Red Line 11-Foot Drywall Lift
For a reliable one-person operation and high load
capacity, the Red Line drywall lift will be a great choice. It is all-welded steel lift that will be ideal for lifting both drywall and panels. And it can
tilt up to 65-degrees for quick and easy loading. This handy drywall lift will also not require any tools for assembly or to take it apart and it also comes with some rolling casters for easy mobility.
#5
. ARKSEN 15 FT Drywall Panel Lift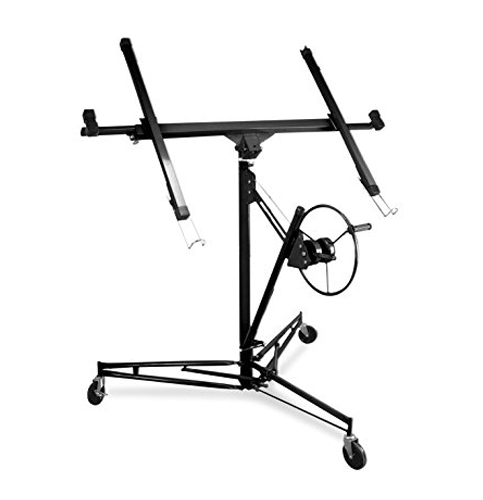 The quick and tool-free assembly makes this drywall
lift great for use in various worksites. It has a maximum capacity of 150
pounds and you can use it to raise the boards up to an impressive 15 feet. It also uses a single-stage raising mechanism which makes it easy to use by one person, has a built-in lock and a sturdy
steel frame that makes it highly durable.
#6. 
11AA Goplus Drywall Lift 11-foot Panel Hoist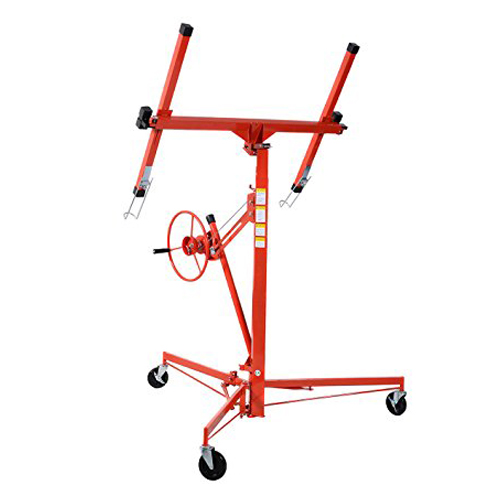 The 11AA Goplus 11-foot drywall is made of heavy-duty
steel which makes it sturdy and highly durable. It has a load capacity of 150 pounds which should be enough for most construction applications and a built-in winch brake that makes it safe and sturdy. This lifter is ideal for both home
and commercial use and it comes with three 5-inch casters that make it easy to move around.
#7. 
Red Line RLP9016 19 Foot Drywall Panel Dry Wall Lift Tool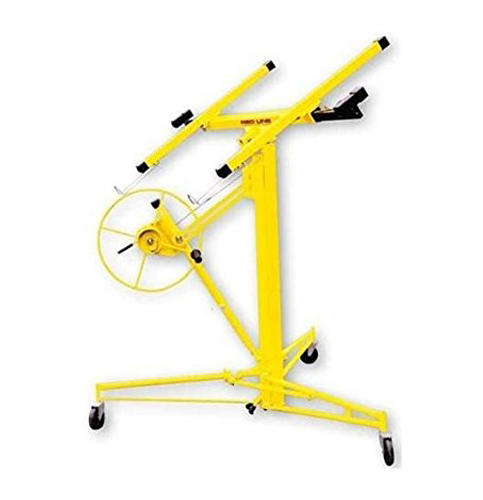 If you are a professional contractor that does not
mind spending a few extra dollars on your drywall lift the Red Line RLP9016 will be an excellent choice. It is one of the toughest drywall lifts that you
can get out there and it will reach up to an impressive 15 feet. The lifter has
a single-stage with an efficient brake mechanism and it will come with some easy rolling 5-inch casters.
#8
. Ideal Choice Product 16-foot Drywall Lift Rolling Panel Hoist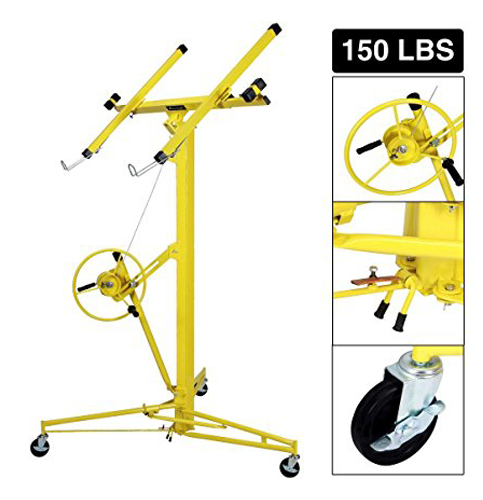 Although this is still a relatively affordable
drywall lift it is very handy to have around as it will list 16-foot wall and
up to 19-foot ceiling. This handy drywall lift has a maximum capacity of 150-pounds, a built-inch winch brake and it does not require any tool for assembly or disassembly. And it is built will all-welded steel to make it highly
durable.
#9. 
FDW Drywall Panel Hoist
This relatively affordable drywall lift still
performs pretty well and it should be enough when you want to lift any panels or drywall. It has a maximum capacity of 150 pounds and it can reach up to 11 feet which is ideal for typical houses. And it is easy and safe to use by one person, and you can assemble and take it apart in just a few minutes without having t use ant special tools.
#10. Heavy
Duty 11Ft Drywall & Panel Lift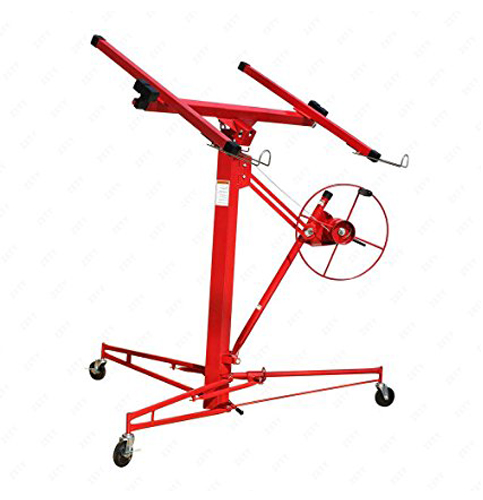 If you do not want to have to buy a drywall lift for
many years you should go for a heavy-duty one like this. It is a highly durable product with a heavy-duty steel frame and it will withstand up to 150 pounds to make it ideal for all your drywall and ceiling installations. Also, it has
three high-quality casters that are also lockable to keep it in place. And you will not need any special tools to assemble it as it is a quick and straightforward process.
How to Choose the Best Drywall Lifts
As helpful as a drywall lift might be for your
drywall installation projects it will be a bad idea to settle for the first one
you come across. Instead, you should focus on getting something that serves you well and gives you the best value for your cash. And for this to be so, here are some vital factors to consider
Capacity
The capacity is always the first factor to consider
as it will determine the suitability of the drywall hoist for your projects.
And here you will need to consider both the weight capacity and maximum material size that the lift can handle. For the capacity, something that can handle at least 150 pounds should be good enough as it is hard to get drywall that is heavier than this unless you are into commercial construction. And when it comes to the maximum sheet size, look for a lift that can haul a 16-foot long drywall.
Overall construction
Drywall hoists might not be the most expensive
construction equipment but they still require a significant cash investment. Hence you also need to consider the overall construction to make sure that it will last for long. Look for something with a heavy-duty steel construction, high-quality wheels and with some durable lifting mechanism.
Ease of Use
If you have to spend several hours trying to
assemble the drywall lift it will not be the best buy as it will waste precious time that you could be using for your project. Hence, it is always important to make sure that whatever drywall lifts you buy is straightforward to assemble and does not take a lot of effort to use.
Price
You cannot ignore the price when buying anything as
it is in most cases the best indication of the quality of a product. For drywall lifts, you should always go for something reliable, high-quality and durable that is within your budget or at least a reasonable price range.
Conclusion
It is always a good idea to make your construction
projects less straining with a high-quality drywall lift. Also, it eliminates the need to hire extra manpower and also speeds up your projects significantly. And even with the many types in the market, you should not have any difficulties choosing the best as our guide and reviews above will be very handy.