Top Best Electric Coin Sorter in 2020

Counting coins is usually a slow, tiring and somewhat annoying task that most of us hate. But, the most difficult part of the process is often sorting them out. And so with a good coin sorter, things will be much easier for you. Coin sorters come in different sizes, styles, and types. But if you prefer something that will require you to do very little work, an electric model is your best bet.
But, even if you decide to go with the more efficient electric types, you still need to choose a good model or at least something that suits your specific needs from the many options available in the market. However, this piece will make things a lot easy for you as we review 10 top-rated electric coin sorters to give you some high-quality recommendations.
List of the Best Electric Coin Sorter in Reviews
#1. Royal Sovereign QS-1AC Coin Sorter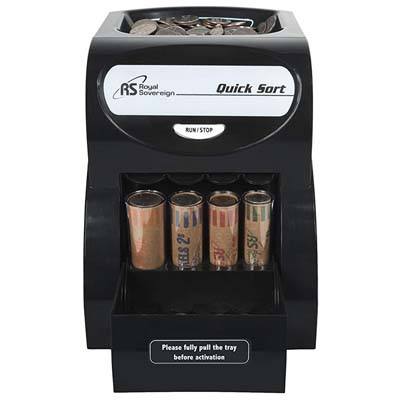 With the capability to sort up to 156 coins every minute, this is a fast enough machine that will be a great addition to any business. Also, the coin sorting machine has a decent capacity of 200 coins and it uses a more precise internal sorting mechanism and with a highly effective anti-jam technology. Also, you can easily convert your loose change to cash as the machine also has an effortless coin wrapping mechanism, and the overflows are also taken care of by the handy tray that is included.
Pros
The fast coin sorting operation
More precise internal sorting
Highly useful anti-jam technology
Effortless coin wrapping
Convenient overflow tray included
Cons
Still jams when you have dirty or foreign coins
#2. Royal Sovereign 4-Row Electric Coin Counter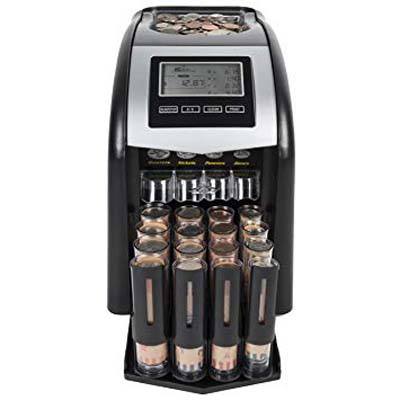 If you have a larger business or more coins to count, this 4-row coin counter by Royal Sovereign will be perfect for you. It is designed to make coin sorting a super fast process for you as it can sort and count an impressive 320 coins per minute and with a capacity to hold up to 800 coins. Also, this machine has an automatic row advancement to allow for hands-free operation and with the anti-jam technology, you can be confident of getting a quick and smooth operation. Also, with this easy-to-use machine, the LED display will provide the total amount counted and also the total amount of each denomination.
Pros
Superfast coin sorting
Higher sorting capacity than most others
Auto row advancement for hands-free operation
Quick and smooth operation
Simple to use
Displays both total dollar value and denomination amount
Cons
Does not count $1 coins
Takes up a little more room
#3. Cassida C200 Coin Sorter and Counter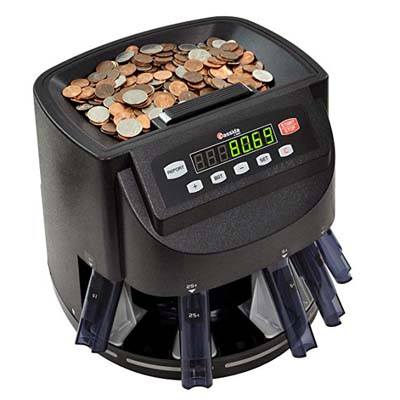 Another great quality coin sorting and counting machine that will be perfect for those that have to sort lots of coins every day. It is a fast machine that can count up to 300 coins per day and with a hopper capacity of 2,000 coins. Also, it has multiple operating modes which include counting and adding modes to help make this a more versatile machine. The machine provides simple coin rolling and wrapping, and it has some easy to use button controls and an easy to read the display to make this a simple machine to operate.
Pros
Large hopper capacity
Multiple operating modes
Counts all types of US coins including $1
Faster counting speed
Simple coin rolling/wrapping
Easy to use button controls and display
Cons
Can be quite loud
Older and dirty coins can be hard to wrap
#4. Mag-Nif Accu Wrapper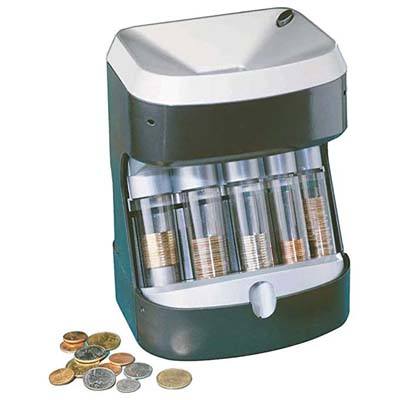 If you do not have a lot of coins to count and are just looking for smaller capacity and affordable but still efficient coin sorter, this is what you need to buy. It can sort about 20 coins at a time but despite its small, compact and space-saving design, it still has a good enough sorting speed of 220 coins per minute. Also, like most other top performing coin sorters, it can also sort your coins into wrappers to make it easier to take them to the bank. And it also includes a highly useful over-flow tray.
Pros
More affordable sorter
Sorts the coins conveniently into wrappers
Compact and a space-saver
Good enough sorting speed
Handy over-flow tray included
#5. Royal Sovereign 2-Row Electric Coin Counter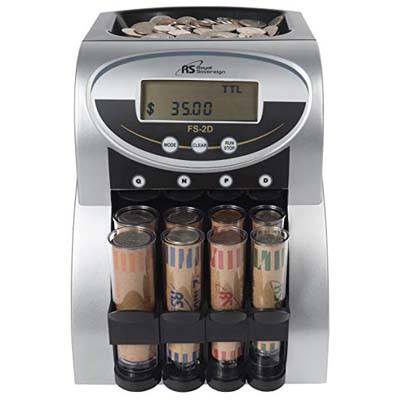 You can almost never go wrong with any Royal Sovereign coin counter as they are the industry leader when it comes to coin sorter and counters. This particular model is a 2-row machine that will be perfect for a medium-size establishment, and it has a capacity of 400 coins and a decent counting speed of 312 coins per minute. Also, like most of their other coin sorters, the machine has an anti-jam technology to increase internal precision and uses some simple buttons for operation and with an LED display that will provide both denomination value and total coin amount value.
Pros
Good counting speed and capacity
Quick and effortless coin wrapping
Anti-jam technology for more precision
Convenient LED display included
Simple button operation
Cons
Still prone to jamming
Not entirely accurate
#6. Pyle Auto Coin Sort and Counter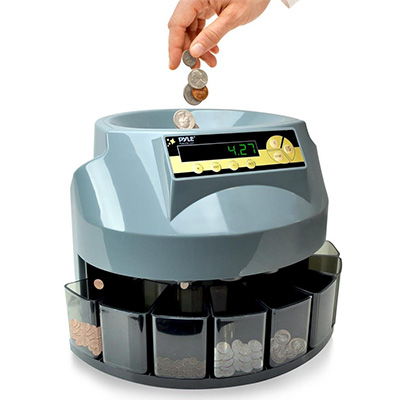 A 2-in-1 machine like this automatic one by Pyle is designed to make life easier for you when it comes to dealing with coins as it will do both the counting and sorting. The machine has a hopper capacity of 500 coins and is designed to work with all the US coins and to be fast, accurate and highly reliable. This coin sorter has a speed of 216 coins per minute which is quite good and selectable modes which means you can choose to use either batch or free counting depending on your preferences. And it also has an LCD display that will provide the total value of the coins.
Pros
Compatible with all US coins
Accurate, fast and reliable counting
Allows for both batch and free counting
Handy LCD display
Includes trays for collecting the coins
Larger hopper capacity
Cons
Does not have a coin wrapping mechanism
#7. Royal Sovereign QS-1 1-Row Manual Coin Sorter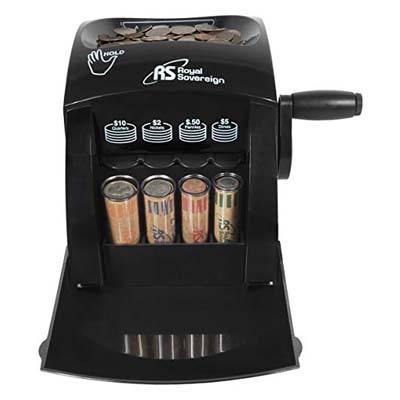 While the QS-1 by Royal Sovereign is not an electric coin sorter, it just hard to make our list as it is a fantastic machine. Besides being highly affordable, this is a compact, space-saving and lightweight machine designed to be highly portable so that you can use it from anywhere. Also, it is a straightforward and accurate money sorter that anyone can use. It will also be more eco-friendly as it does not use any batteries or electricity. And many users will love the fact that it also provides effortless coin wrapping.
Pros
More eco-friendly machine
Easier to use
Compact, lightweight and highly portable
Also wraps the coins effortlessly
Highly affordable machine
Cons
Smaller capacity and relatively slower sorting
Does not count the coins
#8. Brookstone Motorized Coin Sorter
Portability is always a key consideration for many people when shopping for a coin sorter, and so the fact that this model by Brookstone is battery-powered and comes in a compact and lightweight design means it will be a great buy as you can carry and use it from anywhere. Also, it is a highly useful machine that does both the sorting and counting, and will also wrap the coins for more user convenience. There is also a built-in overflow area that will be highly useful in preventing jamming.
Pros
Will do both the sorting and counting
Quick and easy coin wrapping
Built-in overflow area to prevent jamming
Easy-to-use button operation
Battery-powered for more portability
Cons
Does not come with the batteries
#9. MAG Nif INC Rapid Coin Sorter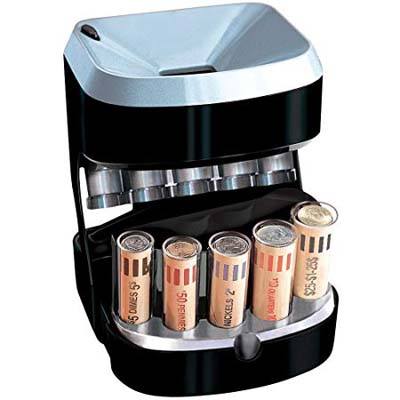 With this compact, space-saving and highly portable coin sorter, you can sort your coins from almost anywhere as it is super easy to carry around. It also uses batteries and this means that you will not need a power outlet. Besides sorting the coins super fast, it will also wrap them to make it easier for you to take your loose change to the bank and convert it to notes. This small coin sorter will also work with most US coins including the $1 ones, and it also includes a convenient overflow tray to hold the coins once the tubes fill up.
Pros
Highly useful overflow tray included
Sorts the coins conveniently into wrappers
Compact and more portable
Superfast coin sorting
Works with most US coins
Cons
Small capacity hopper
Will not come with the batteries
#10. Cassida C100 Electronic Coin Sorter and Counter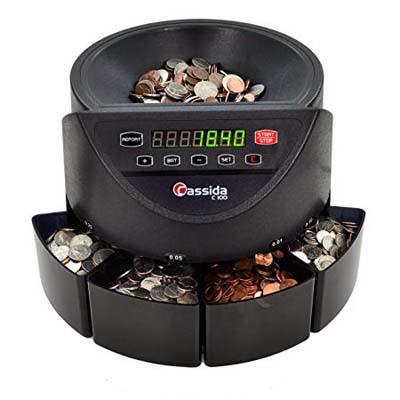 Cassida's C100 is a fast and efficient coin sorter and counter that will sort up to an impressive 250 coins every minute and has a larger capacity as it can hold up to impressive 1,600 coins at the same time. This machine is also made with ease of use in mind as it has a multifunctional LED display and some large and easy to use buttons. Also, this coin sorter allows you to choose from several modes which include counting, adding and batching and individual denomination reports. And it also has larger trays for holding the different coin denominations.
Pros
Multifunctional LED display
Large and easy to use buttons
Variety of operating modes
Large trays for coins included
Faster and with a larger capacity
Cons
Does not come with coin wrappers
Conclusion
A good electric coin sorter can make a huge difference in your business as it makes it easier to count money and ensure you get more accurate figures. Finding one should no longer be a long and overwhelming process as you can be sure there is at least one that will work well for you from our in-depth top 10 reviews above.