Top Best Electric Snow Thrower in 2020

As winter approaches you need to make preparations to ensure that life will still be as comfortable as any other season. While most of the things like keeping the house warm will sound obvious, there are some things that many people will not give the importance they deserve. One of these is getting rid of snow from the sidewalks and driveways. Most of the time we assume that a shovel will be more than enough for the job, but this is almost never the case.
Heavy snowfall means that a shovel will not work and you will end up doing a lot of work without any significant results to show for it. What you need is to buy a reliable and efficient electric snow thrower because it makes clearing driveways and walkways quick and straightforward. It is also a cheaper and environment-friendly method of clearing snow.
But, as helpful as electric snow might be all will not come in the same design or with the same features, and so you need to know how to pick the right one. In this piece, we review some of the top electric snow throwers in the market and provide a buying guide to help you pick the best from the various options.
Check out the Best Electric Snow Thrower in Reviews
1. Toro (38381)18-Inch Electric Power Curve Snow Blower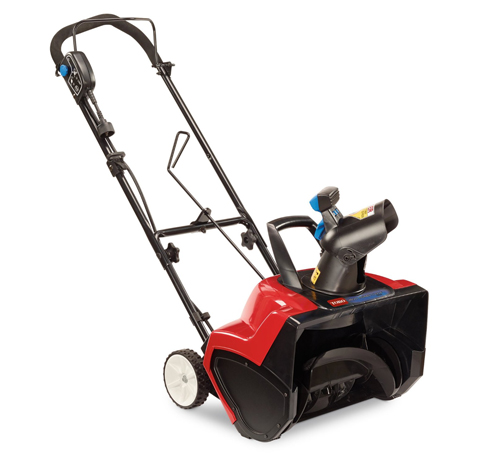 Toro is a famous brand when it comes to the manufacture of snow throwers and many other machines. Their 38381 model is an ideal choice when dealing with medium and heavy snow accumulation. The 18-inch auger width and 12-inch intake height will ensure that you can clear large areas quickly. And it also uses the power curve technology to make sure that it clears all the way to down to your pavement. Handling it should also be easy and comfortable thanks to the full-bail handle.
2. Snow Joe Ultra (SJ625E) Electric Snow Thrower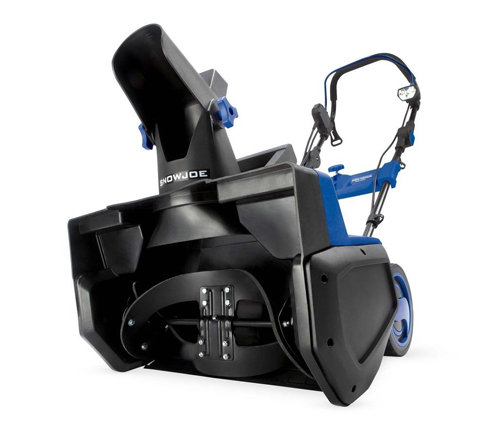 If you have a medium size driveway or walkway and want something to help pick up and throw the snow quickly, the Snow Joe SJ625E will be a perfect choice for you. It is a very convenient machine that will not require any gas, and it is also easy to maintain and effortless to start. The powerful 15-amp motor will move 800 pounds of snow every minute, and you can even use it at night as it comes with an LED light.
3. Snow Joe Ultra (SJ620) Electric Snow Thrower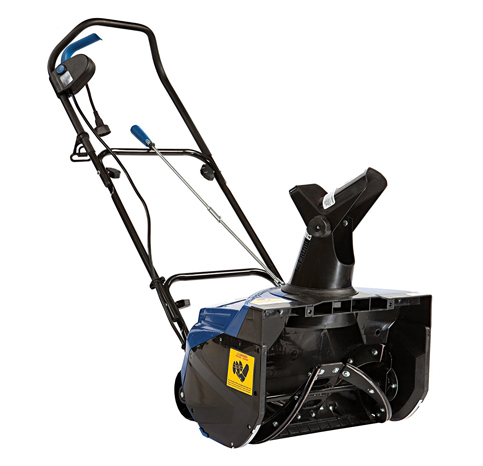 Here is a smaller version of the Snow Joe Ultra snow thrower that will be a good choice for someone looking for something more affordable. But it is still quite powerful since it comes with a 13.5-amp motor that will move up to 650 pounds every minute. It is also an easy-to-start snow thrower that requires minimal maintenance, and it features an 18-inch wide auger with 4 steel blades, and you can adjust the chute up to 180 degrees.
4. Snow Joe (iON18SB) Cordless Snow Blower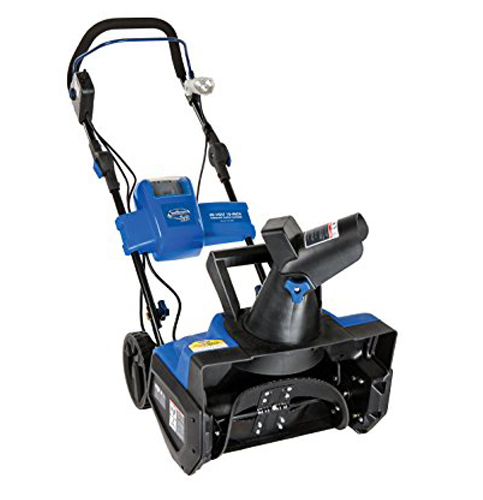 Snow Joe seems to have a snowblower for everyone, and this one is perfect for those that prefer to use the cordless types. It uses a 40-volt lithium-ion battery, and it comes with a 2-blade steel auger that will move up to 495 pounds of snow every minute. This snow blower also has a 180-degree auto-rotate chute that is capable of throwing snow up to 20 feet.
5. Snow Joe Ultra (SJ621) Snow Thrower with Light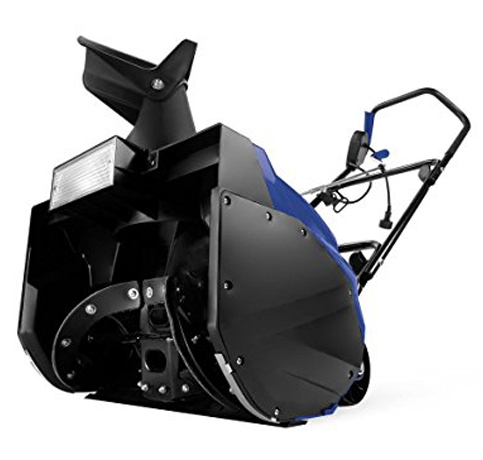 You cannot always be sure when you will have to clear your driveway because sometimes it might be necessary to do it at night. But with the SJ621 you can do it anytime you have to because it also comes with a handy light. And besides from the light, it is also an efficient machine that features a 13.5-amp motor that will move 650 pounds of snow every minute and 4-blade steel auger to speed up the job.
6. Snow Joe Ultra (SJ623E) Snow Thrower with Light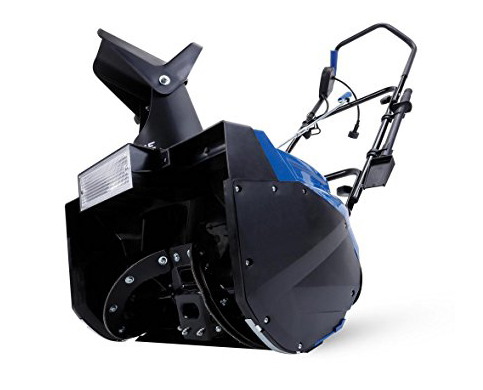 The SJ623E is the last Snow Joe electric snow thrower on our list, and it also includes a light to ensure that you can use it anytime. It is an ideal tool for clearing snow in mid-to-large walkways and driveways. And it is an ETL approved machine with a 15-amp motor to move up to 720 pounds of snow every minute and 180-degree adjustable chute to ensure that you dump it just where you want.
7. GreenWorks (2600502) Corded Snow Thrower
The GreenWorks 2600502 is a corded snow thrower that will not cost much to buy, and it is still very efficient in clearing snow everywhere from the patios to the driveway. It runs on a 13-amp motor that will throw the snow up to 20-feet, and the chute is also 180-degree adjustable to make it easy to blow the snow. You can also choose a model with a light for nighttime snow throwing, and it also features a sturdy handle that will fold down for easy storage.
8. GreenWorks Pro 80-Volt Cordless Snow Thrower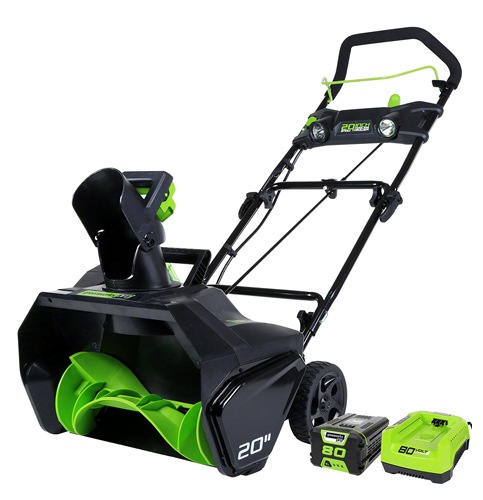 You will hardly get any other cordless snow thrower that is more efficient and convenient to use than this one at the same price. It comes with an efficient 80V Li-ion battery that can run for up to 45 minutes which will be more than enough for most users to clear their driveways. This snow thrower has a quiet, brushless and maintenance-free motor technology and it provides a 20-inch wide and 10-inch deep clearing capability. And the Easy Fold System will make storage and transportation effortless.
9. Husqvarna ST224 208cc 2-Stage Electric Snow Blower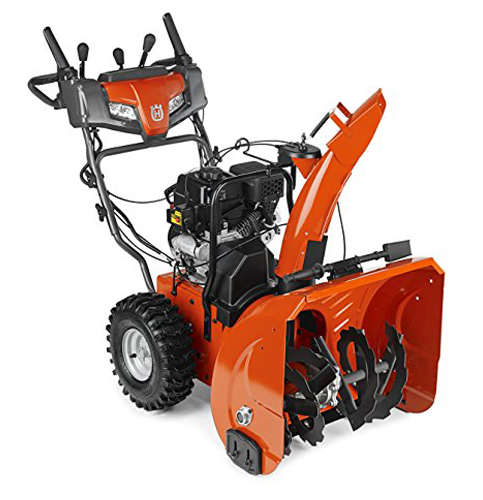 Those that do not mind to spend some extra bucks to get a 2-stage electric snow blower should try this one from Husqvarna. It is a long-lasting snow blower that will clear the snow fast for large areas and so it very efficiently. The snowblower features an electric start design, remote chute deflector, and 24-inch wide 2-stage auger. Also, it has an adjustable handle height, 15-inch tires that can handle any snow conditions and friction disc transmission to make it easy to change the speed.
10. Briggs and Stratton (1696610) 2-Stage Snow Thrower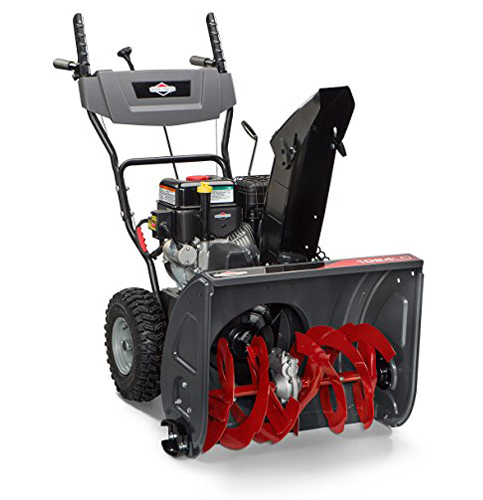 Briggs and Stratton also make this snow thrower for those that are looking for efficient 2-stage ones. It uses a 208cc engine, and it will provide a 24-inch wide path and a 20-inch intake height. The friction disc drive makes it easy to change the speeds, and it also has an electric start to make sure that you do not waste time trying to get it to run. And it will also make freehand control possible for convenient operation.
Electric Snow Thrower Buying Guide
Clearing your driveway with an electric snow thrower makes the task easy and quick. But, this will only be true if you get the best one from the many options out there. Before you decide to buy any snow blower, there are some factors that you need to look at to ensure that you are making the right pick. These vital factors include the following three.
Auger Width/Intake Height
As you shop for your electric snow thrower, the auger is one of the things that should be on your mind. And this is because it is the part of the machine that will scoop off the snow and throw it through the chute. The wider the auger the large the area that the snow thrower can clear in a single pass and so it takes a shorter time to unload your driveways. Intake height is also an essential factor because it determines the thickness of the snow that the machine can handle. Going for a unit with a higher intake height means that it can deal with heavy snowfall.
Corded vs. Cordless
Whether to go for a cordless snow thrower or one that requires some plug-in is a matter of personal preferences and your budget. While both can still handle the snow with ease each has some merits and demerits, and so the wise idea is to understand them and choose what you find most convenient for you.
Durability
Just like any other machine, sturdiness is a vital factor that you should never overlook when shopping for an electric snow thrower. While maintenance also determines longevity the construction quality is still crucial. The good idea is to avoid snow blowers that look flimsy and with a lot of plastic parts and instead go for those with cast iron and other high-quality metal parts.
Conclusion
At some point, you will have to clear snow in your driveway and walkways, but your favorite and sturdy shovel will not always be helpful. But with an electric snow thrower, you can handle almost any build-up. And although there are many types and models out there our reviews and buying guide will help you pick something efficient and affordable. Lastly, also remember to take good care of the snow thrower if you want it to serve you well and for long enough.