Top Best Full Motion TV Wall Mount in 2020

One of the perks of a flat TV lightweight design is the ability to mount it on a wall. But in today's modern society, selecting a TV wall mount can set the heart racing. This versatile accessory allows the user to move the television towards or away from the wall, tilt it from sides to side and angle it up or down. That way, you can sit in different locations or change the glare in the rooms with lots of sun exposure. To guide you through the purchasing decision, we've put a list of top 10 best full motion TV wall mount in reviews. Each mount will improve your overall viewing experience.
Lists of the Best Full Motion TV Wall Mount in Reviews
1. AMAZONBASICS Articulating TV Wall Mount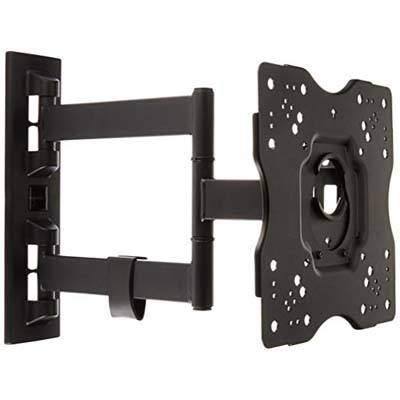 This model is suitable for mounting your TV above the fireplace or for corner installation. To enhance your TV viewing experience, AMAZONBASICS can accommodate 22-55 Inch flat panel TVs. It features heavy-duty aluminum and powder-coated steel which ensures reliable strength. Just like other high-end mounts, this unit can support weights of up to 70 pounds. It will fit most medium-size TVs including Samsung, SHARP AQUOS, Toshiba, Panasonic, Sony, and Philips.
For a TV to use this mount, it must be compatible with VESA 400 mm pattern or smaller. Before you make your purchase, check the TV weight and wall stud location. The other feature you'll appreciate about this mount is the state-of-the-art cable management system. It streamlines the cords and keeps cables out of the way.
Pros
Swivels left and right at 180 degrees
Collapses 2.6 inch low profile
Comes with 1-year limited warranty
Has 15 degrees tilting angle
Sturdy construction
Cons
Supports only up to 55 inches
2. Mounting Dream Full TV Wall Mount Bracket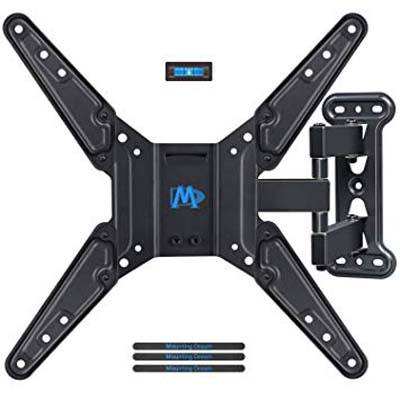 The Mountain Dream allows the TV to be installed in a corner which is a big advantage over the fixed models. It fits 26-55″ TVs and can carry a maximum weight of 60 lbs. All this adornment is developed from solid steel construction. On the other hand, the wall plate has mounting holes/VESA that work well for different types of television sets (LCD, LED and Plasma).
This wall mount makes viewing more comfortable as it tilts 5 degrees up and 15 degrees down to reduce glare. Also, it swivels left to right to suit your seating position. Better still, you can pull the mounting bracket to 19-inch and retract back to 2.9-inch. Installing the Mountain Dream is straightforward. Everything you need is included in the package- the hardware, bubble level, cable ties, and installation instruction. To ensure you have the perfect TV leveling, this unit allows for +/-5 degree post-installation.
Pros
Comes with a 10-year guarantee
Offered in different colors
Allow the user to retract the TV to save space
Caters for different viewing locations
Comes with a swivel base
Cons
The screws included in the package are not high quality
3. ECHOGEAR Full Motion Articulating TV Mount Bracket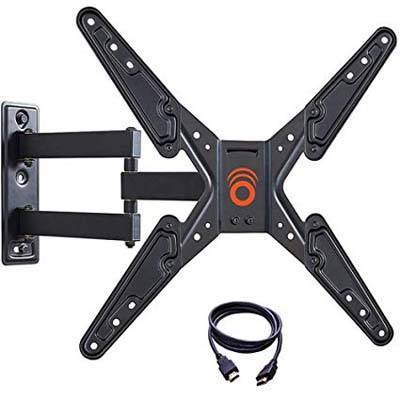 It doesn't matter whether you have an LED, LCD, or OLED screen, ECHOGEAR is a practical and reliable TV wall mount. It's specially designed for 26-55 Inch TVs and can carry up to 132lbs. At first glance, you'll realize that the brackets are slim but are also sturdy. The Mount comes with easy-to-read instructions which means your screen will be on the wall within a few minutes. You simply attach the brackets to your TV, mount the wall plate, and then connect your TV to the wall plate.
With the swivel design, you get the best view from any seat. That's not all; you can get rid of that glare by tilting the screen forward. And if you're looking for extra glare, you tilt it back up. In case you run into any problem, the customer service team has your back. The mount also comes with the free HDMI cable.
Pros
Fitted with 180-degree swivel base
Easy to install
Tilts at 15 degrees
Affordable
Heavy-duty material
4. Mount-It! Tilting TV Wall Mount Bracket for TCL, VESA, Panasonic, Samsung, and LG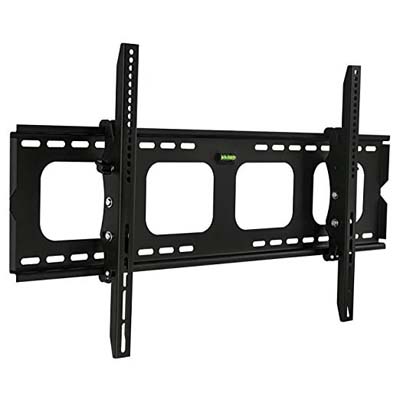 This model is made of high-strength cold-rolled steel construction, so you can be sure your TV is safe. It boasts of load capacity of 220lbs. and can fit in most 40-inch and 80-inch TVs. The other reason that makes this model one of the top-selling brands is the tilting feature. With the adjustable brackets, it's compatible with LEDs, LCD, and OLED. The clever construction allows you to fit TVs 17.7 Inches vertically and 34 Inches horizontally.
Another reason that makes this bracket suitable for buyers is the fact that it's VESA compatible and offers the best view. When you tilt it, you reduce the chances of shoulder and back pain. Best of all, it rotates at 180 degrees angle. For added safety, the mount is equipped with a latch locking system.
Pros
Comes in different sizes
Allows for adjustable tilt setting
Durable
Easy to follow instructions
Safety screws are included in the package
5. Mount-It! Low Profile TV Mount for 42-70 Inch Plasma and LCD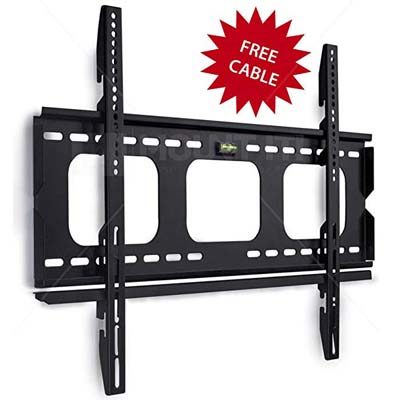 The low profile wall mount supports 42-70-inch and can accommodate TVs of up to 165lbs. Unlike other low profile mounts, this unit keeps the screen 1-inch from the wall for a sleek finish. It's compatible with LG, SONY, Toshiba, TCL, Sharp, and Haier. Besides that, the open plate design ensures you access the cables and the back part of your TV. To reduce the glare, you can use tilt function and adjust your TV at 12 degrees.
Mount-It also offers a low profile benefit of fixed mounts. However, the mounting holes for this television are 34 inches apart and 18.8 inches vertically. The package includes everything you need for installation including, the easy align brackets, single wood stud, and instructions. You only need 15 minutes to complete the process.
Pros
Scratch-resistant finish
Made from solid steel construction
Offered with a Free HDMI cable
Conforms with all VESA standards
Lightweight
6. Mount-It LCD Wall Mount Bracket with Full Motion Swing
The TV wall mount will fit a majority of television screens within a 23-42 inch range. It features three swivel points and collapses 3.4 inches off the wall. This means you can rotate your TV effortlessly with this bracket. It specifically fits VESA patterns of 75 by 75, 100 by 100, 200 by 100, and 200 by 200. To install the unit, mount the bracket on the wall, place the TV to VESA plate, and then place VESA head on the mount.
How do you identify whether the mount will fit on your TV? Measure the horizontal and vertical distance of your TV starting from the center of bolt holes to the back. Make sure the VESA is within the range. It's worth mentioning that your TV should weigh less than the actual weight capacity of the mount. Because this is a full mount it rotates at 360 degrees and gives a +/-15 degrees tilt.
Pros
Fits different VESA patterns
Easy installation
Heavy-duty construction
Comes with an installation manual
Affordable
7. Mount-It Lockable Full TV Wall Mount VESA 200 compatible.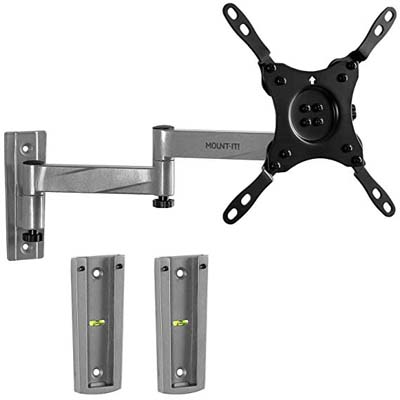 Mount-It is an affordable yet effective fixed TV wall mount. It's specifically designed for motorhomes and RVs. What's more, the full-motion arms allow the user to turn TV at 180 degrees or watch it in your dinette. To ensure the TV is in a perfect position, each arm is locked individually. Looking at compatibility, be sure to check the size, weight, and VESA plate before making your purchase. All other factors held constant, this model can accommodate 22-42 inch screens.
There is also an adjustment knob that allows for tilt adjustments. Ideally, the tilts and swivel will extend your TV 15.3 inches from the wall for easy viewing. Even better, the manufacturer provides an in-arm clip for a clean appearance. This is the best full motion TV wall mount in reviews because it comes with all the hardware to install on the wall.
Pros
The unique TV locking mechanism
Compatible with many VESA plates
Easy to follow instruction guide is provided
Strong stable arm
The tilt can move 55 degrees up 35 degrees down
8. FOTRESS TV Wall Mount for 40-75 Inch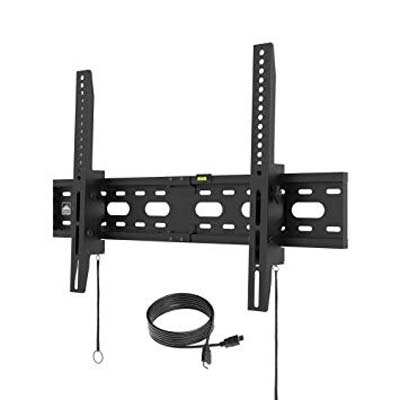 The FOTRESS is a well-known brand for its low-price guarantee. When it comes to construction, this unit looks like other high-end TV mounts. It features a universal design that is compatible with most 40-70 inch TVs. In addition to that, it fits VESA of up to 600 x 400 and can hold a maximum weight capacity of 165lbs. which is unbelievable. In other words, you get more than what you pay for.
For better viewing, the FOTRESS tilts at an angle of 15 degrees downward and 5 degrees upward. But what you'll like most about this unit is the fact that it goes anywhere your couch goes. This means you can mount it on concrete block, poured concrete and wood surfaces. To install the unit, assemble and mount the wall plate, attach the brackets to the TV, and connect the TV to the wall plate.
Pros
Supports up to 165 pounds
Gives glare-free viewing experience
Fits different VESA
A high-speed Ethernet HDMI Cable is included
Comes with a lifetime guarantee
Cons
The bracket should be made of a heavier material
9. Fleximounts TV Wall with Long Extension Bracket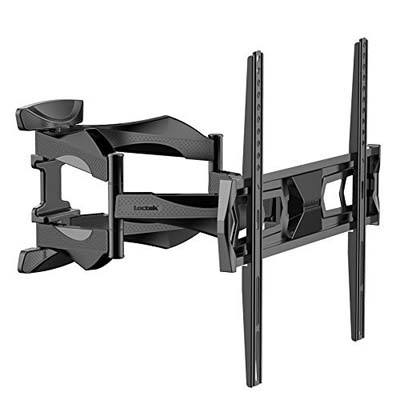 This is an interactive TV wall mount that provides full lateral and horizontal movement. It's fitted with a sturdy articulating arm that can support 32 to 62-inch TVs. Besides that, it can fit in standard VESA holes of up to 400x400mm and can hold a maximum weight of 66 pounds. To change your viewing experience, the wall mount can tilt 2 degrees up and 60 degrees down.
This wall mount allows for 3-degree horizontal adjustment, so you can fix the installation errors. Additionally, it can extend up to 20 inches to maximize tilt and rotation. As long as your TV conforms to the variable spacing on each hole, you can get the perfect fit.
Pros
Its UL certified
Allows for vertical and horizontal adjustment
Made of durable steel
The mount is UL-certified
The molded plastic adds a decorative finish
Cons
Support up to 60 inch TVs
10. PERLESMITH TV Wall Mount for 23-60 Inch TV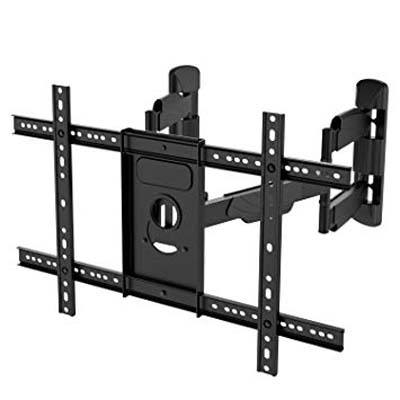 PERLESMITH is a tilting wall mount that allows you to move your TV with just a slight touch. It can hold LCD, OLED, and LED measuring 32 by 70 inches and has a maximum weight capacity of 99 pounds. That's not all; it fits different VESA patterns including 400x300mm,400x400mm, 75x75mm, 100x100mm, and 200x100mm. This information is included at the back of your TV so it's important that you check to see the one that will most likely fit.
In terms of design, this articulating TV wall mount has a lot to offer. It's fitted with an arm that retracts 2.3 inches from the wall and extends to a maximum of 18.5 inches from the wall. The package includes full motion TV wall mount, standard mounting hardware, and 5-piece pack of cable ties, 6 ft. HDMI cable, 3-Axis magnetic bubble level, and a lifetime warranty.
Pros
Slim design
Fitted with a strong arm
Saves space
Provides different viewing positions
Easy to install
Cons
The mounting screws look cheap
Conclusion
There you have it. Perhaps the main reason you need a TV stand is the fact that it allows for swivel. The above products will let you change the orientation of your TV to enhance your viewing experience. If you are still worried about which TV mount you should buy, pay special attention to style, shape, room size, VESA compatibility, installation, and safety. And once you've identified the best wall mount for your TV, you should check the existence of UL listing and quality of construction. Lastly, the wall mount you choose should fit the back of your TV and hold the weight.