Top Best Hanging Kitchen Baskets in 2020

The nicest things about hanging baskets is their ability to maximize space that would normally go unused. Vertical space in any room is wonderful for creating extra storage. Tiered baskets are often decorative, which allows for coordinating with existing décor.
Creative uses for hanging baskets usually begin in the kitchen. Baskets hung near food preparation areas provide great places to put foods, but also work well with spices, tools, or even cleaning items such as sponges and cloths. Once discovered, these handy products eventually travel into other rooms, too, serving as caddies for bathroom toiletries, or dresser top storage for socks and mittens.
#10. 3-Tier Space Saving Wire Hanging Basket
An attractive yet practical hanging basket designed to hold fruit or even kitchen gadgets will keep the counter top clear and provide extra storage in spots normally not used. This product features three graduated baskets, from the widest on the bottom to the narrowest on the top. It comes in Bronze, Matte Black, or Chrome, and Is approximately 11 inches wide and 31 inches long. It comes ready to hang, and many customers who own it used a plant hanger to attach it to their ceilings over their kitchen counter tops. Most owners felt that the price was right, and the basket was sturdy, holding even heavy items such as pineapples or 5 pounds of potatoes in just the bottom basket. This hanging basket set is manufactured by Home Basics and weighs 1.4 pounds.
#9. Round Silver-Toned Heavy Duty Hanging Basket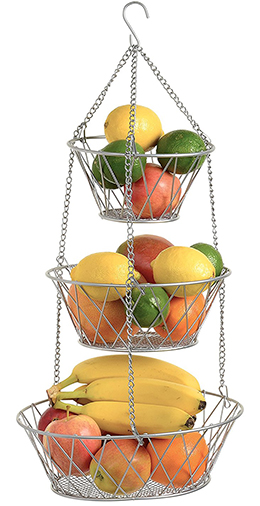 The heavy-duty construction comes from the iron frame of this sturdy basket. It is powder coated so that it is Silver in color, and it is designed with a lovely X Pattern which is artistic and functional. Manufactured by Blue Donuts, it comes with a 2-year warranty. The three sizes of baskets are strong and will hold vegetables, fruit, kitchen towels or supplies. It keeps everything up off the counter top and makes good use of extra unused space. The basket diameters are about 7", 9" and 11'" with the bottom basket being about 4"deep. The other two are about 3" deep. Most customers who own this product noted that it is sturdy and holds quite a bit of weight. One inventive owner hung it by the front door to hold mitts, hats and scarves.
#8. Wide Handle, Square Hanging Basket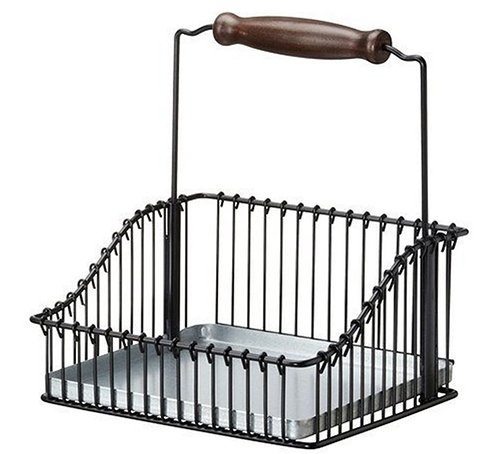 Constructed from sturdy steel and powder coated in Black, this handsome basket may be hung or used freestanding on a counter, tabletop or shelf. It is designed to hold herbs and spices, oil and vinegar, or even may be used to drain dishes when the handy bottom tray is removed. It is versatile, but very beautifully designed. It is 20 cm long, 19 cm wide and 23 cm high. It is decorative and useful. It does need some assembly before use. It is an IKEA product which was discontinued from the product line, so customers purchased it online. The classic appeal of this basket prompted owners to use it in unique ways. Some use it to store their dish soap, hand soap and kitchen sponges in it. Others use as their cell phone charging station. Still others used it to hold jars of their favorite candy and snacks.
#7. Chain Design Hanging Fruit Basket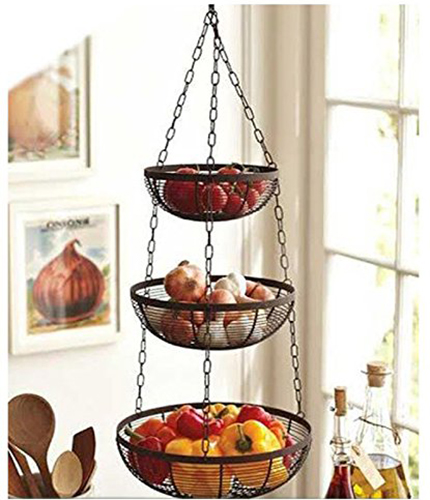 With its horizontal chain pattern and striking black color, this three-tiered basket system manufactured by Useful will accommodate variations in arrangements. It will divide into three separate basket units, and can hold a variety of vegetables or fruit conveniently. The customers who purchased this product noted that it is sturdy, hangs evenly, and looks nice in their homes. Most appreciated that they could hang it someplace to save space on tables and counter tops, yet easily access the contents while preparing meals. It weighs 1.6 pounds and is 11.4 by 11.4 by 6 inches.
#6. Chrome Finish Round Hanging Basket System
The chrome wire used to create this 3-tiered set of baskets is constructed in a handsome open-weave vertical design. It is contemporary in style, with baskets that are wide to hold even larger pieces of fruit. A bunch of bananas can easily fit in the largest basket. Manufactured by HDS Trading Corp, the item weighs 1.2 pounds and is 31 inches long. The widest measurement for width and depth is 11 inches. The baskets are designed so that they can nest inside each other for storage, though some customers who own the product feel that the chain which contains the baskets is strong, but easily tangled.
#5. Black Wire Hanging Three-Tiered Basket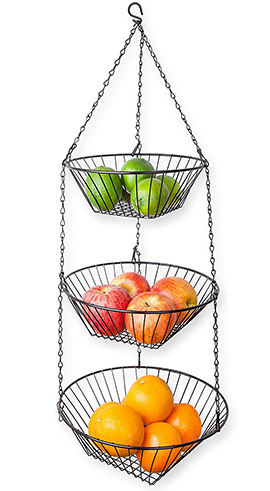 This Black finished wire hanging basket by Home Basics features open construction to allow for plenty of air circulation around foods. The baskets will also hold kitchen tools and supplies. The chain is made of chrome plated steel so that the baskets will hold together well and last. The bottom basket is 11 inches in diameter, the center basket is 10 inches in diameter, and the top basket is 9 inches in diameter. The length from bottom to top is 31 inches. While the basket tops are round, their sides are attached to square shaped bottoms which are woven so that items don't slip out.
#4. Hanging Three-Tiered Decorator Design Copper Basket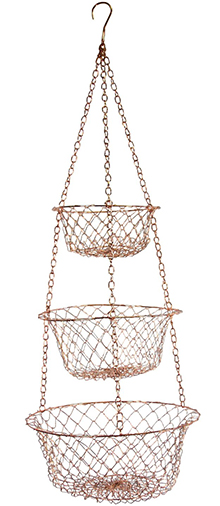 This lovely copper mesh basket system is an attractive addition to any kitchen. The warm, rich copper color is an elegant choice for a well-designed space. Manufactured by Fox Run Craftsmen, the item weighs 11 ounces and is 2 by 11 by 14 inches. No assembly is necessary. The basket not only will store items efficiently, but it is a beautiful decorator piece. The basket are collapsible, and some customers have easily used the basket to hold as much as 5 pounds of potatoes and 3 pounds of onions. Many customers, however, have noted that the links are not as strong as they should be, and that their baskets have broken. Some disappointed customers recommend that it be used for decorative purposes only.
#3. Wire Shelving Hanging Basket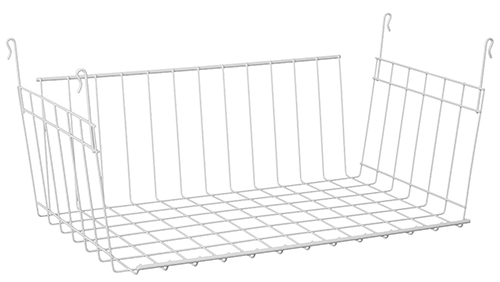 This sturdy rectangular basket creates extra storage and doesn't need hardware to do it. The basket will hook directly to a wire shelf. It is 17 inches wide, and made of sturdy steel coated with epoxy. It is manufactured by Closet Maid and designed to use underneath 24 inch shelves, or wider. It weighs just 1.1 pounds and its dimensions are 10.7 by 18.4 by 8 inches. Customers who purchased this product use it in their kitchen pantries and their closets. The storage area is ideal for socks, purses, and all sorts of items which would normally not be organized.
#2. Black Round Iron X Design Hanging Basket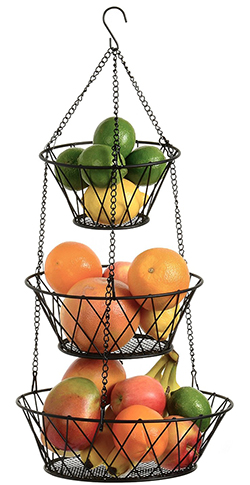 Manufactured by Blue Donuts, this sturdy and attractive 25-inch high basket system is constructed of powder coated iron. The X design is also available from the company in Silver finish. The side panels are wide overlapping segments which allow for ample air flow around fruits and vegetables. The bottom is closely woven mesh for extra strength. The product comes with a 2-year warranty, is heavier gauge iron and is stronger than similar products. The baskets are 7 inches, 9 inches and 11 inches in diameter from top to bottom, and the item weighs 1.9 pounds. Strong clips keep the baskets sturdy and stable.
#1. Chrome Three-Tier Wire Hanging Basket

A popular item, this system manufactured by Deco Brothers features three baskets which may be used in tandem, reaching to 30 inches high, or many be split apart to be used separately. The largest basket is 12 inches in diameter. The chrome is sturdy to hold a lot of weight. The baskets are held securely on the chain by large clips which customers note are easy to use. It comes with its own hanging hook. Many customers enjoy using it to make better use of unused vertical space in their homes. Some even used the baskets to hold plants where they could be placed to have sunshine through a window.
There are many creative, yet functional ways to use hanging baskets. There are also inspired uses; including holding shiny holiday ornaments, or even assortments of perfumes, lotions and powders in the guest powder room. Used as centerpieces, hanging above a kitchen table, filled with festively wrapped candies and treats, they can also be a gathering place in a welcoming home. Practical and pretty, too…genius!