Have you ever wished to have a bike that would give you the high-performance of a mountain bike while still maintaining the comfort and smooth ride of a road bike? Well, each type of bike has some merits that set it apart from the others. But it is now possible to have a bike that incorporates the good characteristics of the others in one package. And this bike is the now popular hybrid bicycle.
A hybrid bike is a blend of a road bike and a mountain bike but also with some characteristics of a touring bike. It is one of the best types for regular commuting as it can be quite comfortable for everyday use. However, to get the maximum benefits that come from this bike, you need to choose a good one from a reputable brand. And in this piece, we review 10 top-rated ones to help make your choice easy.
Lists of the Best Hybrid Bikes for Men Reviews
1. Sixthreezero Men's Hybrid Cruiser Bicycle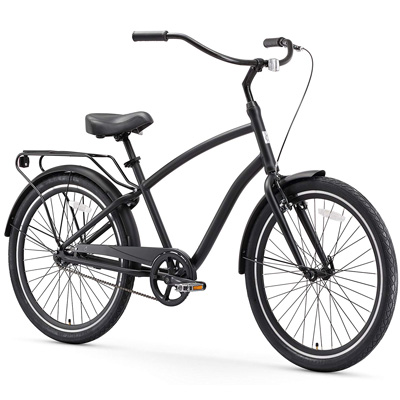 Whether it is for your daily commute to work or rides around town, this Sixthreezero bike will be a perfect choice. It is a one-speed bike designed with a lightweight and highly durable aluminum frame to make it perfect for the commute, leisure, and cruise riding. And with the upright riding position, you will never have to worry about always ending up with a sore and achy back after your daily commute. The brake system consists of a rear coaster brake and front handlebar brake for fast and easy stopping. Also, the bike has a foot-forward design, cushioned and stable tires, and dual-spring saddle to make it more comfortable to ride.
Pros
Lightweight but durable aluminum frame
Comfortable upright riding style
Foot-forward design for proper leg extension
Easy and efficient braking system
Elegant black matte finish
Cushioned and stable riding tires
2. Schwinn Men's 700cc Volare 1200 Bike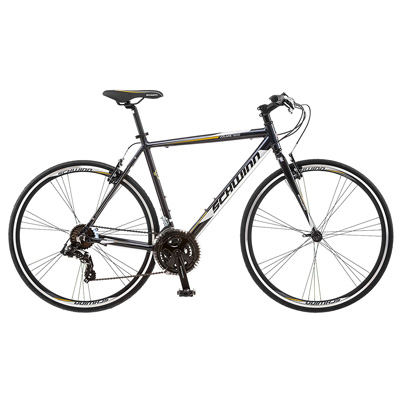 For those looking for a cheap but comfortable and high-quality hybrid bike, this is a good choice. And it is also made from a lightweight aluminum frame. It uses a rigid fork and flat styled handlebar to ensure you always get maximum control. Also, it is fitted with Shimano components like the 21-speed gear system to ensure maximum performance and smooth gear switching. The alloy linear pull brakes for the back and front make stopping easy, and you can be confident that this bike will last as the manufacturer also provides a limited lifetime warranty.
Pros
Great looking alloy wheels
High-performing and durable Shimano components
Rigid frame for maximum control
Smooth gear switching
Easy stopping brakes
Limited lifetime warranty
Cons
Cheap and quite hard saddle
3. Kent Northwoods Springdale Hybrid Bike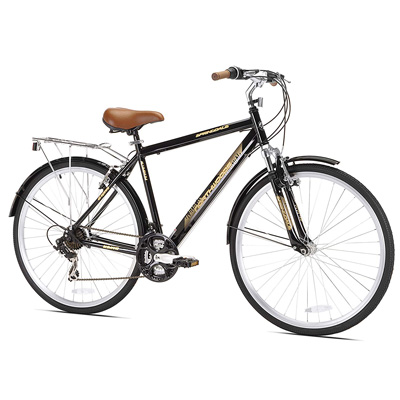 With the lightweight aluminum frame on this bike, your recreational and commuting rides will be much faster and more comfortable. It is also a highly affordable bike when compared to many other hybrids on the market, and it is designed with an efficient 21-speed gear system to make it easy to control your speed and riding experience. The linear brake system makes stopping faster and easier, and the sleek 700cc alloy rims ensure that you always get a smooth and more comfortable ride. Also, the bike has a quick release seat clamp for more convenience.
Pros
Lightweight aluminum frame
Highly affordable bike
An efficient 21-speed gear system
Fast stopping linear pull brakes
Sleek and comfortable alloy rims
Quick release seat clamp
Cons
Does not come with assembly instructions
4. Schwinn 700cc Men's Hybrid Bicycle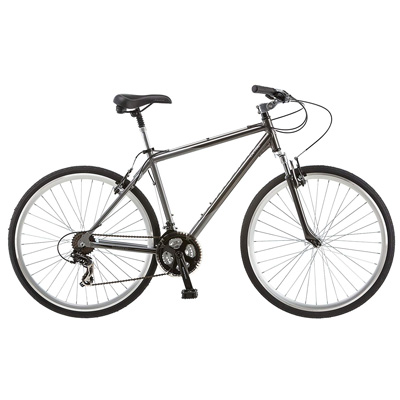 Hybrid bikes with an aluminum frame almost always guarantee a smooth and comfortable riding experience, and this one from Schwinn is not an exception. It is a sleek bike that is designed with 21-speed Shimano gear system for highly precise gear shifting and with alloy V brakes for secure stopping. Also, it has a soft hybrid seat and with an adjustable post for maximum comfort. The high profile alloy wheels make for a smooth riding experience, and like most other Schwinn bikes it is easy to assemble and comes with a limited lifetime warranty.
Pros
Comfortable and smooth riding aluminum hybrid frame
Highly precise gear shifting
Secure stopping alloy V brakes
Soft hybrid seat provides maximum comfort
Adjustable and comfortable saddle post
High profile alloy wheels
Cons
Tire quality is a little wanting
5. Schwinn GTX 2.0 Sports Bike
It is always a great idea to get a bike that you can ride on various terrains. The Schwinn GTX 2.0 is one such bike, and it is designed with a lightweight dual-sport aluminum frame and suspension fork to ensure it rides smoothly in any terrain. And with the efficient Shimano 21-speed trigger shifters, you can be sure of always getting precise gear shifting. High stopping power is also guaranteed thanks to the front and rear disc brakes. The multi-use tires on the Schwinn alloy rims also help to ensure that the bike will be ideal for use in any terrain.
Pros
Versatile dual-sport aluminum frame
More precise gear shifting
High stopping power
Multi-use tires for smooth on and off-road riding
Limited lifetime warranty
6. Vilano Diverse 3.0 24-Speed Hybrid Bike
There are many things that define a good hybrid bike, but the quality of the frame will always be one of the key ones. And so the fact that this particular bike comes with a high-performance hydroformed frame and fork makes it a great buy. It also provides upright handlebars for a more comfortable riding position and with disc brakes to ensure you always get great stopping power. Also, it uses the highly durable Shimano components, and comes with some free pedals to ensure you do not need to buy anything else before using it.
Pros
High-performance hydroformed alloy frame
Comfortable upright handlebar
Disc brakes ensure you always get great stopping power
Highly durable Shimano components
Simple assembly with the provides instructions
Comes with free pedals
Cons
Saddle is not the best quality
7. Giordano RS700 Hybrid Bicycle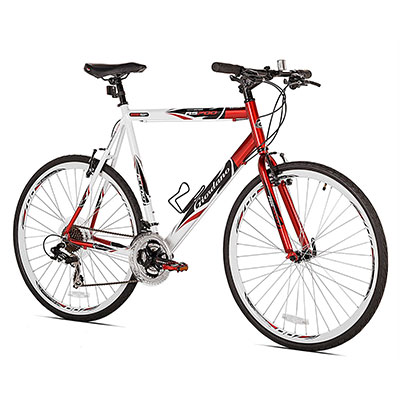 Flat bar handlebars are always a great option for those that prefer riding their bikes from a comfortable upright position. And if this is also your preference, the Giordano RS700 will be an ideal buy for you as it is designed to be as comfortable as it can get. Besides the flat handlebar, it is also made with a highly durable and lightweight aluminum frame and fork. The aluminum frame is also quite attractive and will always make you stand out. There is also an efficient Shimano 21-speed gear system and the assembly is also fast, easy and straightforward.
Pros
Flat bar handlebar provides a comfortable upright riding position
Durable and lightweight aluminum frame and fork
Efficient 21-speed Shimano gearing
Fast and easy assembly
Cons
Decals seem to be carelessly placed on the frame
8. Diamondback Edgewood Hybrid Bike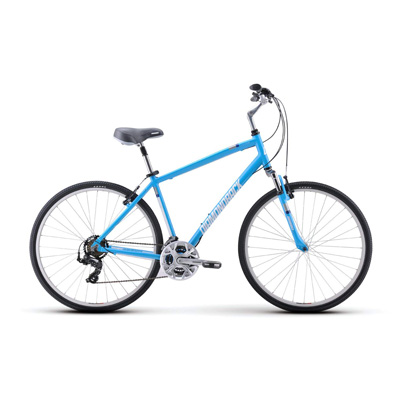 Any bike with the Shimano drivetrain will always guarantee reliable and crisp shifting, and so you can be sure that is exactly what you will get from this Diamondback Bicycles one. But, what many buyers will probably love most about it is that the company does most of the assembly as it comes about 85% assembled, and so it should only take a few minutes to install a few parts and it will be ready for use. Also, it has a comfortable dual density seat and adjustable suspension seat post to enhance riding comfort.
Pros
Available in various sizes and a few color options
Arrives 85% assembled and so assembly should be quick and easy
Dual-density padded seat
Easily adjustable suspension seat post
Reliable and crisp shifting Shimano drivetrain
Highly efficient and smooth rolling wheels
Cons
Brakes can be a little squeaky
9. Schwinn Wayfarer Men's Hybrid Bike
While steel frames can be a little heavy they are tough and stable and will always make your bike more durable. This steel frame bike comes with an appealing retro style and with swept back handlebars for a more comfortable upright riding position. The braking system is also quite efficient as it uses alloy brakes to ensure precise and powerful stopping. With the 7-speed derailleur, shifting between gears is also quite easy while the full fender will provide convenient all-weather riding,
Pros
Tough and stable steel frame
Appealing retro overall appearance
Precise stopping allow brakes
Convenient all weather riding
Smooth shifting derailleur
Upright riding position
10. Vilano Diverse 2.0 24-Speed Hybrid Bike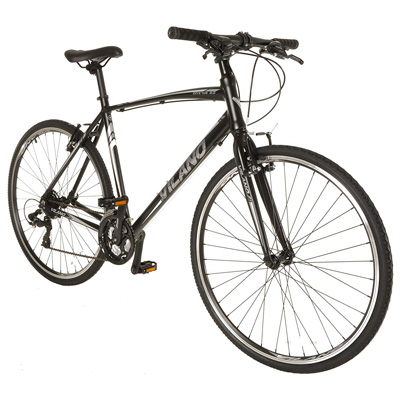 The 700cc wheels on this bike will ensure that you always get comfortable and smooth rides regardless of the surface. Also, the bike uses some high-quality and high-performing Shimano components to ensure you get the best from your bike. And with the comfortable flat handlebar, you can easily get an upright riding position which is what many people prefer on their hybrid bike. Assembly is also fast and straightforward and the manufacturer also provides free pedals.
Pros
High-quality and smooth riding wheels
Efficient cantilever v-brakes
Heavy-duty and high-performing Shimano components
Comfortable upright riding
Comes with free pedals
Fast and straightforward assembly
Cons
Handlebars are a little low
Conclusion
Hybrid bikes are your perfect everyday commute bicycle as they are comfortable and smooth to ride on almost any surface. And you will no longer need to waste time shopping around because our reviews above provide some top-notch recommendations. All you need to do is choose one that you like most. Also, make sure you drop up us a comment below to let us know how it goes.