Top Best Kids' Luggage for Family Vacation in 2020

Experts recommend that you take your children with you when going on a vacation because this will improve the bond between you and your children. Also, kids learn a lot when they are out on a vacation. They learn how to socialize with both adults and fellow kids. Moreover, taking your children on a holiday, especially after school, helps them ease the tension and pressure they have been having during the schooling period. But before you leave with your kid for a holiday, you must make sure that their items are perfectly packed and well organized.
Unfortunately, having your kids' items packed properly can be difficult if you only have one suitcase. Kids' have lots of stuff including toys; hence, one suitcase may not be enough. That's why it is important to buy your youngster a kids' suitcase. Specially designed for kids, a kids' luggage set or suitcase will help you carry your child's items without much fuss. They have different compartments and are highly mobile. The following top 10 best kids' luggage for a family vacation in 2020 reviews and buyer's guide give you a glimpse of what's out there.
1. Skip Hop Ladybug Zoo Little Kid Luggage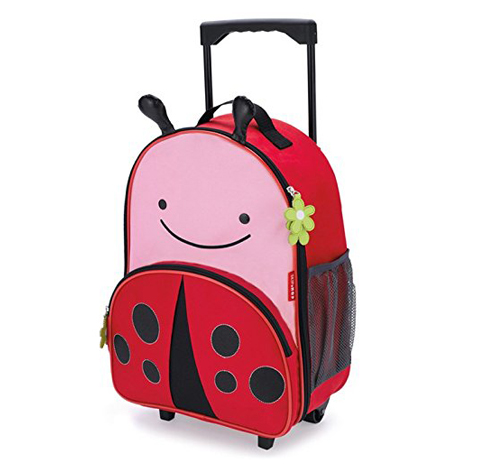 This well-crafted zoo kids' luggage encourages travel independence. It features divider and pockets to provide extra storage space and proper organization. The luggage also has a useful strap that can be removed to let adults carry the luggage in the event their little ones are tired. The 13" handle is retractable, and this means kids will be able to roll it effortlessly. There is also a sturdy poly-canvas, which offers much-needed durability. Moreover, the Skip Hop Ladybug Zoo Little Kid Luggage comes with a back loop to help keep the shoulder strap tucked away.
2. Disney Pixar Cars 2 Luggage Suitcase
The Disney Pixar Cars 2 Luggage Suitcase measures 17 inches high by 12 inches wide by 6 inches deep, so it can provide enough space for keeping your little one's items. Besides, it features a front pocket with zipper closure to make sure that your kid's belongings are safe and well organized. It also has a main compartment that is double-zippered to keep items secure. The car-shaped design makes the luggage suitcase unique and highly preferred, especially by young boys. In addition, luggage suitcase is made of PVC, which guarantees long-lasting performance.
3. American Tourister 18 Inch Upright Hard Side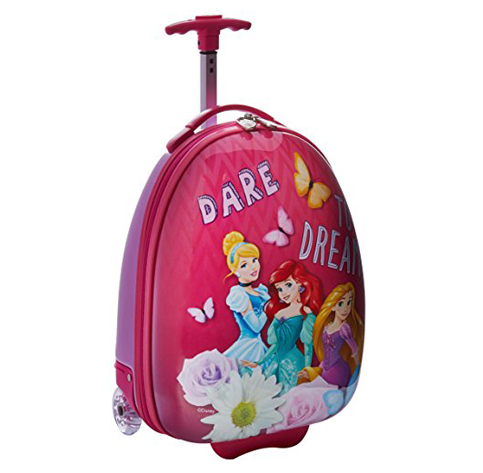 Designed to make packing more fun, the American Tourister 18 Inch Upright Hard Side will make traveling memorable. Best of all, its services do not stop here, as it continues to provide an excellent place for keeping your kids' items organized. It has a nylon lining, which ensures that the stored items are secure. It also features side-mounted skate wheels that help increase maneuverability. The 100-percent ABS plastic promotes durability by withstanding all sorts of extreme use. Also, there is a large mesh pocket, which keeps items organized throughout the journey. This kids' luggage is available in 2 colors (Star Wars/Multi and Star Wars/Storm Trooper).
4. American Tourister 18 Inch Upright Soft Side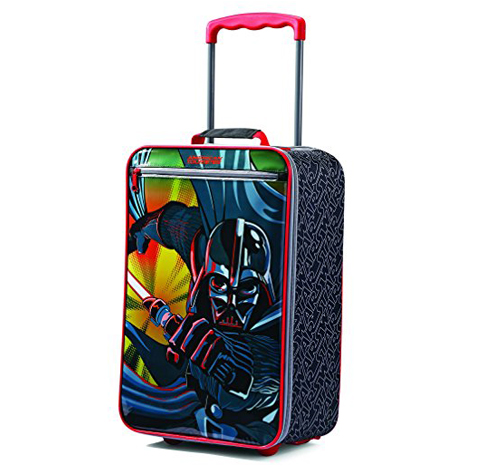 American Tourister is known for its contribution to safe and organized travel. The manufacturer produces premium quality products for both adults and kids to help make traveling a breeze. One of their products is the American Tourister 18 Inch Upright Soft Side, which comes with side-mounted skate wheels to make it very easy to move. The luggage also has a pull handle to make sure your kid has no problem moving with it around. Its large mesh pocket on the inside will help keep your items organized, while its zipper pulls add safety. The American Tourister 18 Inch Upright Soft Side is made of 100-percent polyester for ultimate durability.
5. TrendyKid Ladybug Travel Buddies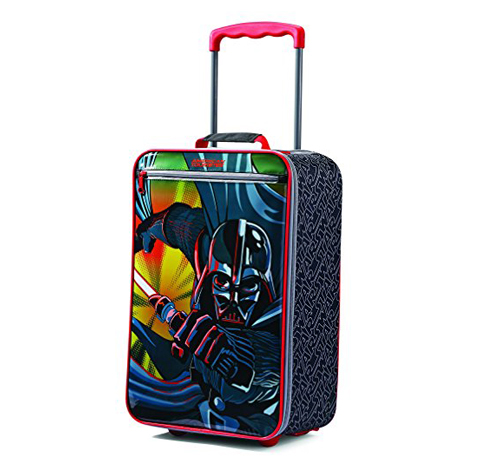 Made of 100-percent ABS, TrendyKid Ladybug Travel Buddies will overcome any extreme use or the environment during traveling. It is a complete set that comes with an 18-inch wheelie suitcase and a 13-inch hardshell backpack, which is crafted from hardshell ABS to help provide optimum protection without adding extra weight. The wheelie luggage is equipped with a duel height retractable handle, which can be adjusted not just to a child height but also to an adult height to ensure ultimate convenience. Also, there is a hand carry handle on both the wheelie suitcase and backpack to make them extremely easy to walk with during travel.
6. Goplus 2Pc Kids Upright Hard Carry On Luggage Set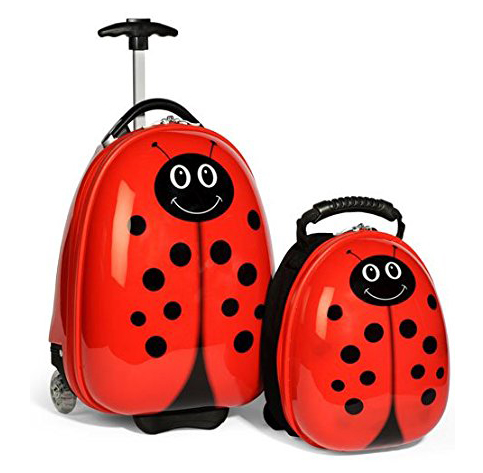 This luggage set from Goplus contains a 16-inch luggage suitcase and a 12-inch backpack to give your youngster maximum storage space. Additionally, both the luggage suitcase and backpack are made of durable polycarbonate, nylon, and ABS to give your little one long-lasting results. The backpack and luggage also feature lightweight design to make sure that they do not burden your child when they are traveling or when they are going to school. The four durable wheels of the luggage suitcase enable it to roll 360 degrees, thereby, making mobility extremely easy. This set comes with a 100-percent risk-free guarantee.
7. Cabin Max Bear Childrens Carry on Trolley Suitcase
Featuring a 34-liter capacity, the Cabin Max Bear Children's Carry on Trolley Suitcase will fit all of your little one's holiday clothes, thereby, eliminating any inconvenience. As if that's not enough, it is made of a super-strong 600 denier polyester material to give your child peace of mind knowing that he/she has a long-lasting suitcase. Adjustable pants on the front will easily fit a doll or teddy bear; hence, allowing them to carry their favorite toys during traveling. Besides, the trolley suitcase has an internal pocket, a bottle holder, and an external pocket to bring in the much-needed convenience.
8. American Tourister 18" Hardside (Disney Frozen)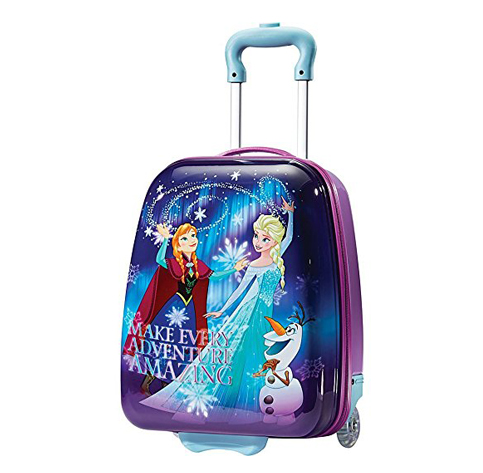 The American Tourister 18" Hardside (Disney Frozen) will give your little one an opportunity to show how much they love their favorite Disney characters. The luggage is crafted with durable yet lightweight ABS material to enable it to stand up to rigorous use without being heavy. It also features a stunning hardside design, which allows it to perfectly blend with your kid's personal style. In addition, the American Tourister 18" Hardside (Disney Frozen) has a mono-tube pull handle, which combines with a top-grab handle to make it easy to lift. It is detailed with exciting graphics of Disney princesses, Star Wars characters, and other Disney stars.
9. American Tourister Disney Mickey Mouse Softside Spinner 21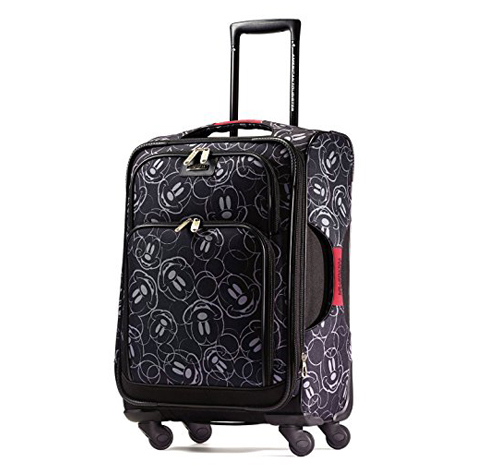 If you want to make your little one yearn for travel, the American Tourister Disney Mickey Mouse is the unit to buy. It comes equipped with single spinner wheels that make it very easy to move around. It also has a large packing compartment featuring a large mesh pocket on the interior to let you pack your child's belonging easily. The large packing compartment also has cross straps with adorably printed lining. Moreover, the American Tourister Disney Mickey Mouse is made of 100-percent polyester for long-lasting performance. Plus it is available in two colors, which include Mickey Mouse Face and Multi-Face.
10. PUQU Monster Truck Design Kids Suitcase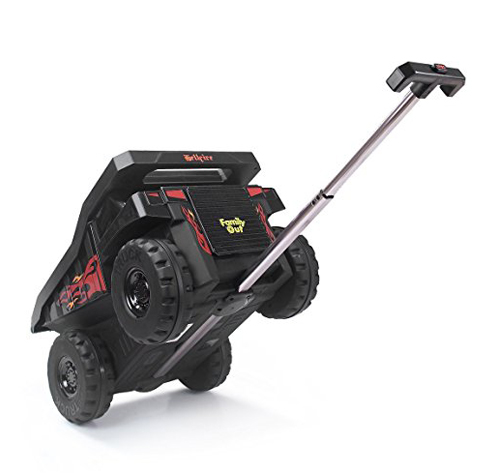 Whether you are planning to travel by plane, automobile or train, the PUQU Monster Truck Design Kids Suitcase is the unit for your kid. It is an innovatively designed suitcase that can also be used as a toy. What's more, it has an 18-liter capacity, which is large enough to store all the toddler's toys, clothes, and other items that may be required during traveling. This kids' suitcase also has a durable strap, which makes pulling a breeze. And it features a 34.6-inch shoulder drop to help add convenience. The PUQU Monster Truck Design Kids Suitcase can carry up to 20 kilograms.
Buyer's Guide: Choosing the Best Kids' Luggage
A Suitcase or a Luggage Set?
Most kids' suitcases are compact; hence, they are easy to carry and store. Luggage sets, on the other hand, provide more space than suitcases. In most cases, you will get a suitcase and a backpack if you buy a luggage set. So, regardless of what you go for, make sure it best suits your kid's needs.
Durability
Make sure the luggage you are about to buy for your little one is made of durable materials such as ABS, PVC, and polyester. This is because the luggage is likely to encounter extreme conditions during travel, and if it is not durable, then it may fall apart. Durability also saves a lot of money in the long run since you won't be purchasing a suitcase every now and then.
Extra Features
Apart from the basic compartments and pockets, be sure to choose a suitcase or luggage with extra features. Well, some of these features include retractable pull handle to suit both adults and kids; removable shoulder straps to make the luggage easy to carry; and functional wheels for easy mobility.
Conclusion
You don't need to share a suitcase with your young one; not when the above kids' luggage sets are on the market. Specially designed for kids, these suitcases and luggage sets are comfortable and have exciting graphics that make traveling fun. Some remind kids of their favorite Disney characters, while others double up as toys to bring in more fun. These suitcases and luggage sets are a must-buy for any parent who wants their kids to have real fun while going on a vacation.