Top Best Laptop Cooling Pad for Gaming in 2020

Although gaming laptops are designed to withstand a lot of use and with top quality parts that can take the strain that comes with gaming, overheating is inevitable. And while it is true that most have an efficient internal cooling system, in many instances you still need to have a cooling pad to help it cool faster and more efficiently.
For every gamer, a cooling pad is an essential part of the set up that you should have if you want to keep your laptop at peak performance. But, not just any cooling pad will do as there are many types and models in the market. In this piece, we will review 10 of the best ones that will work for all kinds of gaming laptops.
Check out Best Laptop Cooling Pads for Gaming in Reviews
#1. Havit HV-E2056 Cooling Pad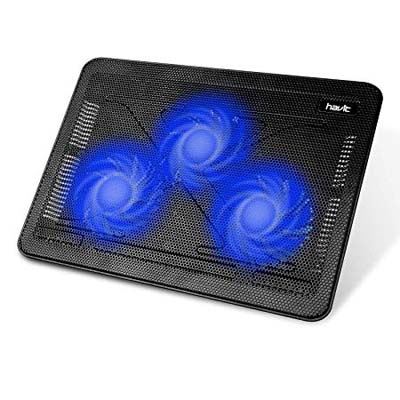 A slim, lightweight and highly portable cooling pad like this one is designed to ensure that you can carry and use it to cool down your laptop from anywhere. It also comes in a more comfortable ergonomic design and with two height setting adjustments. Also, the three fans are designed to work super quietly to ensure there are no distracting noises when gaming and they also have some light indicators to let you know the working status. The surface is designed with your laptop in mind and it will be more stable and wear-resistant. And there are also some built-in USB ports on the pad to make it even more useful.
Pros
Slim, lightweight and highly portable
Comfortable ergonomic design
Adjustable height settings
Stable and wear-resistant surface
Ultra-quiet fans
Built-in USB hubs
Cons
Bright blue lights are distracting
#2. Cooler Master NotePal Cooling Pad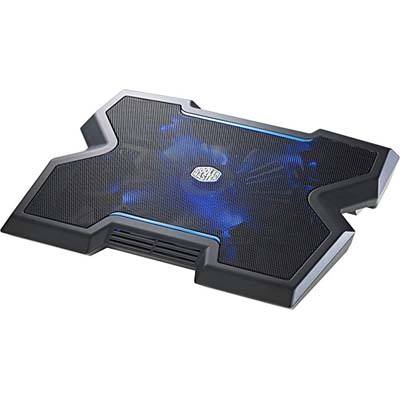 Cooler Master combines mesh surface with a high-speed fan to ensure quick and efficient laptop cooling. And there is also a built-in speed control for the fan to allow you to adjust the speed to suit your needs. The overall heavy-duty construction means that this cooling pad will last for a long time, and it also has adjustable height settings to make it more comfortable. But, what many users will love most about it is that it also includes some nice front vents to help keep a gamers' hands cool and dry.
Pros
High-performance fan
Mesh surface enhances the cooling effect
Heavy-duty construction with a sturdy platform
Front vents included for keeping player's hands cool and dry
Built-in fan speed control
Two height settings for increased comfort
Cons
No on/off button
The fan is a little noisy
#3. Tree New Bee Laptop Cooling Pad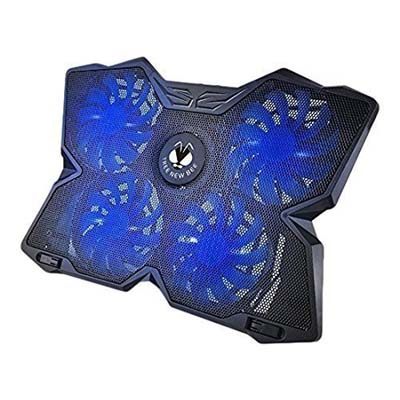 With a sturdy laptop cooling pad like this one, you will not only keep your laptop cool but also get a stable surface for holding it when gaming. It has a total of four highly efficient fans that are designed for quick and easy cooling and there are also two anti-skid arms. The slim and lightweight design makes the cooling pad more portable and it also has two adjustable height settings for a more ergonomic setup. Also, with this laptop cooling pad, you will get built-in USB ports that will be very useful for connecting other devices.
Pros
Sturdy laptop stand
More fans for faster and more efficient cooling
Slim and highly portable
Built-in USB ports
Adjustable height settings
Cons
Not ideal for heavier laptops
#4. Targus Lap Chill Mat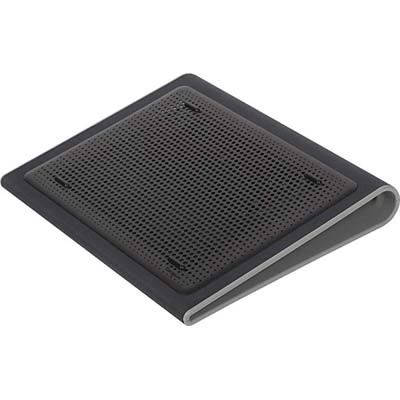 Targus uses two fans on this cooling pad to ensure that you get a faster and more effective laptop cool down. And its design means that it will not only cool the laptop but is also effective in keeping your laps cool. The soft neoprene material also makes the surfaces more comfortable and there are four handy rubber stops that will help prevent the laptop from slipping. Carrying the pad is also made much easier by the slim and lightweight profile, and its design is meant to ensure that it runs more quietly.
Pros
Efficient dual fan design
Cools both laptop and your laps
Comfortable soft neoprene exterior
Slim and lightweight profile
The design ensures that the fans run quietly
Rubber stops included to prevent slipping
#5. TeckNet Portable Ultra-Slim Laptop Cooling Pad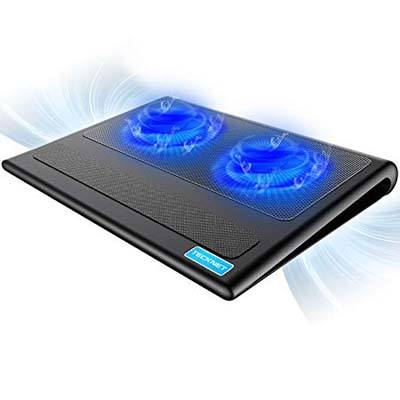 Another small and highly portable laptop cooling pad that will make it possible to cool your laptop from anywhere. It is a USB-powered device which means that you will not need any connection to your mains power and it uses two powerful fans to ensure efficient cooling as they will provide excellent airflow. There is also a handy rear LED indicator that will alert you whether it is active or not and the design of the pad is more ergonomic for comfortable use and with an anti-skid metal mesh surface.
Pros
Designed to provide excellent airflow
USB powered and will not require connection to mains power
Lightweight and easy to carry around
The handy rear LED indicator
More ergonomic pad
Support various laptop sizes
Anti-skid metal surface
Cons
Fans are not entirely noise-free
Blue lights stay on throughout
#6. Havit 5-Fan Laptop Cooling Pad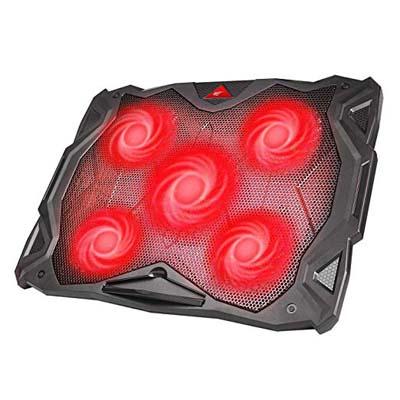 The more the fans, the better the airflow and hence the faster and more efficiently the laptop will be cooled down. And so the fact that this pad comes with 5 highly efficient fans means that it will be a perfect choice for any gamer. This cooling pad also comes with an adjustable height design to allow you to get a more comfortable gaming and working environment. There is also a built-in anti-slip baffle that will help keep the laptop in place and a high-quality mesh surface that will enhance the cooling effect.
Pros
Relatively quieter operation
More fans provide better airflow
Adjustable height
Built-in anti-slip baffle
Convenient extra USB ports included
Reliable and high-quality mesh surface
Cons
Feels a little cheaply made
#7. TopMate TM-3 Gaming Laptop Cooling Pad
A few other cooling pads out there will give you as much control over the process like this one by TopMate. It is a high-quality and efficient cooling pad that comes with a convenient display and control panel with a button to allow you to fine-tune the cooling process. This pad also comes with 5 ultra-quiet fans that will do a good job without distracting you. And there is also a hinged flap that you can use to support your laptop and the LED lights that illuminate the fans when in operation have a very appealing look.
Pros
Highly efficient and quieter cooling fans
Adjustable tilt angle
Handy hinged flap
Convenient display and control panel
Nice looking LED lights
Cons
Plastic materials are not a very heavy duty
Not spacious enough for larger laptops
#8. TeckNet Slip Laptop Cooling Pad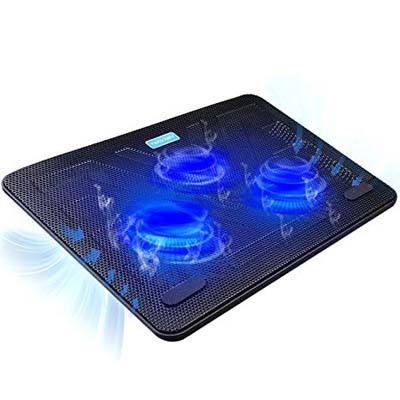 Portability is always a concern when it comes to buying cooling pads because you will probably want to carry your laptop to different places. However, with this TeckNet pad, it should be the least of your worries as it is designed to be slim and lightweight to make it easy to carry around. Also, the cooling pad is designed to offer a quieter but efficient cooling operation thanks to the powerful and high-speed fans. This pad is also height adjustable to enhance the comfort and will fit almost any laptop size.
Pros
Slim and portable
Ultra-quiet operation
Powerful and high-speed fans
Adjustable height level
Ideal for most laptop sizes
Extra USB ports included
Cons
The bottom edge can be uncomfortable on your lap
#9. Havit HV-F2063A Laptop Cooling Pad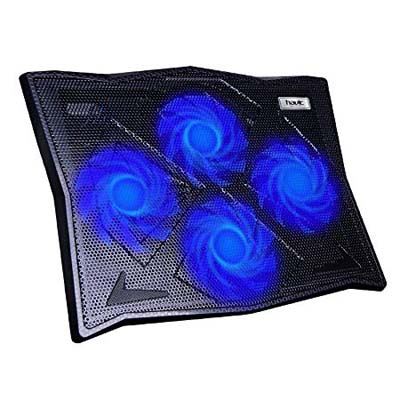 Havit is always a brand that you can trust when buying cooling pads as they have some of the best-performing ones in the market. This particular one uses four powerful fans that are designed to provide quick and super quiet cooling, and it also has an independent on/off switch which is something that many users will love. Also, the striking LED lights are quite impressive, and you can use them to judge the speed of the fan and the pad is designed with two adjustable height positions and with an extra USB port that will be highly useful.
Pros
Super quiet fans
Striking LED lighting
Easily adjustable height setting
Adjustable fan speed
The handy extra USB port
Slim and ultra-portable
Cons
Fans look a bit on the smaller side for larger laptops
The adhesive on the grips is not very effective
#10. TeckNet 5-Fan Laptop Cooling Pad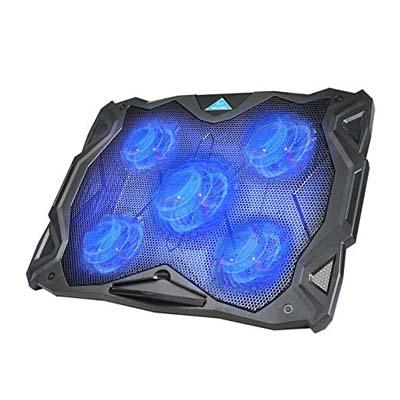 Everything about this cooling pad is just amazing, and it is hard not to love it. The pad comes with 5 strong fans that are designed to provide excellent airflow and quieter operation, and you can also adjust the fan speed. Another thing that is easily adjustable is the height to allow you to set the laptop at an ergonomic and comfortable position. There is also an anti-slip mesh surface on the pad that will ensure the laptop does not slip off, and the surface is large enough for 17-inch laptops. This cooling pad is straightforward to use and comes with some nice blue LED lights.
Pros
Strong and quieter fans
Adjustable fan speed
Easily adjustable pad height
Anti-slip surface design
Will support various laptop sizes
Simple to use and with nice LED lights
Cons
A few sharp edges on the metal mesh
Conclusion
You no longer have to keep stopping your games to allow for the laptop to cool down. With one of the cooling pads above, you will hardly ever need to worry about it overheating. Pick one that suits your laptop and gaming preferences and let us know how it works for you in the comments below.