Tired of measuring huge distances with just a simple tape? Well, it's high time you switch to a laser distance meter. This handy device makes distance, area, and volume measurement look so easy. In fact, some models allow you to perform complex calculations. But hey, what's the best models in the world of laser distance meters?
To be honest, there are many good laser meters out there. However, precision, durability, and reliability calls for the best performers. I've sifted through hundreds of models and narrowed the list to top 10 best laser distance meters that are sure to live up to your expectations.
List the Best Laser Distance Meter you should buy
#10. DEWALT DW03050 165-Feet Laser Distance Measurer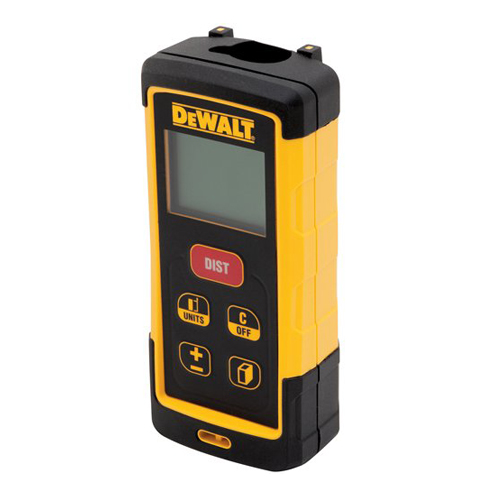 This mid-range laser distance meter makes a god choice for general construction projects. It has a range of 165 feet (50m) and supports automatic calculations of both volume and area. A full Pythagoras function makes indirect height measurements a breeze. This laser meter measures within an accuracy of 1/16 of an inch. The memory function recalls up to 5 measurements. A backlit screen improves visibility both in dark and bright conditions. This meter has IP65 protection rating for improved durability.
Pros
Extremely durable, thanks to over-molded housing and IP65 rating
Great functionality suitable for the needs of any home user
Easy to use
#9. Tacklife Advanced Laser Measure 131 Ft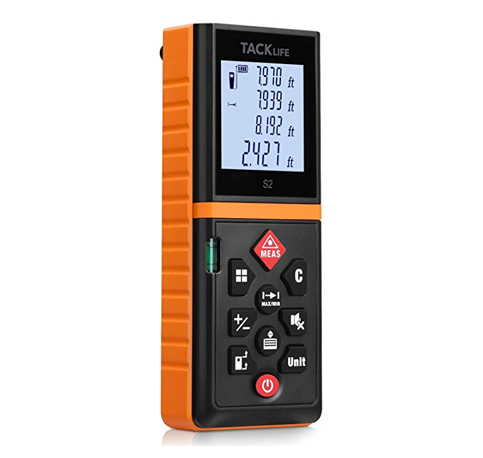 This S2 mid-range laser is designed with versatile functionality in mind. Multiple measurement features support continuous measurement and Pythagoras functions. Apart from measuring distance, it performs volume and area calculations. Distance is measured to a range of 131 feet within an accuracy of 1/16 of an inch. You can switch to meters, feet, or inches for more flexibility. This meter recalls up to 20 measurements and has a large backlit LCD display for improved visibility. There's a 150-second automatic shut down to conserve power. Durability is assured, thanks to IP54 protection rating.
Pros
Affordable laser for homeowner
Energy efficient
Convenience of mute function
Loaded with multiple measurement features
Resistant to water and dust
Cons
A little bit tricky to operate
#8. Tacklife Advanced Laser Measure 196 Ft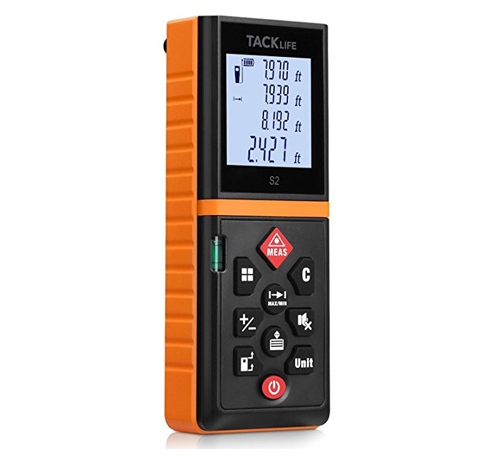 This is another model of the S2 advanced laser with a range of 196 feet. It has a Pythagoras mode and does area and volume calculations beside distance measurement. The device has an accuracy of 1/16 of an inch. Measuring units are switchable to meters, feet, or inches. It recalls up to 20 historical data. The laser function and power go off automatically after 30 seconds and 180 seconds respectively to conserve power. A mute function comes in handy to give peace of mind in case the beeping noise becomes a nuisance.
Pros
Multiple measurement functions
Mute function
Energy efficient
Very affordable with a long range
Water and dust protection
Cons
Doesn't have thread for tripod mounting
#7. Tacklife HD60 Classic Laser Measure 196Ft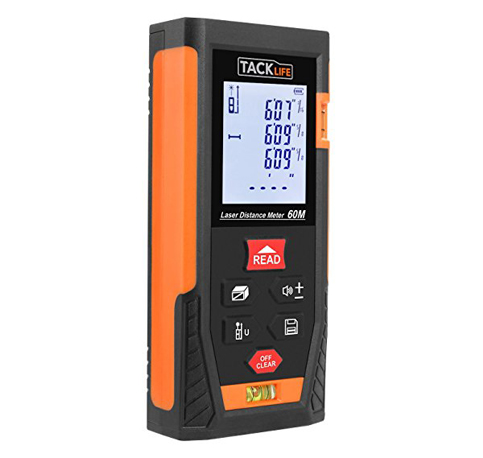 A variation of the S2 laser with a range of 196 feet and an accuracy that's within 1/16 of an inch. This is the compact HD60 laser packed with multiple functions. It supports 6 units of measurement. This laser meter measures distance and calculates both volume and area. It supports single and continuous measurements. There is a Pythagoras mode that takes care of impossible linear measurements. This meter stores up to 30 historical data and has a 150-second shutdown to conserve power. The LCD display is backlit for better visibility. This device has IP54 protection rating and comes with intelligent mute button.
Pros
Lots of measurement options
Simple and easy to use
Excellent value for money
Small and compact
Mute function
Water and dust resistant
Cons
No stake-out function for equal distances
#6. UNI-T LD60 Laser Distance Meter 60M/196ft
LD60 is a lightweight laser meter with switchable unit selection. It performs smart volume and area calculations. A self calibration function makes it even more convenient. There's a Pythagoras mode that makes indirect measurement a breeze. This distance laser meter has a range of 196 feet and an accuracy of within 2mm. It recalls up to 30 last measures and conserves power via a 150-seconds shutdown function. The LCD display is backlit for improved visibility in dim and bright conditions.
Pros
Small enough to fit inside a pocket
Self calibration function
Most buttons are multi-function
Energy efficient
Recalls up to 30 measurements
Cons
More button-pushing needed
#5. Leica DISTO E7100i 200ft Laser Distance Measure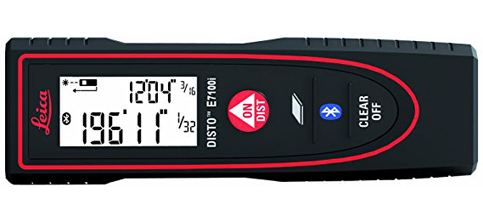 A compact laser distance measure that won't weigh you down. In fact, it's the smallest laser meter that boasts a Bluetooth function. This laser has a range of 200 feet and an accuracy of 1/16 of an inch. It supports automatic area and volume calculations. A minimum/maximum mode makes it easier to record the shortest or longest distance. Equipped with Bluetooth 4.0 function, this laser meter makes it possible to send values to your Smartphone or transfer measurements into a desired software. It's IP54 certified and has batteries that last up to 5,000 measurements.
Pros
Superior functionality
Bluetooth and wireless transfer
Resistant to water and dust
Batteries last up to 5,000 measurements
Smallest laser meter with Bluetooth 4.0 function
#4. Laser Distance Measure, BEVA 131Feet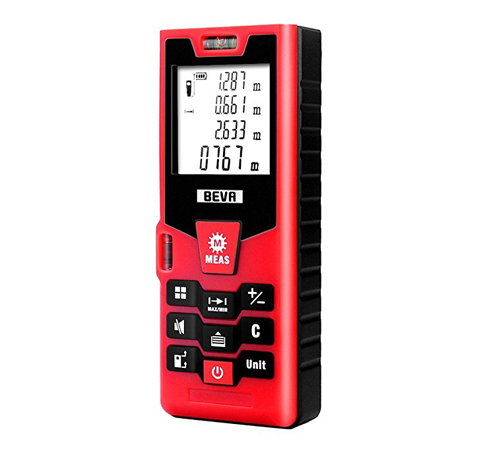 This 131-feet range laser meter lets you measure with an accuracy of 2mm. Multiple measurement features get the job done quick and easy. It supports length, square, and cubic measurements. There's a Pythagoras mode for indirect measurements. An intelligent mute button comes in handy where quiet work is needed. This laser recalls up to 20 last records and is IP54 certified for increased durability. The LCD screen is built large and has a backlit display for easy reading.
Pros
Intelligent mute setting
Lightweight and portable
Dust and water resistant
Easy to use and operate
Cons
The beeping sound is a bit low
#3. Leica DISTO E7500i 660ft Laser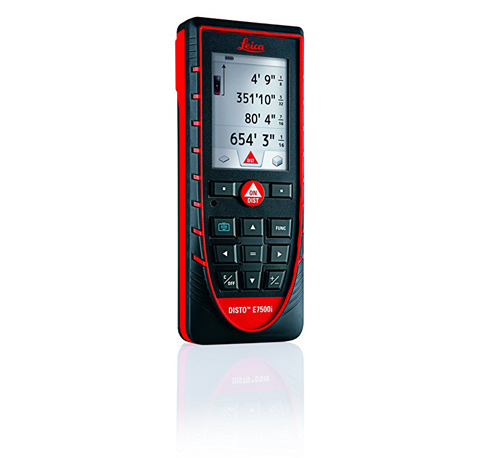 This high-end laser delivers measurements in a more accurate and precise manner. It has a range of 660 feet and an accuracy that is within 1/16 of an inch. This laser meter supports 14 modes of measurement. A 360-degree tilt sensor provides the convenience of automatic leveling. Obstacles that might get in the line of measurement are taken care of by a horizontal smart function. This laser is integrated with Bluetooth 4.0 for for easy data transfer to your Smartphone and other software. There's a 4X magnification camera that zooms in your target to increase usable range.
Pros
Long range suitable for both indoor and outdoor use
14 modes of measurements
Bluetooth for data transfer
Comfortable ergonomic grip
Zoom function for easy target location
Cons
Battery life is quite short
#2. DEWALT DW0892G Laser Detector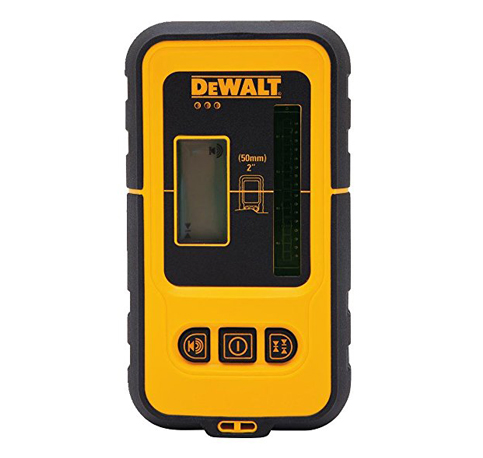 DW0892G is a mid-range laser distance measure with a working range of 165 feet. This laser is accurate to within 1.5mm. It has a volume control feature to regulate that loudness of the beeping signal. Magnets make it easy to mount on steels studs or ceiling tracks. There's a 5-minute shutdown feature for power conservation. The battery and heavy duty quick-release clamp are included in the package.
Pros
Energy efficient
Magnets for easy mounting
Volume control
Comes with quick-release clamp
Cons
Doesn't have a back display
#1. Leica DISTO S910 984ft Laser Distance Measurer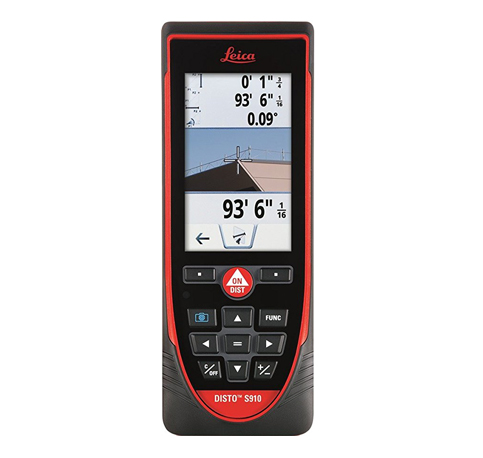 A handy device for point-to-point measurement. This laser meter gives a range of 984 feet and an accuracy of within 1/16 of an inch. It's the first laser distance meter to support 3D measurement from a single point. There's a smart area function for calculation of complex layouts. Wi-Fi and smart Bluetooth functions provides endless possibilities. For instance, you can transfer data into the AutoCAD system. This laser meter has multiple charging options to keep you ready for your next project.
Pros
Creates up to 20 DXF files for use in CAD software
Wi-Fi and Bluetooth capable
Supports 3D measurement from a single point
Impressive range of 984 feet
Multiple charging options
Buying Guide to Choosing Best Laser Distance Meter
Let's face it. It's hard to select the right laser distance meter if you don't know what to look for. That said, there are some considerations you need to keep in mind to help you find the right device and get good value for your money. The following are what you need to look for in a laser meter:
Range/distance limitations
Look for a range that compares well to your actual needs. For instance, the needs of a survey team planning a new runway is quite different from what you require for your home improvement projects. Basic models have a range of up to 65 feet ideal for indoor projects. Mid-range laser meters are ideal for general constructions. High-end models have a range of 660 feet or more and are mostly suited for professionals.
Accuracy
One thing you need to know is that accuracy ratings vary between models. Laser meters on the low-end budget have an accuracy rating within 1/4 to 1/8 of an inch. Most models give an accuracy that is within 1/16 of an inch, which is good for general construction and DIY projects. Some high-end models have an accuracy of 1/32 of an inch suitable for works that require more precision, such as laying of pipes or foundations.
Calculations
Choose a laser meter that has the most calculations you need in your project. Among the three major calculations you may need are distance, area, and volume. Complex projects would require complex functions and other extra features, such as Bluetooth and Wi-Fi. Complex calculation functions include continuous measurements and indirect measurements.
Batteries
Laser distance meters are devices mostly used out there on the field. They come with batteries to provide that self-contained power. Settle for laser meters with extended battery life. Consider other extra features, such as automatic shutdown function to ensure that the batteries last for longer.
Memory
Most laser distance meters have built-in memories to recall previous measurements. Settle for a model that records at lest 5 last measurements. This will come in handy in case you forget previous measurements.
Conclusion
I hope this article has helped you a great deal in finding the best laser distance meter for your project. All these products receive some good positive comments from users out there. Well, what remains is for you to decide which one makes the cut for your next project. Whatever you choose, be sure you're getting good value for your money.