Top Best Men's Windbreakers Jackets in 2020

We all hate wearing bulky and thick jackets, and this is more so when the weather changes and they no longer have any purpose. It is true the weighty coats will keep us warm, but they will only be ideal and handy during the cold months. Most of the time the best option is something lightweight, waterproof and windproof like the windbreaker coat.
The windbreaker jacket seems to work for all seasons, but some can also be suited for cold seasons and others for the summer. Also, they come in different styles and designs, and so you still need to know how to choose one that works well for you.
Check out our best men's windbreaker jacket reviews
1. Charles River Apparel Pack-N-Go Windbreaker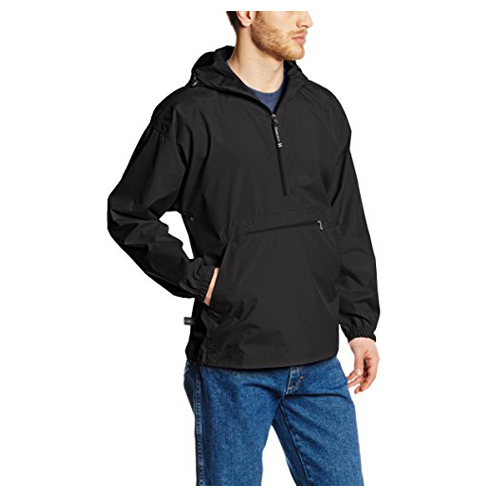 This 100% polyester pullover will be perfect for a man that wants a stylish windbreaker for daily wear. The jacket comes in various colors, and it is wind and water-resistant pullover without lining. It also features a half-zip placket and an attached hood to protect your neck and head from the elements. The larger kangaroo pocket has a zipper opening at the top, and the jacket will pack into this front pouch for easy carrying. Also, there are some underarm grommets on the jacket to enhance ventilation.
2. Harriton Nylon Staff Jacket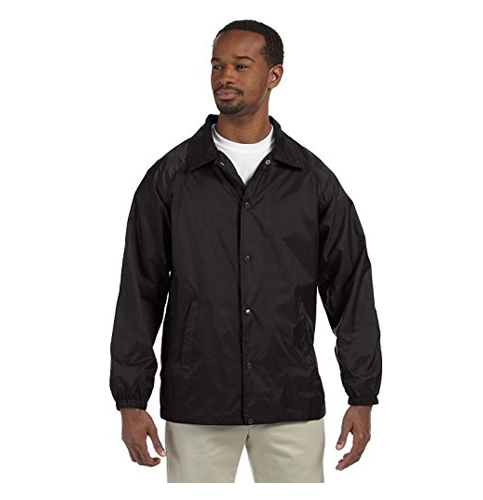 Nylon makes some of the most durable windbreaker jackets, and this one from Harriton is as durable as they get. The coat features a 100% nylon taffeta construction, and so you can be sure that you will wear it for a long time. It is water/wind-resistant, and it includes some raglan sleeves that have full elastic openings, a comfortable jersey lining and dual front welt pockets for your hands.
3. Charles River Apparel Classic Windbreaker Pullover
A hooded windbreaker pullover like this is very useful in keeping the wind and water out and also has a very stylish appearance that makes it ideal apparel for all seasons. It includes a hood with an adjustable drawstring hem and a front kangaroo pocket that you can use to pack it when traveling. The jacket also has a cotton flannel lining that will be useful in keeping you warm.
4. Result Core Unisex Windproof Jacket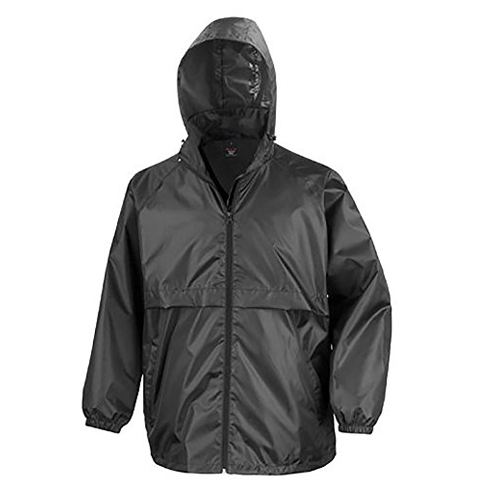 Some windbreaker jackets like this one will work for both men and women, and so they are good to have in the house. The extremely lightweight coat features some breathable chest vent panels, a concealed hood in the collar that is also adjustable and two front pockets. One of the pockets has a zipper, and there is also an MP3 cable holder on one of the pockets. And the jacket is also available in more than half a dozen colors.
5. Amcupider Contrast Zip Front jacket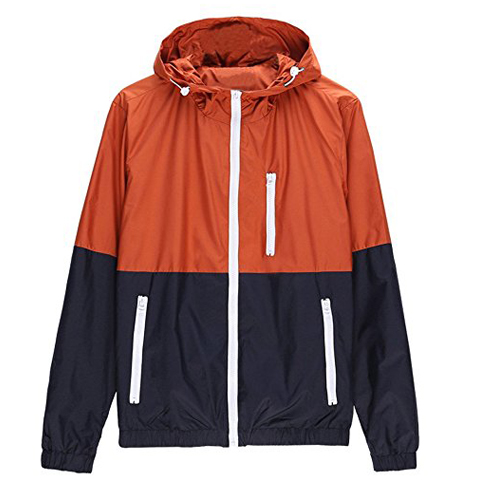 Contrast windbreaker jackets have a very appealing look, and they will be perfect for a fashion-conscious man. This particular one features a front zipper closure, adjustable storm hood, and a drawcord adjustable hem to provide a comfortable fit. It has a total of three pockets at the front with one having a unique design to run through the headphone wire. And it is a 100% polyester jacket to ensure maximum durability.
6. First Class Nylon (100%) Windbreaker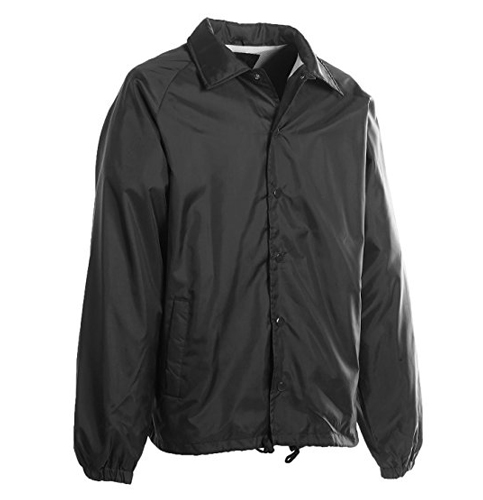 For the men looking for a simple and affordable windbreaker that is still stylish enough this one from First Class will work just fine. It comes in some bright colors, and it has some high-quality materials that include the 100% nylon outer shell and 100% cotton lining. This windbreaker runs large, and so it is meant for wearing over other outwears. And it also features some elastic cuffs and some reinforced slash pockets.
7. Homaok Lightweight Breathable Jacket
It is hard to get a windbreaker that is more stylish than this one. The jacket has a charming look, and it comes in some nice colors. But there is still more to it than the appearance as it also has two side pockets for your hands, elastic cuffs, and hems for a comfortable fit and it has a lined front zip and a very appealing standing collar
8. Polo Ralph Lauren Lined Windbreaker Jacket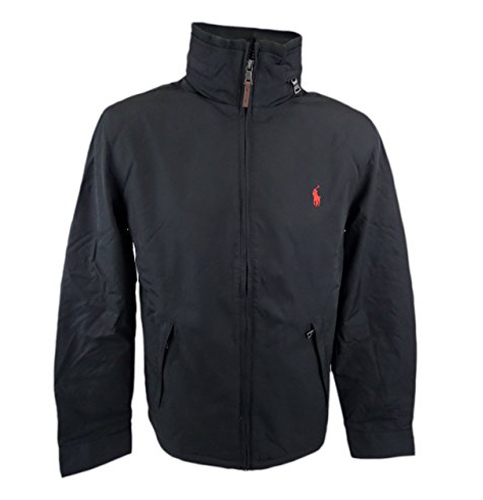 If you value the brand or label a lot when shopping for your jackets, this Polo Ralph Lauren jacket will impress you. It has the distinctive pony logo at the front, but there is still more to it besides the fact that a reputable company makes it. The lined jacket is warm, comfortable and resistant to the elements and it features a mock neck collar, a full metal zipper and some dual vertical pockets with zippers. It also has a zip-away hood, and you can get it in various colors.
9. Columbia Flashback Windbreaker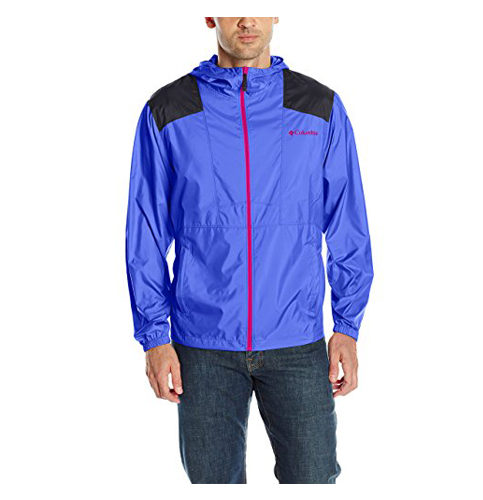 Polyester windbreaker jackets are soft and light, and so they are perfect for any season. This particular one is 100% polyester, and it has a traditional zipper closure design. It also features some front hand pockets, elastic cuffs to give your hands a nice fit and a drawcord adjustable hem. And you can get this windbreaker jacket in all your favorite colors.
10. US Polo Association Windbreaker Jacket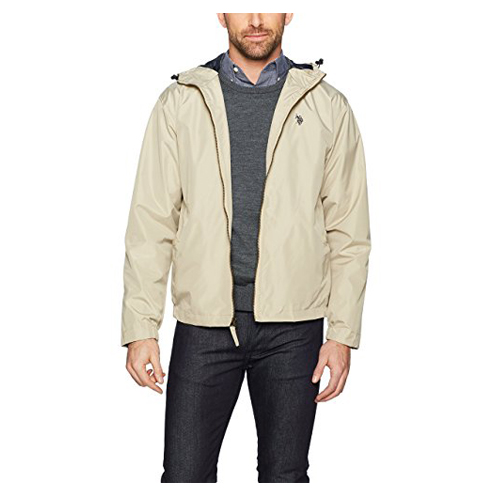 You do not have to be a polo player to enjoy the US Polo Assn products because they make jackets that suit any man that wants a sleek and trendy jacket. This 100% polyester coat features front zipper closure design, dual hand pocket, and an adjustable hood. It is available in all men sizes, and you can also get the windbreaker jacket in various colors and styles.
How to Choose Men's Windbreaker Jackets
Windbreaker jackets might be the thinnest and lightest garments that you can wear, but they are not all the same. And so you need to know how to pick the right one from the various options out there. But, by considering the points below, you should get windbreaker jackets that suit your needs.
Material
The material is one of the first things that every man should consider when shopping for windbreaker jackets as it will affect everything else. There are three main material options for these jackets, which are polyester, tricot, and nylon. Nylon is one of the favorite materials not only because of its durability but also the fact that it is resistant to both wind and water. Polyester, on the other hand, is quieter,' softer and lighter than nylon while tricot is softer and more breathable than both nylon and polyester.
Overall Fit
When looking for any clothing or attire, the fit is always a top priority, and windbreaker jackets are not an exception. Look for something that provides a comfortable fit and feels good on your body. When you cannot try out the windbreaker jacket before buying, the right idea is to read customer reviews to find out what others have to say about its fit.
Style
The style is an undisputed factor that you need to consider when buying a windbreaker jacket because every man wants something that will look stylish when wearing. For windbreaker coats, pockets, hood, the color, and stitching are some of the things that will affect the style.
Weight/Packable
The lighter the windbreaker, the better because this means that it will not affect your mobility. If you are wearing the windbreaker jacket when running a marathon or doing any other activity, you will want to go for the lightest possible. Also, consider how packable it is because this will determine the ease of carrying it. The best windbreaker jackets are those that will pack into the front pocket as it makes them easy to transport.
Conclusion
Choosing a men's windbreaker is an important decision because this is one of the jackets that you will wear a lot. However, with the reviews above you have an idea of what to look for, and our shopping guide will make it easy to pick between the different windbreakers. But, ultimately it will be all up to your personal preferences and how or when you intend to wear the windbreaker jacket.