Top Best Outdoor Firewood Racks in 2020

Even in these modern times where many homeowners use gas and electricity to heat their homes, firewood is still quite popular. Many people still like to use wood because it brings a classy and authentic element to your home. However, things are not all perfect when using firewood because you will always end up with a large pile of logs.
Firewood might be an inexpensive fuel source, but you still do not want to leave logs out in your backyard to rot. And so you need an outdoor firewood rack to help you store and organize your valuable wood. Luckily, there are many outdoor firewood racks out there, and you only need to know how to pick the right one for your home. Our reviews below and shopping tips aim to make it easy to pick a firewood rack that will work great for you.
#1. Landmann 82433 8-Foot Log Rack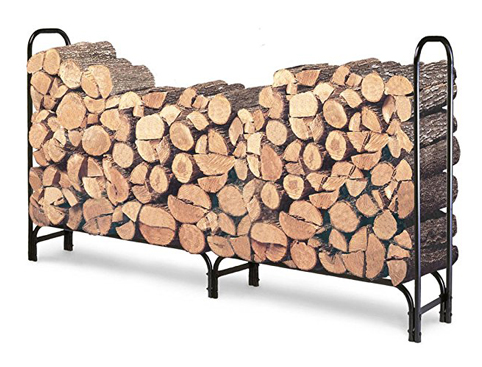 The 8-foot long Landmann 82433 will store up to an impressive 2/3 cord of logs, and it is also a relatively affordable rack. It has a long tubular steel frame that ensures that you get optimal support for your wood and is also quite a durable material. It has a weatherproof powder coating and will come with all the hardware for quick and easy assembly.
#2. Amagabeli Outdoor Firewood Rack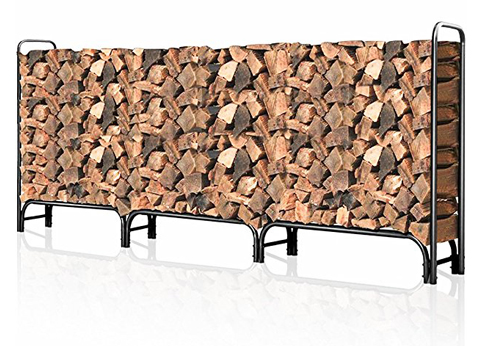 This large and heavy-duty firewood rack will not only last for a long time, but it will also accommodate enough wood to see you through the winter. And it is also about 6.7 inches off the ground for proper ventilation and to keep water out. The heavy tubular steel is also rust-free, and it comes in fewer pieces for easy assembly.
#3. Shelter Logic 90403 12-Foot Outdoor Firewood Rack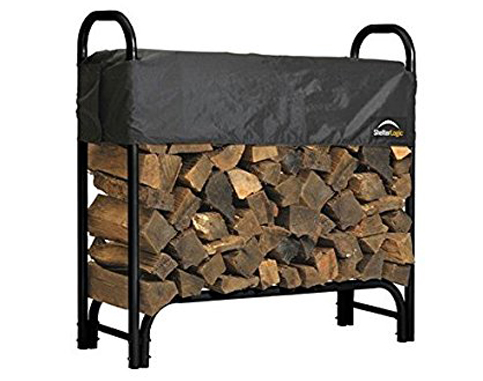 Here is another 12-foot long firewood rack that will accommodate a lot of logs and it also features a sturdy and durable overall construction. But what makes it stand out is that it also comes with a two-way adjustable polyester cover that will slide both up and down to accommodate the height of your log stack. The all-steel rack frame is highly durable and with a powder coat finish to make it weatherproof. And it is also easy to assemble.
#4. The Woodhaven 5-Foot Log Rack with Cover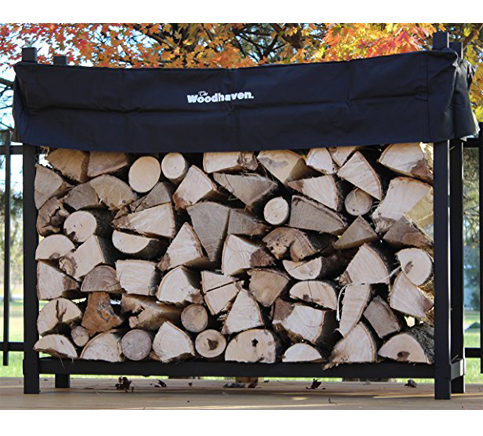 If the aesthetic appeal is as important to you as the quality of the rack here is an excellent option for you. And the 5-foot length is small enough for those that do not have a lot of space, but it still accommodates a lot of wood. This firewood rack also comes with a matching cover that will cover the top 12 inches of the logs.
#5. The Woodhaven 8-Foot Log Rack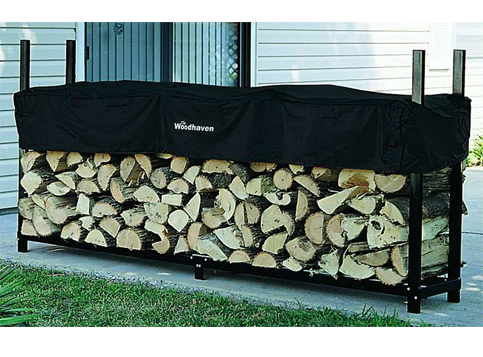 The simple assembly and the high-quality materials make this one of the best outdoor firewood racks that you can get in the market. It comes with a black, baked powder coat finish to ensure that it does not last for many years. And it also comes with a cover that will help to keep your logs dry.
#6. Panacea 15209 40-Inch Log Hoop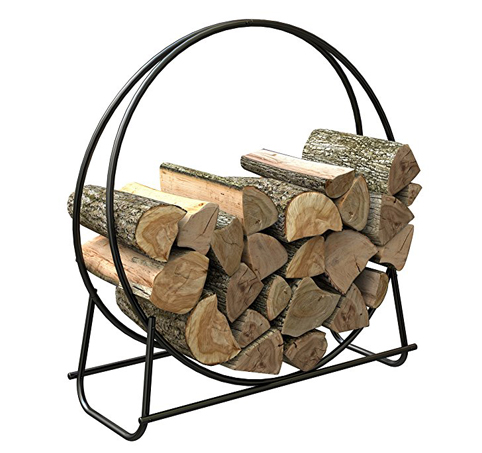 If the traditional firewood racks do not impress you, a log hoop might be an excellent choice. This tubular steel one has a 40-inch diameter to ensure that it can hold lots of logs. And besides, from storing wood, the design also makes it great for drying and displaying the firewood. The thick tubing has a powder coating to withstand the elements, and the log hoop will work well both indoors and outdoors.
#7. Panacea Deluxe 4-Feet Outdoor Log Rack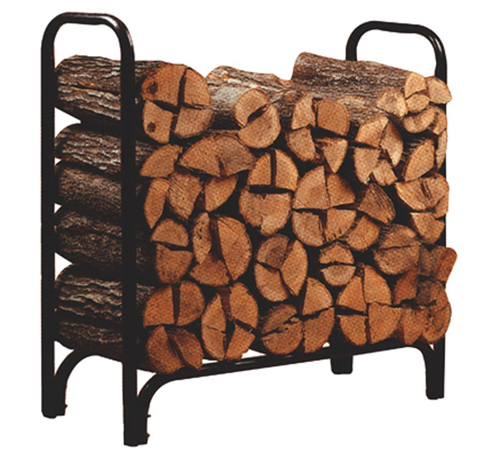 Panacea makes some appealing log racks, and this 4-feet one will be perfect when you do not have a lot of wood or just want something attractive for displaying them. The steel tube construction makes it very durable, and it also has a long-lasting powder-coated finish. And this small rack is quite straightforward to assemble, and it should only take a few minutes to do it.
#8. Pleasant Hearth Heavy Duty Outdoor Log Rack
Simplicity and affordability are the two traits that make this firewood rack stand out. It comes with some adjustable log brackets that you can adjust to any length to accommodate more wood. And besides stacking your firewood neatly this track will require minimal assembly.
#9. Sunnydaze 30-Inch Fireside Log Holder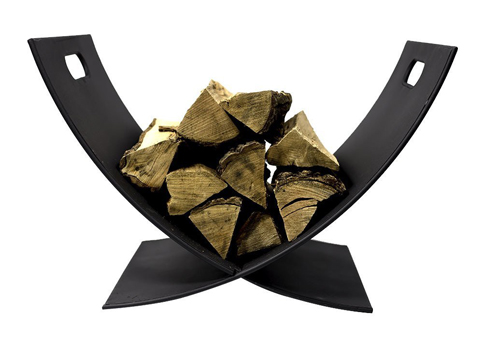 Although this might not be your typical log rack, it is still a great purchase as it not only holds your wood but will also look great both indoors and outdoors. The 20-pound log holder has a durable powder-coated steel construction, and so it will last for many years. And it also has some handles at the top to make it easy to move around, and it comes in a simple two-piece design for effortless assembly.
#10. Pinty Heavy-Duty Firewood Rack Set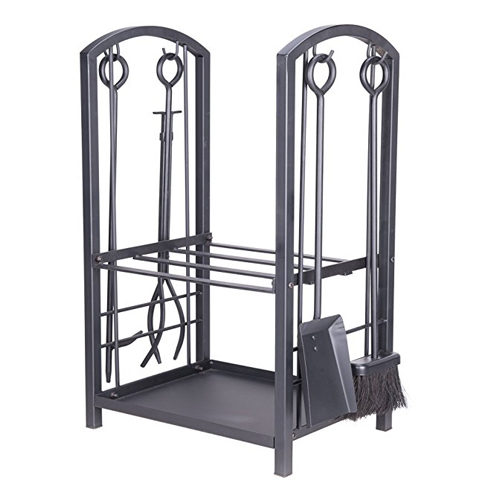 Even as you shop for a firewood rack, it is important to note that there are still a few other things that you need to organize your tools. This log rack comes as a kit with these other things and they include a trowel, broom, tong and a poker. And despite the high-quality construction the log rack is still lightweight and effortless to move around, and you can assemble it in just five minutes.
How to Choose Outdoor Firewood Racks
Whether you need wood to heat your house during the winter months or you do a lot of meat smoking and barbequing, you will need to have a rack to store all your firewood. And while our outdoor firewood rack reviews will give you some idea of what to buy, you need to consider the following important points to get the best rack.
Capacity
When shopping for an outdoor firewood rack, the overall size should be one of the first factors to consider. And while the right size for you depends on the amount of wood that you want to store the right idea is always to go for a large capacity rack if you have enough space. A large capacity rack is a good purchase as it will provide enough space when you need to store more firewood in the future.
Rust-Resistance
Your outdoor firewood rack will be exposed to the elements throughout the different seasons. And so it should have a finish that can withstand the elements. And one of the most important things to ensure this is by making sure that the rack is rust-resistant which will in most cases be achieved with a powder coating.
Constriction
Solid construction is a must if you want your firewood rack to serve you well and for long enough. Solid steel makes the best firewood racks, but there are still many other sturdy materials out there. But, the right one for you depends on your budget and preferences. And besides, from going for a quality al the firewood rack material also considers the quality of the welding or connection between the pieces and the finish because they all determine the durability.
Price
As much as you may need an outdoor rack for the logs you do not need to spend a fortune to get one. But, it is also important to remember that large and high-quality ones also tend to be the most expensive. And the best idea is always to focus more on quality.
Accessories
Some accessories can make your firewood rack more convenient to use, and they include things like a cover. Those that come with one are the best for the outdoors as they will help to protect your logs from the elements.
Conclusion
Although there are now more advanced heating methods than at any other time, nothing beats firewood stoves and fireplaces. But, when using firewood, you will always end up with a large pile of logs, and so you need to get a high-quality rack to organize them. However, with our reviews above and handy shopping tips you should not have a problem getting a top-notch firewood rack that will serve you for many years.
Best Outdoor Firewood Racks