Top Best Portable Photo Printer in 2020

The digital age seems to have about an end to photo albums. After all, swiping pictures across the screen of a digital camera or Smartphone is so much more convenient. However, you may still want to have a few printed photos to stick on your fridge, put in a wallet, or give to a loved one. That's where a compact photo printer may come in handy. We devoted hours of research to find the best portable photo printer in reviews left by other buyers. Read about our top picks below and use the information to make an informed buying decision.
Check out the Best Portable Photo Printer in Reviews
#10. Sprocket Smartphone Photo Printer by HP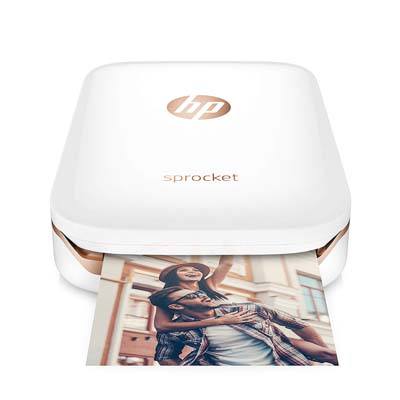 Printing pictures directly from your smartphone couldn't be any easier with HP Sprocket compact photo printer. All you have to do is pair your phone with this device via Bluetooth. It works with an app that lets you edit your pictures with filters, borders emojis and more before printing. The printer comes bundled with ten sheets of HP ZINK sticky-backed papers and a micro USB cable for charging. Use the provided papers to turn your photos into two-by-three inch colorful prints to stick on any surface you please.
Pros
Convenient wireless photo printer•Comes with printing papers
Available in a verity of colors
Lightweight portable design with wrist strap loops
Cons
Does not have the ability to print from Wi-Fi or save to SD card
#9. Dock Instant Photo Printer by Kodak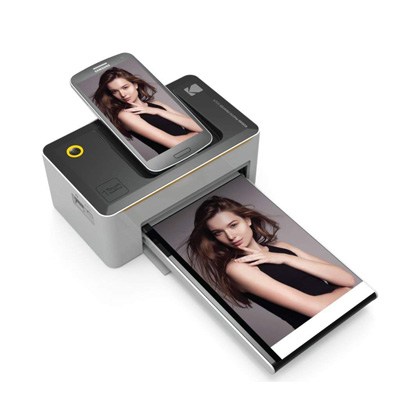 The Kodak Dock prints standard four-by-six inch snapshots directly from your Android or iOS device. There are a couple of ways to use it. The first method is to connect the printer to your phone over Wi-Fi. Alternatively, connect your phone to the dock via cable. With the second method, the printer charges the phone's battery for you. An Android dock pin and iOS lighting adapter are included in the package. It is also possible to print photos from a pen drive or digital camera as the doc has a micro USB and full USB ports. Printing is done from the Kodak Photo Printer app that lets you browse your phone gallery or even connect to your social media accounts and email. The companion app does a lot more than simply allow for photo selection. It helps you to customize your pictures with templates, stickers, filters and more before printing.
Pros
Dye-sublimation printer produces long-lasting photos
Charges your phone while printing via cable
Produces highly detailed pictures
Prints photos wirelessly or via cable
Cons
Must be plugged-in to work
#8. The INSTAX Share SP-2 Compact Photo Printer by Fujifilm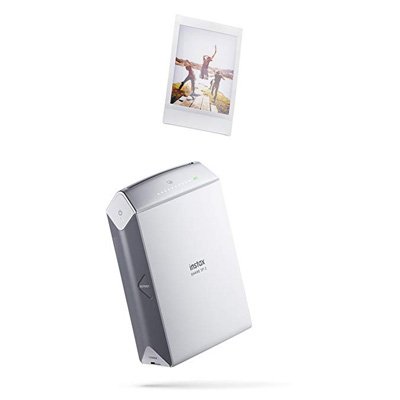 Built for on-the-go use, the Instax Share SP-2 is a Smartphone printer that you can take anywhere. In fact, this phone printer is small enough to fit in the palm of your hand. The internal battery can produce up to 100 prints before needing a recharge. However, the Instax Share SP-2's biggest selling point is fast printing time. This printer features a laser exposure system and a three-color OLED printing engine. By exposing pigments to light, it triggers a photochemical process that prints full-color photos in 10-15 seconds. You can expect images with a print pixel of 800 x 600 dots from this 320dpi printer. And, the best part is you get to print all your photos with the convenient Instax Share app.
Pros
Fast printing time
Long-lasting battery
LED battery and film indicators
Reprint button makes duplicate copies of the same photo
Cons
Can only print small 2.4×1.8 inch wallet size photos
#7. Photo Printer Carry Case by Canboc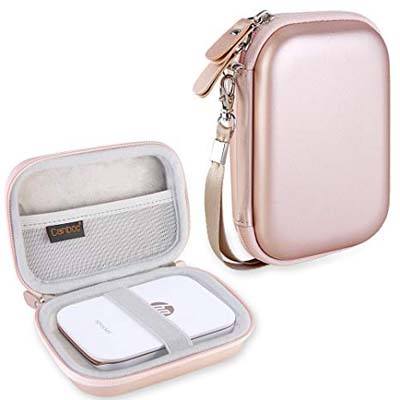 After buying a portable photo printer, you will need somewhere to keep it when on the move. That's what this Canboc travel back is meant for and it offers a few extra protective features. For instance, the pouch is water-resistant and shockproof. It also has a soft interior to protect your photo printer from getting scratch marks. Any photo printer that is the same size as the HP Sproket or Polaroid Zip will fit easily in this carry case. As an added bonus, the pouch has a meshed compartment for keeping your film/printing papers and charging cable.
Pros
Protective carry case for portable photo printers•Removable wrist strap allows for easy carrying
The internal strap holds your printer securely inside the case
Five colors to choose from
Cons
Might not fit other compact photo printers
#6. Kodak Mini 2 Instant 2.1"x3.4" Photo Printer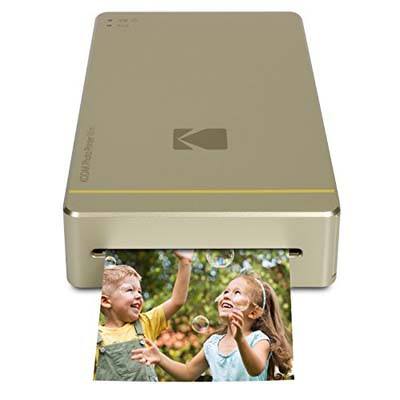 The Kodak Mini 2 might be smaller than its predecessor was, but still packs a punch for a compact photo printer. It uses a sophisticated 4-pass dye transfer process that is capable of producing up to 16.7million colors or 256 graduations. Kodak also makes a bold promise that the quick-drying ink will remain bright for up to 10-years. Another impressive feature of this printer is its ease of use. Simply download the Kodak Mini Printer from the App Store or Google Play and start to print photos right away. It is possible to resize photos, adjust brightness, and edit them in other ways before printing. Printing is done without cables. The app sends commands to the printer using Near Field Communication, Wi-Fi, or Bluetooth technology.
Pros
Cable-free photo printing•Retails in different color choices
Prints on finger-proof and water-resistant paper
Cons
Relatively short battery life
#5. Augmented Reality Portable Photo Printer by Lifeprint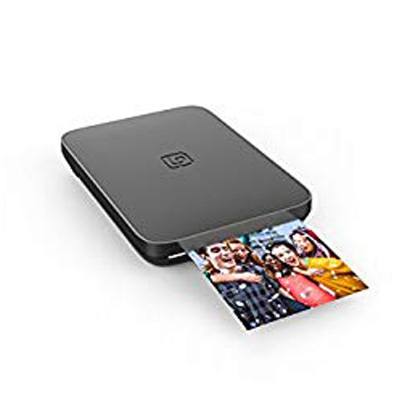 Get this intriguingly novelty photo printer from Lifeprint and take photos like never before. Lifeprint takes things a notch by introducing the ability to embed a video inside your photos using augmented reality technology. Their portable photo printer generates life-like pictures that Lifeprint calls hyper photo. These shots literally come to life in your hands and look like something straight out of a Harry Potter Movie. You can only print them on special augmented reality film. The shots measure 3×4.5-inches and require the Lifeprint App to produce. Both Android and iOS users can download and install the app for free.
Pros
Prints cool hyper photo
Easy to set up and operate
Super slim lightweight design
Available in a variety of fun, bold colors
Cons
Relatively high running costs
#4. Original Kodak Mini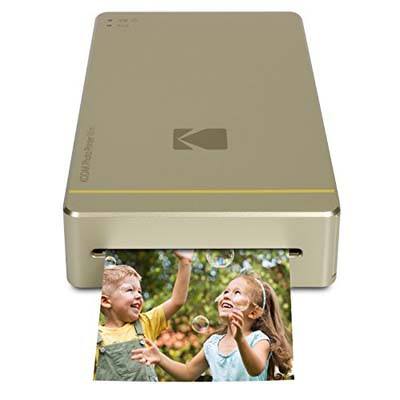 This portable photo printer was the first version in the Kodak Mini Series. Just like the Kodak Mini 2, it connects to your phone over NFC, Wi-Fi, or Bluetooth using the Kodak App. You will be able to print 2.1×3.4" photos in grayscale or full color. Other standard functions to expect include photo editing tools and the D2T2 dye transfer method that produces detailed colorful photos. Where the Kodak Mini Original and Mini 2 differ is in the size. The original version is slightly larger than its pocket-size sequel. All other features are the same, including the lithium polymer rechargeable battery that lets you carry your photo printer with you anywhere. Apart from this model with a metallic gold finish, the printer comes in other color choices like black or white. Spend a little bit more, and get the Kodak Mini bundled with accessories such as markers, sticker sets, hanging frames, a case, and photo album.
Pros
Hustle-free wireless connectivity•Generates good photo quality
Simple to set up and use
Cons
Slightly larger than most pocket-size photo printers
#3. IVY Mobile Photo Printer by Canon (3204C001)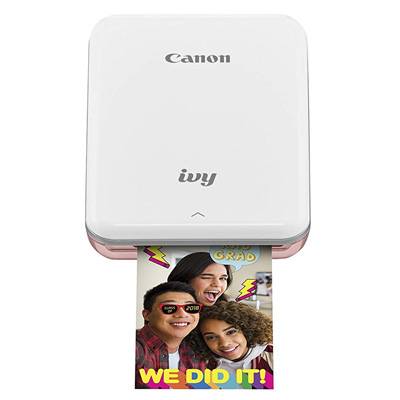 Another compact photo printer worth checking out is the Canon IVY 3204C001 model. This tiny moniker comes in Rose Gold, Mint Green, or Slate Grey. It prints 2"x3" size photos on film with peel and sticks backing. Once you get the printer, simply download the Canon Mini Print app to get started. Before printing, the drawing tool can enhance the look of your images with emoticons, text, frames and more.
Pros
Conveniently prints photos via Bluetooth•Works with an easy-to-use companion app
Compact design that's easy to carry around
Cons
Paper sheets bought separately
#2. Printomatic Instant Camera by Kodak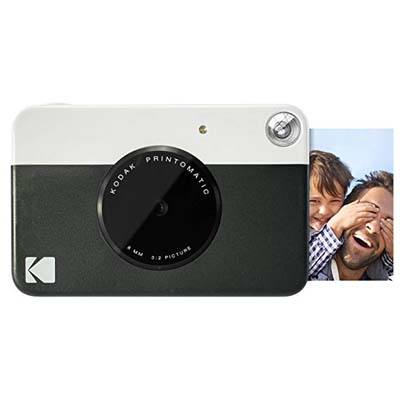 If you want a point and shoot digital camera that can print photos instantly, then the Kodak Printomatic might be what you need. The camera on this model features a 10MP sensor, an f/2 wide-angle lens, and a built-in flash. It does not require ink cartridges to print your photos. Just load the Zink zero-ink paper, and pop out full color 2"x3" photos. It is worth to note that the camera does not feature an LCD screen to view your photos before you print. That notwithstanding, it still offers a fun way to snap pictures and surprise people with instant wallet-size prints.
Pros
Saves photos to micro SD•Retails at an affordable price
Comes in half a dozen color options
Runs on rechargeable lithium-ion battery
Prints on waterproof, smudge-free- and tear-resistant paper
Cons
Does not have an LCD screen
#1. IPWF-P01-VP Photo Cube Mini by VuPoint Solutions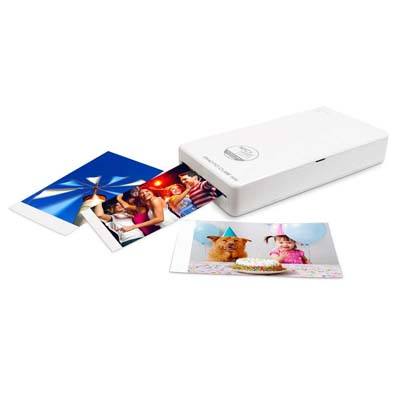 With the VuPoint Solutions IPWF-P01-VP Photo Cube Mini, you can have a 2"x3.4" photo printout in just over a minute right after taking your shot. By simply tapping your NFC enabled phone on the printer, you can initiate the printing process. If your phone does not support NFC for printing, you can still establish a connection using the printer's Wi-Fi Direct function. For the printing interface, you just need to download and install VuPoint's mobile app from iTunes or Google Play. The app lets you take photos from your gallery or snap a photo with the phone's camera and print it. You can use it to do everything from cropping to contrast and brightness adjustment. The Photo Cube Mini lets you open a side door to slide in a print cartridge with dry ribbon and photo paper.
Pros
Simple wireless printing
Easy setup and operation
Prints quality photos via dye-sublimation transfer technology
Cons
Prints only ten pictures per cartridge
Conclusion
As you search for the best portable photo printer in reviews, try as much as possible to be objective. Look at features from different models while keeping in mind what you actually need to do with the printer. This way, it is easier to make a wise decision on which compact photo printer to go for among the many options that exist. More importantly, you will avoid paying a higher price for something that has fancy features you won't even use.