Top Best Toilet Seats in 2020

Your bathroom should be as comfortable as possible since it is one of those places in the house that you have to use every day. And one of the best ways to add some comfort to your bathroom is by buying a high-quality toilet seat. Toilets seats come in different designs and shapes, and so you can always be sure of finding something that will impress you.
The many toilet seat options in the market can make things a little confusing. But, if you know some of the best brands and the factors to consider when buying a toilet seat things should be less tedious for you. Check out the reviews below of ten of the best toilet seats and a buying guide to help you find something comfortable and durable.
Check out the Best Toilet Seats Reviews
1. Bemis 500EC000 Round Toilet Seat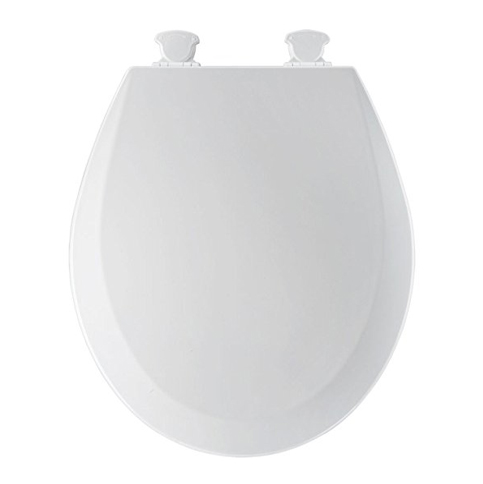 The Bemis 500EC000 is another molded wood seat that you will enjoy owning. This molded wood also features a high gloss finish that is both scratch and chip resistant to increase the life of the toilet seat. Cleaning and changing it is easy thanks to the hinges design. The standard round-front design means that it will fit most toilet bowls and it is also easy to install.
2. Mayfair 48SLOWA Molded Wood Toilet Seat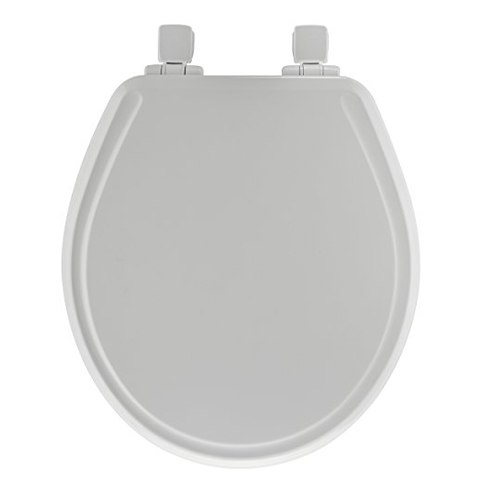 This molded wood toilet seat is affordable and long-lasting, and it is just what you need to add some comfort to your toilet. It features easy to change hinges that make it possible to remove the toilet seat when cleaning. Also, the slow closing hinges make it super quiet and also ensure that it does not slam on the bowl or pinch your fingers. The high gloss finish gives the toilet seat an appealing look, and it also resists chipping and scratching.
3. Mayfair 148SLOWA Molded Wood Toilet Seat
Molded wood is one of the best toilet seat materials as it is both comfortable and durable. Mayfair understands this better than most other companies, and so they use it for their 148SLOWA model and also for most of their other toilet seats. And apart from the choice of material this toilet seat also features a slow-close design to prevent accidents and slamming. The easy clean hinges also make maintenance easy. Those that are searching for an elongated toilet seat will love this one as it will fit most standard elongated toilet bowls.
4. Toto SS114 01 Elongated Toilet Seat Cover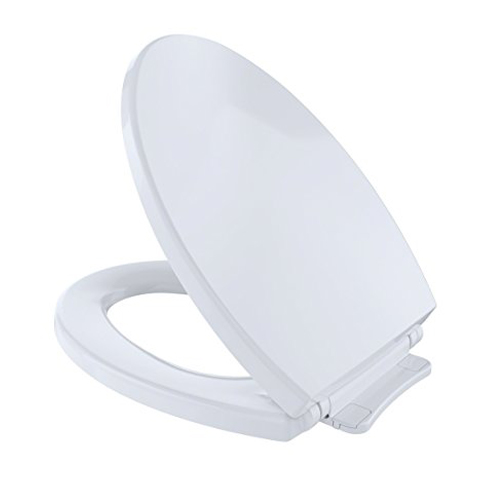 Here is another fantastic elongated toilet seat cover that will impress most users. It comes in a beautiful and easy-to-maintain cotton white color that will work well with all bowl colors. And to prevent slamming and eliminate accidents, the manufacturer gives it a soft close action. This 18 1/2-inch long toilet seat also features a high-gloss polypropylene construction with some molded bumpers and a comfortable ergonomic overall design.
5. KOHLER K-4636-0 Quiet-Close Elongated Toilet Seat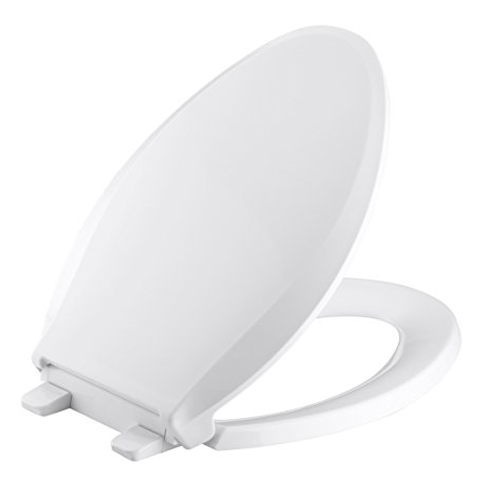 Nobody likes to have a noisy toilet seat as it can be very annoying. And so the fact that this one from KOHLER has a quiet-close is enough to convenience many people to buy it. But, you will not have to buy it just because it is silent as it also has some grip-tight bumpers that prevent shifting and quick-release hinges that make the seat easy to unlatch for cleaning. This elongated toilet seat also comes with quick-attach hardware for quick and secure installation.
6. Mayfair 183SLOWA Adult Toilet Seat with Child Potty Training Seat
If your little one is at the potty training stage, this toilet seat will be a good buy for you as it also includes a seat to help with this. Mayfair considers everyone in the family when making it as it also has a whisper-quiet closure. The elongated toilet seat features STA-TITE fastening that ensures that it will never loosen but the seat is also easy to remove for cleaning. This durable molded wood toilet seat also has a scratch resistant high-gloss finish, and it will fit almost all elongated bowls.
7. KOHLER K-4734-0 Elongated Toilet Seat
Elongated toilets seats come with many features and designs, but some things must always be present. This toilet seat by KOHLER has all these must-have features, and so you can be sure that it will offer maximum comfort and convenience, these features include a quiet-close lid, some grip-tight bumpers to add some stability and quick-release hinges for easy cleaning. Installation should also be easy, quick and secure thanks to the quick-attach hardware that you get with the toilet seat.
8. Topseat 6TSTR9999CP with Adult and Potty Toilet Seat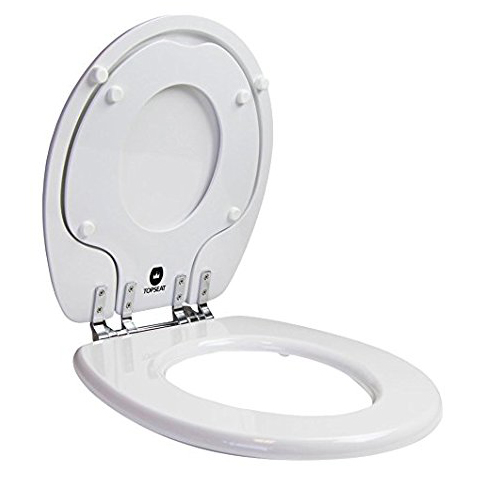 Here is another amazing toilet seat that also comes with a potty training seat. It has a durable wood construction that is hand sanded and with a high gloss finishing for an appealing overall appearance. You will also love the stylish and very sturdy chromed metal hinges and the fact that it fits around the bowl for extra comfort. The toddler seat is also top notch because the ring does not pull off to ensure safety for your little one and there are also some bumpers below the seat to prevent pinching of the little fingers.
9. Bath Royale Premium (Round) Toilet Seat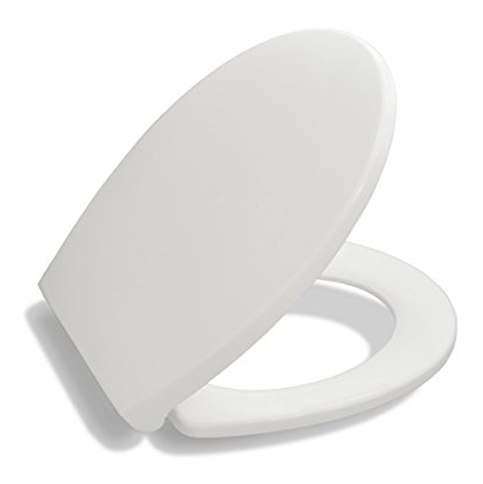 For a few extra bucks, you can get this premium round toilet seat. And although it is still not very pricey it is worth any extra coin you spend on its purchase. This round toilet seat will fit all toilet brands, and so it will be a perfect replacement for your old toilet seat. The high-quality polypropylene construction makes it very durable, and it can withstand up to 400 pounds. And it also features a soft close design and some quick release hinges for easy cleaning.
10. Bath Royale Premium (Elongated) Toilet Seat with Cover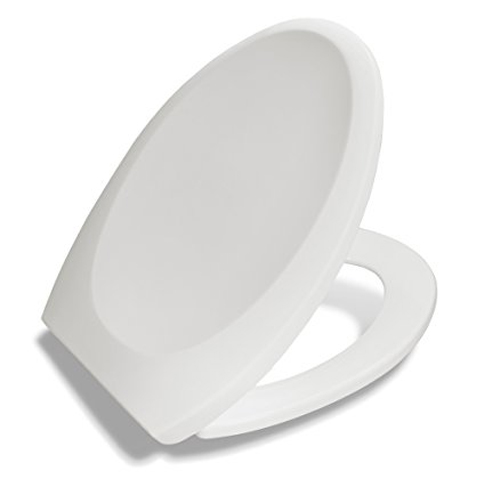 For those with elongated toilet bowls here is the Bath Royale premium toilet seat version for you. It also works for all toilet brands and the plastic construction makes it better and more durable than most wooden ones. Like the round version, it also has some quick release hinges for easy cleaning and a soft close to prevent loud slamming or a cracked toilet.
Factors to Consider when Choosing Toilet Seats
Getting a new toilet seat will come with many benefits but to enjoy them and also enhance the appearance of the bathroom, you need to choose the best from the many out there. And for this to be so, you should consider the following important factors when making your pick.
Material
The material affects the comfort and durability of the toilet seat and so it should always be one of the first factors that you consider when shopping. And in most cases, you have to pick between plastic and wood. Plastic toilets seats are the most common since they do not break easily and are also more affordable.
Shape and Dimensions
The toilet seat shape is one of the factors that can restrict your choice of toilet seat because whatever you select has to conform to the shape of the toilet bowl. Here you will in most instances need to pick between round and elongated. The dimensions or measurement of the toilet seat will also need to complement your toilet bowl because you cannot use something that will not fit your toilet.
Hinge Quality
Hinges are one of the parts of the toilet seat that tend to fail first. And so as you shop for your toilet seat you should aim at getting one with the best hinges. Toilet seats with slow closing hinges are the best since they prevent it from slamming against the bowl and also reduce noise.
Cost
If you are not willing to spend a lot of money on the toilet seat, you should go for something that serves its purpose and is durable enough for the price. But, if the cost or budget is not a problem, the luxurious models will be a good choice as most are both comfortable and very durable.
Conclusion
The toilet seats above are comfy and durable enough to have in your bathroom. And so what you choose is all up to your preferences, tastes, and budget. But, the buying guide should also help you with the decision. In conclusion, as you pick a toilet seat, you should consider whether it is for use by both adults and kids and also the number of people that are likely to be using it regularly. Knowing this make sit possible to pick something appropriate for your bathroom.