Top Best Two-Piece Toilets in 2020

There is no doubt that the toilet is one of the essential elements in your house. You need to have the best toilet to make life comfortable for you and your family. And although new toilet designs are always coming up, the good old two-piece toilet is still one of the best. But, all are not the same, and so you need to know how to tell apart the best from the cheap or low-quality ones.
If you are in the market for the best two-piece toilet our reviews below of some of the top units on the market and brief buying guide will be very handy.
List the Best-Two Piece Toilet Reviews
1. TOTO CST744SL#01 Drake Two-Piece Toilet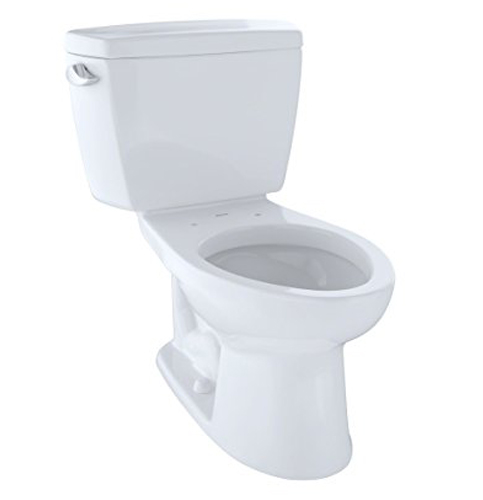 Toto is one of the most famous brands in the toilet manufacturing industry. Their fame comes from producing some of the best quality toilets. The CST744SL01 Drake model comes with an elongated bowl design and a universal height to make sure that it works for everyone. It also features a G-Max flushing system that saves a lot of water, chrome trip lever, high-profile tank and it is also an ADA compliant product.
2. TOTO CST454CEFG#01 Drake II Two-Piece Toilet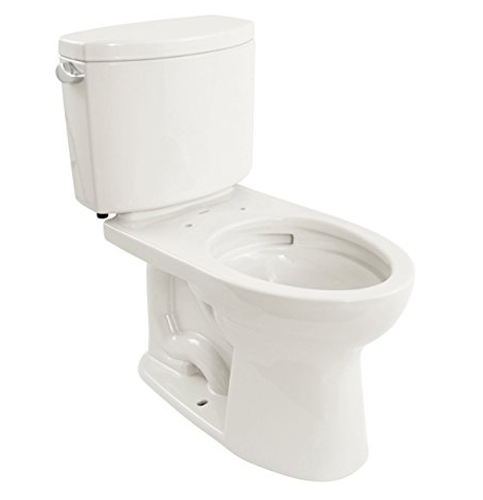 Here is another amazing two-piece toilet from Toto. The Drake II is an improvement of one of their best selling models, and it features a powerful but quiet flushing system, a wide computer designed trap way, and it will save you up to 20% water. This elongated bowl toilet comes in a white cotton color, but there are also a few other options such as the bone and Sedona beige finishes. It also comes with the chrome trip lever, and it includes the tank cover and all the fittings.
3. KOHLER K-3609-0 Cimarron Two-Piece Toilet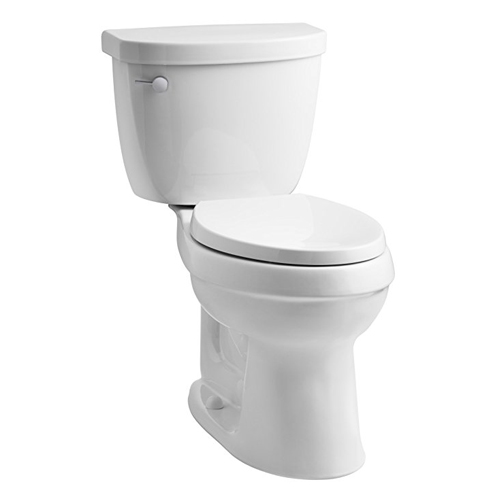 KOHLER is another reputable company when it comes to the manufacture of toilet seats. They make some of the best two-piece toilets, and their units are famous for their high water efficiency. Their K-3609-0 Cimarron model comes with an elongated bowl design to provide extra room and comfort, and the chair-height sitting will make sitting on the toilet and standing up easy for all adults. But what will impress most users is the fact that it only uses about 1.28 gallons for every flush.
4. TOTO CST744SG#01 Drake with Sanagloss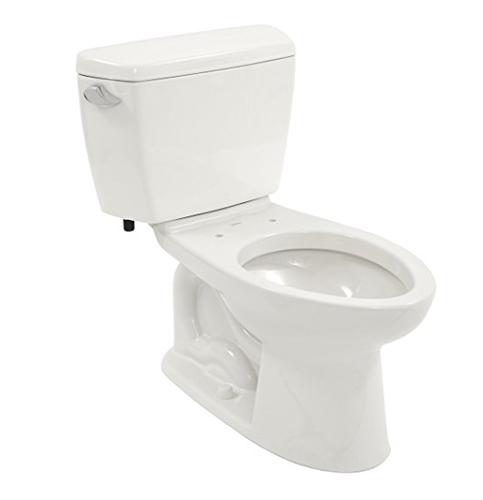 This two-piece toilet is also from Toto's Drake model but what sets it apart from others is that it also includes Sanagloss. Sanagloss is a super smooth ion barrier glazing that makes cleaning easy because your toilet bowl is cleaned with every flush. It is also quite an efficient toilet since it uses about 1.6 gallons for every flush. The contemporary and high profile design gives it an appealing look that will be perfect for your bathroom. This Toto product is also one of the best flushing toilets thanks to the G-Max flushing system that is quiet and powerful and the extra-wide (3-inch) flush valve.
5. TOTO CST412MF.10No.01 Dual Flush Toilet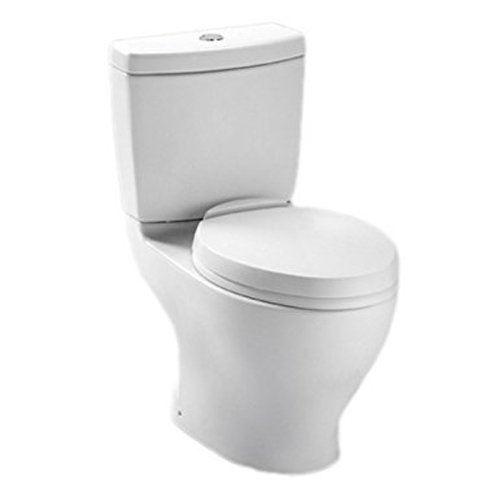 If you want to conserve water while still getting an efficient flush, this dual unit from Toto will be a perfect choice. The flush system uses chrome push-button which is easier to use and also long-lasting. This low consumption two-piece toilet comes in a universal height and an elongated skirt that will look great in your bathroom. The toilet also has a 10-inch rough-in, and it will come in a white cotton color.
6. KOHLER K-3987-0 Wellworth Round-Front 2-Piece Toilet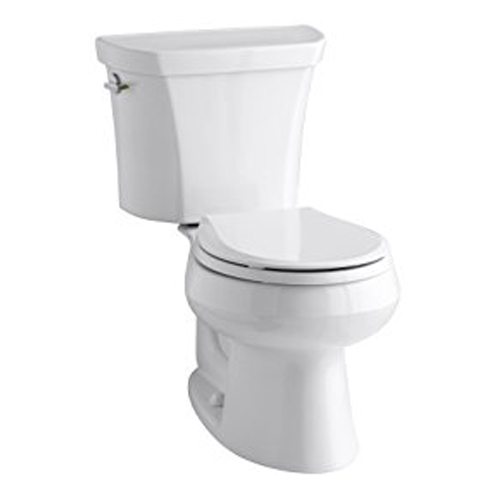 For most people, the best two-piece toilets are the ones with an elongated bowl design, but round front ones like this one from Kohler can also be a good choice. And apart from the round-front design this toilet also features a dual flush system that is very efficient and convenient. It has a left hand nested trip lever, and you get to choose whether to use 1.6 or 1.1 gallons to flush. And it will be the best toilet solution for those with a small bathroom.
7. TOTO CST412MF.01 Aquia Dual Flush 2-Piece Toilet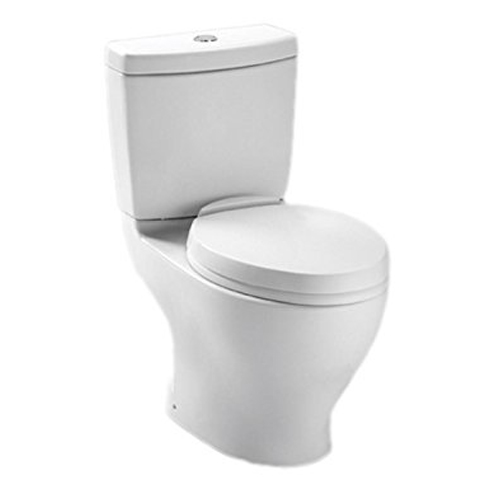 This dial flush two-piece toilet is one of the most efficient as it can use as little as 0.9 gallons per flush. It is also an attractive toilet seat that features an elongated skirt, and it is available in cotton white and a few other color options. The elongated front bowl design provides some extra space and comfort, and the chrome push-button makes flushing easy and it is also very durable. This close-coupled toilet also features 12-inch rough-in.
8. KOHLER K-3493-0 Pressure Lite Comfort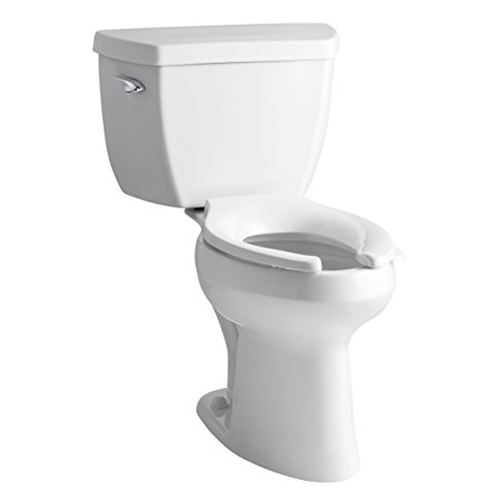 The KOHLER K-3493-0 is one of the best toilet seats in the market, and it comes with a sleek look that also includes an elongated skirt. It has an elongated bowl design, and a very effective pressure assist flushing system. The chair-height seating also adds to the comfort and convenience of this two-piece toilet seat, and you will never have any difficulties sitting or standing up. Since this is a high-end toilet seat, you should also be ready to spend some extra cash to buy it.
9. KOHLER K-3819-0 Memoirs Comfort Two-Piece Toilet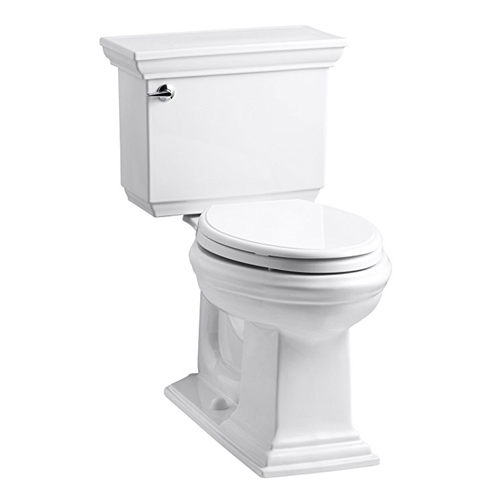 The stately design of the Memoirs two-piece toilet is very appealing, and it will look great in your bathroom. It comes with an elongated bowl design, and it uses a canister flush valve that will allow water to flow in from all sides to increase the power of the flush. This toilet comes in a comfortable height, and it is also easy to install thanks to the Drylock Fast Install System.
10. SANIFLO SANIACCESS 2-Piece Round Toilet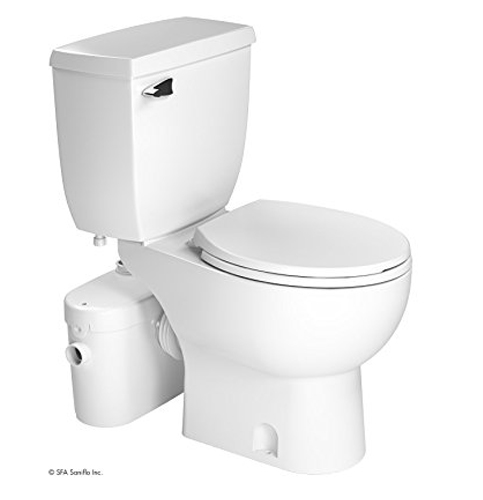 The fact that this toilet seat is quite expensive is enough indication that it is a high-quality model. It might also require professional installation but it is one of those that will serve you for a long time, and you will never regret buying it. The two-piece toilet has a white finish, and it features an upflush design and a round bowl that will look fantastic in both small and large bathrooms.
Factors to Consider When Buying the Best Two-Piece Toilets
Buying a two-piece toilet looks easy, as it is one of the most common types. But, once you start shopping for one you will realize that choosing the best two-piece toilet from the many options out there can be quite challenging. However, keeping the following key points in mind should make the process less tedious for you.
Flushing System
For most two-piece toilets the flushing systems will be classified into either single or dual flush. The dual flush is the best if you want to save water because you can be using a light flush for urine. Also, the flush noise is an essential factor to consider because you do not want to buy something that is very noisy.
Bowl Shape
The bowl shape will determine the level of comfort of the toilet and also its overall design. Here you can choose between the round and elongated bowl shapes. Elongated ones are considered the most comfortable for adults since they provide sufficient space for placing your thighs. But, you will still need to get the best-elongated two-piece toilet for maximum comfort. The round-shaped, on the other hand, works well when you have limited space in the bathroom.
Dimensions
Height seems to be the biggest issue for many people when buying a two-piece toilet. If the seat is too high or low, it will be uncomfortable, and so you want one that has just the right height for you. And you can easily avoid this problem by buying toilets with an ADA certification.
When it comes to the dimensions, you will also need to think about the size. No matter how efficient and appealing a two-piece toilet might be it will not be a good buy for you if the size is not right for your bathroom. Make sure that you always get the measurements right to avoid buying an oversized or undersized two-piece toilet.
Cleaning
You will probably not want to clean your toilet every other day and so you should go for something that has a smooth and glossy surface as it minimizes dirtying.
Conclusion
With the right information, you should not have any difficulties buying the best two-piece toilet for your bathroom. Although the reviews above and buying guides will be helpful, the final choice is up to you and your preferences. But, it will always be a good idea to compare several of them before making up your mind.