Top Best USB Charging Hub in 2020

Most modern electronic devices will rely on USB a lot for charging and transferring data between them. The chances are that you already have more than one device that uses USB charging, and so having some extra ports is always a great idea.
And the good news is that you do not need to install any permanent fixtures in your home to get extra USB ports because a USB charging hub provides a more convenient and cheaper way.
But, there are lots of USB charging hubs out there from several companies and with different features. To help you pick something that will be very useful for you, here is our review of 10 of the best ones currently available in the market.
View the Best USB Charging Hubs in Reviews
#1. Sabrent 4-Port USB Hub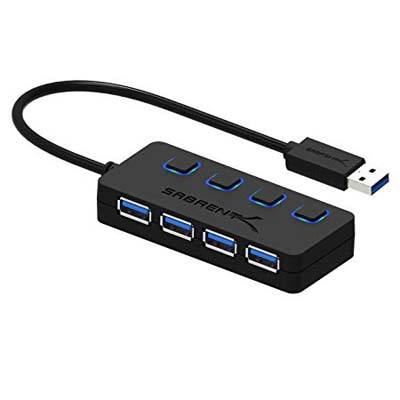 With this compact and superior quality USB hub you instantly get 4 additional ports provided you have a compatible device. It is a more affordable hub when compared to others on the market, and it will provide an individual switch with an LED indicator light for every port to allow you to control them easily. Also, despite this being a more efficient USB 3.0 hub, it is also fully backward compatible with earlier versions like 2.0 and 1.1, and it will support transfer speeds of up to 5 Gbps. Because it does not require any installation, this plug and play USB hub is super easy to set up.
Pros
Individual LED power switch for every port
More efficient USB 3.0
Supports faster transfer speeds
Fully backward/reverse compatible
Easy setup with no installation required
Compact design and superior quality
Cons
A little too compact
The cord is quite short
#2. AmazonBasics 4-Port USB 3.0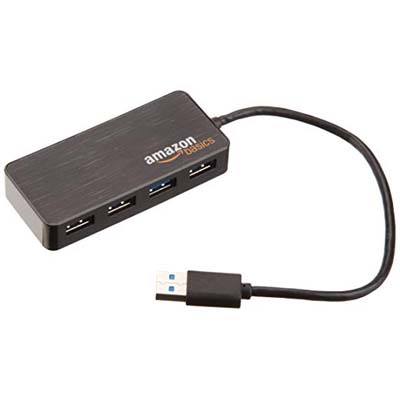 A compact USB hub like this one by AmazonBasics is always perfect as it will not clutter your office or desk, and it still provides 4 ports which are often more than enough for most users. It is designed to support speeds as low as 1.5 Mbps and as high as 5 Gbps which makes it versatile and ideal for almost any USB application. And despite being a USB 3.0 device, it is also backward compatible with 2.0. The hub will allow for automatic switch between the bus-power and self-power modes, and it will connect and detect the speed automatically.
Pros
Supports both low and super high speeds
Backward compatible
Allows for auto-switch between bus-power and self-power modes
Auto speed detection and connection
Simple and quick setup
Cons
Does not have individual port switches
Not for tablet and iPad charging
#3. Anker 10-Port Data Hub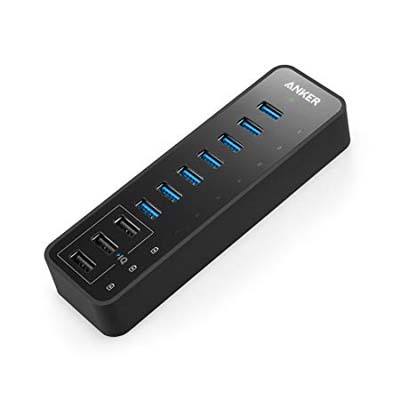 With a total of 10 USB ports, this will be a perfect hub for a busy office or for those that have lots of gadgets in the house or live with many people that have devices to charge. But, besides having more ports, this is also a well-built hub with superior materials and safety features like surge protection. It also makes use of PowerIQ to deliver optimum and high charging speed for each device and with equally fast data transfer. And the hub comes in a more compact design as it is under 6 inches long which helps to conserve precious workspace.
Pros
Smart and advanced charging technology
Ultra-fast data transfer
Compact design conserves workspace
Lots of ports to accommodate all your devices
Superior materials and safety features
Cons
Ports are a little too close to each other
#4. Anker 7-Port USB 3.0 Hub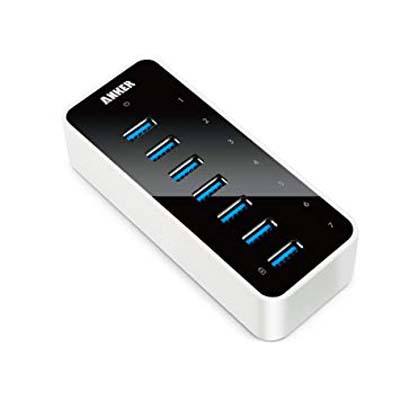 Here is another top quality Anker USB hub that comes in a compact and lightweight design to ensure that it takes up little of your workspace. The hub is a 3.0 one but with backward compatibility, and it is designed to deliver data transfer speeds of up to 5 Gbps and super-fast charging for all your devices. Also, this 7-port hub uses a 36-watt adapter and high-grade chipset to ensure users get a steadier and more reliable operation, and it is a plug and play device that will not require any installation.
Pros
Compact and lightweight hub
Superfast data transfer
Backward compatible hub
Steady and reliable operation
Does not require any installation or drivers
Longer connection cable
Cons
Individual port switches would have been great
#5. Sabrent 4-Port USB Hub with Power Adapter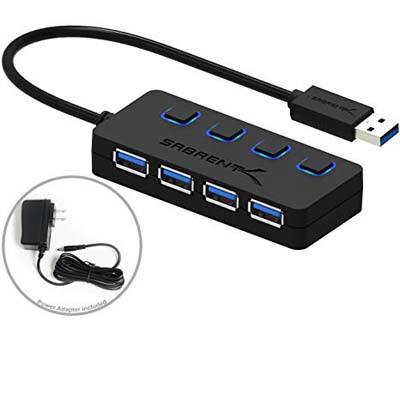 This Sabrent 4-port hub will not only offer you enough ports for your devices but will also come with a power adapter that will be very useful when dealing with high-powered gadgets. The hub also includes individual switches with LED indicators for each port which are very useful when controlling them. And it will support data transfer speeds of up to 5 Gbps and super-fast charging of any device. This USB hub works with most operating systems, and it is an easy device to set up that will not need any complicated installation.
Pros
Individual pot switch
Convenient port LED indicators
Supports high data transfer speeds
Easy set up with no installation required
The power adapter is highly useful for high powered devices
Works with most operating systems
Cons
Shorter connecting cable
Lights can be a little distracting for some users
#6. Anker 4-Port USB 3.0 Portable Aluminum Hub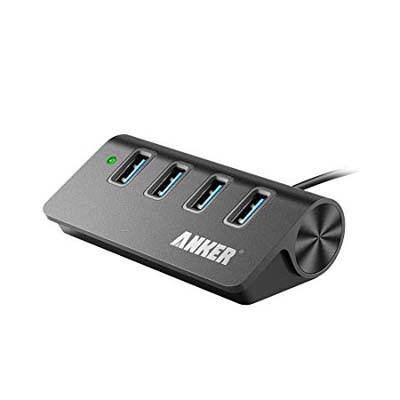 Anker makes this USB hub for those that are looking for something for use on the go. It is a small, compact and lightweight device designed with portability in mind, and it comes in a sleek design and with sturdy aluminum construction. Also, the hub is easy to access as you can easily secure it on a desk using the included Velcro strip. And it is designed to ensure quick and easy sync and super-fast charging and data transfer. The USB hub also has 10-safety features that combine to provide ultimate protection, and it is widely compatible with various devices and most operating systems.
Pros
Sleek and sturdy design
Compact and lightweight for easy portability
Easy to secure on a desk
Quick sync and data transfer
Multiple safety features for ultimate protection
Widely compatible and works with most operating systems
Cons
LED light needs improvement
The USB cable is not detachable
#7. MOKiN USB C HDMI MacBook Adapter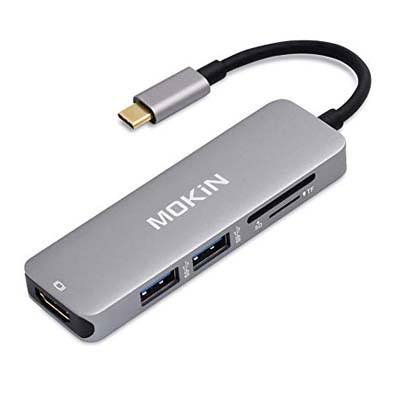 The wide phone and laptop compatibility is the main highlight of this USB hub. Despite being a MacBook Adapter, it can still work with most laptops and phones. And it will come with a couple of USB ports and a highly useful SD card reader. The small and compact hub is also easy to carry around and it will not only support 4K resolution but is also down compatible with other resolutions like 480p and 720p. Generally, the built is also sturdy enough and with some durable materials to ensure the hub serves you long.
Pros
Wide phone and laptop compatibility
Supports up to 4K resolution
High-speed data transfer and charging
Sturdy enough and with an excellent build quality
SD card reader included
Cons
The body can get a little hot
Fewer USB ports
#8. HyperDrive USB-C HUB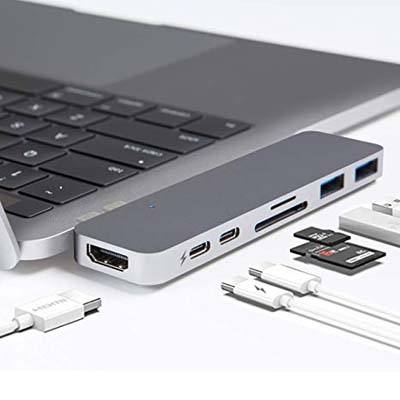 If you have a MacBook Pro this is the best USB hub for you as it will help you expand the two USB-C ports on the device to an impressive 7. And the best thing about it is that it will offer different types of ports from micro SD to HDMI, and so this is one of the most versatile hubs that you can get anywhere. Also, it comes in a slim and compact design and with an aluminum enclosure to enhance its durability. With this hub, you also get some of the fastest data transfer and charging speeds, and it is straightforward to connect and use.
Pros
Offers one of the fastest USB data transfer
Slim and compact
Variety of different type ports
Durable aluminum enclosure
Easy to connect and use
#9. Noot Products 6-Port USB Hub
This more affordable USB hub is also designed for portability as it comes in a super-compact design and with a detachable power cord to make it easy to carry around. Also, the cord is up to 4-feet long which makes it longer than what many others have to offer. And it is a universally compatible hub with 6 ports that you can use to charge almost any device. The advanced charging technology makes charging a quick affair, and you can easily keep it steady on a table as it has some rubber feet.
Pros
Long and detachable power cord
Quick and advanced charging technology
Wide phone compatibility
Super compact for easy transportation
Rubber feet help to keep it sturdy on a table
Cons
Lights are a little too bright
Not as fast as other high-end ones
#10. Vava 8-in-1 USB C Hub Adapter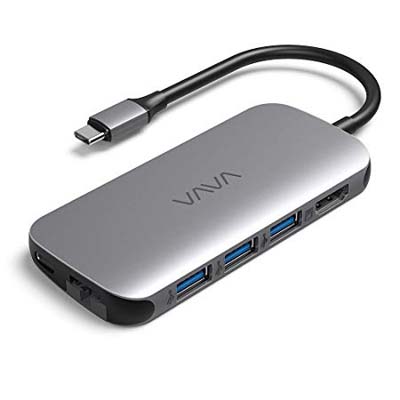 Whether you are looking for a USB hub with an Ethernet port, HDMI port, SD port or just a regular charging port, this 8-in-1 hub will be perfect for you. It will provide fast and worry-free data transfer, a stable Ethernet connection and allow you to enjoy 4K video experience. The hub is also made from heavy-duty material for long service life, and it will come in a sleek and compact, pocket-size to make it easy to carry around. And because it has triple USB 3.0 ports, you can easily connect three devices.
Pros
Variety of port types in one hub
Quick and worry-free data transfer
Fast device charging
Provides stable Ethernet connection
Allows for a superior 4K video experience
Compact pocket-sized hub
Conclusion
Now you no longer have to wait for one device to charge before you can recharge the other or keep fighting over that one USB charging port with your housemate because with one of the charging hubs above you should have more than enough ports. All you need to do is pick on that is within your budget and has the right features and number of ports for you.