Top Best Video Baby Monitor in 2020

As a parent, your baby is always your main concern and you cannot help but want to know that he is safe at all times. And since you cannot spend the entire day just staring at your bundle of joy, you need to invest in a video monitor that lets you see the infant from anywhere around the house. The peace of mind that a video baby monitor gives will make it possible to do other things without worries.
Video baby monitors are one of the most popular baby gadgets and almost every other home will have one. What this means is that there are plenty of options out there from different manufacturers. Hence, choosing one is not always easy and this is more so for the first time parents or those that are buying these monitors for the first time.
In the piece, we look at some of the best performing baby video monitors in the market and also highlight some crucial points to consider when shopping for one to make sure you get the best.
Check out the Best Baby Video Monitors in Reviews
1. Infant Optics DXR-8 Baby Monitor
This Infant Optics baby video monitor is the priciest unit on our reviews but you always get what you pay for as it is one of the best performing and reliable monitors. It has a unique interchangeable optics lens that makes it possible to zoom and customize the viewing angle. The monitor comes with a sleek and compact 3.5-inch display that has a sound-activated LED screen and a retractable antenna. Also, this monitor allows for pan, tilt and also digital zoom and it has a battery life of 6 hours when the screen is on and 10 hours for the standby mode.
2. Hello Baby Wireless Video Monitor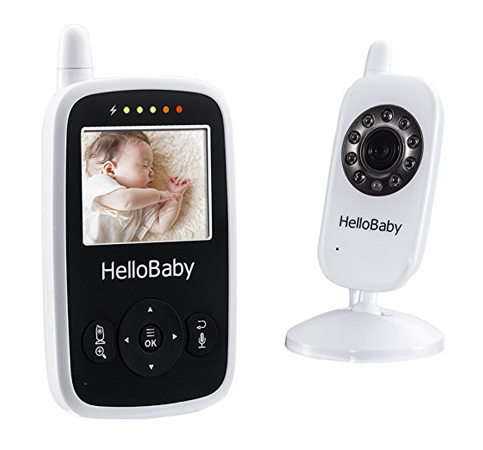 With the super clear video and sound that this compact monitor provides you will finally get the peace of mind that you desire. Also, this video monitor is a plug and play device that does not take a lot of effort to set up and you can expand it to 4 cameras easily. And it has all the important features that you want in a baby monitor from temperature monitoring and warning to others that offer you conveniences such as the 2X digital zoom and 8 level alarms. The battery on this monitor can last up to 12 hours depending on the mode.
3. Motorola MBP36S Video Baby Monitor
The Motorola MBP36S is what you need to buy if you are looking for something with a long-range that lets you monitor the baby from far both indoors and outdoors as it has a range of up to 200 meters. This fantastic gadget also comes with a 3.5-inch display and a high-sensitivity microphone that ensures you never miss any sound. The enhanced crystal-clear two-way communication provides non-stop and reliable monitoring and it also has the basics such as pan, tilt, and zoom for the remote camera.
4. Babysense Video Baby Monitoring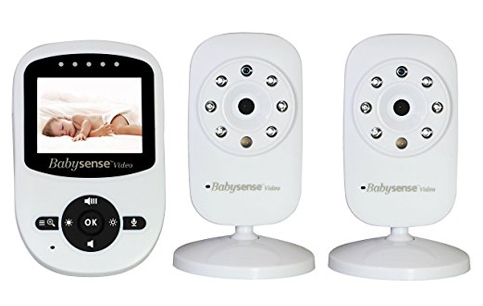 You will never miss anything when using this Babysense video monitoring system as it comes with two cameras that make it possible to monitor two separate rooms or have two cameras in the nursery to capture video from all angles. The system uses the two-way talkback communication that lets you comfort the infant with the sound of your voice even when not in the room and a color LCD that will provide stable high definition streaming. And it has a range of up to 900 feet and a warning system when it gets out of range.
5. Hello Baby Video Baby Monitor with Night Vision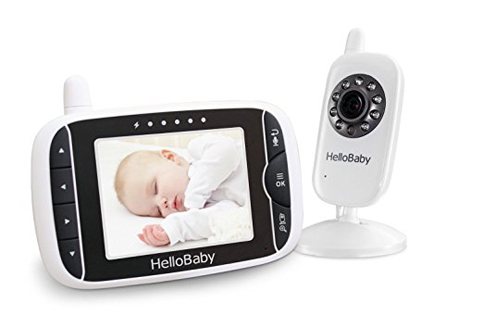 The 3.2 LCD on this video baby monitor might not be the largest but it is still more than enough and it will provide the best video quality thanks to the top-notch wireless technology. The monitor uses infrared night vision to ensures that you get around the clock videos and it also has temperature monitoring to help you know whether the infant is comfortable and safe or not. Also, it has a two way talk back and it can pair with up to 4 cameras.
6. Infant Optics Add-On Camera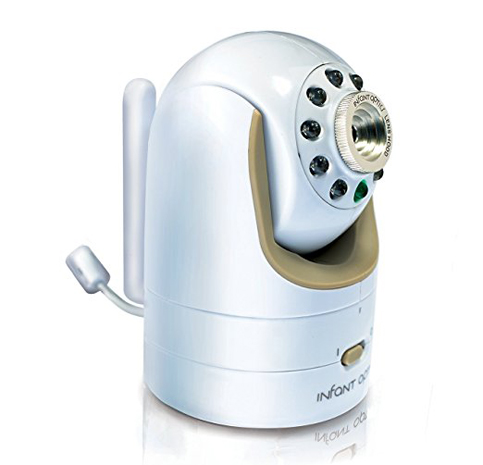 This add-on camera is for parents that are already using the highly efficient and reliable Infant Optics DXR 8 baby monitor and it makes our list as it is just a top-notch device. You can control it use the DXR 8 monitor and do it remotely and it has a multilayer glass lens piece and an aluminum housing to improve its performance. And it is compatible with both optical wide-angle lens and optics optical zoom lens which is both from Infant Optics.
7. FREDI 720P Wireless Baby Monitor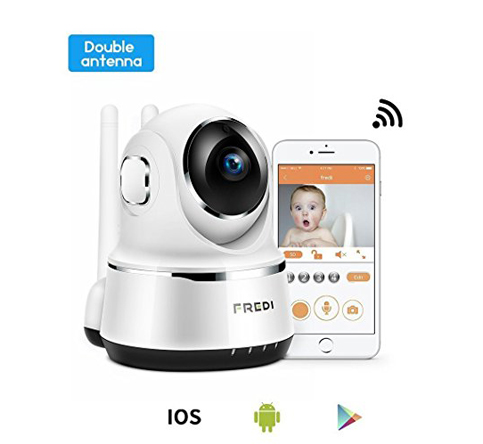 Moms that are shopping for an affordable baby monitor will love this one. It is not only highly affordable but it also has all the basic features of a video baby monitor and much more. This fantastic gadget has a two-way talk communication that lets you soothe and comfort the child with your voice from anywhere in the house and infrared night vision for recording at night. Also, it has a simple WiFi setup that makes it possible to stream video directly on your smartphone, motions detection, and you always get high definition 720P video quality.
8. Motorola MBP36XL Portable 5-Inch Video Baby Monitor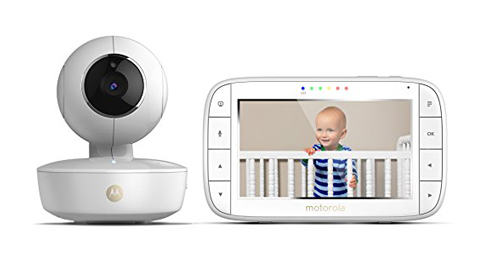 Here is another great Motorola video baby monitor that will be an excellent purchase for all parents. It is an advancement Motorola MBP36S and it is larger and with more capabilities than the latter. The larger screen provides much better video and the monitor also has two-way talk communication, remote pan, tilt and zoom, and a room temperature display. It is expandable to 4 cameras and there are also 5 soothing lullabies on the monitor.
9. DBPOWER Sound Activated Digital Video Baby Monitor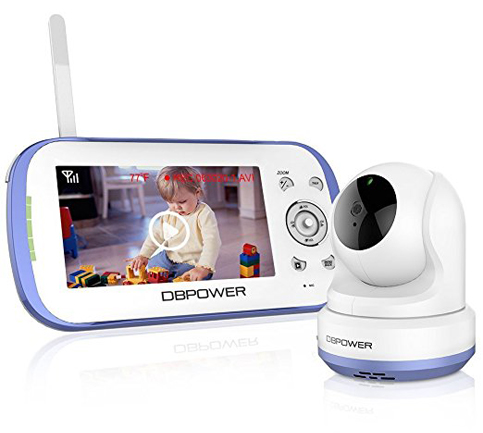 The smart features on this device like the room temperature monitor and alert, two-way talk and the impressive sound activated LED lights are what make it a great purchase. However, it also has a user-friendly interface, supports split-screen and a transmitting distance of up to 1,000 feet. And if you also cater to other things like the nightlight, lullabies and the fact that you can use up to 4 cameras you will have a perfect baby monitor for your little one.
10. Honrane 3.2-Inch Display Video Baby Monitor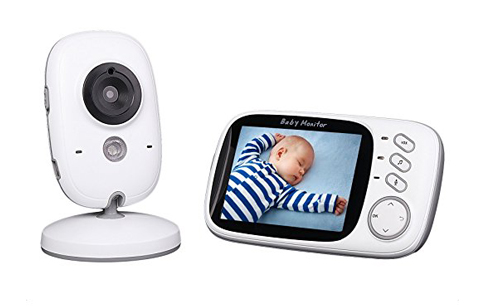 A great price and impressive video quality are the two things that set this video baby monitor apart from others. But, it also has two-way talk do moms to talk to their baby, room temperature display and 8 different lullabies for soothing the baby. Also, this monitor will provide a clear video even at night as it has an automatic IR night vision.
How to Choose The Baby Video Monitor
A video baby monitor is one of the most important things that you can buy as a parent as it makes it possible to keep track of your infant so that you can have some peace of mind. And so you cannot afford to make the wrong pick. But, with the many options in the market, it is not always easy to choose one. However, things should be less tedious for you if you consider the following things when buying these gadgets.
Range
The range is the maximum distance from where you can monitor the infant. It is an important factor to consider because you will want to be able to see the baby from anywhere around the house. Most will have a range of around 50 meters indoors and 300 meters outdoors which should be enough for most parents. But, also note that things like thick walls can also affect the distances and so you have to consider the overall design and construction of your home when picking your monitor.
Transmitter and Receivers
As you shop for video baby monitors there are some terms that are inevitable to come across such as transmitters and receivers. Transmitters are what convey the information from the monitor to the receivers which display it on the screen for you to see. Both are vital and you will need to consider their quality and also the number that you get. Multiple receivers are handy when you want to leave one in the bedroom permanently and walk around the house with the other while multiple transmitters make it possible to monitor various rooms.
Video Quality
The quality of the video that you get is vital as you want to be able to see the little one clearly. A high-resolution video takes monitoring a notch higher as it makes it easy to spot minor things such as a sheet or toy that is not in the right place. And so the higher the video quality the better the monitor will be for you. But, also note that the monitors with top-notch video quality are also the priciest.
Other Features
There are also some features that might not be necessary for the functioning of a video monitor but they are still great as they help to make the video monitor more useful. Some of these features include night vision that makes it possible to monitor the baby at night, motion sensors that help you know when the baby is awake or has not moved for long and temperature monitor.
Conclusion
The safety of your infant should always be your top priority as a parent and nothing is better at helping you keep track of the baby when you are not in the same room as a video baby monitor. And with our buying guide and top 10 video baby monitor reviews above you should have an easy time getting one. Also, it is always a good idea to compare the features and capabilities of different monitors before settling for one and also note that sometimes it might be necessary to try out a few before you get something that works well for you.