Top Best Waterproof Golf Shoes in 2020

Like with all other outdoor sports, the weather always poses a great challenge when playing golf. And the two extremes of hot and wet weather are often the most problematic to deal with. While a hat is often enough to keep the scorching sun out of your eyes, wet and soggy conditions are harder to deal with as they affect the condition of the course. However, investing in a pair of good waterproof golf shoes is always a great starting point.
Most golf shoe manufacturers now make their shoes with waterproof materials to ensure golfers can use them in any weather condition. And so you will have many options to choose from. But, in this piece, we review 10 of the best ones to help make your choice a lot easier.
Check out the Best Waterproof Golf Shoes Reviews
#1. Skechers Performance Go Golf Drive 2 Men's Golf Shoes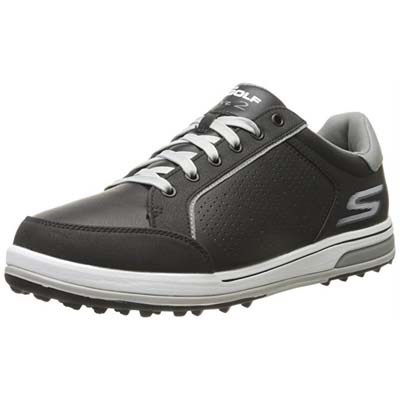 Skechers is famous for its high-quality and super comfortable sneakers, but they also have some nice golf shoes like Go Golf Drive 2. These are synthetic leather shoes with a perforated upper design for an impressive cooling effect and with a genuine rubber sole that is fitted with flexible golf cleats. Also, the shoes are water-resistant and come with an energy-returning insole and a soft fabric shoe lining. And both the collar and tongue are well-padded to enhance comfort and to keep the feet cozy.
Pros
Lightweight and comfortable cushioning
Genuine rubber outsole
Breathable and water-resistant synthetic uppers
Energy returning insole
Padded collar and tongue
Soft fabric shoe lining
Cons
Not completely waterproof
#2. Adidas Tech Response 4.0 Men's Golf Shoe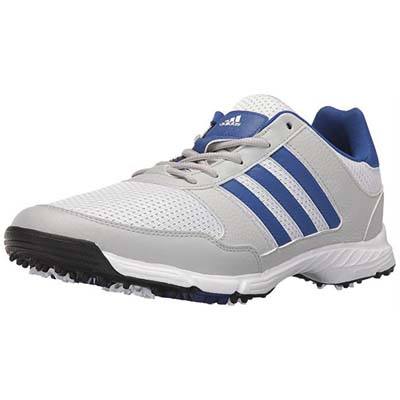 If you hate having to drag around weighty shoes when playing golf, Adidas has you covered with their super lightweight Tech Response 4.0. These super comfortable shoes are made from a lightweight mesh and synthetic material for the upper section which also makes them highly breathable. They also have a soft and comfortable EVA midsole and with a thin tech low-profile outsole that uses a 6-spike cleat configuration for excellent traction and stability. And most golfers will also love the fit as it is true to size.
Pros
Breathable leather and textile upper
Soft and comfortable EVA midsole
Low-profile sole for improved traction and stability
Lightweight for maximum comfort.
Fits true to size
Cons
Aesthetically not the most appealing
#3. Adidas Adipower Men's Boost 3 Golf Shoes
Besides being completely waterproof, these Adidas golf shoes are also well-made and highly durable thanks to the leather and synthetic materials combination on the uppers. Also, they have a fantastic 6-spike TPU outsole that is designed to offer excellent grip and stability. The directly welded energy sling is also a great addition to the design as it helps to guide energy transfer and minimize power leaks. And the shoes are also designed to provide a precise fit thanks to the PU sock liner, bounce foam and molded EVA tongue combination.
Pros
Durable leather and synthetic upper materials
Comfortable and energy-returning cushioning
Excellent outsole construction for top-notch grip and stability
More precise and comfortable fit
Maximum power transfer
Completely waterproof
Cons
They feel a little heavier
#4. Skechers Performance Go Golf Elite 2 Men's Golf Shoe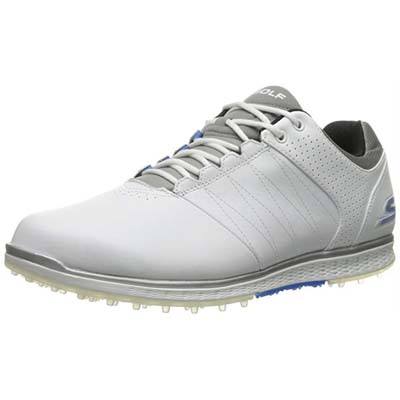 Here is another fantastic golf shoe pair from Skechers. It is a genuine leather shoe that is completely waterproof and highly breathable to ensure maximum comfort. The waterproof design emanates from the H2GO seam-sealed construction that will provide protection in all weather conditions. The 5Gen cushioning is highly responsive and lightweight to keep the interior comfortable and the Softspikes replaceable cleats will provide excellent traction on the course, stability, and comfort.
Pros
The highly durable leather upper section
Breathable and waterproof construction
Comfortable and adequate cushioning
Replaceable cleats provide great traction and comfort
Variety of lovely color choices
Cons
A little narrow around the toe
#5. Skechers Go Golf Fairway Men's Golf Shoes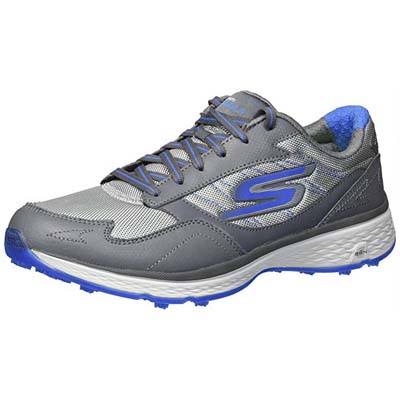 The synthetic material on the upper section of these shoes is not only water-resistant but is also designed to offer maximum breathability. And it also helps to keep the weight of the shoe down to make it even more comfortable. Other things like the supportive Goga Max insole and the lightweight and highly responsive cushioning help to keep the interior cozy so that you can enjoy playing. These shoes are also available in many color choices to ensure that you get something that you like and are designed to fit true to size.
Pros
Breathable and water-resistant construction
Many color choices
Lightweight and fits true to size
Supportive Goga Max insole
Highly responsive cushioning
Cons
The synthetic sole is not very durable
#6. New Balance NBG518 Men's Golf Shoes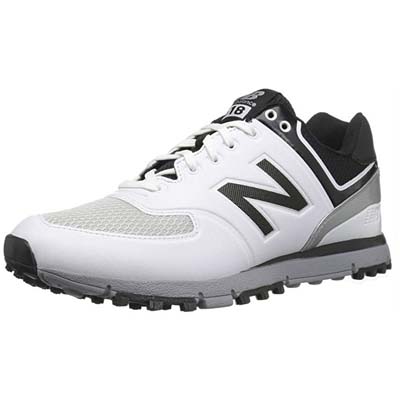 Spikeless golf shoes like the NBG518 from New Balance come with many advantages such as helping keep your feet close to the ground for maximum stability and excellent traction and allowing you to walk in different golf terrains comfortably. Besides the high-quality spikeless rubber outsole, these shoes also have a breathable mesh upper that helps to keep the feet cool and with some stylish synthetic overlays. And they also come with a revlite midsole that helps to keep the inside comfortable by providing lightweight cushioning.
Pros
Breathable mesh upper
Genuine rubber outsole
Low profile to keep your feet close to the ground
Revlite midsole provides lightweight cushioning
The spikeless design makes them ideal for all golf terrains
#7. Callaway Balboa Men's Vent Golf Shoe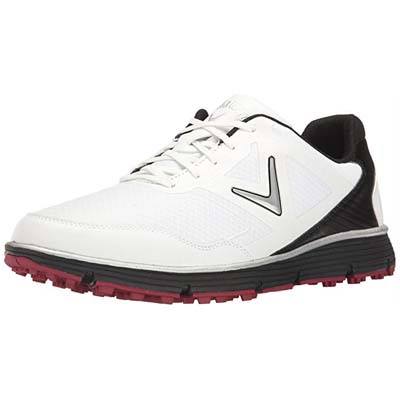 Callaway is a famous manufacturer of many other golfing equipment such as clubs, and so you can be sure they know what golfers are looking for in their shoes. This pair proves this as it is made to keep the feet cool and comfortable thanks to the highly breathable mesh and synthetic material on the uppers. Also, they are spikeless to ensure you never have to worry about finding replacement spikes and that your feet always stay close to the ground for maximum stability. Their sizing seems quite accurate and they use EVA midsole and sockliner to optimize the fit and keep the inside comfortable.
Pros
Mesh liner provides excellent heat management
Breathable mesh and the synthetic upper section
EVA midsole and sock liner help to keep the inside comfortable
Sizing seems quite accurate
Durable spikeless and multidirectional traction rubber outsole
Cons
Not designed for use in very wet conditions
#8. Skechers Go Elite 3 Men's Golf Shoes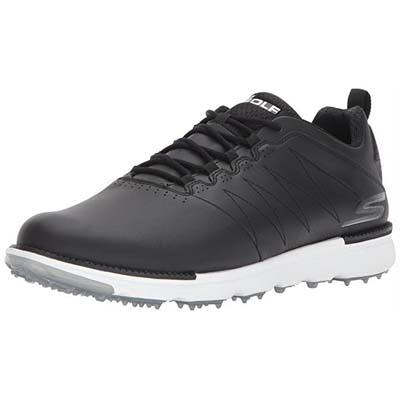 With a waterproof guarantee of 2 years, you can buy the Skechers shoes with confidence that they will never let any water in. Also, they are made with genuine leather material for the upper section and a durable grip TPU bottom plate that helps to keep your foot low to the ground and in a neutral position. The decorative stitching on the upper section enhances the overall appearance of the shoe, and you can also be confident of a stable and secure fit thanks to the heel lock design and high-performance Resamax cushioned insole.
Pros
Lightweight and highly responsive cushioning
Durable grip bottom plate
Low drop design for stability
Complete waterproof construction
Decorative stitched upper for a more appealing appearance
Secure and stable fit
Cons
They feel a little too tight at first
#9. Adidas Powerband BOA Men's Boost Golf Shoes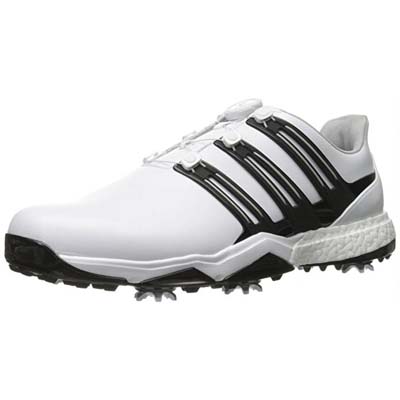 The BOA lace system always makes shoes look cooler, but there is more to it than just the appearance as it makes these Adidas shoes more stable and also helps to prevent power leaks. These comfortable golf shoes are made with genuine leather material that keeps them both comfortable and waterproof. And they are designed to provide endless energy from the Boost foam in the heel and midfoot and the bounce technology used on the forefoot. You can also customize the fits easily using the BOA lace system, and the shoes will require almost no break-in as they are comfortable straight from the box.
Pros
Comfortable and energy-returning midsole
Excellent grip and traction
Durable and lightweight comfort
Highly customizable fit
Strengthened lateral stability on the upper section
Requires little to no break-in
Cons
Some sizes are little off
#10. Adidas Adipower S Boost 3 Men's Golf Shoes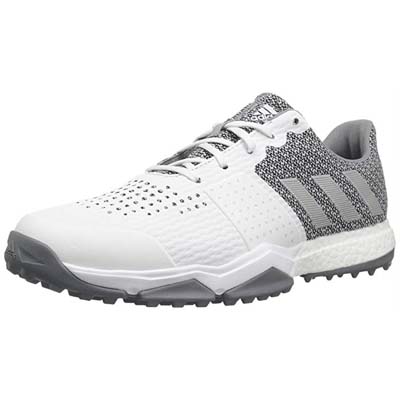 Like most other shoes from Adidas, the Adipower S Boost 3 is a product of lengthy research and testing to ensure it suits the needs of any golfer. It is made with climaproof stretch microfiber leather that is not only lightweight but also offers maximum protection and durability. The shoe uses a genuine rubber outsole and a boost midsole that will provide maximum walking comfort and energy return. Also, it has directly welded energy sling that will help to guide energy transfer and also prevent power leaks and a molded EVA tongue top that will deliver a more precise and comfortable fit.
Pros
Maximum walking comfort and energy return
Excellent energy transfer with no power leaks
More precise and comfortable fit
Highly breathable and water-resistant uppers
Genuine rubber outsole
Cons
The forefoot is quite wide and might not provide a snug fit
Conclusion
Waterproof golf shoes will ensure that you get to enjoy your favorite sport regardless of the weather. And you will not need to search any further for your perfect pair as we are sure that there is something that will work well for you in our top 10 reviews above. We also love hearing from you, and so if you have anything to add to this piece or experiences with one of these shoes to share, please drop us a comment below.