Top Best Women's Denim Jackets in 2020

Denim Jackets are and will always be one of those things that every woman must have in her closet. These jackets never seem to go out of fashion, and they will work for almost any season. The only thing or element that seems to change is how you wear it. But what you should know is that all denim jackets are not the same. And they will not only different in color but also the design and the style.
As you hunt for the perfect denim jacket, our reviews below and a short buying guide will help you pick something that you will want to wear every day.
Check out the Best Women's Denim Jackets
1. Levi's Classic Women's Trucker Jacket
Levi's is one of the most famous clothing labels, and this alone should be enough to convince many women to get this jacket. But, this 99% cotton denim jacket also looks fantastic, and it comes in the traditional trucker fit that most ladies like. The stretch denim fabric is very comfortable, and it also provides mobility and easy layering over a dress, and you can also pair it with your favorite denim jeans.
2. Hollywood Star Fashion Button Down Denim Jacket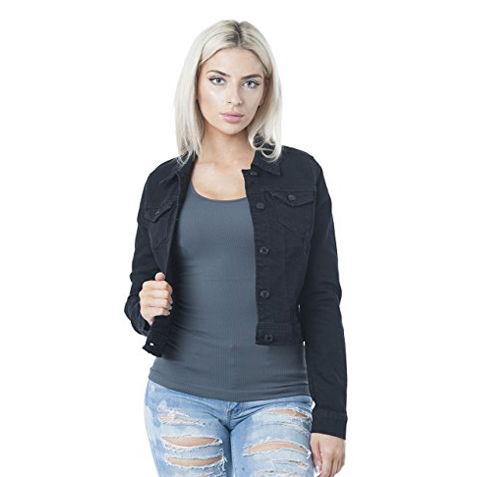 If you are looking for a grab and go jacket for your nights out here is a good choice. This denim jacket comes in four colors that include white and black, and it has a regular button-down style that will suit most women's tastes and preferences.
3. Urban K Women's Long Sleeve Denim Jacket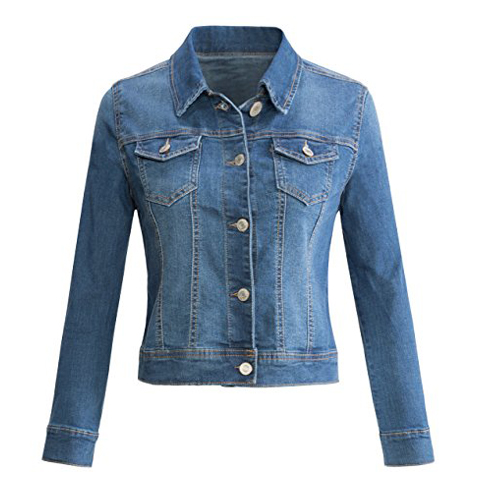 This cute and trendy denim jean jacket will work for all girls and ladies that like long-sleeve coats. It is a super comfortable jacket with a slight stretch on the vest area to ensure it does not feel rigid and you can also get it in a distressed denim style if you prefer a more edgy look.
4. Wrangler Women's Denim Jacket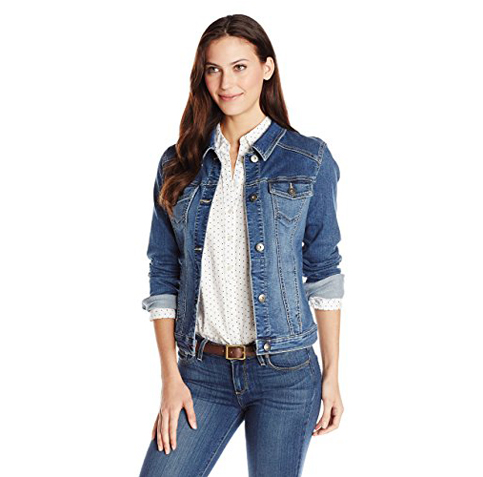 Stretch denim jackets are the best because they feel comfortable and fit well. Wrangler makes this one for a lady that wants something versatile for an everyday look. It comes in dark wash, and it features a western-inspired back yoke, contrast stitching, button closure for the front and some stylish chest pockets with flap button closures.
5. Levi's Spade Chest Pocket Denim Jacket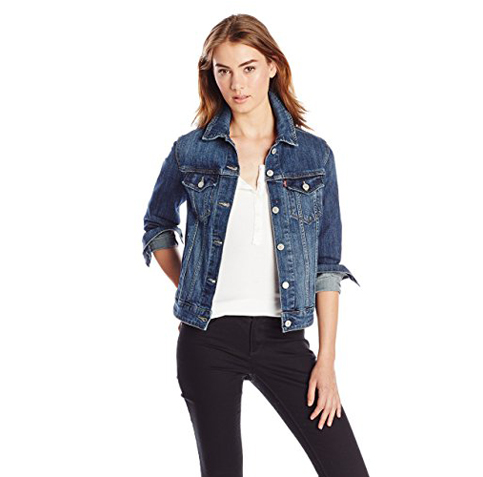 Here is another fantastic stretch denim jacket from Levi's. It is a comfortable and stylish coat that comes in four colors and all the standard lady sizes. And it also has some waist side tabs that make it possible to adjust the fit and some lovely spade chest pockets that also have flaps.
6. Allegra K Layered Hood Denim Jacket
For ladies that like wearing denim jackets that have a hood, here is an excellent option for you. It comes in a panel design, and the central part of the coat is 100% cotton. This lovely denim jacket also features a drawstring hood with a jersey hood panel design and two slant pockets to enhance the casual look. This long-sleeve jacket is perfect for spring, and it is available in all the standard sizes for ladies and five colors.
7. Fifth Parallel Threads Cropped Denim Jacket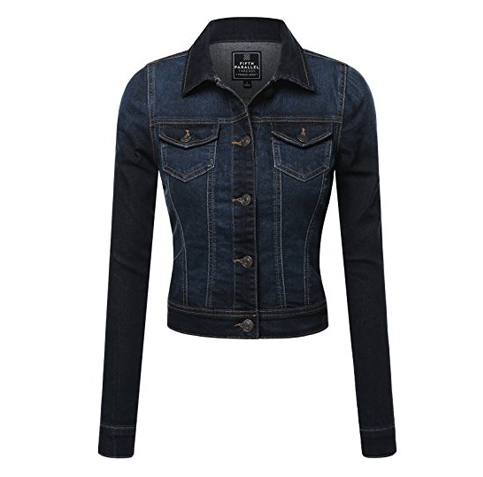 A cropped denim jacket like this one will conform to your body shape and make you look fantastic. It is a perfect accessory for your casual wear, and you can get it in a variety of styles and colors including stonewash and vintage. The jacket will also look good when you pair it with both dresses and jeans. And it is available in all sizes.
8. LE3NO Vintage Long Sleeve Jacket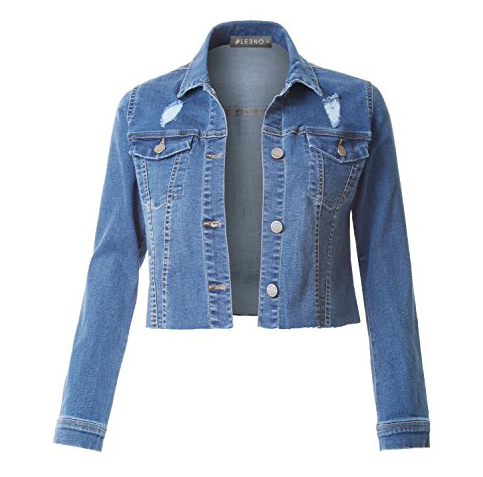 If you prefer something with a vintage look, this long sleeve jacket will be a perfect choice for you. This long-sleeve coat features a soft and stretchable fabric to give you a comfortable and breathable fit. And it also features some detailed stitching at the front, contrast stitching throughout the coat and some buttons on the cuffs to give it a trendy look.
9. Carhartt Brewster Denim Jacket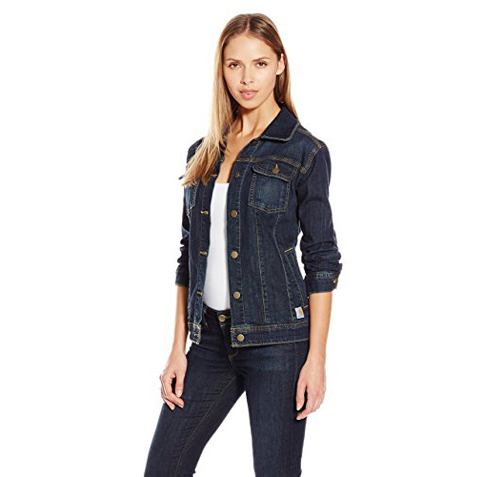 There is always a denim jacket for every woman regardless of tastes and preferences. Carhartt makes this one for a woman that is looking for a high-quality coat and is ready to spend a few extra dollars. The button front jacket features two chest pockets with flap closures and two lower front pockets with zippers, triple-stitched main seams and some adjustable cuff to make it the perfect casual coat.
10. Lee Holden Denim Jeans-Modern Series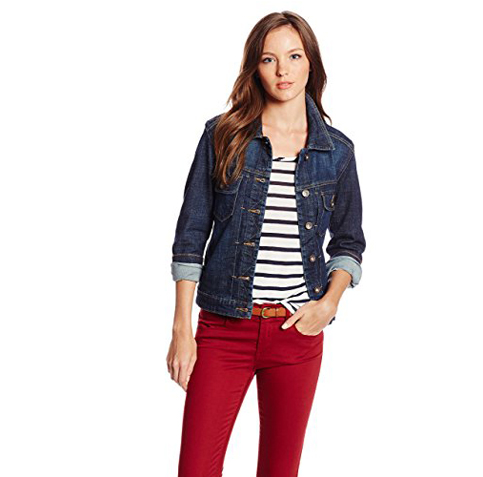 Famous names like Lee always make some stylish, durable and comfortable denim jackets. This particular one has a perfect and comfy fit for all ladies, and it has a button-front design. It comes in a light fading style and with a dual button flap pocket on the chest. And it is available in all the standard sizes.
How to Pick The Best Women's Denim Jackets
As much as a lady would wish to have many denim jackets, it is not always possible. First, this can be too expensive and secondly you will probably not wear all if you have too many. And so the right idea is to make sure that you choose the best by considering the following things when shopping.
Color
Any woman will tell you that color is always one of the first factors to consider when shopping for any clothing. Denim jackets are not an exception, and you should go for a color that suits not only your preferences but also your skin tone, hair color, and many other things and one that gives you many styling options.
Style
Style matters when it comes to buying denim jackets and so you should always go for something that suits you. The embellishments, colorful stitching, fringe, flap front pockets, and fringe are some of the essential things to keep in mind as you shop when it comes to the style.
Material
There are three kinds of denim that make these jackets, which are stretch denim, which is a little stretchy, raw denim, and selvage denim, which will not unravel. What you choose is all up to your preferences and the style you want to achieve.
Conclusion
Now that you know how to pick a statement-making denim jacket and have an idea of what you should go for all you need is to go out and buy one. But, also remember to maintain your denim jacket and also to pair it well to get the best look. And it is also a good idea to have more than one and in different styles.