Nothing beats a cold glass of fresh fruit juice in the morning or after a long tiring day at work. Not only is fruit juice refreshing but it is also full of nutrients that your body needs. Whereas you can always hand-squeeze some oranges or blend other fruits to make some juice, a centrifugal juicer takes your juicing experience to a whole new level. It is fast, easy and you can use it to extract almost any fruit.
But with the many centrifugal juicer types and brands out there it is not always easy to choose. However, our reviews of some of the top units in the market and buying guide should make everything easy.
List The Best Centrifugal Juicers
1. Breville Juice Fountain Plus (JE98XL)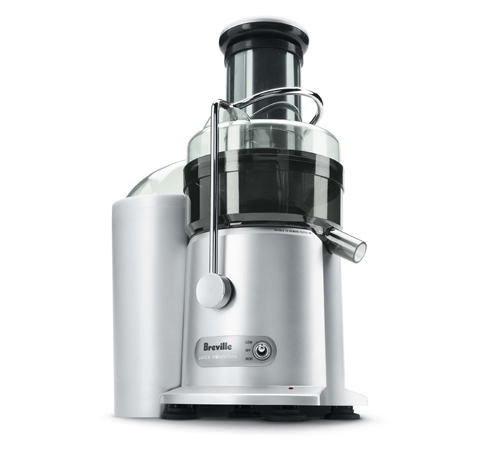 Buy now from Amazon
Breville is the industry leader when it comes to the manufacture of centrifugal juicers. Their JE98XL Juice Fountain Plus model features an extra-wide feeder chute that creates up to 8 ounces of juice in just 5 seconds.
It comes with a stainless steel cutting disc, and an Italian made micromesh filter that will ensure that you extract up to 40% more juice than what you get from other juicers. And with a powerful 850-watt motor it can handle almost any juicing task. The other features of this juicer include the safety locking arm, one-liter juice jug, large pulp collector and an overload protection LED
2. Breville Compact Juice Fountain (BJE200XL)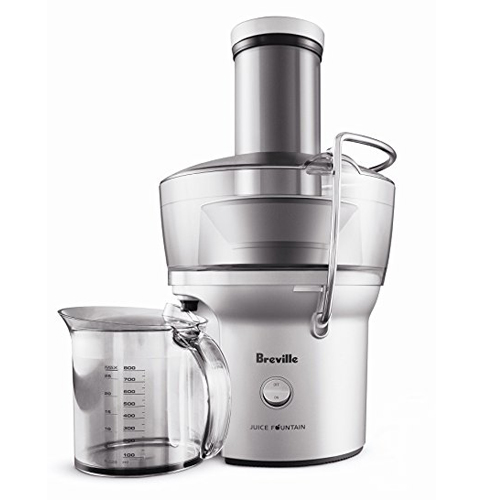 Buy now from Amazon
The BJE200XL is another excellent centrifugal juicer from Breville, and it features a 700-watt motor that runs at 14,000 RPM to ensure maximum juice extraction. This heavy-duty juice comes with a central knife blade assembly, and the extra large (3-inch) feed is also centered for convenience.
This juicer has a safety locking arm that helps to prevent accidents when juicing. There are also many other features that make this a fantastic centrifugal juicer like the stainless steel cutters and micromesh filter.
3. Hamilton Beach 67601A Juice Extractor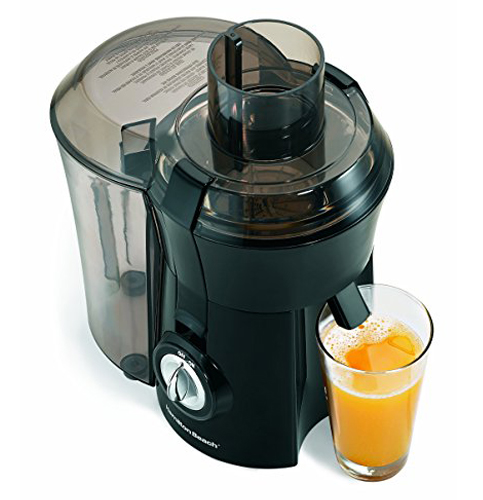 Buy now from Amazon
If you are on the market for a cheap centrifugal juicer, the Hamilton Beach 67601A is an excellent pick. But despite being inexpensive, it is still a high performing juice extractor. It features a big mouth feeder design, extra-large pulp collector and a large, round chute to minimize the need to precut your fruits and vegetables.
This juice extractor runs on an 800-watt motor that gives you enough power to juice almost anything and do it in just a few seconds. It is also easy to assemble, and the manufacturer includes some free recipes and a cleaning brush.
4. Breville Juice Fountain Cold (BJE430SIL)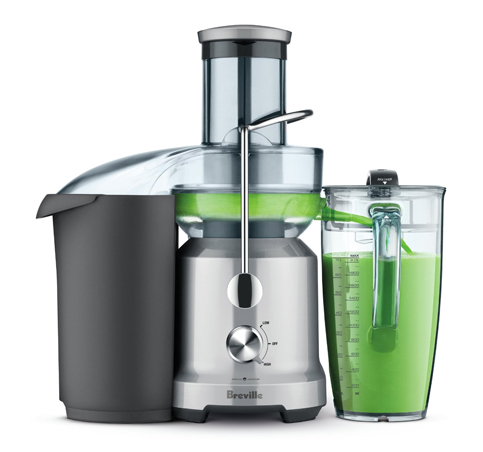 Buy now from Amazon
There is always something for everyone when it comes to the Breville juice extractors as they have many models. The BJE430SIL Juice Fountain Cold model is for someone that is looking for a powerful but quiet juicer. It runs on two speeds, which are high (13,000 RPM) and low (6,500 RPM) to make it possible to customize the setting according to what you are juicing. And you also get a 3-position control switch for even more convenience.
The extra wide chute makes it possible to feed whole fruits and so you will not need to do a lot of cutting. The Cold' design means that it results in an insignificant heat transfer to the juice and it is also a significant feature.
5. Breville Juice Fountain Plus (RM-JE98XL)
Buy now from Amazon
The 850-Watt Breville RM-JE98XL is a refurbished model, but it runs better than many new ones from other manufacturers. It is also an easy-to-operate centrifugal juicer that also features a 3-inch wide feeder chute to ensure that you do not have to do a lot of cutting before loading your fruits. And with a top speed of 12,000 RPM, you can have your favorite fruit juice ready in a few seconds.
When you buy this Breville juicer, you will get various accessories that include a 1-liter juice jug that also has a froth separator, stainless steel filter basket and a cleaning brush to make maintenance easy.
6. Hamilton Beach 67602A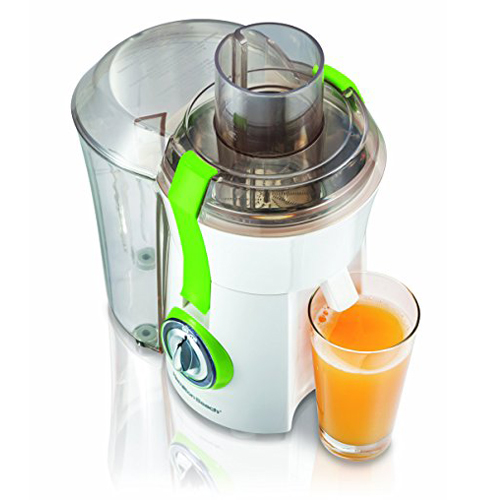 Buy now from Amazon
Despite the fact that the Hamilton Beach 67602 is a compact and lightweight juicer, it is still quite powerful. It runs on an 800-watt motor that provides more than enough power to ensure that you get your fresh and tasty juice in a few seconds. Although it works well with all fruit types, it seems to have the edge over many others when it comes to apples as it extracts up to 24% more juice from the fruits than most other juicers.
The design ensures quick and easy assembly for convenient usage, but there is still more to it than this. Some of the other things that make it an excellent juice include the stainless steel strainer/cutter and the high juice spout funnel.
7. Bella High Power Juicer (13694)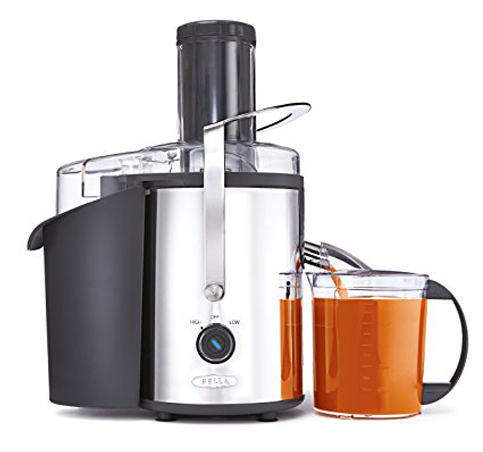 Buy now from Amazon
The Bella 13694 runs on a powerful 1000-watt and 2-speed motor to give you all the power you need for fast and easy juicing. And with the different speed settings, you can choose the motor speed according to the fruits that you are juicing. Like most other top centrifugal juicers on the market, this one also features a 3-inch extra wide feeder to make it possible to feed your fruits with minimum slicing or chopping.
This centrifugal juice also features stainless steel housing for durability and easy maintenance. Other features include 1-liter jug with a splash-free lid and some non-skid feet to prevent it from sliding on your countertop.
8. Gourmia Wide Mouth Fruit Juicer (GJ750)
Buy now from Amazon
Sometimes you do not have the time or feel like slicing or chopping your fruits and vegetables but would still like to have some fresh juice. With the Gourmia GJ750, you can juice whole fruits and vegetables and get some juice in seconds. This juicer has an extra-wide feeder that can fit most standard size fruits.
The multi power settings allow you to customize the juicer to suit your hard and soft fruits. Also, the stainless steel exterior helps to minimize noise, and all the juicing parts of the machine are dishwasher safe for easy cleaning.
9. Breville Dual Disc Juice Fountain (BJE820XL)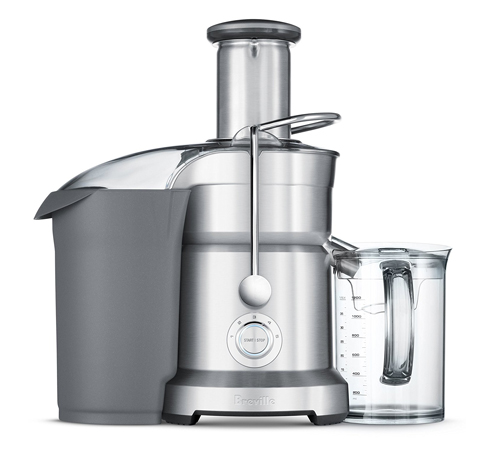 Buy now from Amazon
If you are willing to spend a few hundred dollars to get a premium centrifugal juicer, the Breville BJE820XL will be a perfect choice for you. It has an electronic 5-speed dial that ensures that you always get maximum juice yield from both soft and hard fruits and vegetables. The juicer runs on a 1200-watt motor, and so you can be sure that you will have one of the most efficient centrifugal juicers on the market.
Breville BJE820XL also features a 3-inch wide feed tube that makes it possible to juice whole fruits. And to ensure that it serves you for many years, Breville makes it with a heavy-duty die-cast metal body.
10. Hamilton Beach Juice Extractor (67608A)
Buy now from Amazon
The Hamilton Beach 67608A is a fantastic centrifugal juicer that can juice even the toughest fruits. Its design and features will make juice extraction quick and easy for you. It runs on an 800-watt 1-speed motor that produces sufficient power for juicing both hard and soft fruits and vegetables. And with the wide feeder tube, it can fit whole fruits and vegetables for fast and easy juice extraction.
This Hamilton Beach juicer also features an extra large pulp container that lets you juice for long without having to stop to empty it. The removable parts are also dishwasher safer for easy cleaning and are easy to assemble.
How to Pick the Best Centrifugal Juicer
Well, with our reviews of some of the best centrifugal juicers on the market above, you now have an idea of what to buy. However, it is still vital to know how to make your pick. By considering the factors below when shopping for a centrifugal juicer, you should get a top-notch unit.
Power
The more powerful the motor on your juicer, the faster it will extract juice and also the easier it will be for you. But anything with at least a 700-watt motor that produces at least 5,000 RPM will work fine.
Maintenance
Ease of cleaning is an important feature when it comes to choosing centrifugal juicers. You should always go for something that makes cleaning easy and quick for you. Those with removable parts that are dishwasher friendly and come with a cleaning brush are the best when it comes to cleaning.
Feed Chute Size
The feed chute size will determine how much slicing or chopping you will need to do. And so the best idea is always to go for units with a wide feed tube. Make sure that any centrifugal juicer that you buy has a feed chute that is at least 3-inches wide as it ensures that you do not need to cut your fruits and vegetables into small pieces.
Price
The wise approach when it comes to the price is always to go for the best centrifugal juicer quality that is within your budget.
Conclusion
A fresh glass of fruit or vegetable juice will provide the body with some essential nutrients, and it is way much better than taking carbonated drinks. You should never have to struggle with hand juicers or the traditional blenders since you can use the modern and more efficient centrifugal juicers. With our reviews above of some of the best centrifugal juicers on the market and our buying guide, you should not have any trouble finding a great juicer.