Coffee pods offer a convenient way to get your daily coffee fix. But these pods can be messy to store if you don't have an organized storage space dedicated to your pods. There are many coffee pod storage options available at in a wide range of prices, so choosing one may provide difficult.
When shopping for a coffee pod holder, you should first consider how much space you have. If space is very limited, you may want to find a pod holder that can sit underneath your coffee maker. There are also stands that hold coffee pods and look nice on the counter. The following are the top 10 best coffee pod holders in 2016 based on reviews.
10. Safstar 360 Degree Rotating Coffee Pod Holder Stand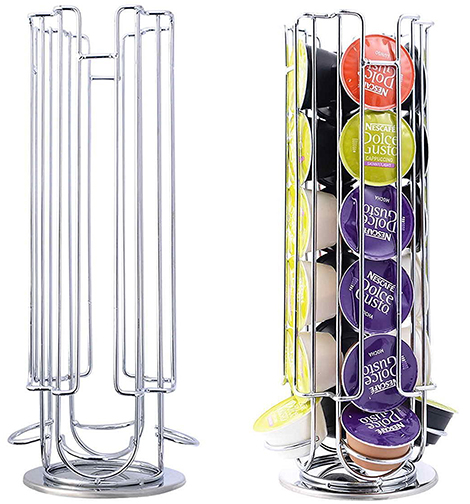 This coffee pod holder can store up to 24 Nescafe Dolce Gusto capsules. It has four different slots to keep flavors separate. The base is designed to be non-slip with felt on the bottom for security. It can spin 360 degrees for convenience. It is made of a sturdy metal material with a chrome finish. The pods easily slide in and out of the unit and it can be organized by flavor to keep the counter clutter free.
9. Toplife Nespresso Coffee Capsules Holder Carousel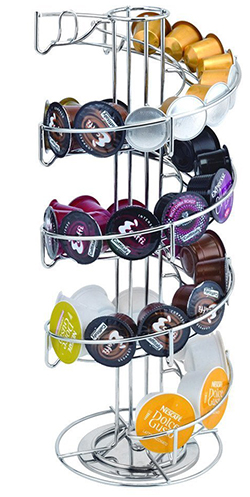 This carousel unit spins 360 degrees and can hold 36 pods. The design of the unit allows you to have access to any pod or flavor without having to remove other pods. It has a felt base to keep it from slipping around on the counter and it has a chrome finish to fit with any kitchen decor. The unit weighs a little over 2 pounds and is sturdy so that it won't tip over when filled with coffee pods. It is 16 inches tall and less than 7 inches around, so it should easily fit into most spaces on the counter.
8. mDesign Nespresso Coffee Pod Holder
This holder is clear and it has three drawers to keep coffee pods organized. It can hold up to 48 Nespresso pods. The drawers have attractive chrome plated handles and the unit can be stacked with other units of the same brand for extra storage. It is ideal for use in a cabinet or pantry, but also looks great on the counter. You can easily see inside the unit to find the pod you're looking for without having to open all the drawers to search.
7. Keurig 40692 K2.0 Cup Holder Carousel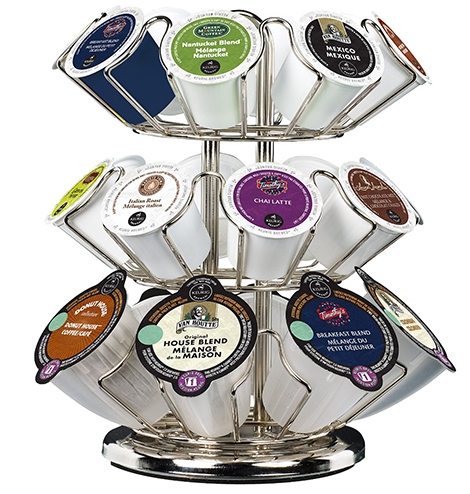 This coffee pod organizer is designed for use with K-cups. The unit is made of metal and has an attractive look to go with any kitchen. The carousel can store up to 24 cups and can hold single serve pods as well as K-carafe packs. It spins 360 degrees so you can easily find the flavor you're looking for. The weighted bottom of the unit ensures that it doesn't tip over.
6. KOVOT Coffee Pod Holder And Organizer Mug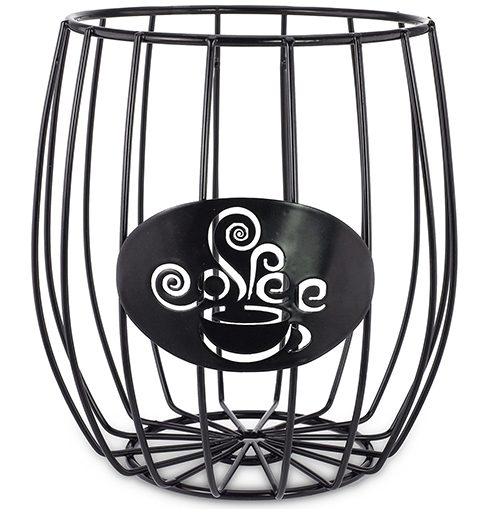 This pod holder, which is designed to look like a giant coffee mug, has a fun look for any counter. It is made of wire and has a nice design with the word "coffee" on it. It doesn't have a particular way of keeping pods organized but it will hold any brand of coffee pod and can also be used to hold other items. It is 7″ tall and 6″ in diameter.
5. Lily's Home K Cup Holder Carousel for 35 K-Cups in Black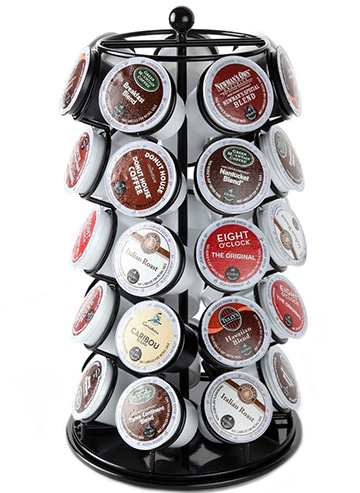 This K-Cup holder can hold up to 35 cups to keep all your flavors organized. It has a black finish and holds 7 columns of cups, each with 5 units. It can be used on the counter top or put away easily when not in use. It holds the cups securely and won't tip over when filled to capacity. It can rotate 360 degrees.
4. DecoBros 3 Tier Drawer Storage Holder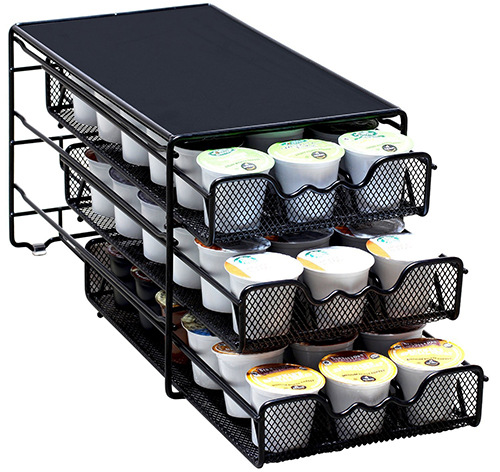 This coffee pod holder can hold up to 54 pods in three drawers. It is designed to work well under a low cabinet as it is only 7.9 inches tall. The drawers are easy to pull out so that you can reach the particular flavor you're looking for. It is made of sturdy metal and can hold up well. It allows you to store and organize a large number of coffee pods in a limited amount of space.
3. Oak Leaf Coffee Storage Spinning Carousel Organizer for Keurig K-Cups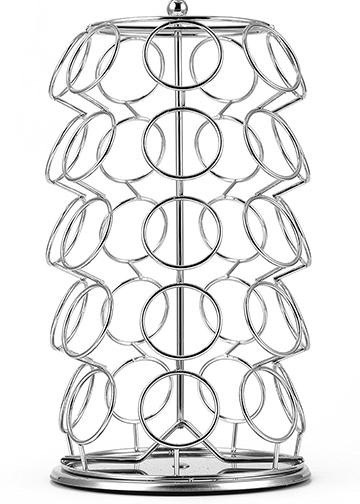 This space saving coffee pod carousel can store up to 25 cups at once. It allows you to see all the varieties without having to search for them. The unit spins 360 degrees with ease and looks nice on the counter with its chrome finish. It's lightweight but has a sturdy bottom so that it doesn't tip over when filled to capacity.
2. AmazonBasics Coffee Storage Carousel for K-Cup Pods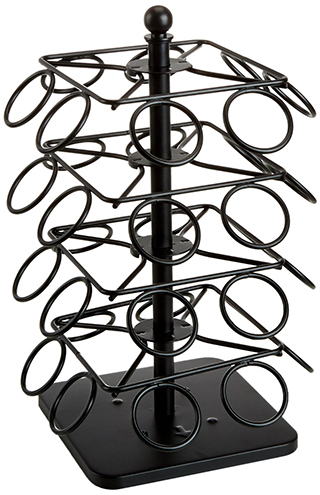 This budget friendly storage option can hold up to 32 k-cups. The swivel style based allows you to easily select a variety. It would work well in a personal kitchen or an office setup where counter space is limited. It has a stylish black finish and goes with any decor. Cups are displayed with the label up so you can identify the one you want.
1. Home-it 35 K Cup Holder for Keurig K-cup Coffee Pod Holder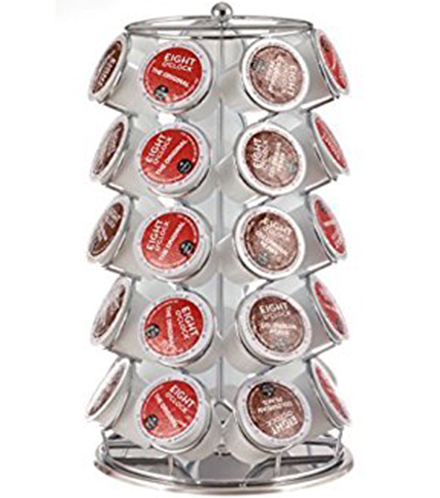 The Home-it K-cup holder has a capacity of up to 35 cups. It has a rubber mat on the bottom for stability and is easy to wipe clean if needed. This unit holds the pods securely so they don't slip out while the unit is being turned. It allows for organization in a small space and can be used in any style kitchen.
If you have a lot of flavors and varieties of coffee pods at once, it can be hard to keep them organized so that you don't have to search for the variety you want. A coffee pod holder can organize pods on the counter or in a cabinet so you always have access to what you want.
When shopping for a coffee pod holder you should find one that has a capacity to hold the amount you usually keep in your kitchen. It can also be helpful to have one that allows you to easily see the varieties so that you don't have to search through the pods. Those with limited counter space can look for a design that doesn't require much room on the counter, or can even be stored inside a cabinet when not in use.