A while back, home automation was one of the features that you would expect to get in the luxurious and expensive celebrity homes. And many people also thought that it was just a passing trend that would soon fade away. But if recent home improvement trends are anything to go by, home automation is here to stay, and it will soon be an essential of any modern living space.
Although you can define home automation in different ways, it is just a collection of devices that work together to make life more comfortable for you. Home automation devices will automate and control things like lighting, thermostat, security cameras and much more. And their primary role is to improve your home's security and convenience.
There are different kinds of home automation devices out there, and so it is vital to make sure that you get the right ones for your home. In this piece, we review some of the best and most convenient automation devices and provide a shopping guide to help you select the right ones for your house.
1. TP-Link Smart Plug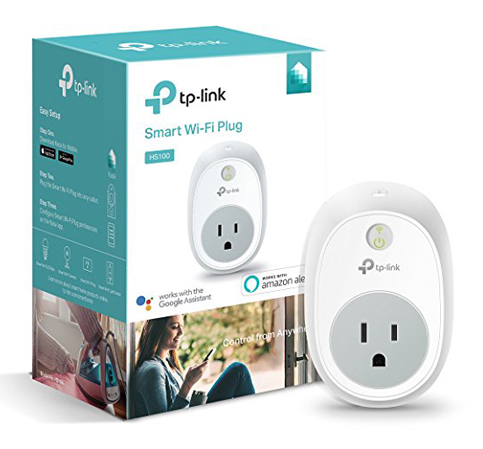 You will not require any hub to use this smart plug, and so you will not have to incur any extra costs once you buy it. It also works with both Google Assistant and Amazon Alexa to make it even more convenient. Once you install the plug, you can control your electronics from anywhere using your tablet or smartphone. And it is also easy to install and use since all you need to do is to plug your electronic device into the smart plug, connect it to your Wi-Fi and it is ready to use.
2. Phillips Hue White Bulb Starter Kit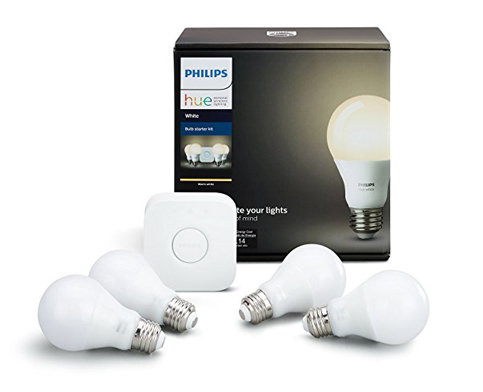 Bulbs are always part of any home automation system, and this starter kit by Phillips provides them at an affordable cost. The fantastic kit consists of 4 bulbs and 1 bridge, and they are compatible with Google Assistant, Apple, and Amazon Alexa. With this kit, you get to automate your lighting and also control the light when you are both at home and away. And there are also easy to install as you do it just as you would with normal bulbs.
3. Phillips Hue 464479 A19 Starter Kit
Here is another fantastic bulb starter kit from Phillips and it consists of 3 bulbs and a switch. The handy starter kit is also easy to install, and you can do it in just a few minutes, and it is compatible with Amazon Alexa for easy and convenient control when you are away from home. Also, the bulbs will make it possible to light up your home with various colors, and they will come with a Hue bridge that can manage up to an impressive 50 lights. These bulbs will also fit your standard size table lamps.
4. Samsung SmartThings Home Hub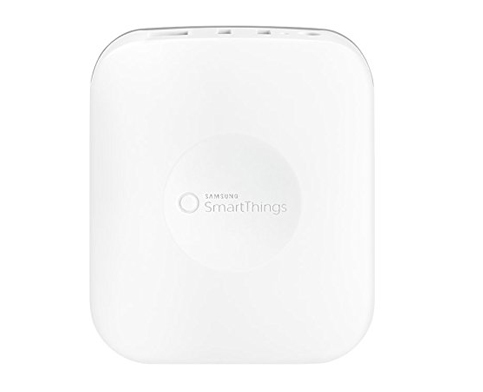 You need a reliable and smart hub when trying to automate your home. And you can always trust Samsung to have something that will work well for you. This particular smart hub will connect with a wide range of devices wirelessly to make them work together smoothly. And it works with both Amazon Alexa and the Samsung SmartThings app.
5. Phillips Hue 2-Pack Smart Flood Lights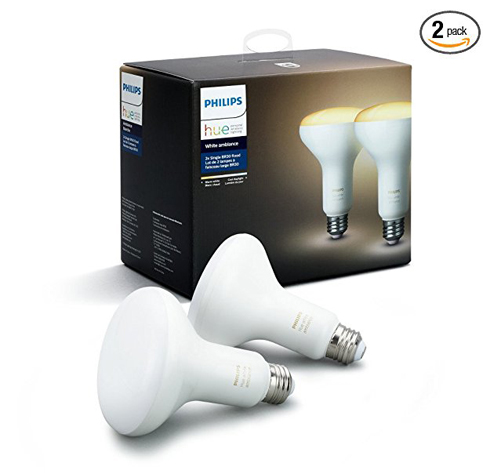 If you want to add some flood lights to your home automation system here are some great bubs for you from Phillips. The dimmable LED lights are compatible with Google Assistant, Apple and Amazon Alexa and so they will give you more than enough control options. For installation, you should not have any problems as you only need to install them just like regular bulbs and you can also expand the smart lighting system when using these bulbs by buying hue accessories.
6. TP-Link 2-Pack Smart Plug Mini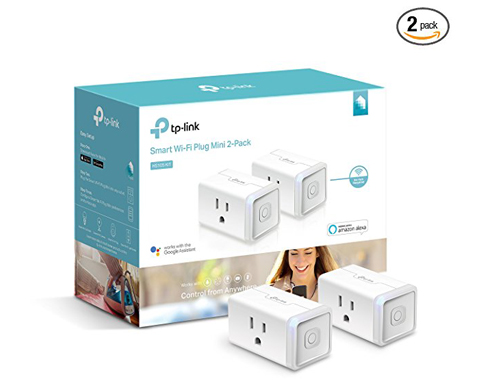 With these smart plugs you will not need any hub, and so they are ready to use immediately. For a pack of two mini plugs, they are also relatively affordable. And the best thing about them is that they only occupy one socket since the compact design blends in without blocking the other outlets. The smart plugs have a scheduling feature to make it possible to set them to power the devices and switch them off automatically. And there is also a convenient away mode.
7. TP-Link HS100 2-Pack Smart Plugs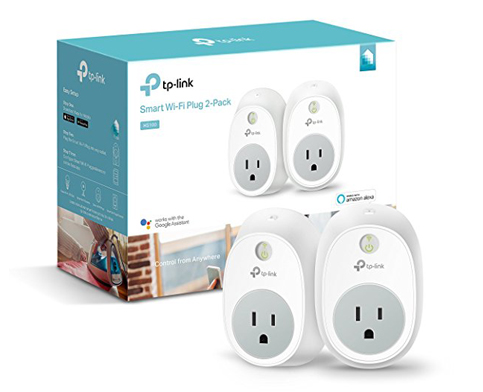 Smart plugs are essential in any home automation system, and if you have a couple of reliable ones like these from TP-Link, you can be sure of maximum convenience. They will also not require a hub and will work with both Google Assistant and Amazon Alexa. Also, they are handy smart plugs that provide remote access, scheduling, and an away mode.
8. TP-Link Smart Single Pole Wi-Fi Light Switch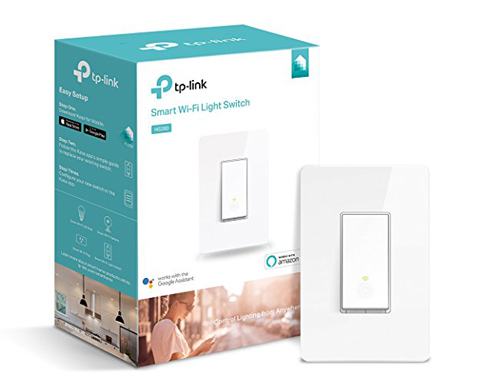 A switch is always necessary to complete your home automation system. This Wi-Fi one by TP-Link works with both Alexa and Google Assistant, and it is a single pole switch that will not require a hub. It provides remote access to your devices provided you have some internet connection, and it also has the convenient away mode.
9. GMYLE 4-Pack Smart WiFi Plugs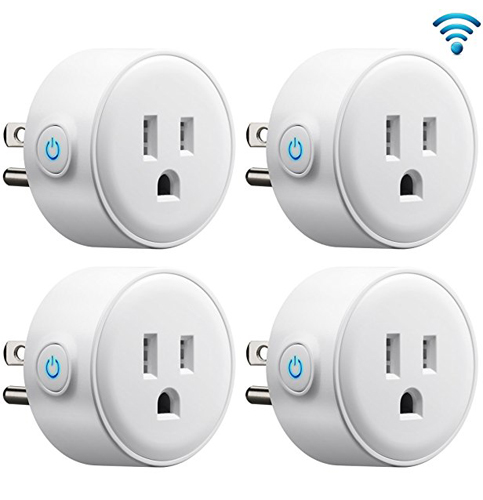 It is hard to get better value for a pack of 4 mini smart plugs than this. And besides, from their affordable price tag, they are some useful devices that make it possible to control your electronic devices from anywhere. Like with most other mini smart plugs you will not need any hub, and they are also easy and straightforward to install and come with a convenient countdown function.
10. Etekcity 4-Pack WiFI Smart Plug Mini Outlets
There are more than enough smart plug options out there but what makes these from Etekcity stand out from the other devices is the fact that they also a make it possible to track power usage of the connected device. And so you get not only some smart devices but also a way to monitor your power consumption. Also, they are straightforward to install and will always provide a stable connection. Custom scheduling is also possible with these smart plugs, and they work with a variety of appliances.
Home Automation Devices Buying Guide
As you shop for home automation devices, the wide variety of products in the market can be a little confusing. And this is more so when you want to buy one device at a time. But, to make sure that you get something that works well for your house there are some critical points to consider when shopping.
Technology Level
Technology is at the heart of any home automation system, and so it should always be one of the first features or factors to consider when shopping for any of these devices. Although most people think that the more advanced the technology level, the better the home automation device will be this is not always true. If you are not a tech-savvy something with complicated technology will not be very useful for you. Instead, you should focus on getting a smart bulb, hub, switch or any other device with technology that makes your life comfortable and is convenient enough.
Compatibility
Compatibility should be in your mind when shopping for home automation devices as it determines how convenient and suitable the gadget will be for your home. You should make sure that the automation devices that you intend to buy are compatible with each other to ensure that you will not have to purchase any additional and unnecessary devices or hubs for compatibility. Also, those that are compatible with your smartphone and other gadgets are the best.
Cost
Home automation devices will come with different piece tags, and so you should always start by deciding your budget or home much cash you are willing to spend. But, it is also necessary for homeowners to note that you will have to pay more to get durable devices that use modern and advanced technologies.
Ease of Installation
The best home automation devices are those that will be easy to install on your own. You should never have to incur any additional cost to hire someone to install a simple home automation kit or hub. Also, some simple and easy-to-follow installation instructions will also be a great addition.
Conclusion
Home automation devices will make life more comfortable for you, and they will also enhance the security of your home and help you to run everything smoothly. But, the variety of devices out there can make things a little confusing, and you might not always know what to get or how to pick. But, with our reviews of some of the best home automation devices in the market and handy buying guide, things should be less tedious for you.