Top Best Laser Rangefinders in 2020

What's the best laser rangefinder out there? Well, there's no sure answer to this unless you do some digging. To be honest, missing a target can be quite frustrating. Therefore, it makes sense to do some homework and get a device you can trust. This article talks about the best rangefinders on the market today. It also captures some of the most important considerations you need to keep in mind before going to purchase. In short, I give you the perfect head start in your search for that ultimate rangefinder you can depend on when out there in the woods.
List the Best Laser Rangefinders in Reviews
#10. Bushnell 202208 Bone Collector Edition 4x Laser Rangefinder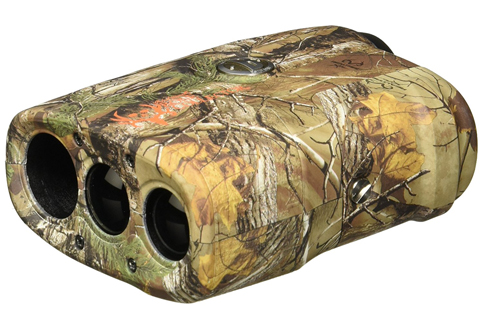 This camouflaged laser range finder makes a good option for target shooting and hunting. It has a range of 10-600 yards and lets you range on the target with a single push button. 4x magnification zooms in on the target object with an accuracy that is within 1 yard. There's a bright LCD display for easy reading. The device is housed in a rainproof shell for all-weather use. It's compact and comes with a case for easy portability.
Pros
Simple and easy-to-use operation
Good light gathering capabilities
Automatic power saving mode
Highly accurate
Cons
Can't calculate slope differences
Needs switching off to toggle units
#9. TecTecTec VPRO500 Golf Rangefinder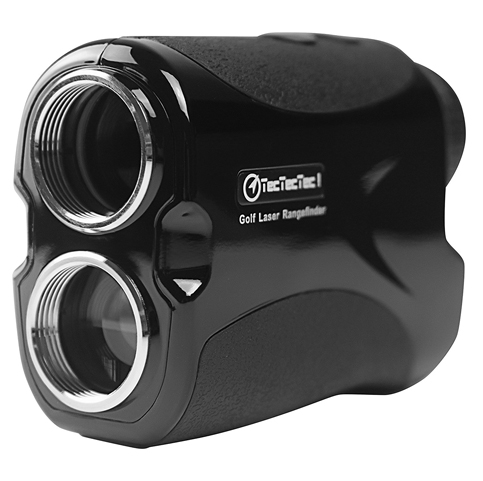 Integrated with the latest technology, this rangefinder provides a high degree of accuracy and flexibility. It measures up to 540 yards with 1 yard accuracy. A pinsensor technology makes it possible to measure overlapping targets. There's a diopter adjustment feature that provides a clear view of the target. Fast- measuring technology makes it lightning fast. VPRO500 has 3 different scanning modes that give you greater confidence in any situation. It's compact, lightweight, and comes with a premium pouch for easy portability.
Pros
Three target modes maintain quality of your game
Adjustable eyepiece
Accurate for long distance range up to 540 yards
Lightweight pocket-size construction
High quality optics that rival expensive products
Prompt measurement readouts
Cons
Lacks 100% water-resistant coating
#8. Nikon 8397 ACULON AL11 Laser Rangefinder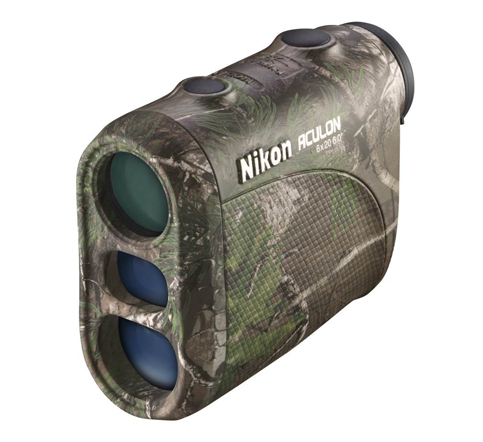 This rangefinder gives you a compact size like no other so you can take it with you wherever you go. It offers rapid accuracy to a range of 550 yards. Measurements are displayed in 1-yard increments for easy-to-view uncluttered display. There's a distant target priority mode that makes distant targets more prominent. You get a long eye relief feature for comfort and a one-button operation for lightning fast measurement. Multi-coated lens provide a crystal clear view of the target object in different conditions. This rangefinder is camouflaged making it a good option for hunting.
Pros
Ultra-light and very compact
6x magnification with clear filed of view
Adjustable diopter
Programmed to make distant targets a priority
Automatic shutoff conserves power
Cons
Lacks slope and distance compensation
Not waterproof

#7. Bushnell 202442 The Truth ARC 4x20mm Bowhunting Laser Rangefinder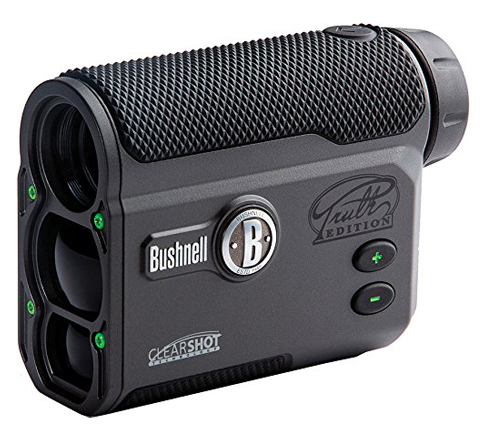 Take the guesswork out of every archery shot with this rangefinder. This device gives you pinpoint precision to distances of up to 850 yards. It has a ClearShot technology that removes obstructions from the line of sight to clearly range on the target object. Angle range compensation gives true horizontal distance, especially when taking shots from an angle. The target object is made crystal clear, thanks to a 4x magnification. In fact, you get HD quality imagery. The Truth rangefinder supports one-button operation for simplicity purposes. It's waterproof and bulletproof for all-weather use and long-life performance.
Pros
Clear shot technology
Pinpoint precision up to 850 yards
Slope compensation
Simple one-button operation
Clear HD quality imagery
Cons
A bit difficult to read LCD display in low light
#6. Bushnell Scout DX 1000 ARC 6 x 21mm Laser Rangefinder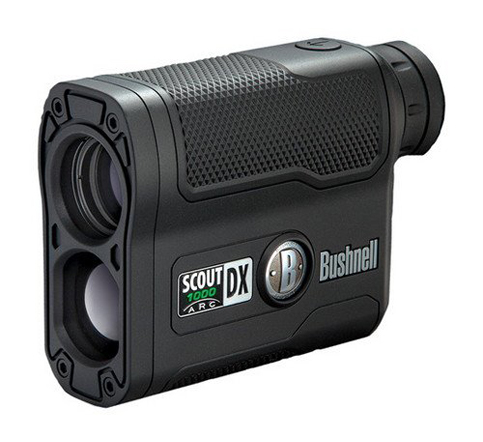 Extreme, speed, and precision. Well, that's what Scout DX 1000 brings into your game of hunting or shooting. It provides dead-on accuracy that's within 0.5 yards and has a maximum performance range of 1000 yards. This device has angle range compensation both in bow and rifle mode. It compensates for horizontal distances of up to 99 yards. There's a bullseye mode for dead accuracy, scan mode for updated display, and a brush mode that ignores the background. 6x magnification makes for clear targets. This rangefinder is fog proof and waterproof, which makes it suitable for use in any weather.
Pros
Affordable but with extra features
Sleek and durable built
Advanced ESP technology
Angle range compensation
Powerful 6x magnification
Cons
LCD display not great in low lighting
#5. Sig Sauer Kilo 2000 Yard Rangefinder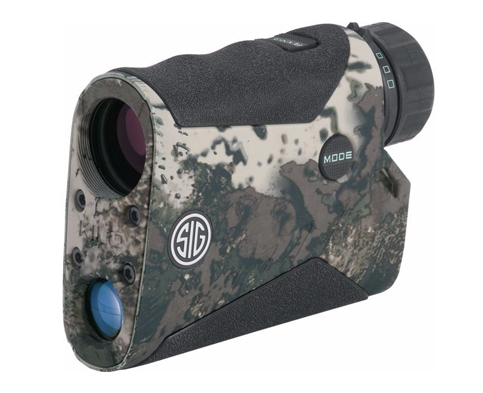 Looking for a long-range laser rangefinder? Kilo 2000 has got you covered. This device ranges over a mile and offers a display precision of 0.1 yards. It's equipped with digital signal processing (DSP) system. This is a revolutionary technology that improves target detection and tracking. There's an ultra-fast scan mode that refreshes target image at 4x per second. OLED comes in handy to adjust display brightness based on the light conditions.
Pros
Adjustable brightness
Fast-rate magnification
Superior quality
Protection from weather
#4. RX-650 Laser Rangefinder
Leupold RX-650 offers lifetime performance in the field regardless of the weather condition. It's built to be fully waterproof and fog proof. This device has a maximum range of 1000 yards and provides accurate line of sight up to 650 yards. 6x magnification power makes for a wide field of view. The lens are multi- coated to deliver bright, pristine target image. A weatherproof rubber armor gives better grip regardless of the weather condition.
Pros
Fast target acquisition
Well built and easy to use
Very accurate out to 650 yards
Powerful 6x magnification
Weatherproof
#3. Bushnell G-Force DX ARC 6 x 21mm Laser Rangefinder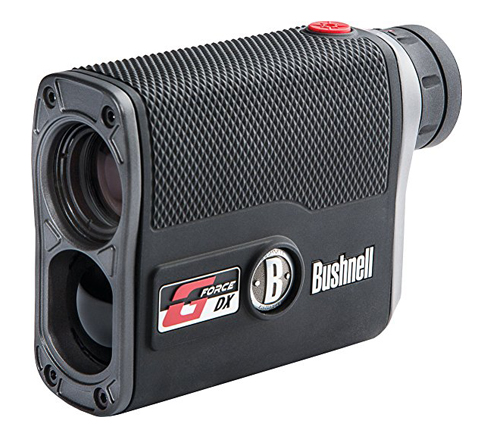 This performance-oriented rangefinder offers you with industry-leading accuracy and display precision. G-Force DX is built to be effective from a range of 5- 1,300 yards. You get an accuracy that's within 0.5 yards and a display precision of 0.1 yards. This device is lightning fast, thanks to a rapid target identification feature. It zooms in 6x on the target object for a wider field of view. There's a bow mode and rifle mode, both with angle range compensation to ensure accuracy in all seasons and terrain. You get a sure rubber grip and a tough metallic housing that can take a beating out there in the filed.
Pros
Long effective range of 1,300 yards
Has angle range compensation
Sharp 6x optics
Sturdy metal case housing
Fully waterproof
Target priority feature
Cons
Quite tricky to switch between the three modes
#2. Halo XRT7-7 Laser Rangefinder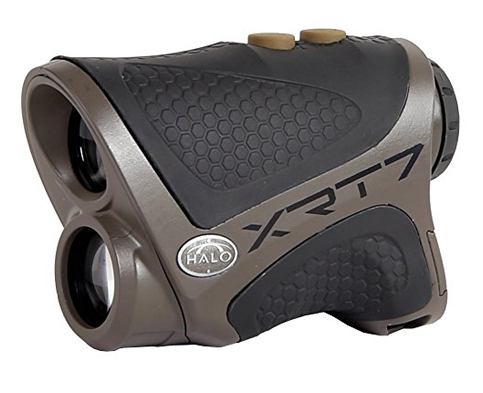 Precision targeting in a compact, lightweight built. Well, that's what you get with XRT7-7. This is a budget rangefinder packed with a ton of features to give you an upper edge in your hunting and shooting expedition. This device offers a reflective range of 700 yards. It has 6x magnification to give a wide field of view. Revolutionary AI technology compensates for slope to ensure accuracy isn't compromised regardless of the terrain. The accuracy of this rangefinder is within 1 yard. A scan mode provides updated display and you can switch the display mode between dusk and dawn.
Pros
Very affordable
Ergonomic lightweight built
Low-light display mode
Slope compensation
Clear 6x magnification
#1. Suaoki Golf Laser Rangefinder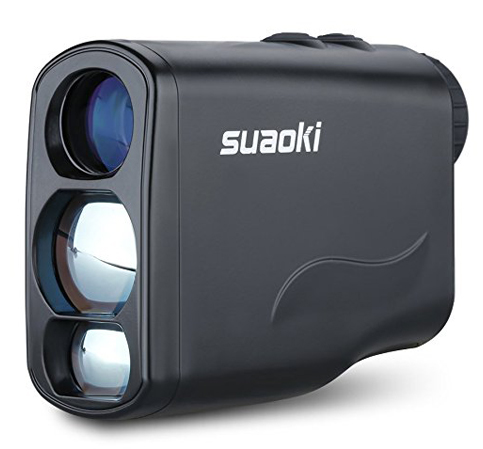 This rangefinder comes small in size and great in portability. It's a new level, multi-purpose device with a maximum range of 656 yards. This rangefinder supports 7 different measurement modes, both imperial and metric. It's accurate to within 1 meter and has 6x magnification to bring the target object close to you. There are several adaptable modes for distance correction, height, speed, fog, and horizontal range. These adaptable modes fully customize the product to your needs. The device is rainproof for all-weather use.
Pros
Has external display
Flagpole lock feature
Several adaptable modes for easy customization
Small in size and portable
Powerful 6x magnification
Cons
Reduced battery life
Doesn't account for slope
Buying Guide to Choosing the Best Laser Rangefinder
It's always helpful to look at the important considerations before buying a rangefinder. I mean, you don't want to rush and buy a product that will disappoint you later, right? Well, here are the major factors that count:
1. Magnification
This determines the clarity of your view. Settle for a rangefinder with a magnification of 4x to 8x. Note that very high magnification increases price and can make you lose a bit of your field of view.
2. Angle Compensation
This feature compensates for uneven terrain. After all, there's a high chance that you'll be dealing with some slope. Therefore, this is a feature that will make a huge difference.
3. Size and Weight
You don't want a rangefinder that will weigh you down. Settle for a lightweight, compact rangefinder. After all, you'll be bringing several equipment along with you. This will help keep the weight to a minimum.
4. Durability
Choose a durable rangefinder that can withstand the rigors of hunting. It should be able to withstand unfavorable weather conditions. In short, you want something that is resistant to rain, snow, fog, and impact.
5. Range
One thing about hunting is that you never know how far your target is. That said, it's good to settle for a rangefinder with a good range. Most models out there have a range of well over 800 yards.
Conclusion
The best laser rangefinder will certainly put you in a whole new game park. The good thing is that I've already given you the perfect recipe for that: top recommended products and must-have considerations. Give it a shot and stand to benefit from time-honored experience that these high-tech rangefinders have to offer.