The price of coffee at the chain coffee houses are going through the roof. A Cappuccino can cost a small fortune today. That's why we thought we would rebel and let you make your own. We offer up for your inspection 10 that we feel are the best anywhere. From this list you can then select the one that fits your needs best. From there it will be in your home in only a few short days.
10. Secura Automatic Electric Milk Frother and Warmer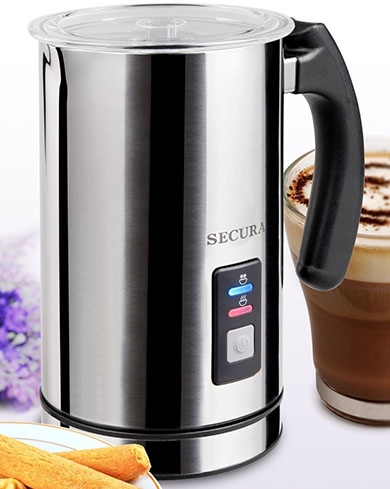 When you that great latte or you can't wait for a cappuccino you need a good milk Frother. The MM-603 fills the bill nicely and it holds 500 ml of hot milk handily (250 ml for frothing). But it also has some other good features as well. It is made from stainless steel and that means it is easy to clean. It also removes from the base, High and low level warning lights and one touch operation. We give it our approval and award it 4.2 Stars out of 5.
9. Kuissential Deluxe Automatic Milk Frother and Warmer, Cappuccino Maker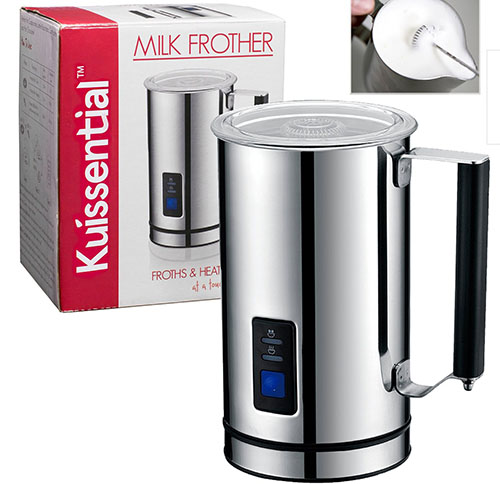 A perfect cappuccino every time and it is so simple to operate a child could brew you a cappuccino without any problems. A touch of a button is all it takes. Being made of stainless steel you will get a product that not only lasts forever, it is rugged, and the coffees it makes are superb. It cleans quick and painlessly and has a detachable base. It also sports a non-stick interior to help with that cleaning. So if you want hot milk a great cappuccino, and hot chocolate all from the same appliance, this is the one for you and we give it 4.5 Stars.
8. Blümwares Vienne Automatic Milk Frother, Warmer, Carafe, and Cappuccino Maker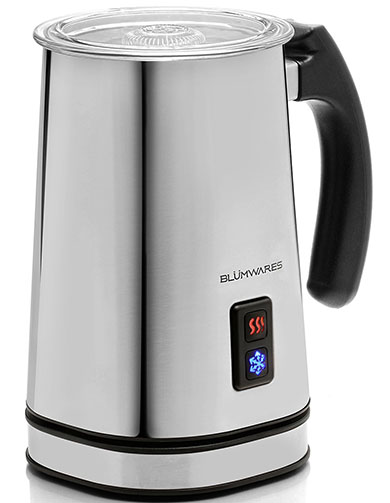 Talk about an appliance that is a workhorse. Her you have a complete coffee shop that sits on your counter. You get best of all worlds with this Milk Frother. An added bonus is that it will also froth cold beverages as well. This adds to the utility of this product and opens up other venues for your non cappuccino drinkers. Besides the lattes, hot chocolate, and cappuccinos. You can blend fruit drinks and add zing to other beverages as well. It does such a good job we kicked it up into the 5 Starr rating.
7. Secura Automatic Electric Milk Frother and Warmer (300ml)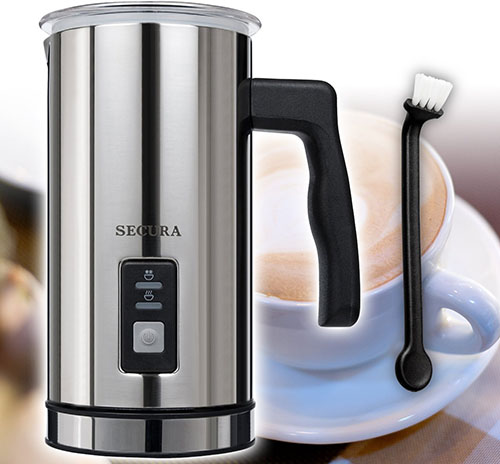 Identical to the 500 ml Frother we talked about earlier. This variant targets those who want a single serve cappuccino or other Hot/Cold Beverage. You get the same stainless steel construction. It has the High/Low level indicator lights. You also have the same one touch switch that controls everything. This model gets our blessing with a 4.4 out of 5 rating.
6. Chefs Star Premier Automatic Milk Frother, Heater and Cappuccino Maker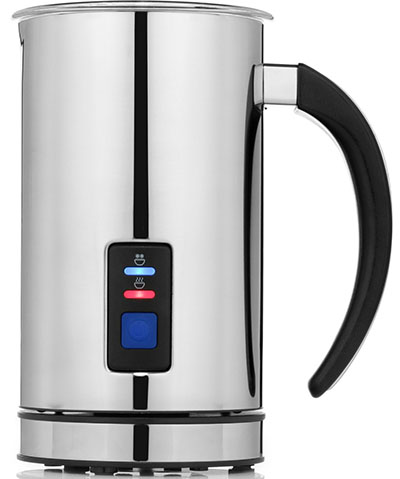 Here is another fine Milk Frother/Cappuccino maker. Made for 125 ml frothing and 250 ml heating it is perfect for a single person or at someone's desk that likes their morning Cappuccino or latte. It is of stainless steel construction and will make hot chocolate as well. This appliance is designed for ease of use and one button controls everything. Easy to read and understand lighted indicators tell you what's going on and the final product has to be tasted to be believed. It even looks good on the counter as it looks like a piece of modern art. Price, value and taste gives it our rating of 4.0 Stars.
5. Ivation Cordless Automatic Electric Milk Frother & Warmer, Steamer, Mixer, Cappuccino Maker
Here is the perfect gift for the cappuccino drinker. Cordless it makes your favorite beverage in the office, picnic sites and even on a weekend getaway for the weekend. Froths 250 ml and heats 500 ml. That's enough Cappuccino for two to share. Stainless steel means it cleans easily. You have one touch operation and the base swivels 360 degrees. Now Cappuccino is easier than ever. It's a nice buy and we rank it in at 3.6 Stars out of 5.
4. Breville BMF600XL Milk Café Milk Frother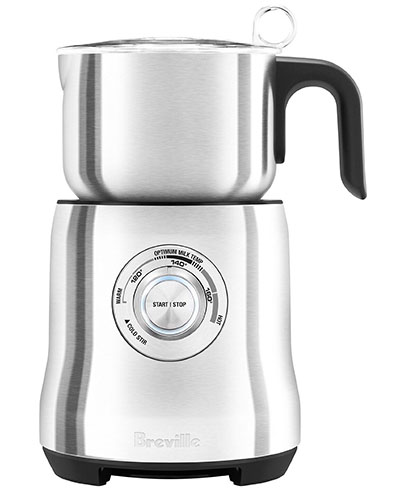 Here is a disk Frother that has all the trimmings. This appliance uses induction for its operation. We can thank Old Nikola Tesla for this idea, which means the heat and motor don't come near you Cappuccino or Hot Chocolate. The only things that need cleaning are the jug and the frothing disk, which stores within the unit. So, you have the perfect Cappuccino with virtually no muss or fuss. No moving parts and a holds 3 cups of milk. This is enough for a jumbo Cappuccino that will last you until lunchtime. We give it 4.6 Stars.
3. Epica Automatic Electric Milk Frother and Heater Carafe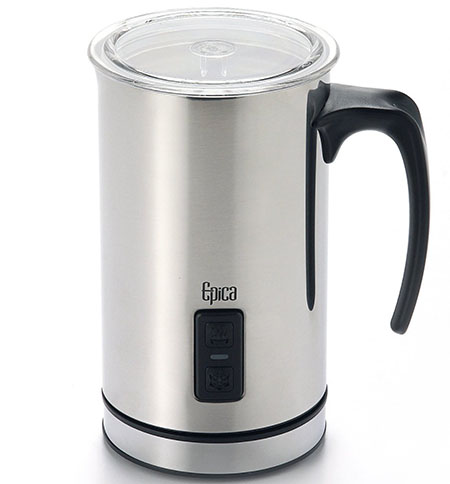 A removable Carafe takes your Cappuccino into the other room for pouring. It will Froth 125 ml and hold 250 ml cold. You can now have Cappuccino anytime you want it and it will last you a long time as it is made from rugged stainless steel. The unit cleans easily too, as a result. Simple to operate and the finished beverage tastes just the way you like it. We give this Automatic Milk Frother a 4.4 out of a 5 Star possibility.
2. Secura Automatic Electric Milk Frother and Warmer 500ml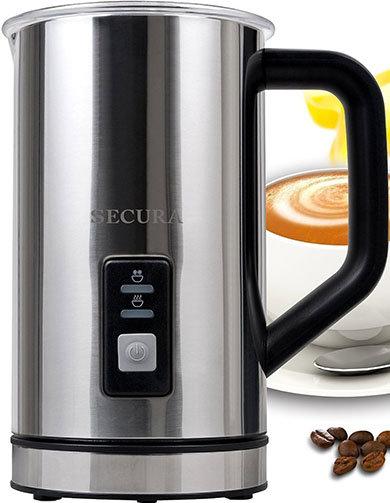 Here is the big daddy of Secura Automatic Milk Frothers & Cappuccino makers. You have the same features that the other two siblings offer but you get them on a grander scale. One Touch operation starts everything off and running. Next you have a frothing action to the tune of 250 ml and a Hot Milk capability of 500 ml. The quality of the product is the same across the board and we rate the 500 ml Automatic Milk Frother at 4.4 Stars out of 5.
1.Nespresso Aeroccino Plus Milk Frother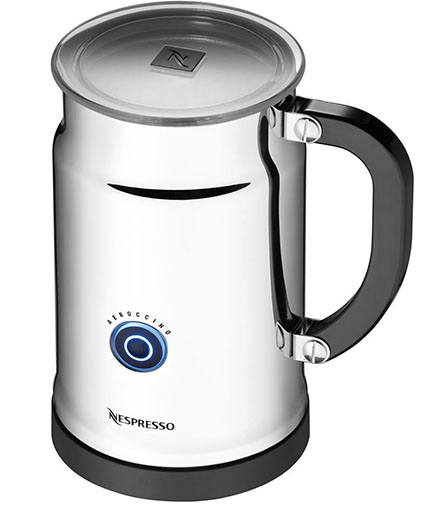 Now we have gotten down to the one everyone wants from Nespresso. It has a 130 ml capacity for frothing, which is a smaller capacity than some of the others we've talked about today. It does, however hold 250 ml for Hot Milk preparation. It can go from a standing start to ready to go in an impressive 70 seconds. This gives it the edge over most of the others on the market today. So, your cappuccino or latte can be ready in record time. You get quick and it tastes just right. And that's want people want these days and that's what the Nespresso gives you. We like it too and 4.2 Stars is our verdict. .
Final Thoughts
Getting the perfect cup of Joe is a cinch nowadays. Whether you love a Latte or a Cappuccino you can have one in the comfort of your home or office with ease in just minutes. Today you've seen 10 Automatic Milk Frothers that do all the work for you and leave the guesswork out of it. The hard part is for you to see which one fits your desires and needs best. All of them are Brands that reflect the quality and the taste of the beverage each produces is outstanding. So, now we leave the ball in your court to pick the one that's just right for you.