Top Best Snowmobile Boots in 2020

Snowmobiling is one of those activities that make most of us look forward to winter. Whether you do it as a sport competitively or a way of doing some outdoor excursions in winter, the thrill that comes with snowmobiling is hard to describe. But, as much as you would want to enjoy this winter activity, it is also important to make sure that you keep your body warm and comfortable. And one of the best ways to do this is by investing in a pair of high-quality snowmobile boots.
Snowmobile boots not only help to protect and keep the feet warm but also provide the traction that you need to tackle the snow and ride the vehicle. The good news is that there are many good snowmobile boots out there but the not so good news is that picking the right pair is not always easy. However, with our top 10 snowmobile boots reviews below finding your ideal pair should be super easy.
Check out the Best Snowmobile Boots Reviews
#1. Kamik Snowvalley Women's Boots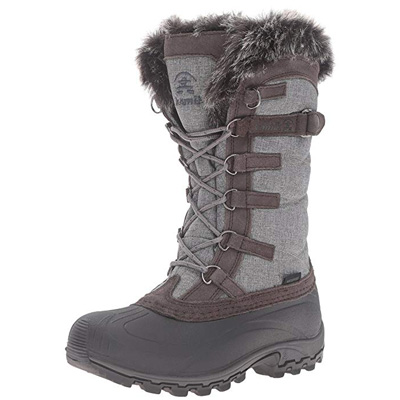 Kamik makes these shoes with women in mind and they make them in a variety of colors to ensure they suit the tastes and needs of all ladies. The boots are available in various size options and they are true to fit for most ladies. Also, the 10-inch long shaft is perfect as it provides more coverage and hence more protection from the cold. The seam-sealed waterproof construction helps to keep snow and water out while the Thinsulate insulation provides the much-needed warmth when out in the cold.
Pros
Numerous color choices.
Available in different true to fit sizes
Tall shaft for maximum coverage
Thinsulate insulation keeps the feet warm
Waterproof gusseted tongue
Semi-sealed waterproof construction
Cons
Not the best for extremely cold weather
#2. Kamik Canuck Men's Cold Weather Boots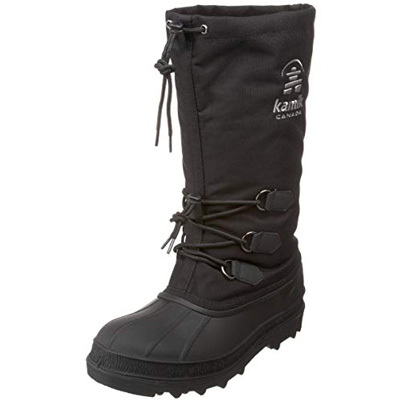 For many men, functionality beats style but these snowmobile shoes are designed to provide both. They are made with a fabric upper section that provides high breathability and comfort. The rubber sole provides slip-resistant traction on the snow and many other surfaces while the waterproof 1000 denier material helps to make the boots waterproof to keep water and snow out. There is also an adjustable bungee cord to help improve the fit and a stylish logo on the side to enhance the look.
Pros
Breathable and comfortable fabric uppers
Durable rubber sole
Adjustable bungee cord provides a custom fit
Waterproof nylon keeps water out
Slip-resistant traction
Embroidered side shaft logo for a more stylish look
Cons
The fabric material is not very durable
#3. Baffin Wolf Snow Boots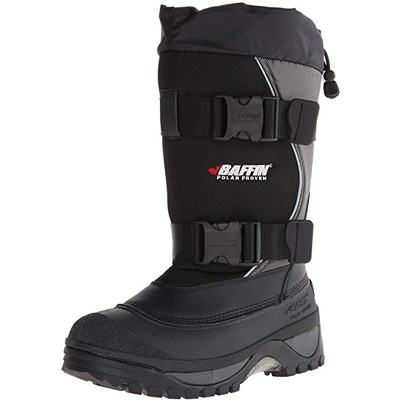 With the leather and synthetic material on the upper section, you can be confident that the boots will not only be highly durable but also super comfortable and breathable. The interior features a multilayer system that provides maximum warmth and comfort and a cozy EVA midsole that cushions and support the foot. Also, there is a dual buckle closure for a more comfort and custom fit. These shoes have a grippy synthetic outsole for excellent traction on a variety of surface and they are available in several size options for men.
Pros
Multilayered inner system for maximum warmth and comfort
Cozy EVA midsole
Durable leather and synthetic uppers
Dual buckle straps for easy closure
Grippy synthetic outsole
Variety of sizes for men and true to fit
#4. Kamik Greenbay4 Women's Boots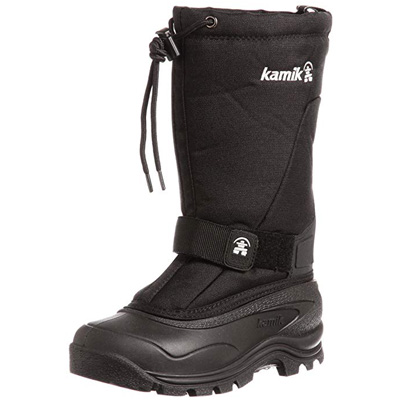 While leather is often the most preferred boot material, this pair by Kamik proves that there are still many other great options like textiles. The women's boot is made from durable, comfortable and breathable textile material and with a 12-inch long shaft for maximum protection. Also, it uses drawstring closure for a custom and secure fit, and also with a hook and loop ankle strap for an even better fit. The genuine rubber outsole is highly durable and also guarantees great traction on the snow. And the boot is also completely waterproof.
Pros
Comfy and breathable textile uppers
Durable rubber outsole with excellent traction
Long shaft for more protection
Drawstring closure for a better fit
Hook and loop ankle strap
Waterproof boot construction
Cons
Some sizes seem to run small
#5. ClimaTex Climat X YC5 Snow Boots
While these boots will be an excellent choice for snowmobiling, they can still great for many other winter outdoor activities. They are synthetic uppers boots which might not be a very durable material but make up for this by being lightweight and quite breathable. But, the sole is a genuine rubber to ensure maximum durability and great traction on various surfaces. Also, these shoes have a water-repellant nylon to keep water and snow out and a pull-on design that makes wearing them quite straightforward. But, the removable inner boot Thermolite insulation is what many men will love most as it helps to keep the feet warm and cozy.
Pros
Highly affordable boots
Rubber sole provides great traction
Water repellant nylon material
Easy pull-on wear
Thermolite insulation to keep feet warm
Cons
Synthetic material does not feel very durable
#6. Northside Alberta II Combination Boots
Here is another pair of some highly affordable cold weather boots that will serve you well for long. They also have the Thermolite insulation to help keep the feet warm in the extreme conditions, and the synthetic upper ensures that the boots are still breathable enough. The synthetic sole is also designed to provide great traction and is also quite durable. Also, this is an easy boot to wear thanks to the pull-on design and quick drawstring lacing. These cheap boots also have an ankle strap and toe guards which are components that many people love to have on their boots.
Pros
Tall and protective shaft
Ankle strap includes
Easy pull-on wear
Quick-draw lacing
Toe guards included for extra protection
Relatively more affordable synthetic boots
Thermolite insulation included
Cons
Not completely waterproof
#7. Sorel Bear Extreme Men's Snow Boots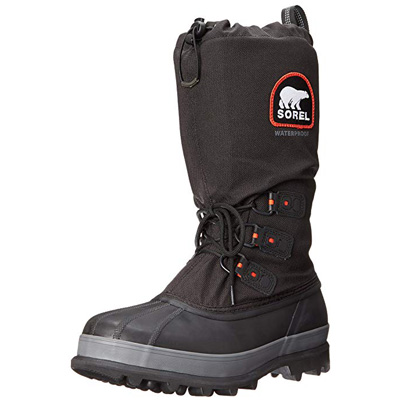 Everything about these snow boots is just amazing, and so you can be confident of a great time when snowmobiling. They come with a unique and stylish upper design that combines textile and synthetic materials for comfort and breathability. Also, the tall shaft covers a large section of the feet for maximum protection. These boots also come with a handcrafted vulcanized rubber outsole that looks good and also provides great traction. There is also an Omni-heat reflective lining and both drawstring and barrel-lock closure for warmth and great fit respectively.
Pros
Unique and stylish upper section design
Comfortable and breathable uppers
Drawstring and barrel-lock closures
Omni-heat reflective lining
Handcrafted vulcanized rubber outsole
Warm enough for extremely cold temperatures
#8. Baffin Selkirk Snow Boots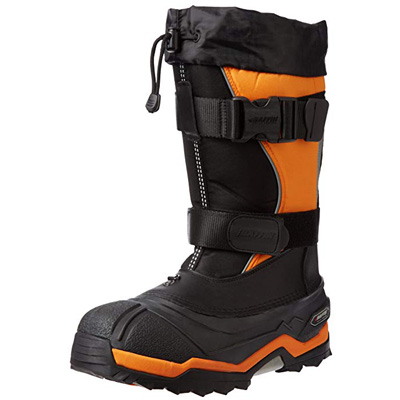 These boots have a very appealing and stylish look and every man will love to wear them. The 13-inch shaft is tall enough to offer maximum protection from the snow and the synthetic upper material ensures maximum comfort and breathability. With the synthetic sole, you can also be sure of getting great traction on the snow and many other surfaces. However, the unique closure system is what makes this a unique pair of boots. It consists of a drawstring closure, adjustable calf strap with a compression buckle and ankle strap. And so you will always get a comfortable, custom and secure fit with these boots.
Pros
Multiple closure systems
Cozy and durable synthetic uppers
Great traction on the snow
Tall shaft design
Protective toe guards include
Cons
Not available in many color options
#9. Klim Radium GTX Snowmobile Boots
Klim makes these boots specifically for snowmobile riders and so they address all the common issues that they are likely to experience. They are designed to be completely waterproof to ensure the interior remains dry and comfortable as no water or snow will get in. And they have a supportive spine and heel that are rubberized for extra support and slip pad bottom that makes entry easy. The ride specific forward flex design and rigid side-to-side support make riding snowmobiles more comfortable and the boots are designed to be highly resistant to abrasion.
Pros
Waterproof construction
Supportive rubberized spine and heel
Easy entry bottom design
Military-grade construction for enhanced durability
Ride specific overall design
Variety of sizes for men
Cons
Quite pricey when compared to others
#10. Castle X Force 2 Snowmobile Boots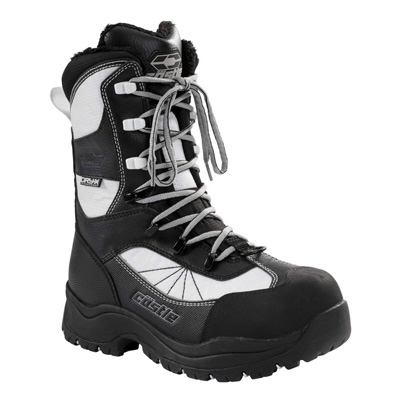 While the Castel X Force might not have the most appealing look, it does what it is meant to do perfectly which is to protect the feet from the cold when snowmobiling. It is made with some reflective elements that are important for outdoor excursions and molded high abrasion toes for maximum protection for your toes. The padded collar and EVA footbed add some warmth and comfort while the high traction rubber sole provides good grip on the snow. Wearing the boots should also be easy thanks to the speed lacing system that also provides a secure and comfortable fit.
Pros
High abrasion toe
Padded collar for extra comfort
Speed lacing system
Comfortable EVA footbed
High traction rubber sole
Reflective elements included
Cons
Not the most appealing aesthetically
Conclusion
There you have it, some handy reviews to help you find a perfect pair of boots for snowmobiling. All you now need to do is to choose what suits your tastes and preferences. And also remember to drop us your remarks, comments, and thoughts below about these boots and any others that you have used in the past.