Top Best Bidet Attachments in 2020

Proper hygiene is the key to a healthy and disease-free life. And there is nowhere it is more important than the toilet. It is because of this fact that most people will invest in premium toilet papers, which are also soft and very comfortable. But, they are not always efficient in cleaning you after using the toilet and using up a lot of toilet paper is also not good for the environment. However, modern technology solves this with the bidet. Bidets will clean you fast and efficiently without having to wipe yourself too much.
Buying a bidet for your bathroom can be quite costly, but there is another option that is purchasing a bidet attachment that will transform your toilet into a bidet. But, since there are many types in the market you need to know how to choose the best bidet attachment. And for this, the reviews below and a short buying guide will be helpful.
List the Best Bidet Attachments
#1. Luxe Bidet Neo 120 with Self Cleaning Nozzle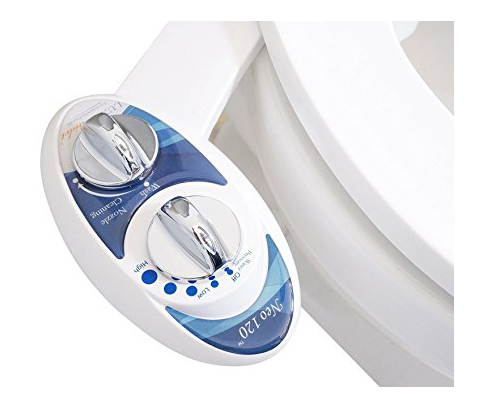 The sleek design of this bidet attachment provides a simple way of upgrading your bathroom. It features some chrome-plated control knobs that create a more elegant look. And it also uses some high-quality parts to ensure that you get to use it for a long time. The self-cleaning nozzle is perfect for sanitary protection, and it also retracts when not in use to maintain high hygiene standards. This bidet attachment is also easy to install, and it will come with everything you need for installation including the tools.
See Also: Best Toilet Seats
#2. Astor Bidet Non-Electric Bidet Attachment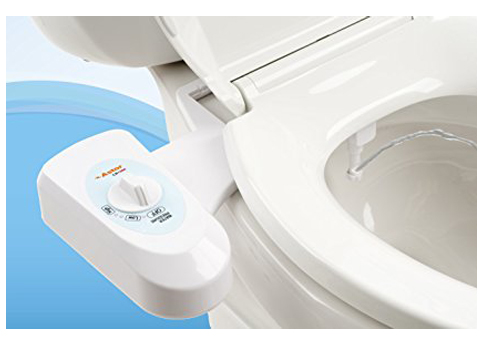 Electric bidet attachments might be popular, but they are not the only option. This mechanical one from Astor is very efficient, and it will work even better than many electrical ones. It is an affordable unit that will turn any toilet into a luxurious bidet but what makes it stand out is that you can install it in just 10 minutes and all you will need is a screwdriver. And you can adjust the water spray to suit your particular preference.
See Also: Best Quality Toilet Paper
#3. Brondell Bidet SS-150 with Fresh Water Spray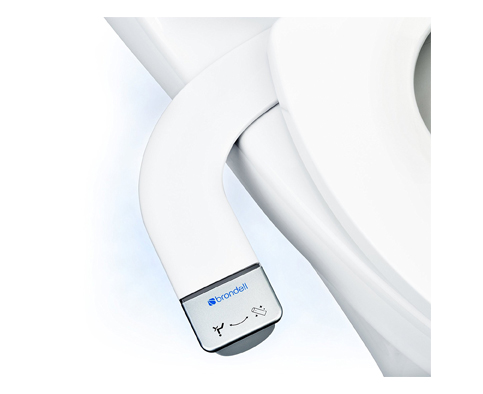 Here is another non-electric bidet with freshwater spray that will make life more comfortable for you when in the toilet. It also features a self-cleaning nozzle, nozzle guard and thin and simple design with no toilet seat gap. The quality components such as a T-valve with SafeCore Internal valve and it is also easy to install without any tools.
See Also: Best Bidet Seats
#4. Yegu Bidet Toilet Seat Attachment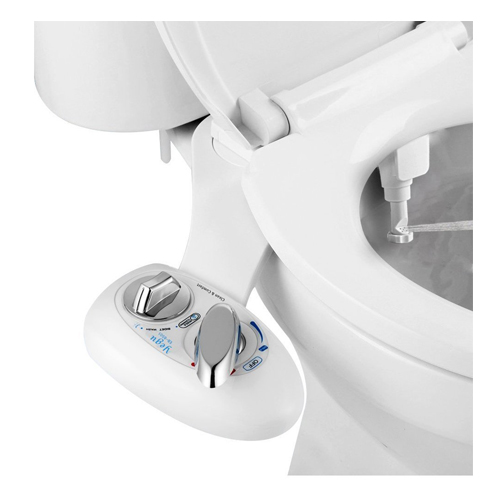 If you want a bidet attachment that will produce both hot and cold water this one from Yegu will work well for you. It is a non-electric unit that features a self-cleaning and retractable nozzle, and both the water pressure and temperature are easy to adjust. This bidet attachment is suitable for both men and women, and you will also not require any special tools to install it as it is straightforward to mount.
See Also: Best Two-Piece Toilets
#5. Luxe Bidet Neo 180 Dual Nozzle Bidet Attachment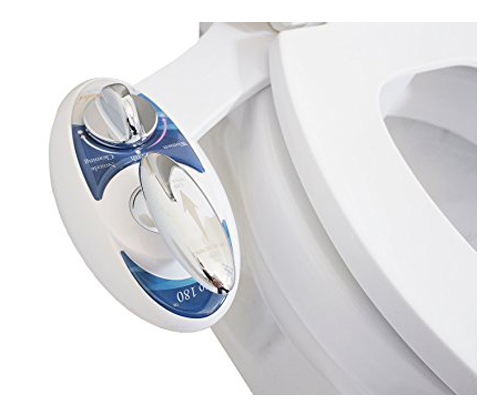 Many companies manufacture bidet attachments, but Luxe seems to be quite popular as it makes some of the best selling ones. Their Neo 180- model comes in a sleek design and with high-quality parts to make it a long-lasting product. It comes with both front and rear nozzles to make it suitable for feminine wash and a self-cleaning nozzle that is retractable for sanitary protection.
See Also: Best Toilet Safety Frame
#6. Luxe Bidet Neo 185 Elite Series
Here is yet another top-notch quality bidet attachment from Luxe. The Neo 185 model is an elite series unit that also features the retractable and self-cleaning nozzle to maintain the highest hygiene standards. It also comes in a sleek design and with some metal hoses and strong faucet valves for durability. The dual nozzle design makes it ideal for use by ladies as it provides both front and back nozzle. But, since this is a premium bidet attachment you will need to pay a few extra dollars to get it.
See Also: Best Toilet Motion Sensor Light
#7. Greenco Non-Electric Bidet Attachment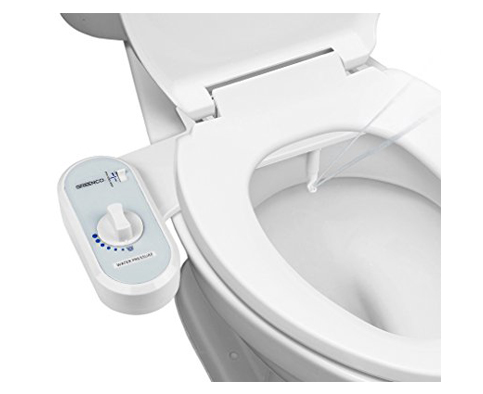 This bidet attachment is quite inexpensive, but it is still a high-quality unit that will provide optimal hygiene. Installing it on your toilet is easy to do on your own and without any special tools since the bidet attachment also comes with some simple instructions. This non-electric bidet attachment also comes with an easy to access control dial to provide instant pressure and for adjusting the nozzle.
#8. BioBiodet Simplet BB-70 Bidet Toilet Seat Attachment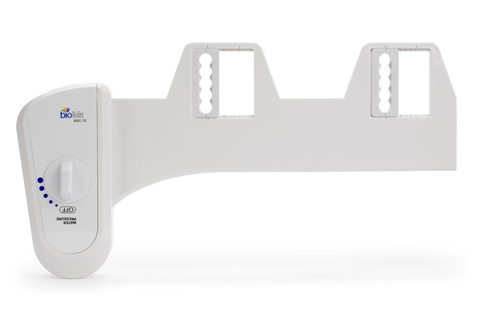 Non-electric mechanical bidet attachment seems to be the most convenient for many people. The BB-70 model by BioBidet comes in a universal design to ensure that it can fit any toilet. It is also adjustable, and it comes with a removable and retractable nozzle that will always offer a proper wash. The positive stepping pressure control makes it easy to change the water pressure. And it is also a very durable bidet attachment thanks to the quality brass valve and inlet.
#9. Zen Bidet Z-500 with Hot and Cold Water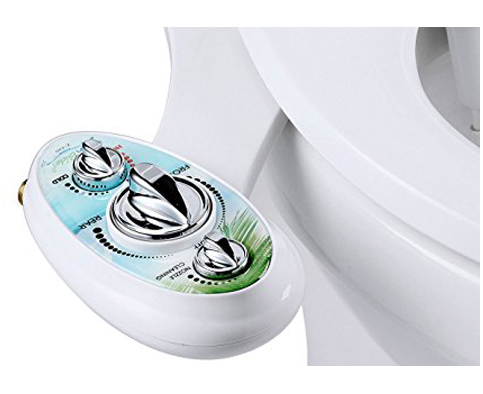 Being able to choose between hot and cold water is one of the best features of the Zen Bidet Z-500. But, it also features some brass components to make long-lasting, self-cleaning and retractable nozzles and some innovative chrome-plated knobs for an attractive look. Installing it is also quite easy, and it comes with everything you need including the plumbing tape.
#10. Luxe Bidet Neo 320 Non-Electric Bidet Attachment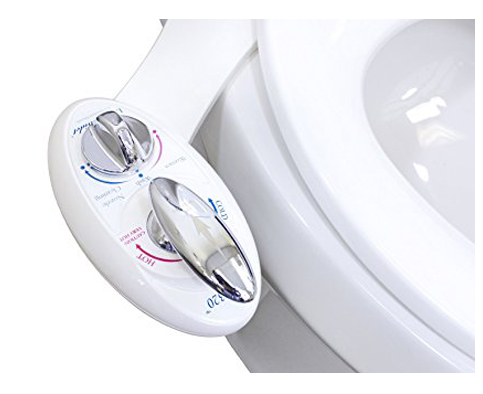 The Luxe Bidet Neo 320 ranks among the best bidet attachments in the market and it offers both hot and cold water. It also includes a feminine wash thanks to the dual and self-cleaning nozzles. And since it is a non-electric bidet attachment installation is very easy and you can do it in just a few minutes. The high-quality valves with a ceramic core, braided steel hose for the cold water and the metal t-adapter also help to make this a high-quality bidet attachment.
Buyers Guide-Key Considerations When Buying Bidet Attachments
As you are shopping for a bidet attachment for your toilet, you should not just go for any that you come across or the cheapest. Instead, you should consider the following key factors when making your choice.
Compatibility
Compatibility is the first factor to consider when shopping for a bidet attachment because you do not want to buy something that will not fit your toilet. Always make sure that the bidet unit that you buy is suitable for the shape of your toilet seat and bowl.
Aesthetic Appeal
The design or appearance of your toilet bidet is also essential because you want something that will enhance the aesthetic appeal of your toilet and the bathroom. You can go for a sleek looking model with some impressive accents and also make sure that it matches the color and size of the bathroom.
Hot Water
Some fancy electronic bidet adjustments make it possible for the users to adjust the water temperature from cold to warm. For those that live in cold places, this will be an excellent feature because it will make bathroom time more comfortable.
Extras
The more the features, the more the comfort the bidet attachment will provide for the users. Some fancy or high-end models will come with other features like pre-misting, seat heating and air-drying to give you an almost spa-like experience. But, it is also important to know that these fancy bidet attachments are also the priciest.
Conclusion
Bidet adjustments will make the toilet more comfortable for you while also eliminating the need to use a lot of expensive toilet papers. But, to get maximum benefits from them, you need to pick the best bidet attachment from the different brands in the market. However, by considering the factors above and with our Top 10 reviews you should have an easier time getting something that you will love.