It can be overwhelming to shop for baby gear, especially for first-time parents. There are so many different products and so many options available. How to select the best one can be difficult. One of the great advantages of shopping for these products online is the ability to read reviews from other parents who have already purchased and used the products. When considering the purchase of a diaper organizer, there are several factors to think about.
Diaper organizers aren't an absolute necessity in the nursery, but they can be a great convenience. A good diaper organizer should hold plenty of diapers, so you aren't reaching for a diaper package in the middle of the night while holding a crying baby. Diaper organizers can be found to match the nursery decor and can actually look cute while also being functional.
Check out The Best Diaper Organizer
#10. Munchkin Portable Diaper Caddy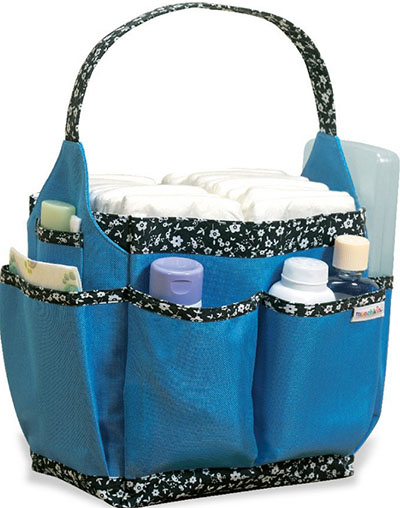 The portable diaper caddy from Munchkin comes in several different colors to coordinate with most any nursery color scheme. The caddy holds between 15-24 diapers depending on diaper size. It has a convenient handle to carry from one room to the other and can also hold other diapering essentials like powder, wipes, lotion and diaper rash cream. The outside of the caddy has several pockets in different sizes. It is made from a durable material that wipes clean easily and should hold up well.
#9. Ubbi Diaper Storage Caddy and Changing Mat
The diaper changing caddy from Ubbi has a very modern look that will look great in many different rooms of the home. It is white and grey with a convenient handle to carry throughout the home. It fits a standard wipes dispenser and has a window to monitor how many wipes are left, so you never run out in a diaper changing emergency. It's made of BPA-free material and easy to clean and wipe down. The included changing mat it made of soft material and also easily wiped clean.
#8. Buzzy Babee Diaper Change Organizer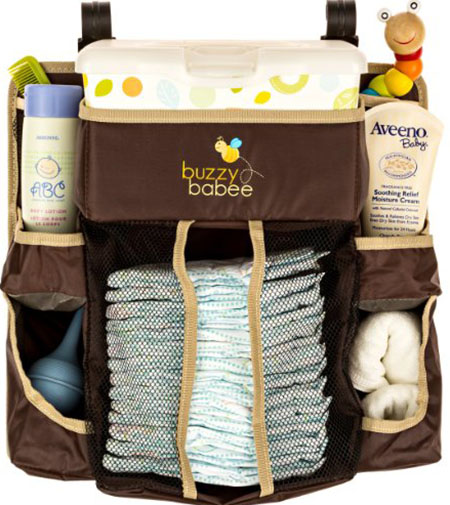 This diaper organizer has comes in gender neutral color combination of brown and coffee colors. It has plenty of storage to hold diapers and other essentials and will easily work in any nursery since it's not brightly colored. The organizer has a large mesh pocket to hold the diapers which make them easily accessible but also ensures that they stay in the pocket. It has straps to attach to the side of the crib or changing table for convenience on those long sleepless nights. The top of the organizer has a spot specifically designed to hold a standard size tub of wipes which is great not only for diaper changes but also other clean ups.
#7. Dexbaby Nursery Organizer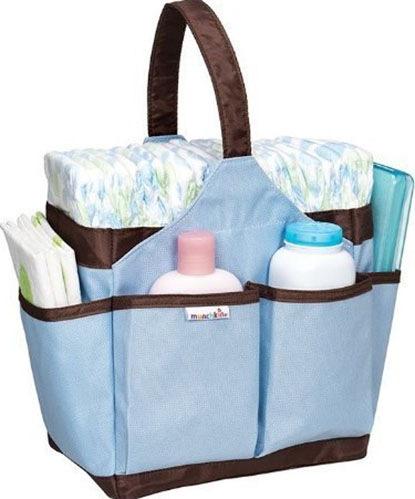 This organizer can hold much more than diapers. It works perfect for a small nursery where storage space may be limited as it can easily attach to the side of the crib or changing table. It has a compartment on top for easy access to a standard wipes container. It also can store lots of diapers as well as several changes of clothing in case of a diaper blowout at night. The other shelves and pockets can hold pacifiers, lotions, and other necessities.
#6. Sugarbooger Diaper Bag Organizer Pouches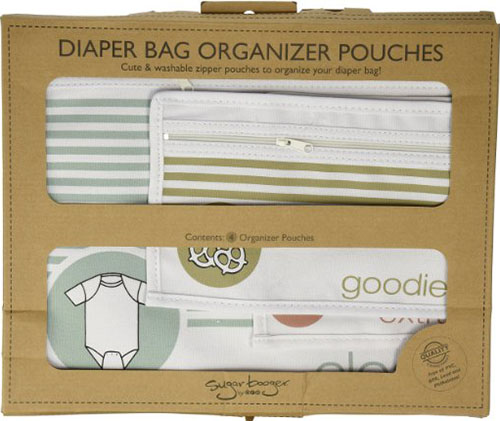 These pouches are designed to keep the diaper bag organized when on the go. The set includes four pouches in different sizes with the largest two, labeled "dirty" and "clean," being 14′ by 11′. There is also a bag labeled "goodies" for things like snacks and the smallest one called "extras." These can work well if you're using an oversized diaper bag or tote to keep everything organized. They are made of 100% cotton with a mesh back for ventilation and easy visibility to see what is in the bag. They are machine washable and can be line dried.
#5. Munchkin Sarabear Diapering Organizer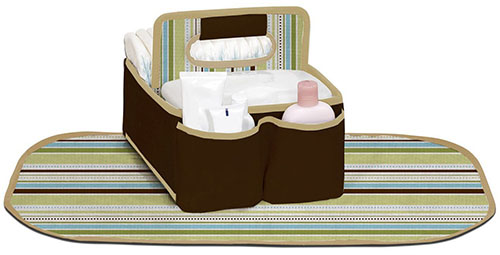 This diaper organizer comes in three different colors to fit in with any nursery color scheme. The unit is made from BPA-free plastic and can be washed on the top rack of the dishwasher. It comes with a matching changing pad and has a removable handle so it can easily be moved from one room to another. It has space to hold diapers as well as other diapering needs. It should fit around 20 diapers on one side depending on diaper size.
#4. Munchkin Diaper Duty Organizer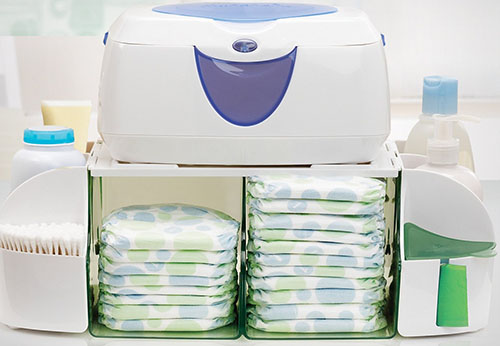 The Munchkin Diaper Duty Organizer is designed to be a tabletop organized that should easily fit onto most changing tables. It comes in gender neutral green and white. The diaper compartments hold around 20 diapers, and the top of the unit is designed to hold a wipes container or wipes warmer. Side bins hold things like lotion, powder, and ointment and are easily removable if not needed. It also comes with 20 scented diaper bags to help keep the room fresh.
#3. Prince Lionheart Dresser Top Diaper Depot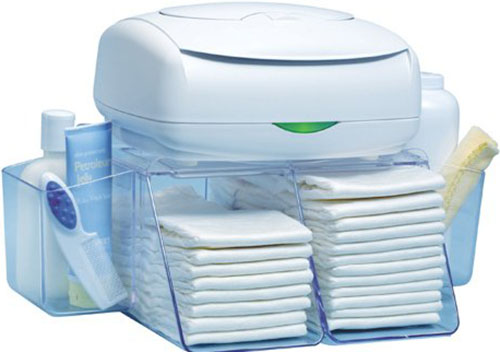 The Prince Lionheart organizer is designed to sit atop a dresser or changing table. It can hold around 18-20 diapers. The removable side bins hold things like powder, lotion, and ointment. It has a flat top designed to hold a standard wipes container or wipes warmer. It keeps everything you need within arms reach, so you're not fumbling around for changing supplies in the middle of the night. It's made in a neutral clear and white design, so it doesn't stand out or clash with any decor.
#2. Munchkin Sarabear Portable Diaper Caddy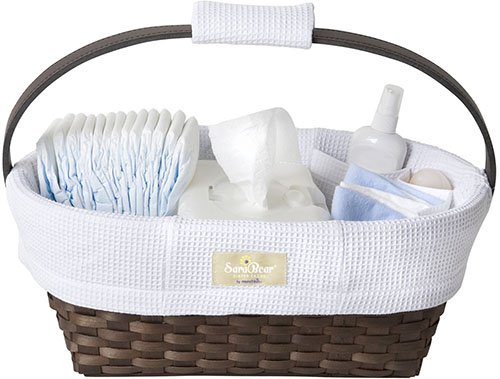 This organizer has the classic look of a basket but acts as a convenient and portable diaper organizer. It has a large compartment to hold a standard wipes container along with four medium compartments to keep wipes, ointment, and other necessities. It can easily be moved from the nursery to the living space and doesn't clash with the decor. The basket liner is available in several colors to ensure it looks great in any home. The basket itself is made of real woven wood in the shaker-style.
#1. Trend Lab Waverly Solar Flair Diaper Caddy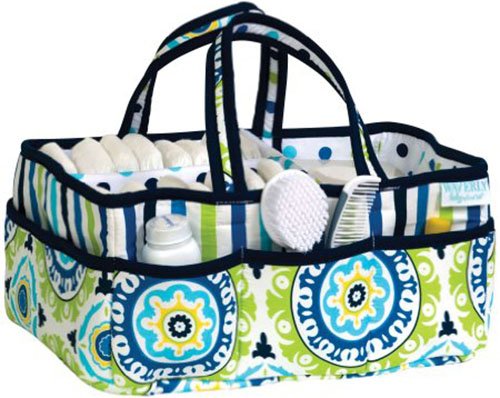 The diaper organizer from Trend Lab is a stylish caddy that could be a great accent to a bright space. It's made of polyester and cotton fabrics with two fabric handles for portability. It has a removable separator inside to allow for customization depending on your needs which can change as the baby gets older. It has eight outer pockets for organizing smaller items. This could be used for things like toys or craft organization once baby outgrows the need for it as a diaper caddy.
Diaper organizers are a charming piece of baby gear to have in the home. If you live in a multi-level home, it can be an excellent way to tote your diaper changing needs from one level to the next without having to rush up or down stairs when the baby needs a diaper change.
These diaper organizers are all different so it's important to consider how you'll use them most often before choosing the type you want. If you are moving it throughout the home, you'll want one with sturdy handles. If you plan to be doing most diaper changes in one room of the house, a table top design will likely fit your needs better.
Save
Save
Save
Save