Top Best Stainless Steel Kitchen Sinks in 2020 Reviews

The sink is the centerpiece of any kitchen, and it is also one of those things that are always in use. With the vital role that the kitchen sink plays it will be irrational to compromise on the quality that you get. A while back stainless steel was seen as a unique sink material, and you could only get it in the high-end homes.
But, nowadays it is almost the standard sink material despite the availability of many other options. Stainless steel is an easy-to-maintain material, it is non-porous to keep germs out, and it will blend with any kitchen decor. And if you also add in the fact that it is almost rust-free then you have the perfect sink material.
But, its widespread popularity also means that there are many companies out there that make stainless steel sinks. With the many options choosing the right one for your home can be a little overwhelming. However, the reviews below and the buying guide will make your choice less tedious for you.
Best Stainless Steel Kitchen Sinks [Reviews & Buying Guide]
#1. KRAUS KHU100-30 Single Bowl Sink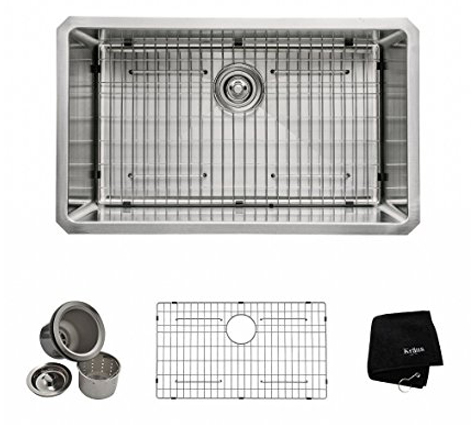 The KRAUS KHU100-30 is a 16-gauge handcrafted stainless steel sink that will serve you for a long time. Its premium-grade steel construction makes it a fantastic product that many homeowners would want to have in their kitchen. And to make it even better, this undermount sink also features a soundproof and protective undercoating to minimize noise. The sink comes with an extra-deep basin that will accommodate large kitchenware, and you will get everything you need to mount it when you make the purchase.
Check Also: Best Kitchen Faucets Home Depot
#2. Ruvati RVM4350 Undermount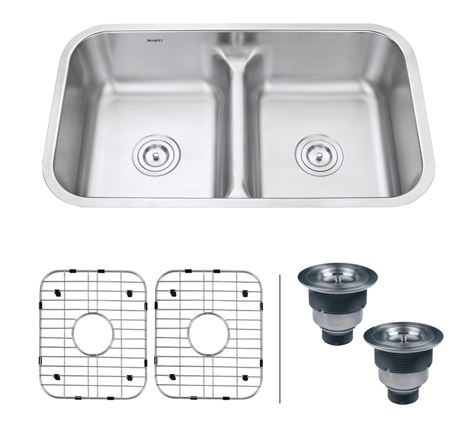 If you prefer to use a double-bowl sink with some standard size and moderately deep basins the Ruvati RVM4350 will be an excellent choice for you. It features T-304 steel grade construction, and so you can be confident that it is sturdy and durable enough. The 16-gauge premium steel sink has a unique divide between the two bowls that is 3 inches lower than the standard sink divide to give you more allowance when cleaning your dishes. And like most other stainless sinks, it comes with everything you need from the mounting brackets to basket strainer.
Check Also: Best Bathroom Vessel Sinks
#3. Ruvati RVH7400 Undermount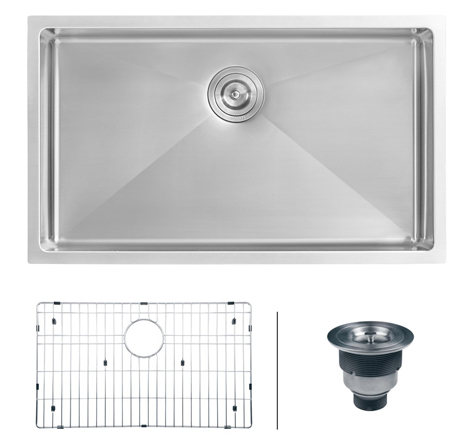 Here is another high-quality 16-gauge stainless steel sink from Ruvati but it is for someone that prefers to install a single bowl sink. The 32-inch long Ruvati RVH7400 features a heavy-duty sound guard padding and also some undercoating to minimize noise. This sink comes with a commercial-grade brushed finish that makes it long-lasting and easy to clean. The tight radius of the inside corners also helps to make cleaning effortless for users. But the sloped bottom that also has some grooves is what will impress most people because it ensures the water drains completely.
Check Also: Best Touchless Kitchen Faucet
#4. Kraus KGU-413B Undermount Single Bowl Sink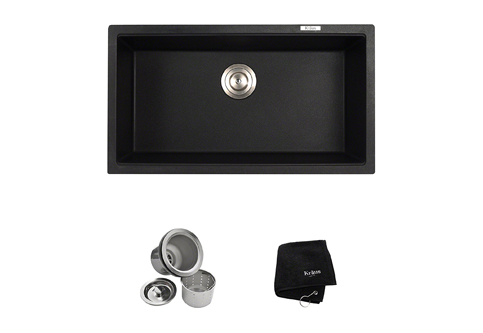 The Krause KGU-413B is not a stainless steel sink, but it just had to be on our list as it is one of the best single bowl sinks you can get anywhere. It is 80% natural granite but it looks and feels like real stone, and only a few people can tell that it is not stone. The material absorbs sound naturally, and so you never have to worry about noise, and the non-porous surface is both heat resistant and very hygienic. This single bowl sink is also highly resistant to chipping and discoloration.
Check Also: Best Two-Piece Toilets
#5. Frigidaire Stainless Steel Sink-Undermount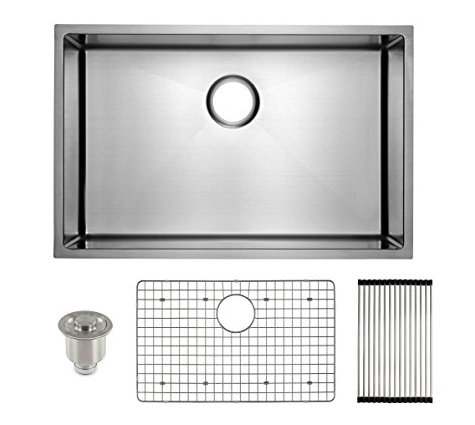 The Frigidaire Professional Series undermount sink uses the finest quality stainless steel to ensure maximum performance and durability. This 16-gauge 304 stainless steel sink is handcrafted to ensure maximum attention to detail. It uses a patented technology (V-Therm Shield) for heat retention and to minimize noise so that you always get a quiet cooking environment. And when you buy it you also get a free dish drying rack.
Check Also: Best Bidet Attachments
#6. Moen 2200 Series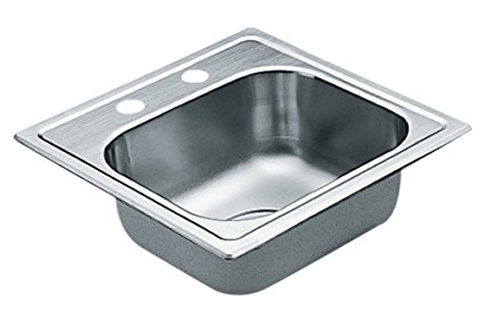 The Moen 2200 single bowl sink is for someone that is shopping for a small, simple and affordable stainless steel sink. It is a 22-gauge 15×15-inch stainless steel sink bowl that features sound shield to ensure that you get exceptional noise reduction and it comes with two tap openings and integrated mounting rails. And since it uses a drop-in mount system it should be easy and quick for anyone to install.
Check Also: Best Bidet Seats
#7. Gridmann Single Compartment Stainless Steel Sink
The Gridmann Single Compartment sink is a free-standing unit that features an 18-gauge 304 stainless steel construction. It is suitable for use in busy environments such as bar, garage, and restaurants. This sink features an 18-inch wide basin that is 12-inch deep to accommodate a lot of items at a go, side drainboard, and a 10-inch tall backsplash that also has room for a wall-mount faucet. The stainless sink also includes a basket strainer drain, and the height of the feet is adjustable.
Check Also: Best Touch On Bathroom Sink Faucets
#8. Houzer STS-1300-1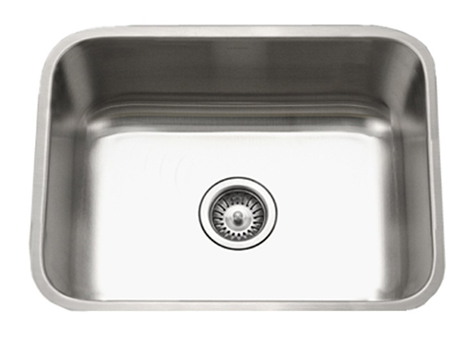 The lustrous satin finish is what will catch most people's attention when they see this single bowl sink. It gives it a very appealing look while also making it quite durable. The18-gauge stainless steel sink also features a rubber Super-Silencer pad that is very useful for reducing the noise from running water and your clattering kitchenware. This 9-inch deep sink bowl will fit a 30-inch sink base, and the manufacturer supplies it with all the essentials for installation including the fasteners and cutout template.
#9. Gridmann 3 Compartment Commercial Stainless Steel Sink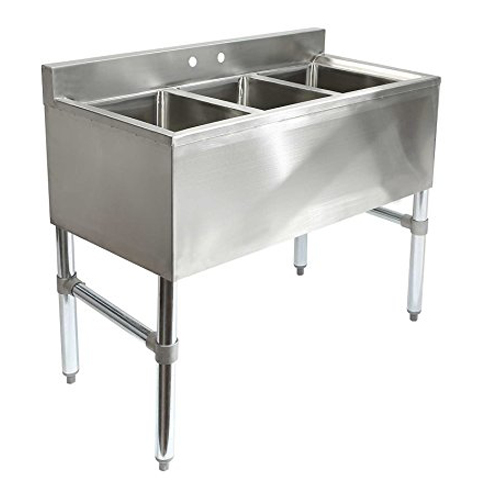 This 3-compartment Gridmann sink is perfect for commercial use, and it will work well as an under counter sink. It features three deep bowls that can accommodate a lot of dishes and still provide a lot of washing space. The sink combines 16 and 18-gauge steel to ensure that you get the best quality and it also has NSF certification that shows that it meets the strictest standards. Its deep and large bowls also feature basket strainers and the adjustable galvanized steel legs also have some cross leg braces for extra stability.
#10. Zuhne 33-Inch Farmhouse Style Single Bowl Sink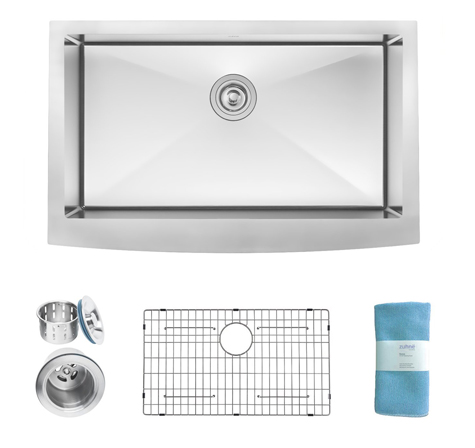 If you want to give the kitchen an appealing and upscale look, this is just the sink for you. The single bowl 16-gauge stainless steel sink is scratch-resistant, and it also features easy to clean corners, extra deep bowl that can hold large kitchenware and hide dishes and rear set drain. This extra-quite kitchen sink will come with some free accessories like sponge holder, scratch prevention grate, 2-piece basket strainer, a super absorbent towel and all the hardware you need to mount it.
Buying Guide – The Best Stainless Steel Kitchen Sink
If you need a well-designed and sturdy sink, stainless steel is your best option. But, as usual, most buyers will consider the style and design and overlook other relevant factors. However, if you want to get the best stainless steel kitchen, you should always keep the following vital things in mind when buying one.
Size and Shape
One of the first decisions that you will need to make when shopping for a stainless sink is on the size and shape. The size depends on your kitchen's size because you cannot have a massive stainless steel sink in a small kitchen as it will look out of place. When it comes to the shape, you can go with the traditional square or rectangular sink shapes or try something more interesting like the wavy, farmhouse and rounded sinks.
Gauge
Gauge is one of the best ways of judging the stability and durability of a stainless steel sink. The steel gauge also affects the price, and so your budget will also determine what you get. However, the best stainless steel sinks in the market will have a 16-gauge steel construction which is enough to ensure sturdiness and durability while also ensuring that you get just the right thickness.
Bowls
The number of bowls, their orientation or design and depth are some of the crucial factors to keep in mind. While a single bowl stainless steel sink works fine for small kitchens or homes, most people prefer to go for double bowl ones. Also, a single and deep bowl design will work well for those that prefer to have a more extensive washing space for their big pots. The double-bowl sink design, on the other hand, is handy when you want to separate the dishes into categories.
Installation System
For the installation system, you will need to choose between the under-mount and top-mount installations. And as the names suggest the top mount are those that you have to install on the top of the counter while the undermount types will go underneath the kitchen counter. Here it is all about your preferences and what you find most convenient.
Finish
When it comes to the finishing you will have three main styles to choose from which are the high gloss or metallic, hammered and satin/brushed. The finish is all up to personal preferences and the decor that you want to achieve in your kitchen. But each finish has some merits and demerits. For example, the high gloss is the most aesthetically appealing but also the hardest to maintain.
Conclusion
Now that you have seen some of the best stainless steel sinks on the market and know the factors to consider when making your pick, you should have an easy time when buying one. Whether you are refurbishing the kitchen or want something for your new house, there is a stainless steel sink out there for you, and you only need to go out and pick it from the many options.
Top 5 Best Stainless Steel Kitchen Sinks that Customers who bought this item